What It's Like to Win a Pulitzer With a Family Member
A father and a son reflect on being both colleagues and relatives.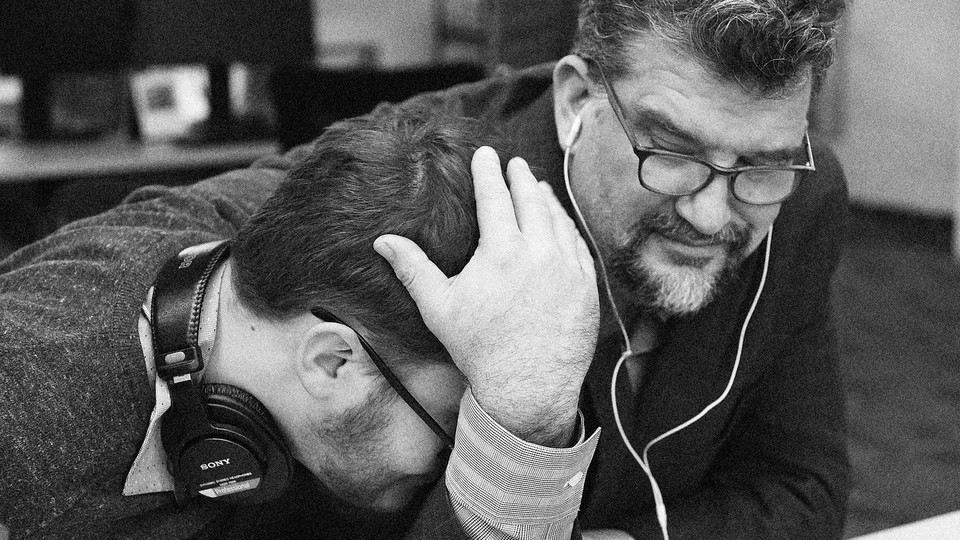 On Monday, a team of four journalists at AL.com won the 2023 Pulitzer Prize in Local Reporting for its investigation of a local police force in Alabama. In an unusual achievement, two members of the award-winning team were a father and a son—John and Ramsey Archibald. The Atlantic asked them to write about what it's like to be close colleagues with a family member, and how their perception of each other changed in the workplace. They were asked not to share their essays with each other before submitting them. Here is what they wrote:
– Chris Ip
---
If there's any philosophy, any core belief to inform my madness in 37 years as a reporter, it's that everyone has a story. It's a gift when people are willing to reveal theirs.
In 2015, I set out on an experiment to prove all of that. I crisscrossed my state, trusting that I could find 31 Alabamians with 31 worthy stories to tell in 31 consecutive days. I came back to Birmingham with powerful stories. I returned with a sore back and swollen knees. And I came home to a new co-worker.
My son Ramsey Archibald, my middle child—after Drew and before Mamie—had been hired at the company where I work, Alabama Media Group, which publishes AL.com. When I set out on my journey, I thought that Ramsey had agreed to take a job at a small but respected paper nearby. But his plans changed. When I got home, he had a desk near mine. I was out gathering other people's stories and didn't know my own.
I was happy for Ramsey—I think. Watching your kid go into journalism is like hearing he wants to rappel into a volcano to rescue a puppy. Sure, there is pride, because I believe the work is crucial. Journalism is hard, but what isn't these days?
However, I also thought of more personal issues: Would he get heat from trolls online because of his last name? Would people inside or outside the office assume that he got the job because of me? If I got snippy with the boss—again—would he suffer? I wanted him to succeed or fail on his own merit, and to understand that he owns both, just as he owns his college degrees and his work product and that uncanny punning ability. (He is truly an idiom savant.)
I did not offer much advice to him, as I recall—"be you," maybe, which is both true and useless. But I knew him too well to suggest too much. I'd seen him at his best and his worst, and I had seen him come through both with a head clearer than my own. I'd seen him stuff peas up his nose. I'd witnessed his performance at the awkward elementary-school recital that made him realize he hated playing piano. I'd watched him ace his college-admissions test but flunk his high-school graduation exam. (He'd heard it couldn't be failed. He set out to prove them wrong.)
I'd seen him, on a court playing in Birmingham's prestigious Old Man Hoops basketball league while still in his 20s, yell, "Make better decisions" to much older players, including a renowned lawyer, an internationally known medical researcher, and a former Southeastern Conference tight end.
So I didn't know how this work relationship would go. I just trusted.
And then I didn't think of it much over the past eight years. We worked together occasionally. He is our data reporter at AL.com—the same job I held long ago. Ramsey built databases and smashed them together to point toward stories. He took numbers and turned them into graphics that people understood. When my colleague Ashley Remkus and I began looking at predatory policing in Alabama, those numbers led the way. They made vivid the outrageous results of a rogue police force in Brookside, Alabama.
This week, the Pulitzer Prize board awarded me, Ashley, Ramsey, and the investigative editor Challen Stephens the Pulitzer Prize in Local Reporting. There can't be a long list of parents who share something like that with a child. I know of none.
Which might be why I did not expect the complex emotion that came with the honor. Ramsey is my son, for whom, as for all my children, I would die. Perhaps it took that moment for me to also see him as a great journalist in his own right. I once thought he was just a part of my story. But he is his own.
— John Archibald
---
As a kid, I saw my dad's face on the front page of The Birmingham News three times a week. People stopped us in grocery stores to talk about his latest column or to tell him they were big fans. My siblings and I would use the time to sneak candy bars into the cart. Later, when I was in journalism school, professors would gush when they learned who my father was, and ask if he'd mind coming to speak to our class. He always made time.
These moments were chances to see the character I thought he was playing. There was "John Archibald," and there was "Dad." John Archibald was fearless, doggedly chasing down stories. He'd talk to anyone, knock on any door, keep digging even when there were threats against him.
Dad, meanwhile, got nervous ordering fast food from the drive-through. He didn't like calling the doctor to schedule appointments. He sang along with whatever Disney movie or pop songs his children were currently into, painted our bedroom walls with characters from our favorite shows, taught us poker and archery and how to cook. He loved us unconditionally.
When I eventually took a position at AL.com, I was nervous, because I didn't know what working with John Archibald would be like. Besides, I didn't want people to think that I'd been hired because of my name. And I'd be naive if I said that the family name hasn't helped me. I knew I'd have to work harder than most people to prove that I was worth keeping around.
Working with John Archibald, it turns out, is easy. We've teamed up on vital projects such as the one that won Pulitzer, Polk, and Hillman prizes this year, and on more fun ones, such as a cartoon history of Alabama. The working relationship we've formed is natural. I can check him, or compliment him, in ways that our other colleagues cannot. He is often more serious at work than he is at home, but I'd like to think that I'm able to bring out some of his silly side. Still, it took a while, for both of us. He was at times distant—I think because we shared the same fears. He didn't want co-workers thinking he was doing me any favors.
Yet eventually, the man who taught me his patented turnaround jump shot on the blacktop at my elementary school also taught me how to write a public-records request, and how to concatenate data fields in Excel. I've realized that he's been teaching me much more—compassion, curiosity, work ethic—since before I knew who John Archibald was, when there was only Dad. Now I know that they are the same person. They always have been.
— Ramsey Archibald