What's the Smallest Amount of Therapy That's Still Effective?
Many people make meaningful emotional progress in just a handful of sessions.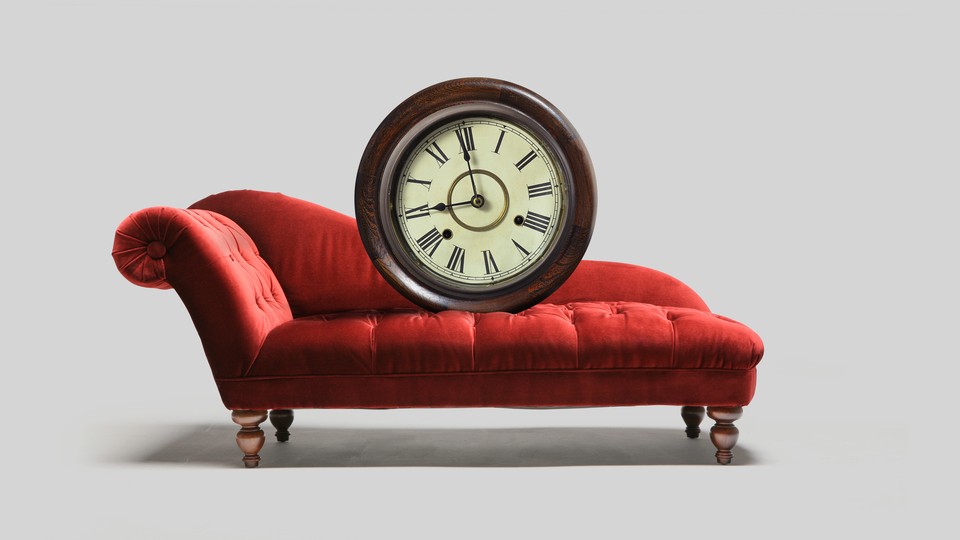 The most common number of talk-therapy sessions that people attend in their lifetime is one. That very first meeting with a mental-health practitioner is usually focused on asking the patient introductory questions, not on providing substantial support, and it can fail to keep them coming back for subsequent meetings. Contributing to that lack of sustained engagement is the pervasive idea that years-long, weekly therapy is the only way to receive adequate mental-health treatment, which can be a daunting prospect for many. But some therapists and patients are challenging that idea and making the case for short-term therapy, a practice that can last anywhere from a single session to dozens over the course of a few months, and that tends to focus on immediate solutions to situational crises. They believe that treating short-term therapy, in addition to long-term care, as a viable option could actually help more people access the help they're seeking.
Growing cultural messaging suggests that therapy is something everyone should consider—due in part to changing generational attitudes about the stigma of mental-health disorders and the lasting mental-health strain of the coronavirus pandemic on the general population. Yet mental-health care is famously hard to access in this country, namely because there are more prospective patients than available providers, and it can be cost-prohibitive. Short-term therapy, which is offered by many therapists who also provide long-term care, can lessen the prolonged financial commitment of traditional therapy and allow therapists to take on more patients.
Short-term therapy is sometimes dismissed as too limited for people's needs, but the practitioners I spoke with agree that, for many, progress is possible even over a short period of time. According to research, a growing number of psychotherapy treatments that have been found to be effective for PTSD, for instance, are designed to last just 12 to 16 sessions. And although some people unequivocally need longer-term therapy, such as those who have experienced complex trauma or who have severe mental-health disorders, trying to fit everyone into that mold doesn't help those for whom quick, targeted care could be meaningful.
Tai'Leah Paige, a small-business owner in Los Angeles, attended weekly therapy sessions for about seven months in 2022 to address her anxiety and obsessive thinking. In the days prior to each session, she would write down things she wanted to speak about with her therapist—moments of negative self-talk or feelings of insecurity. But at one point, she realized she wasn't writing much down anymore, and her anxiety disorder felt like something she had a handle on. Paige could use deep breathing and relaxation techniques she learned from her practitioner when she felt her anxiety in her body, and she became surer of herself as she went about her days. "[My therapist] just let me know that it's all about trusting myself," Paige told me. "If I'm functioning well, if I'm managing well, if the environment around me reflects that of somebody who is healthy and who's taking care of themselves … then what really am I there for?" Paige and her therapist decided their time together had come to a close.
People with anxiety and depression (the most common mental-health diagnoses) seem to do particularly well with short-term therapy, according to Diane Kubrin, a licensed marriage and family therapist in Los Angeles. The Los Angeles LGBT Center, where Kubrin is the director of mental-health services, exclusively offers short-term therapy. She told me she's seen how that model has also helped patients dealing with stage-of-life transitions or grief and loss. "When people come into therapy, they're distressed, right?" Kubrin said. "Most short-term therapy is very pinpointed and targeted, so it's very solution-focused and very specific to the thing that is causing that person distress." People with more common disorders tend to have symptoms that flare up throughout their lives, and Kubrin noted that those solutions developed in short-term therapy can also be applied in the future.
Many community organizations and schools focus on short-term therapy because it's a way to provide access to as many people as possible amid cost and provider constraints. But some researchers say that though symptoms may improve faster on a set time frame, the limited sessions can create stress for patients and therapists alike, potentially making the therapy process less effective for some. Additionally, some college students have described the short-term offerings of their campus's mental-health office as insufficient for attending to their long-term needs. Kubrin told me the LGBT Center hears critiques like this often, via clients who insist that short-term therapy will be useless. However, she said that many change their mind after beginning counseling and seeing results more quickly than they'd anticipated.
More common than trying to win over short-term-therapy skeptics, however, is trying to reach those people who attend one session of therapy and never go back. Therapists such as Jessica Schleider, the director of the Lab for Scalable Mental Health at Stony Brook University, are trying to figure out how to serve this group more effectively by making the most of that single visit. One example of her lab's "single-session interventions" is designed for a person who's just been put on a waitlist for longer-term therapy, and the course can be administered immediately by any provider trained for it. "The single-session consultation program helps people identify a top problem that they're experiencing right now, a top hope that they want for themselves, and [then they] make a really simple action plan for getting one step closer to making that top hope real," she told me. Schleider's lab has found that these targeted interventions can actually shift a patient's sense of agency and hopelessness, whether they seek more care or not. "Those are underlying factors that contribute to a lot of different mental-health problems," she said. "So making a dent in those things, even if it's a small dent, and even if it's in the short term for some people, has important downstream effects."
Garnet Henderson, a journalist based in New York, has gone to short-term therapy to help manage what she says are "dysfunctional reactions" to certain situations. Her first experience with therapy was through her college's psychological-services office when her father died in 2011. After a few months, she felt like she'd accomplished what she needed: getting through her current crisis. "It bothers me when I see people suggest that everybody should be in therapy all the time forever," Henderson told me. The typical implication, she said, is that if you're not in ongoing treatment, then you're not taking care of your mental health. Although she's not currently seeing a therapist, Henderson still uses the progressive-muscle-relaxation and visualization techniques she learned in her sessions. She also makes sure to get enough sleep and exercise regularly, which she learned "helps keep me on an even keel … and can be preventative in the long run."
Short-term therapy can also be attractive as a starting point for people who are skeptical of therapy's overall effectiveness. Rory Brown, a church administrator in Portland, Oregon, has had multiple unsatisfying therapy experiences, so engaging in a short-term option felt like less of a gamble for her. "While in crisis, it can be hard to commit to something that is long-term—but when an end is in sight, even the most reluctant people may be willing to try," she told me via email. Recently, she found a psychiatrist who diagnosed her with obsessive-compulsive disorder, ADHD, and PTSD, and offered her short-term therapy in addition to medication. A psychologist worked with her on short-term exposure therapy for her OCD and also encouraged her to seek a long-term trauma therapist to address her PTSD. Trusting her provider and seeing results in the short term were what Brown said eventually helped her commit to long-term trauma therapy.
Instead of thinking about therapy as a permanent necessity, many people could benefit from visualizing it as a temporary skill-building opportunity, or as a way to work through a singular crisis. Widening that scope could also make therapy more accessible to those who can't afford unlimited sessions or who are loath to sign on to the practice long-term. "I think the old-fashioned model is not built to succeed at the level that we need it to, given that rates of mental-health problems nationally and internationally have only gone up," Schleider told me. An additional option for treatment offers a legitimate alternative in an already overburdened system.