What It's Like to Retire in Your Early 20s
Some former college athletes face the existential crisis of a career ending at a young age.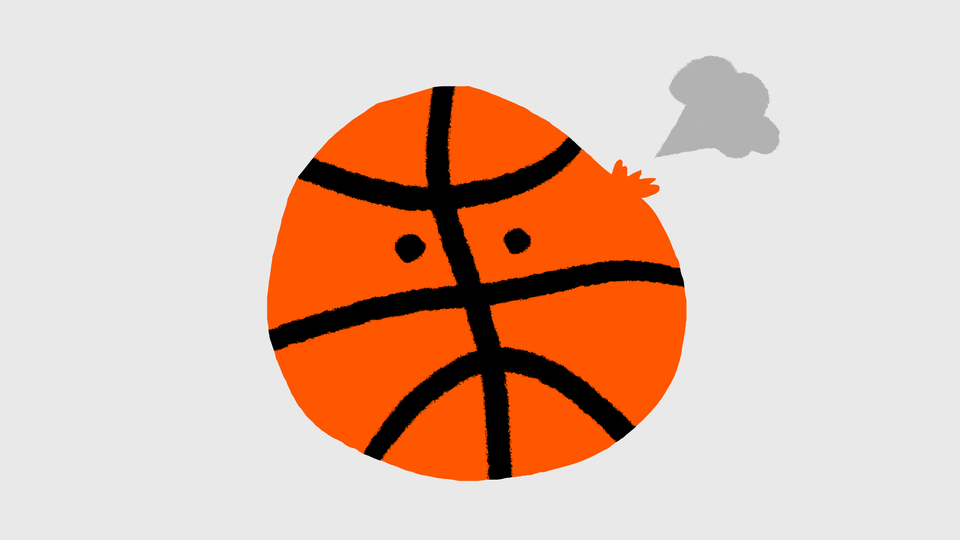 In the United States, sports can dominate kids' whole lives. Weekends are filled with games, tournaments, and travel. For the most talented, participation in club teams can lead to state teams, followed by national ones. Then, with the pursuit of college sport scholarships, and eventually playing in the NCAA, a teenager's entire identity can become intertwined with athletic success. In chasing that dream, "a young person starts giving up all the other aspects of their life," Francesca Cavallerio, a sports psychologist and lecturer at Anglia Ruskin University, in the United Kingdom, told me.
That single-mindedness can become a hindrance when athletes realize that they're not going to turn pro. According to the NCAA, less than 2 percent of college athletes go on to play professional sports. (Even if they make it that far, the average professional career length in football, basketball, baseball, and ice hockey is three to five years.) Many young athletes don't realize what sports provided until that point: the security of having a defined role in a closed world with rules and guidance. After graduation, an uncertain future might await. "All the great transferable skills that you gain as an elite athlete can be extremely useful, but only if you actually find a new path, a new goal," Elodie Wendling, a researcher in the University of Florida's department of sports management, told me.
Transitioning out of a linear education system into regular adult life can be a challenge for any 20-something; adding in the end of a long sports career can make it even harder. At an age when most people are embarking on their careers, elite athletes are already wrapping one up, and facing issues that most people don't confront until later in life. Retired athletes, much like the rest of us, would benefit from having more than one identity in life—they're just forced to learn this lesson young.
Post-sports life comes with many profound adjustments, but also trivial ones. "I was so used to eating every night grilled chicken, rice and vegetables, and a salad, and one piece of bread and water," Savannah Jordan, a former professional soccer player, told me. Jordan was a natural athlete in a competitive family, dabbling in several sports before soccer took her to the University of Florida and a two-year stint playing professionally. From the age of 13, she felt like the sport was a full-time job. Jordan's every meal choice was controlled by coaches. "Now I go out and look at a menu, and my natural instinct is that I can't have any of [those foods], because my mind was so trained," she said.
After retiring, Jordan understood that she had the freedom of personal choice. But that wasn't easy either: So many elements of her life as a soccer player—right down to when to eat and sleep—had been set in a concrete schedule. Jordan had also gone without certain rituals, like proms, sleepovers, and parties; she didn't have much of a social life at all. Instead, friendships came ready-made, because teammates spend much of their time together. They'd joke with one another: "You're my friend because you have to be my friend," Jordan said. "When I got out into the real world, it's like, what social groups do I fit into."
Perhaps surprisingly, exercise and physical health can be a challenge for some former athletes after college. "There's an assumption that athletes by nature of being athletes know how to be active," Erin Reifsteck, an associate professor in the department of kinesiology at the University of North Carolina at Greensboro, told me by email. But training for a sport isn't the same thing as exercise for health. "The culture of sport often reinforces certain values and norms, like sacrificing your body for the sake of athletic performance," Reifsteck said. "Physical activity in this context can be viewed as very intense and even painful, which is maybe not the most ideal perception." In one study, former Division I athletes exercised less, weighed more, and were more likely to have osteoarthritis (potentially stemming from long-ago injuries) compared with people who had competed in club, intramural, or recreational sports in college.
One key to helping athletes adjust to retirement might be supporting them better during college: a formative period for any young person, and one when sporting demands might kick into overdrive. "There's just not enough support at the college level to prepare athletes for life after sport," Wendling said. In the Pac-12—a major athletic conference in college sports—athletes spend more than 50 hours a week in sport-related activities, Eddie Comeaux, the executive director of the Center for Athletes' Rights and Equity at UC Riverside, told me.
On top of that, they deal with "the mental fatigue, the physical exhaustion, the nagging injuries," Comeaux said. "When you think about the demands of their coaches, the demands of their sport, the extensive travel during the season, it's less likely that athletes will spend time in the classroom." A 2019 NCAA study of 22,000 student athletes showed that Division I basketball and baseball players spend an average of more than two days per week away from campus during their competitive season. The same study also showed that recently, athletes in many sports have spent less time socializing or relaxing during the athletic season—from 20 hours a week in 2010 to just 15 hours in 2019.
Many college athletes might not have time to do the things both inside and outside the lecture hall that prepare students for life after graduation: applying for internships, joining non-sports clubs, studying abroad. In the NCAA study, when the student athletes were asked what they wished coaches and athletic administrators would talk more about, the most common response—from 41 percent of male athletes and 61 percent of female athletes—was preparing for a non-sporting career after college. In one of Wendling's studies, funded by an NCAA grant, 55 percent of the more than 500 former college athletes interviewed felt confused about what to do after college or had not yet established plans for their next career.
Young athletes are typically conditioned to have a singular focus on their sport from an early age, with the tacit belief that this is the only route to success. But a little more personal freedom might not be antithetical to maximizing athletic performance. Wendling is researching how having career commitments outside a sport can increase athletes' well-being. Her hypothesis is that this would also improve athletic performance. Whether or not that proves correct, perhaps a better quality of life would be its own reward for a young athlete in the twilight of their career.