America's Child-Care Equilibrium Has Shattered
Although care is expensive for parents—often obscenely so—providers are paid a pittance. And now there isn't even enough expensive child care to go around.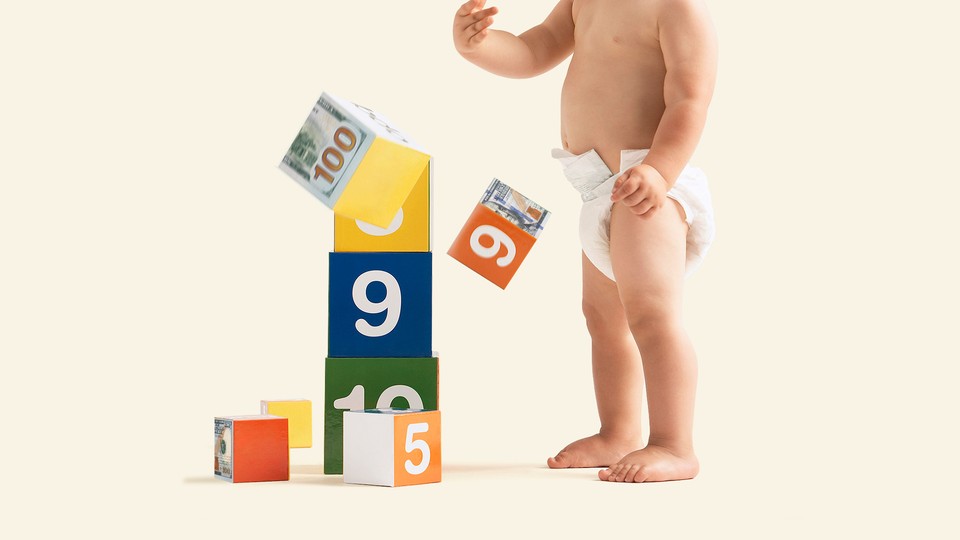 Megan Taylor was expecting child-care help. Taylor and her husband, a Navy doctor, live in San Diego. As a military family, they are eligible for a low-cost slot at the on-base child-development center or, failing that, assistance paying for a community program. But Taylor's son has been on various wait lists for 21 months—since before he was born. He's 15 months old.
The San Diego Union-Tribune recently reported that a staggering 4,000-plus families like Taylor's are on the Navy's waiting list in San Diego alone. The problem is not isolated to one branch or base. The fact that military families are struggling so badly to find care for their kids is a keeled-over canary for the rest of us; the military's child-care system is often held up as America's best-case scenario.
America's fragile child-care equilibrium has shattered. Because of an inability to recruit and retain staff, many child-care programs (of all types, including day cares and preschools) are operating at reduced capacity, while some have closed entirely. In big cities and small towns, red states and blue, parents are hitting a wall of wait lists. Demand is high, but supply is woefully low. The financial paradox of child care is that although it's expensive for parents—often obscenely so—providers are paid a pittance. And now there isn't even enough expensive child care to go around. Until child care becomes a well-compensated and well-respected job, all efforts to give parents more affordable choices will fall short.
The Great Resignation spurred by the pandemic has led many industries, including retail and fast food, to raise their compensation packages. But child-care programs have not been able to keep up, even as many charge parents more. The sector is still down more than 85,000 jobs from February 2020. More than 16,000 programs have closed permanently.
The median wage for child-care workers in 2021 was $13.22 an hour, or about $27,500 a year. Almost all are hourly workers, and the benefits are limited—according to an analysis by researchers at the the Economic Policy Institute, only one in five has access to employer-sponsored health insurance, and only one in 10 has a retirement plan. With high turnover and lean staff, administrators have been forced to ask educators to work extra hours.
Why is child-care work so devalued? The reason seems to be an unfortunate mix of economic constraints and cultural attitudes.
Child care is a tremendously expensive service to provide because it requires a lot of human beings. A restaurant worker can serve hundreds of people over the course of a shift. An elementary-school teacher is single-handedly responsible for 20 or so students, often (too) many more. Young children, however, require heavy supervision and engagement. States' maximum child-to-adult ratios for child-care programs are rightly low, commonly 1:4 for infants and 1:6 to 1:8 for toddlers. With personnel costs so high and little public funding, even the painful parent fees can't fully cover expenses; many programs have no choice but to balance their budget with low wages. A new analysis from the Center for American Progress shows that inflation-adjusted wages actually declined for child-care professionals from 2012 to 2019.
It must be noted that these low wages are paid to a workforce that is almost entirely women and disproportionately women of color. The workforce's low pay cannot be disentangled from complex societal questions of who's responsible for providing care and whether care work is both valuable and worthy of respect. As Angela Garbes, author of the new book Essential Labor: Mothering as Social Change, said in a recent interview:
It's about money, sure. But it's really about priorities, and how we think about our responsibilities as humans to one another. Do we understand that caring for a child, or an elder, or someone who needs medical care [is] part of our responsibility as members of society? Of a community? Or will we continue to buy into the deeply atomized, individualistic norms of (white, patriarchal) American society that are, quite frankly, making even people with the most means and privilege pretty damn miserable?
These conflicting priorities are reflected in efforts to expand eligibility for and the amount of child-care assistance without permanently boosting the workforce. For instance, New York's recent budget makes families who earn up to 300 percent of the federal poverty line eligible for subsidies, and caps their fees at 10 percent of their income. Similarly, last fall Michigan made 105,000 children newly eligible for free or low-cost care. To their credit, numerous states, including New York and Michigan, have used pandemic funds to offer temporary grants or bonuses to child-care practitioners. However, as researchers at the Center for the Study of Child Care Employment explain, "it is crucial not to confuse the intention of a one-time relief payment with sustained wage increases and access to benefits that can permanently transform the livelihood of an educator."
Increasing the number of families eligible for assistance and slashing parent fees is crucial, of course. That said, there is a tension between the priorities of affordability and workforce compensation. Both are necessary, but there should also be an order of operations; a first-then, not simply a both-and. Building up the workforce is the prerequisite to a functional system. As appealing as it may be for politicians to focus on affordability, if you build it with no staff, they will try to come and be turned away.
"I would love to get back to work, but I can't unless I know my son is in good hands," Taylor told me. "Take the cost of child care out of it. I've called at least 10 day cares in the area," she noted, "and it looks like the soonest he's going to get off of one [wait list] is in November." Taylor added that "it breaks my heart" to consider families who are thrust into financial distress because one partner has to stay home when they simply can't find child care.
We can look abroad for further proof. Germany has some of the most generous child-care benefits of any nation. Since 2013, all German parents have had a legal right to a child-care slot. Meanwhile, child-care workers have been advocating for better pay, and the combination of high demand and workforce shortages have led to that promise going unfulfilled for many families—to the point that some parents have sued the government for lost wages. People do not appreciate vouchers to nowhere.
To be sure, solely focusing on compensation for providers could also unbalance the delicate equation. This was a concern raised during last year's Build Back Better debate: If you increase wages but don't cover the increases with enough public funding, then parents can get hit with fee bumps. But a child-care system can't do right by children or parents if it isn't doing right by its workers.
There are a few jurisdictions that have taken a more strategic approach. New Mexico made headlines in April by expanding its subsidy system to offer free child care to all low- and middle-income families. A year before that announcement, however, the state made a permanent change majorly boosting how much the state paid providers for each child receiving subsidies, freeing programs to increase their compensation.
Along the same lines, Washington, D.C., passed legislation in 2018 to move child-care providers toward pay parity with elementary-school teachers in the coming years. As a stopgap measure in the meantime, the District sent a onetime check to child-care workers for $10,000 to $14,000, and plans to continue supplementing their pay moving forward. Both of these solutions, however, required governments to be willing to spend recurring money.
There are other potential solutions to this tension, all of which have caveats. Minnesota, for example, has considered implementing a wage scale—salary levels based on a combination of experience and education—similar to how K–12 teachers and firefighters are paid, but hasn't yet done so. Additionally, during the pandemic, Washington State created a temporary program offering free or low-cost health insurance to child-care employees, though it remains to be seen if the program will be made permanent. These efforts nod toward a possible future where child-care providers are salaried employees with family-sustaining compensation, along with access to good benefits.
But to fully reach that future, we would also need to raise the level of respect that child-care educators receive. As Garbes intimated, child care is not perceived as a high-prestige occupation. These workers are too often derided as "babysitters" despite their challenging and brain-building work, and the pandemic emphasized how society considers child-care educators to be less-than. As debate raged over whether schools should close, some child-care programs kept their doors open with little fanfare. Along with better compensation, intentional efforts to uplift the profession—such as changing the language elected leaders use and educating the public about how crucial the job is for child development—could help generate a pipeline of would-be practitioners.
In the end, parents' child-care pain points cannot be resolved simply by making child care cheaper. Investing in a strong workforce is the first step to making high-quality child care available to all who need it—which means finally giving child-care providers the recognition and compensation they have long deserved.
---
​When you buy a book using a link on this page, we receive a commission. Thank you for supporting The Atlantic.