The Joy of a Younger Friend in Old Age
"You don't have to stop learning; you don't have to stop growing; you don't have to stop adventuring."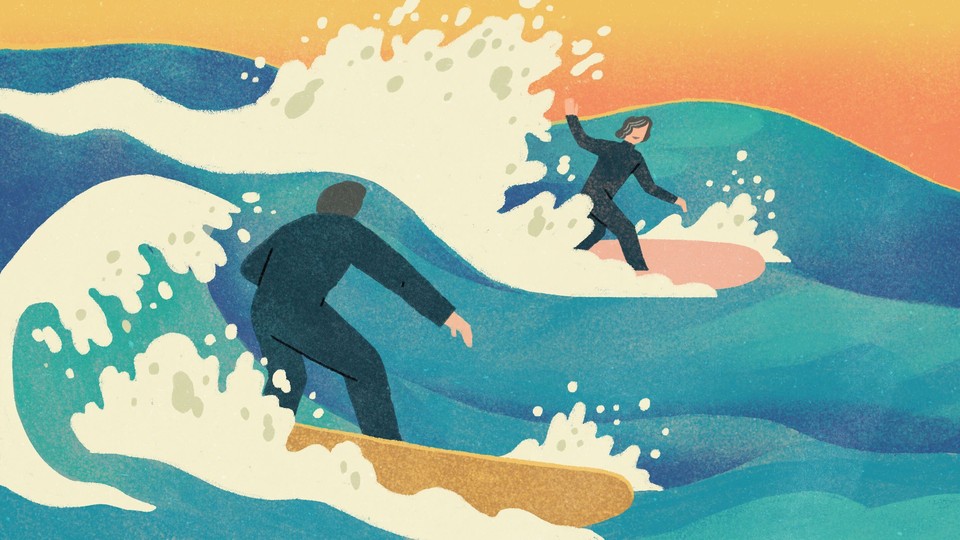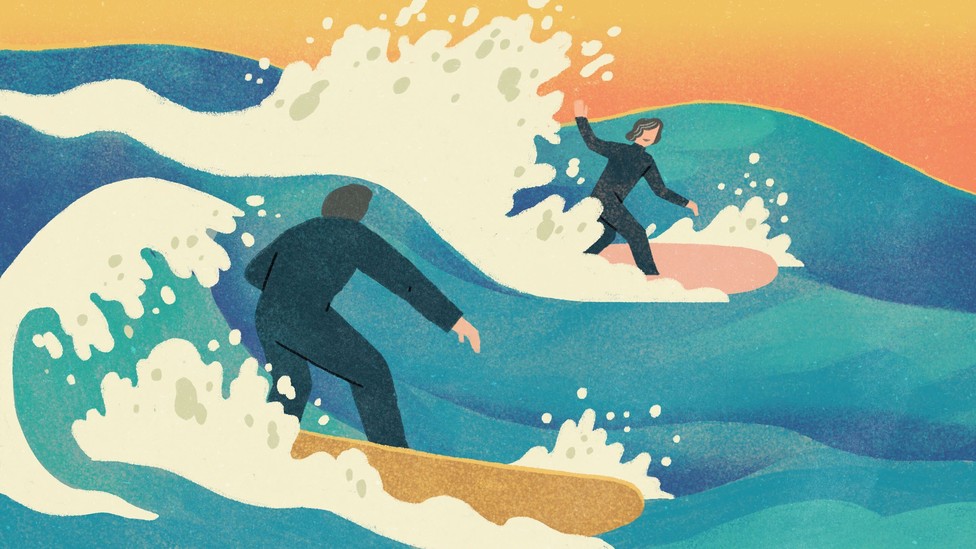 Each installment of "The Friendship Files" features a conversation between The Atlantic's Julie Beck and two or more friends, exploring the history and significance of their relationship.
This week she talks with two amateur surfers who formed a close friendship despite their age gap. They discuss "surf etiquette," how the solitary sport created a rich community for them in Hawaii, and the values their friendship is built on: learning and trying new things throughout life.
The Friends:

Dax Garcia, 43, an adjunct professor and a doctoral student studying mental health at the University of Hawaii at Manoa, who lives in Kailua, Hawaii
Gayle Lanthier, 73, a retired airline agent who lives in Honolulu, Hawaii
This interview has been edited for length and clarity.
---
Julie Beck: Let's start before you even met—tell me about your history with surfing.
Gayle Lanthier: I've always been in the water, but I didn't start to surf until I turned 60. I said, "Well, if I don't start now, I'll never start." Then I hopped on a board and just went with it. I'm not very good, but I always say I'm the best surfer out there because I really have a great time.
Dax Garcia: I went through a divorce after a 14-year relationship ended, and that brought me back to Hawaii. I was 39 years old the first time that I touched a surfboard. It took me three weeks to ride my first wave and actually stand up on it. But it became a passion. I pinch myself trying to figure out what this wonderful life is that I have. It's totally surreal.
Beck: You met surfing, isn't that right?
Gayle: I can tell this story. Every single morning, I surf at Diamond Head by the break called Cliffs. One day, I see this big guy, like 6 foot 6. He's wearing a green T-shirt, not even proper surf gear, and he has a huge board, between nine and 10 feet, which is also green. He's struggling in the waves. I see him every day, and he's getting better. Then I think, Oh God, I'm smiling [at him]. Now he's going to have to come over and introduce himself, and we'll trade names, and that's exactly what happened.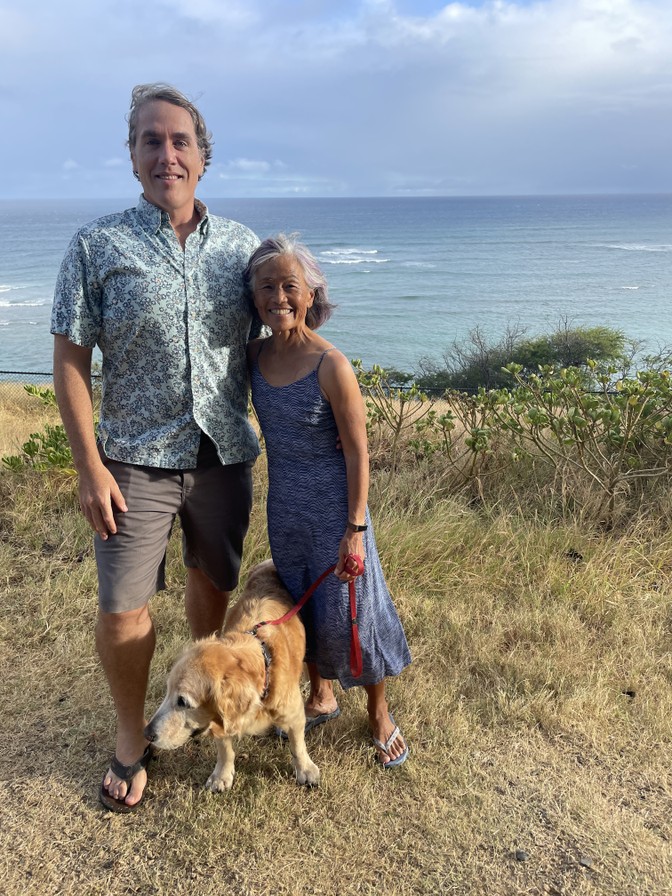 We saw each other every day in the water and caught waves and yoo-hooed for each other, which led to coffee, which led to lunches and potlucks and even a surf trip to Maui. It's grown into this unique relationship.
Dax: I'm only 6 foot 4.
Gayle: Okay.
Dax: There's a term for surfers who pose a threat to others in the water—people who can't control their own board, who don't really know what they're doing. The term is kook. I definitely started as a kook, like everybody does, but even after I got a handle on getting up on waves and staying away from everybody, I still managed to present as a kook, I think because of the way that I was dressed and how friendly and happy-go-lucky [I was] out there. I can definitely see how Gayle would roll her eyes and be like, "Keep this guy away from me."
Beck: Do you remember your first impressions of each other?
Dax: I can't remember the first time, but I definitely remember Gayle asking me if I was okay after eating it hard one time. At surf breaks here, you'll catch somebody at one place and then [again at] another. But other surfers just have their own break. At those breaks, there's a few de facto mayors. And Gayle is one of them.
Gayle: No, wait, no. I'm the queen.
Dax: I've never heard her say that before. Wow. I did not know she had that ego.
But everybody knows Gayle. It was easy to connect with her, because she's so kind and so welcoming. Also because I was not wanting to compete with anybody for waves. I would usually stay put at the inside, and that's where Gayle surfed.
Gayle: I am pretty welcoming unless you pose a threat, and he definitely did not, other than safety with his board. We call it "tombstoning" when you fall off the wave and your board shoots straight up in the air.
Dax: You might as well shoot a flare into the sky and announce to everybody, "I don't know what I'm doing."
Gayle: We make it sound so bad. He's not a terrible surfer at all. We're not out there to do all the tricks. We just want to have fun, be in the water, cheer for your friends, and maybe even share a wave. Dax has this thing where he stands on his head after he's taken the drop on the wave. Who can even stand on their head on land?
Dax: I'm a much more impressive surfer upside down than I am right side up.
Gayle: But we have more than surfing in common. After I first met him, I was taking my dog on a walk on the beach, and there, sitting in the shade under some trees, was Dax with this girl. And I said, "Oh, hey, you're the guy from Diamond Head." Then, another time, I'm hiking on some random mountain, and there he is again. And I go, "Okay, I guess we're meant to be friends." He has the same interests, and I just kept bumping into him.
Dax: It wasn't that random. The hike was, like, six hours round trip. It was an extreme, extreme hike.
Beck: What is the social environment like in the surfing community generally? And how is it specifically among your group of friends?
Dax: When I was first moving to Hawaii, I was told they don't like outsiders. And I found it to be so untrue, but it does require a certain level of respect for locals and native Hawaiians.
People who treat it as a vacation spot, who snap their fingers and say, "Another Mai Tai," they're clearly not giving a lot of respect. But just like so many other places in the world, if you're kind and deferential and respectful, good things happen.
It's interesting. You have some of the best surfers in the world out on these breaks. And then you also have a couple of people that are figuring things out, in a surf school. You've got a smattering of tourists and a number of the locals who love being out there.
Gayle: We're all fighting for the same wave.
Dax: If you're a regular, you start to figure out who's who.
Gayle: You basically find a time and what they call your "home break." If you go at the same time to your home break, and they know you're a regular, they will give you respect. And a smile goes a long way. Then pretty soon you're one of them.
Beck: So it's more about commitment and being kind than "We always defer to the best surfers."
Gayle: Right. And you don't move spots. If it's windy, if the tide is wrong, if the conditions are not perfect, you just keep going because that's your break. Whereas if people hop around … It's territorial, a little bit. There is a surf etiquette.
Dax: I've got friends who will only go out when it's clean and glassy and low wind and big waves, and I understand that. There's a privilege to having a schedule set up where you can get out there every day at the same time. I wish everybody could have the opportunity. But it takes time, and you need to be in shape, and you need to be motivated. For me, those periods come and go. I definitely miss daily surfing. That's not quite my reality right now.
We both used to live four or five minutes from Diamond Head by car.
Gayle: And from each other. So it was really easy to just call and say, "Hey, you want some coffee? You want to go surf? Want to hang out?" And then he moved to Kailua.
Dax: Sorry, Gayle.
Gayle: He gets a girlfriend after, I don't know, how many years have we known each other?
Dax: Probably three years.
Gayle: I was thrilled. But then they moved to Kailua. That's been hard, not being able to just say, "Hey, you ready?"
Dax: With traffic, it's about 30, 45 minutes. I definitely miss a lot of my old community, and Gayle for sure.
Gayle: When he left, it was a kind of heartbreak. But I was so happy that he had found a wonderful, wonderful girl. But oh my God. How many months of online dating was that?
Dax: Maybe two and a half years.
Gayle: He says, "It was like a full-time job." I mean, he had one girl for lunch and another one for coffee. It was just crazy, right?
Dax: I had no idea how much time or energy dating took. When moving back to Hawaii after the divorce, I didn't feel ready for it. The last time that I was single, the Twin Towers were still standing. But I learned so much about myself and met a lot of incredible people. And then the culmination with my girlfriend, Cat. She checks off boxes I didn't even know I had.
Beck: Have you guys been sounding boards for each other with dating?
Dax: Gayle has been separated for six, seven years.
Gayle: Officially divorced for two, maybe three—I can't remember.
Dax: Gayle was a mainstay for me. I'd have the date, and the next day I'd jump in the water and tell her all about it. She was constantly giving me feedback and support.
She asked me to help set up her own dating profile. She had never done online dating before.
Gayle: Well, we'd fill in the whole thing, we'd select the photo, and he'd say, "Okay, let's submit." And my finger wouldn't know how to. To this day, I haven't pressed the button. My sons are in their 40s, and I have four grandchildren, and I have surfing, neighbors, and friends. I, maybe, am too content to work hard for something more. What is it you told me? That I can have it all.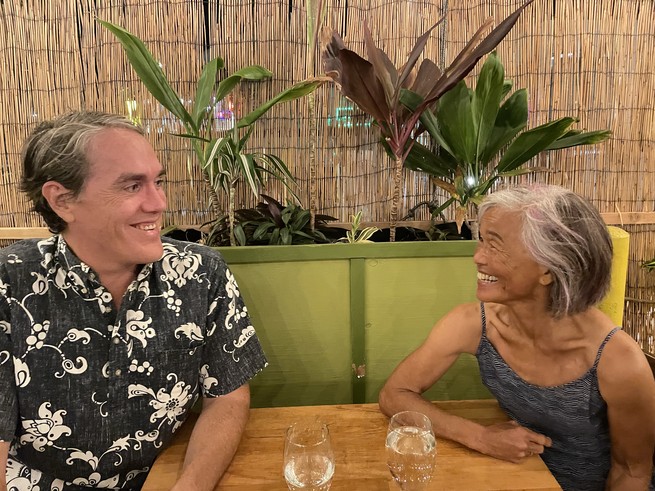 Dax: You've got such an incredible life, and you just want somebody to share it with on terms that work for you. And that's out there.
Gayle's got this wonderful family and this incredible home. To go into Gayle's home is to be surrounded by shells that she's collected on her travels. She's always planning her next big trip. Gayle's an artist; she does embroidery. She's got these adorable little tapestries. She's stitched for me; she stitches for our friends. These are artifacts of just a life that is so well lived. She's got this wonderful community of friends, she's active … It's inspiring. I tell my friends about Gayle, and they say, "I want to live that life," and they're not talking about being retired.
Gayle: This is not to take away from his relationship with Cat, which I just think is wonderful for him, and for me to see. But once, long ago, I said to him, "God, Dax, I wish you were 30 or 40 years older." And he said to me, "No, I wish you were 30 or 40 years younger."
Dax: Ideally, we'd both be 30.
Gayle's values—a lot of love, a lot of community—tie us together. How to treat people well, how to take care of yourself, how to take care of others, appreciating art.
I always have my students journal in class. One prompt that I give them is Write about a time that you put yourself in an uncomfortable situation on purpose, and what did you get out of it? And I give them some context. I talk about Gayle and dating and the idea that you're always learning, always growing. There's always a chance to put yourself out there. Gayle is inspiring to me, and she's inspiring to my students. You don't have to stop learning; you don't have to stop growing; you don't have to stop adventuring.
Gayle's not just special to me. Everybody I introduce her to is in love with her. It's such an easy friendship in that way.
Gayle: You can see how he supports me. He puts this halo or crown on me, and that builds my confidence in myself. It makes aging not something to worry about but something that he respects. He aspires to live the life I lead. So I just keep going in that direction, buoyed by the love of a friend like that.
Beck: It seems like surfing is a pretty solitary, individual sport. Does it feel natural to build a community around something like that? Or do you feel like it takes work and intention?
Dax: For me, the community was already there. I never felt like I did it myself. I can definitely see how you would say surfing is an individual, even isolating sport. But there's always a community. If you're willing and looking to connect with people out in the water, there will always be people out in the water willing to connect with you.
Gayle: When you catch the wave, it definitely is an individual thing. But somebody's always watching you and cheering you on. In between waves, you're sitting there and you don't even have to talk. There's the sky, the endless horizon, sometimes a rainbow over the lighthouse at Diamond Head. Just sit there with somebody.
Dax: I've had so many special experiences out on the water, and so few of them feel isolating.
---
If you or someone you know should be featured in "The Friendship Files," get in touch at friendshipfiles@theatlantic.com, and tell us a bit about what makes the friendship unique.