The Real Win, Place, and Show Are the Friends We Made Along the Way
"We're not the typical kind of horse owners."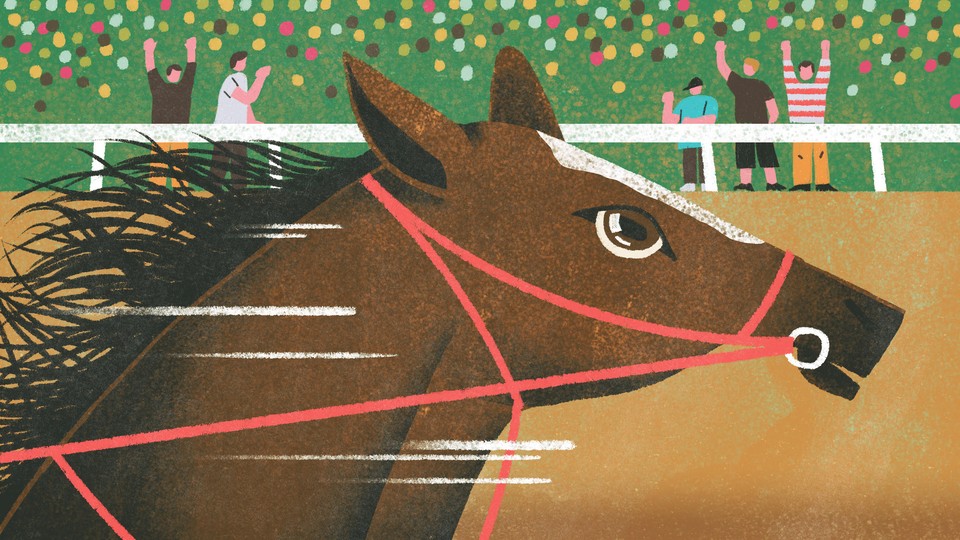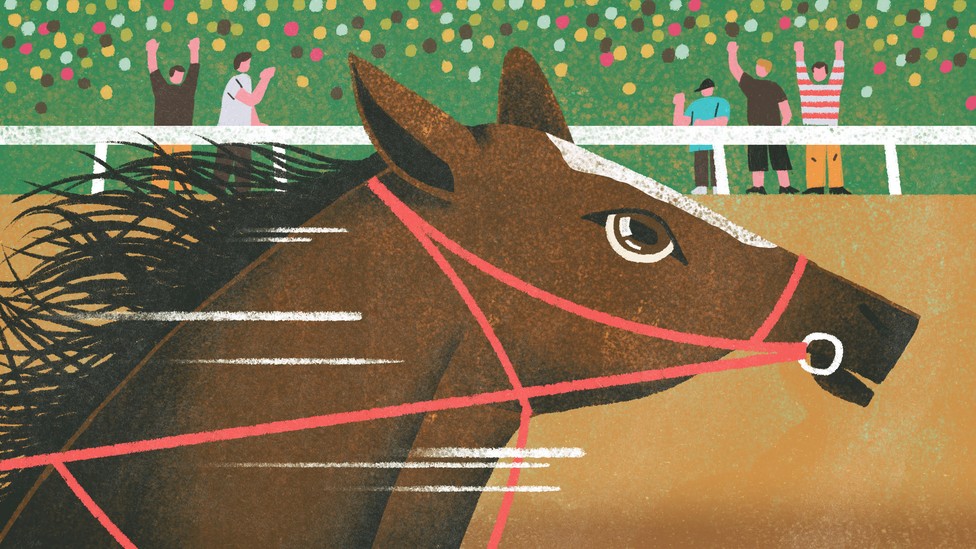 Each installment of "The Friendship Files" features a conversation between The Atlantic's Julie Beck and two or more friends, exploring the history and significance of their relationship.
This week she talks with a group of friends who met playing college football and got interested in horse racing after graduation. Now, along with their other friend Reiley, who didn't participate in the interview, they are part owners of the horse that came in third place at the 2021 Kentucky Derby. They discuss the pact they made to race horses for the experience, not for the money; the "emotional blackout" they feel during a race; and how their Derby contender, Hot Rod Charlie, is a friend too.
The Friends:

Eric Armagost, 28, a venture capitalist and a managing member of Boat Racing LLC, who lives in Peachtree City, Georgia
Dan Giovacchini, 28, a tech-startup co-founder and a managing member of Boat Racing LLC, who lives in Boston
Patrick O'Neill, 28, the vice president of sales at an apparel company and a managing member of Boat Racing LLC, who lives in Boston
Alex Quoyeser, 28, an operations manager for Lyft and a managing member of Boat Racing LLC, who lives in Santa Monica, California
This interview has been edited for length and clarity.
---
Julie Beck: How did you guys meet and become friends?
Alex Quoyeser: All five of us were members of the Brown University football team, class of 2015. We also all majored in business, entrepreneurship, and organizations. And we happened to join the same fraternity with 30 fellow football players. So we had a high degree of exposure to one another.
Beck: What was the social environment like on the football team?
Eric Armagost: It was a work hard, play hard type of mentality. We were at a rigorous school with rigorous academics, and also working really hard on the football field with workouts, practice, and games. Then on the weekends, we'd just kick back with people on the football team who were our closest friends.
Beck: Between the packed football schedule, class, and the fraternity, what percentage of your time would you say you spent together in college?
Dan Giovacchini: I'd say 80 to 90 percent. For better and worse.
Patrick O'Neill: There are no other individuals whom I saw or hung out with more for four straight years than these guys and the rest of the Brown football class. That includes parents, who we would see for two weeks during winter break and then maybe three weeks during the summer.
Eric: The only times we weren't together were when Pat was sneaking out to go to horse races.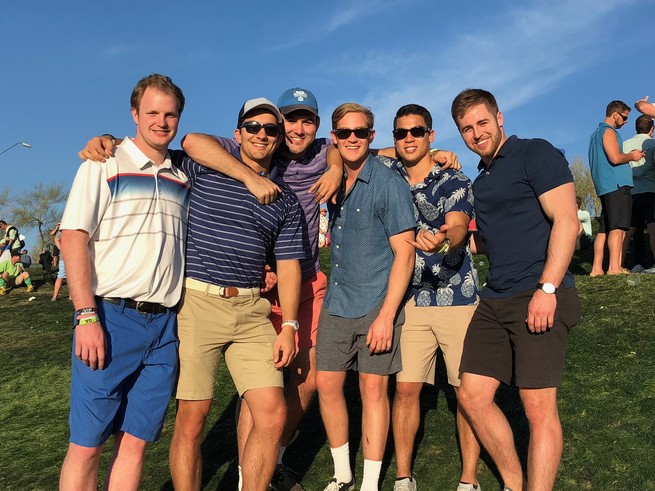 Beck: Have you always been fans of horse racing?
Eric: Patrick, it's in his blood. His two uncles are some of the most famous horse trainers and agents in the U.S. The other guys are relatively newer to the sport. Pat has always been involved in it, always watching TVG on his phone in the back of class.
Beck: Watching what?
Eric: TVG, which is the big network that covers a lot of horse racing. Freshman year, in 2012, Patrick said he was going to the Kentucky Derby and we all laughed. He actually got out of a pledging event to be there with his family, which we thought might've been made up. Then we saw him several days later in the winner's circle with his uncles and I'll Have Another, who won the Kentucky Derby in 2012. [Only then] did we realize it was such a real thing for Pat.
Beck: Patrick, how involved were you with racing growing up?
Patrick: My grandfather, whom I am named after, was very into the sport, not from a business perspective, but from a gambling perspective. Unfortunately—I love him to death and I'd say this to his face—he might've gambled a little bit too much. I think it resulted in him losing a couple of houses.
Immediately after high school, my uncles went into horse racing. They saw the good part of horse racing, which was the amazing people and the majestic animals. One started from the very bottom of becoming a thoroughbred horse trainer. Picking up horses' poop—that's literally how he started. Slowly but surely, they made their name in the sport. Fast forward to 2012, one uncle ended up winning the Kentucky Derby with I'll Have Another, and the other uncle was the person who picked the horse.
Beck: When you say "picked a horse," do you mean he toured stables and was like, "This one's for us"?
Patrick: You're not too far off. He saw thousands of horses at a sale—how they walk, how they look—reviewed the pedigree, and picked horses that he felt were worth the price.
I remember from a very early age going to the bottom feeding tracks all across Southern California. Did I ever think that I would be at the Kentucky Derby? No. It's certainly been a family passion. The O'Neill family owes a lot to horse racing.
Beck: How did you all go from just watching races with Patrick to wanting to get into the business yourselves?
Dan: We spent those four years at Brown being intensely part of one another's lives, then went off and graduated and started our lives in different cities. We had our text group, like I think all friend groups have, and we'd go on snowboarding trips, make up reasons to visit each other, and try and hold on to the friendship. On one of those trips, we were visiting Pat in San Diego and got to go to Del Mar, which has this awesome racetrack. We saw a horse win that his uncle Doug had trained.
At that point, we'd been out of school for a couple of years and we said, "Hey, what if we tried to become part of this somehow?" We could each put in a few thousand bucks that we'd saved up, go to different tracks, and just compete together and hang out again.
Patrick: I certainly understood the financial ramifications of horse racing more than the rest of this group. At Del Mar, everyone saw the fun that horse racing can bring, but no one really understood the financial negatives. You're paying for an animal that, if he or she doesn't want to run fast, is worth zero. And you might've spent a hundred thousand dollars on a horse. It's really not the most financially smart decision.
So, loving these guys like brothers, I said, "Eh, that's not how I imagined spending time with my best friends," because I felt like potentially this could result in a very, very close relationship going sour.
To these guys' credit, they came together and said, "We're going to promise one another that we're going to do this for the right reasons. We're going to focus on making memories together." That's how Boat Racing LLC started.
Dan: No regrets, if we lose every dollar. We had an amount in mind [that we were willing to spend], and if it didn't end up going anywhere, then that's an amazing adventure.
Beck: Why is it called Boat Racing if you race horses?
Alex: Boat Racing is a reference to a beer-drinking game that we played in college, basically just a beer-chugging relay race. Never in a million years, when we came up with the name of the organization, did we ever think we were going to be explaining it to any publication of any esteem. It was a playful way to pay homage to our shared history together at Brown.
Beck: Can you give me the overview of the journey from when you formed the LLC up to Hot Rod Charlie, your horse that ran in the Derby last weekend?
Eric: We've had three horses. The first one, Tell Me I'm Pretty, was a rather large filly. She had some good races, some not so good races, and ultimately ended up entering what is called a claiming race. That means she's up for sale at the beginning of the race and whoever purchases her for that predetermined price owns her the second that she crosses the finish line. So we traded ownership for a relatively low [price]. It was not a big winner for Boat Racing LLC.
The second horse, Impossible Task, had a little bit better outcome, won some races. Ultimately we traded ownership in a $100,000 claiming race, which was very similar to the amount that we purchased him for. So one bad horse, one break-even horse.
Then there was not a lot of money in the bank accounts, and we were either going to [stop] or shoot our shot one more time.  Thankfully, we decided, after some debate, to take one more shot and invest in Hot Rod Charlie.
Dan:  We were partial owners—I think 20 or 25 percent on all those horses. And we split that five ways too. We all own 5 percent of Hot Rod Charlie.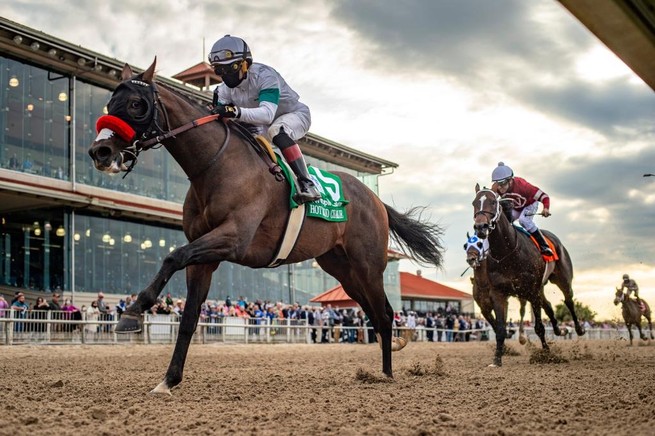 Eric: Hot Rod Charlie, similarly, had a rocky start. He got fourth and fifth in his first few races. Then we put blinkers on him, which make him only see straight ahead. These younger horses, they get easily distracted; [blinkers tend to be] a game changer for them. All of a sudden we won a race in Santa Anita. Then we got the opportunity to go to the Juvenile Breeders' Cup, which is this really, really important race. [His odds] were, like, 94 to one, total long shot. We were like okay, we're here for the experience, obviously screaming our hearts out, even at 94 to one. And he ultimately got second in the race. You can imagine how excited we were. We were jumping up and down and shaking chairs. We might've celebrated more than the horse owner who actually won.
At that point, we knew we had something special. We had not yet qualified for the Kentucky  Derby, and we thought the Louisiana Derby in New Orleans was our best shot. He won that race, which had a million-dollar purse. And at that point we had punched our ticket to the Kentucky Derby.
Patrick: Obviously all of 2020, the whole world was impacted by this horrible pandemic. We didn't have the opportunity to get together—the reason Boat Racing was created. The Breeders' Cup gave us our first opportunity. All those feelings Eric brought up were magnified by the fact that we hadn't seen each other in a long time.
Dan: The Kentucky Derby was reduced-capacity with some extra precautions in place, but we were able to go in person.
Eric: We had a pretty epic showing. About 200 of our friends and family were there, yelling and screaming and rooting on Hot Rod Charlie.
Beck: What happened for you guys on Derby Day? Did you go hang out with your horse? Did you just sit in the stands?
Alex: We're probably the only owners of a Kentucky Derby horse who had to take PTO to go watch our horse run in the Derby.
Patrick: Horse-racing owners are known for being of a certain demographic—usually elderly, usually pretty WASPy. Usually you're flying private planes to these events. We're not the typical kind of horse owners.
Alex: Hot Rod Charlie flew in on that Sunday, the same day that we got there. We visited him every morning. Our days looked like: Wake up at 6:30, go to the barn, see Chuck—we call him Chuck—and see him work out. Then we were talking to press, and then other miscellaneous festivities. Most of our friends got in on Friday, but for those who arrived earlier, we got a tent and hosted a dinner Thursday night.
Saturday rolls around. We have interview obligations. We hang out with Hot Rod Charlie for about an hour and a half before the race. And then we do the famous walk along the track with the horses, then go to the owners' seats in the front. Then the race goes off.
Beck: The race itself is, what, two minutes?
Patrick: Literally two minutes. You're spot on.
Beck: What is your memory of those two minutes?
Patrick: We all had a lot of butterflies up into the race. We love this horse. He's Chuck. He's not Hot Rod Charlie. He's the sixth brother of this five-man Boat Racing team. He'd been training his butt off. All the feedback we're getting from his caretakers, my uncle included, was that he was ready to give his best.
It's different than football. In football, each of us had control of the outcome to some degree. But in horse racing, you're completely reliant on an animal.  You go, you have a good time, you make sure your family is having a good time. But they're all there to watch your horse run for two minutes in a circle. There is such a buildup. You get into the gate and you can't even breathe.
Fortunately, he broke [out of the gate] really, really well. That was the first sign of an exhale, like, ah, he's in a decent position. Then about 30 seconds in, he got squeezed by two other horses. But fortunately, Chuck's a fighter. And a minute fifteen in, he couldn't be in a better position. You can tell he's feeling himself again. He's running like we know he can run.
That's when you just—emotional blackout. You start going nuts. Everything that you can touch, you're throwing. You have about 20 seconds of absolute exuberation, with the best people in your life. That is the two minutes. It certainly feels like eternity.
As soon as Chuck passed the finish line [and came in third], there was an exhale of, Oh my gosh, we almost won. We were only one length, which is one horse, away from winning. But we immediately went to: What an amazing horse. What an amazing friend of ours. He's not just a horse, he's certainly a friend. And, most important, he came out of the race extremely healthy, extremely happy.
That horse, at the end of the day, doesn't owe us a thing. He gave us six to eight months of this amazing experience. If he never runs again, each and every one of us would be extremely happy about the entire experience. Alex says this best. He says it all the time. We won that race well before those gates ever opened.
It's a moment I'll go to my grave with. I'll be telling my grandchildren this. They'll be saying, "Why are you continuously talking about that horse you owned in 2021?" But that was maybe the top moment in my life.
Beck: Do you know what's going to happen now that the first-place horse didn't pass its drug test? What does that mean for Charlie?
Patrick: It certainly is not great for the sport. If the second test comes back and it is positive, that horse will be disqualified and we will move up into second. But I don't think any of us want to get second that way. It's just extremely sad.
Beck: Your friendship has been centered on two different sports now—first football, and now horse racing. What do you think it is about sports that facilitates friendship?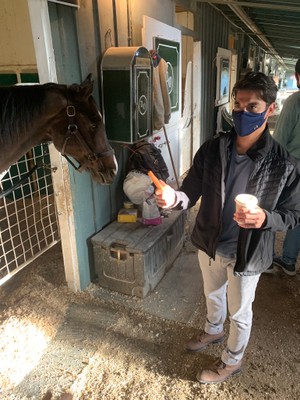 Dan: Sports are amazing for a million reasons, but it's the in-between moments that make sports so special for friendships. We'll always remember Brown versus Harvard and winter workouts at 6 a.m., but we'll also remember getting to the dining hall really late or having to take an ice bath at 8:30 at night. With horse racing, it's going to the barn, walking on the track after the race, and hanging out with the team and the barn help. Getting to share all those moments, the highs and lows—that's really special.
Eric: I'll just add, competing is really fun. Everybody cheering and giving their energy toward a common thing. Sometimes you win, and sometimes you get third—which is still really exciting. Winning isn't everything, but wanting to win is everything. And we really, really want to win.
Patrick: We had a legitimate chance. Each of us had heard from experts that we were going to win that race. But none of us sulked after, none of us were pounding the table saying, "Why didn't we win the Kentucky Derby? We deserve this." Life's a lot about losing. You want to have losing situations with the people who you respect and know will [lose] the right way.
Beck: What do you win at the Derby? A trophy, or a wreath of flowers?
Patrick: Both. And a lot of money.
Beck: I was going to make a joke like, "The real wreath of flowers is the friends we made along the way."
Dan: I'm going to use that one.
Beck: What's next for Charlie and Boat Racing LLC?
Alex: Hot Rod Charlie is looking forward to the Belmont Stakes Racing Festival, which is the third leg of the Triple Crown, on June 5. Then he'll continue to run as long as he stays healthy. And we'll be there to support him every step of the way.
For Boat Racing LLC, we actually purchased two new horses at an auction last month. We're thrilled to see what comes of them, but if they never make it past the maiden claimer races or if they win the Kentucky Derby next year, it doesn't make much of a difference to us. We're just excited to be able to share the experiences.
Patrick: A big part of our focus for Boat Racing LLC has been philanthropic. My dad passed away of melanoma my senior year in college. Each one of these guys met my dad, had a beer with him; he cheered them on playing football. So we will donate a sixth of all of our earnings, whether it's the Kentucky Derby or any race that Chuck runs in, to the Melanoma Research Alliance. That means a lot to us.
And on a funnier side, Chuck does desire to be a daddy one day.
Beck: Is that what he told you?
Patrick: Yes. So if he keeps running well, we do plan on having him become an official stallion. Our goal is to hopefully see offspring of Chuck and have them run for Boat Racing LLC in the future—I want to say it'd be the 2025 Kentucky Derby. It'd be awesome to have our kids experience young Hot Rod Charlies in their lives as well.
---
If you or someone you know should be featured in "The Friendship Files," get in touch at friendshipfiles@theatlantic.com, and tell us a bit about what makes the friendship unique.