When Your Closest Friends Are From Elementary School
"When I see people from Peretz school, it's as if nothing has changed. The comfort, the ease, the knowing of each other is the same."
Each installment of "The Friendship Files" features a conversation between The Atlantic's Julie Beck and two or more friends, exploring the history and significance of their relationship.
This week she talks with a group of friends who went to the same Jewish elementary school, the I. L. Peretz Folk School, in Winnipeg, Canada, through seventh grade. Some kept in touch throughout their lives, and others reconnected when a group of students hosted a 50-year reunion. Now in their 70s, they still recall their elementary-school years as a special time that helped them become who they are today, and they cherish the friends who knew them 65 years ago.
The Friends:

Ron Charach, 70, a psychiatrist and an author, who lives in Toronto, Canada
Reesa Devlin, 71, a retired kitchen-store retailer and food writer, who lives in Vancouver, Canada
Ethel Kofsky, 70, a retired teacher who lives in Vancouver, Canada
Sharon Love, 70, a retired customer-service representative who lives in Winnipeg, Canada
Bailey Rayter, 70, a semiretired psychologist who lives in Winnipeg, Canada
This interview has been edited for length and clarity.
---
Julie Beck: How old were you all when you met?
Reesa Devlin: We were in kindergarten, most of us.
Ethel Kofsky: I wasn't. I started Peretz school when I was in grade two.
Sharon Love: I started there in grade one.
Bailey Rayter: Sharon, my cousin, I knew from birth. I have a memory of meeting Ron when we were in strollers somewhere between the ages of 2 and 3. And I too started kindergarten at the Peretz school. Most of us go back 65-plus years.
Beck: Tell me about what you were like in elementary school. What do you remember about your personalities or the things that you liked to do together?
Ethel: When we were in grade two, all the girls made paper purses. We all wanted to be the best paper-purse maker. I remember all the boys running up and down the hallways of the school, no matter how many times the teachers told them to stop. Their pants were either too long or too short, depending on how many older or younger siblings they had.
We didn't realize the uniqueness of the school or our experiences when we were little kids. But later, as adults, we did.
Bailey: It often felt like being at home, because we lived in each other's back pockets all day long. Four boys—Ronnie and I, and two others—spent incredible amounts of time together at recess and lunch. When we turned 11, [Ronnie and I] auditioned for a nearby synagogue's Saturday-morning choir. Every Saturday we would get up at seven in the morning, sing in the choir, eat lunch with the bar-mitzvah crowd, and then go to the movies.
Ethel: A lot of us joined the Jewish Y, [the YMHA]. That was another venue for us to get together.
Reesa: We didn't just meet at school. We lived in the same neighborhood and some of us walked to school together, walked home together. We ate at other people's homes for lunch; we went after school and stayed for dinner. We knew their families; we saw their siblings grow up. So we were more connected than just somebody that's in your class at school.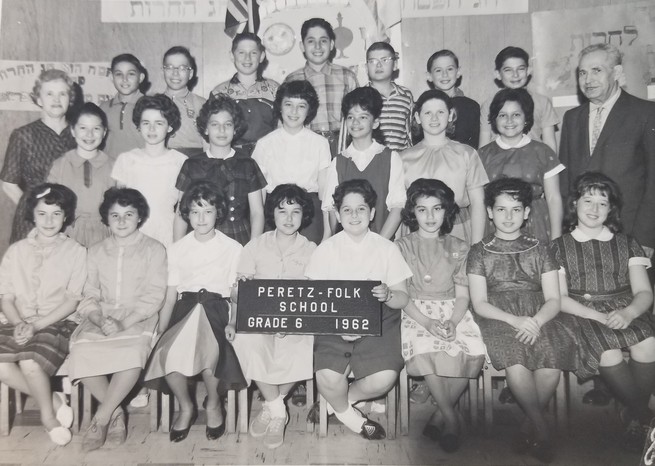 Ron Charach: We were all very energetic. We were also a little competitive. When we were asked a question, our hands would go up, just dying to answer. There was an enthusiasm for learning that I think we all shared. We also all emerged from this school with a love of Yiddish. We have a real linguistic connection.
Ethel: Yiddish was my first language. But these guys all learned because the Jewish teachers only spoke in Yiddish. It was quick immersion. I'm the only one here whose parents were survivors of the Holocaust. But the school had a lot of children of survivors, and we were a little bit of a different breed. We had a common experience in that our parents probably all suffered from post-traumatic stress disorder. When we came to school, we felt sort of safe. Safer than we did at home, to some extent.
Ron: In addition to having the connections with each other, we have connections through each other with our early selves. It's like a plumb line back to the past.
Beck: It seems pretty common for people to stay close with friends from high school or from college. But it's less common to hear about people who are still in touch with friends from elementary school. What kind of unique value do you think it brings to your life, to have these friends who knew you when you were so young?
Bailey: Because we related on such a more intimate level, we developed socially and interpersonally at a high level. Not surprisingly, so many of us are in the fields of therapy, of teaching, of helping.
Ron: Very few of us went into STEM subjects. I think more of us were drawn to social sciences. That may be a generalization, but I do think that there was a humanism that we developed early and grew to love.
Beck: Did the group stay tight-knit after elementary school, or did you go your separate ways for a while?
Reesa: We went in different directions depending [on] what we were going to study in college and what part of town we lived in. We branched off into different groups. But throughout that time, people seemed to come back together [in different configurations].
Bailey: Some of us maintained friendships separate and apart.
Ron: I certainly felt that going to high school was a kind of banishment. In the smaller classes [of our elementary school], there was a real appreciation for the subjectivity of each person—what was special about them. Though of course, there were some kids who didn't fit in, who got scapegoated, and they certainly don't come to the reunions.
Beck: When was the first elementary-school reunion?
Ethel: The 50th [anniversary].
Reesa: Just before I moved to Vancouver, my mother told me that one of my Peretz-school friends had also moved to the area. She gave me her contact info, and [when I called], she said, "Altogether there are 14 of us living in Vancouver." So we made a plan to get together.
Beck: So it was an informal thing, not organized by the school?
Reesa: It wasn't through the school, just through our group. We put it out there for whoever was interested in joining. But it was so successful, we made it into an official thing [and organized more reunions]. The first one was small; we met at a park. The kids played, and we talked. Most of our kids were about the same age that we were when some of us last saw each other. Here we were that many years later, and our kids were playing together.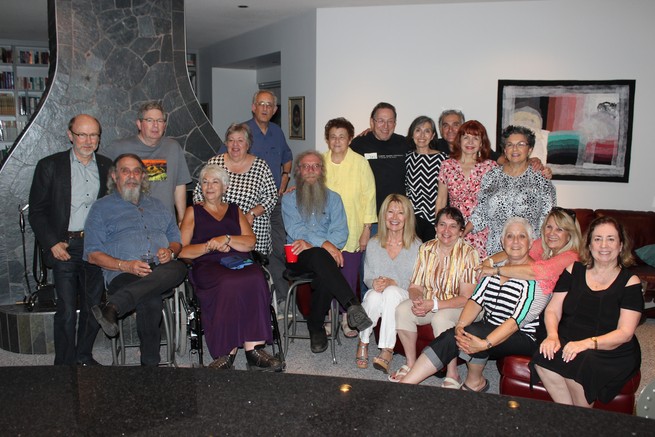 Beck: What happens at the reunions? How are they structured? Do you have activities?
Reesa: It's pretty structured. One person will volunteer and do a potluck Friday-night dinner. Saturday, if it's in Vancouver, we'll arrange an activity to go someplace where people from other towns haven't been. Then we might have a dinner at somebody else's house, where we all tell stories. On Sunday, there's usually a goodbye brunch.
Ronnie has read some of his poetry at some of them, and we have another friend who sings. We do different things to entertain each other. But it's very comfortable—nothing so formal.
Beck: You mentioned that some of you had kept in touch over the years, but some people were seeing each other as adults for the first time at these reunions. What was that like, to reconnect after all that time? Did you recognize each other?
Ethel: At the 50th reunion, the first one, there were some people I hadn't seen since I was 12 or 13. I remember seeing people, [thinking] Who are you? Then they would start talking, or there would be a mannerism, and you knew exactly who it was. Ronnie actually said he recognized my voice. It didn't matter how different we looked—we all turned into those little kids.
Sharon: At the first reunion, there were some kids I didn't really know [well], because they were in another class and went to a different high school. But at the 50th reunion, I re-met some of them and we were the best of friends because we have this connection that went way back.
Bailey: When I see people from Peretz school, it's as if nothing has changed. The comfort, the ease, the knowing of each other is the same. When I see other people from high school, it's as if they're different people, or there's a wall up. Perhaps over time, if we talked over a few drinks, some of those might melt. But this group, for me, it's like [it's still] the grade-seven party at the end of the year.
Reesa: It somehow seems like time hasn't passed.
---
If you or someone you know should be featured on The Friendship Files, get in touch at friendshipfiles@theatlantic.com, and tell us a bit about what makes the friendship unique.