Work-Life Balance Has to Include Friendship
"We're able to be our fully human, vulnerable, type-A selves with a group of people who get us in a way that your partner or your kids may not."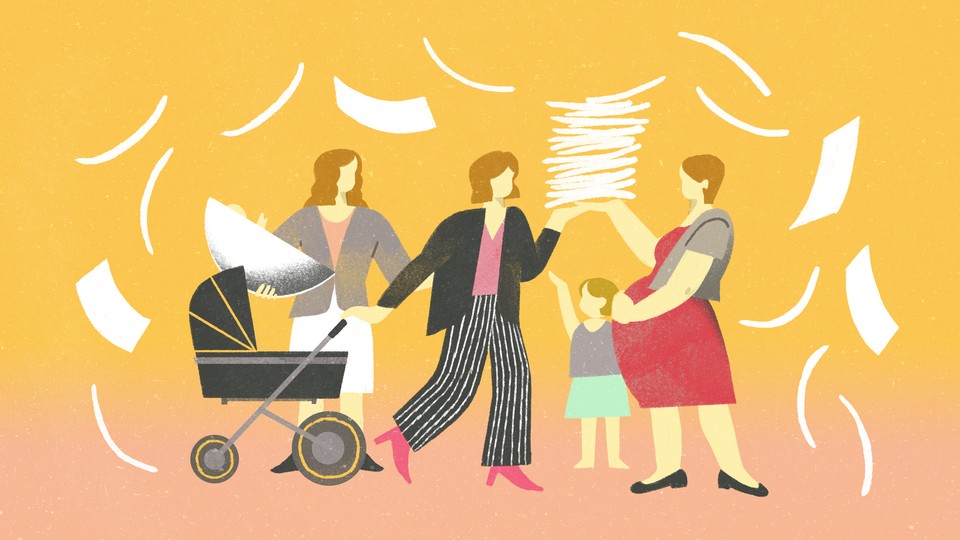 Each installment of The Friendship Files features a conversation between The Atlantic's Julie Beck and two or more friends, exploring the history and significance of their relationship.
This week she talks with friends who created a "Working Moms With Big Jobs" support group to help navigate the challenges of parenting while maintaining a demanding career. They use the tools of corporate life—agendas, surveys, Google Docs—to help themselves map out their lives and make time for each other.
The Friends:

Maia Heyck-Merlin, 43, the CEO and founder of The Together Group, an education-training organization, who lives in Washington, D.C.
Lindsay Kruse, 44, a consultant who lives in Princeton, New Jersey
Mary Clare Reilley, 44, the vice president of marketing for Iona College, who lives in New Rochelle, New York
This interview has been edited for length and clarity.
---
Julie Beck: How did you meet and form your working-moms group?
Lindsay Kruse: Mary Clare and I went to college together, but we didn't know each other then. We met at our first jobs at [the consulting firm] Ernst & Young, and we stayed in touch [after we left]. Then Mary Clare got a job as the head of marketing for another education organization, and we started having breakfast together and reconnecting.
Maia and I knew each other because we both did human-capital work. We joke that we were initially frenemies. We were both very jealous of each other's talent and success. But it was through that work that we became friends, and through becoming moms that we became better friends.
I was saying: "Where is the group for moms who want to do really important work but also want to be present at home, and not have to outsource everything for that success?"
Mary Clare Reilley: [Lindsay and I] were grappling with a lot of the same issues. We had similar work worlds, and also similar challenges at home.
Maia Heyck-Merlin: I was returning from my first maternity leave [at the time].  And another member of our group [who isn't on this call] hired me as a consultant. She and I had kids of the same age and were both also struggling. I had joined and quit this maternity-leave moms group, in which the women were either like: "I'm 100 percent staying home" or "I'm 100 percent going back [to work], all-in." And we were like, "What's the middle ground?" I didn't feel like I fit.
So these two pairs—Lindsay and Mary Clare; this other friend and I—joined up. In 2010, we met at a diner in Manhattan with an agenda. I don't think we intended for it to become a thing. But it just kept going.
Lindsay: Maia came up with the group name—Working Moms With Big Jobs—and then Mary Clare shortened it to WoMos.
Maia: She's the marketer.
Lindsay: The reason why it worked is that we were in each other's orbits, but we weren't actually in each other's workplaces. We didn't have a horse in the race, so we could be a sounding board.
[We met during] such formative years—we were new moms, then we all added a baby, and we went through career transitions. Navigating all those parenting and professional decisions, we got closer.
Maia: All of us have dialed both up and down in our careers over the decades we've known each other. A few of us have gone self-employed, or gone down to a few days a week and then gone back to work whole-hog.
Lindsay: We joked, "Oh, am I going to get kicked out now because I don't have a big job?" I think that actually defined our friendship [when we responded]: "No, you don't ever get kicked out."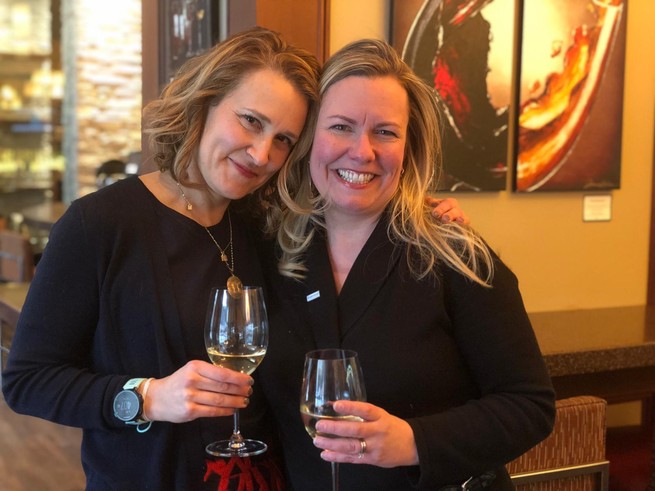 Beck: Take me back to the diner on that first day. Where were you at in your lives and careers at the time?
Maia: I was just coming back from leave for my first kid. I was working for an amazing female CEO, but the rest of the leadership team was all men. My boss also had a baby and worked around the clock. I was no stranger to hard work, but that's not what I wanted. I didn't want to leave my job, either.
Mary Clare: I was relatively new to my field. Most of the people I was working with seemed to be young, ambitious, and did not have kids. They were content to be working 24/7. I needed to figure out how I could still do this important work but also acknowledge I have a kid.
Lindsay: The organization that I was in didn't have a maternity policy until I got pregnant. I was the first pregnant mom in the organization. At one of the schools [we worked with], a teacher pulled me aside and said, "You realize everyone's watching you, right? To see what you do, whether you come back." I felt the weight of Oh, there are no models. You have to be a model.
[To help us figure out that balance] Maia did a survey asking things like: "What do you outsource? What do you not?"
Maia: It got super nitty-gritty. "What does morning look like at your house when the alarm goes off?" "How do you get out the door?" One question I posed is, "What do you insist on doing yourself and why?" That gets at values and priorities. For some people, kid drop-off was important. For some it wasn't. It was really helpful to hear where people had drawn their own lines.
Beck: It's funny and delightful to me that you're using all these work tools—agendas and surveys—in your friendship group.
Lindsay: We bring our full type-A selves to this friendship.
Maia: Who are you calling type-A?
Lindsay: All of us.
Mary Clare: Agenda-setting and note-taking is the norm. You don't have to, but you can bring your full type-A self and send around a Google Doc that people can fill out before the meeting.
Beck: What's an example of an agenda you might have?
Lindsay: We used to do the regular breakfast, and then when some people moved away, we did more video calls. But we have traditions where one or two times a year we get together in person. One is the WoMo HoPa—that's our holiday party. We would normally send either a formal agenda or just an email beforehand asking: "What's on your mind? What do you need to talk about? Who needs the floor?" Sometimes, we've done formal reflections, and then sometimes we've just said, "What's your word for this year?"
When something happens to us, we'll call the WoMo Bat Phone. And then whoever is available hops on the phone.
Maia: An example would be—my partner couldn't make it to something and I wasn't sure if I should go solo with all these other couples. I just wrote "WoMo bat phone" into our WhatsApp group. Before I knew it, Mary Clare called me. That real-time informal advice has made such a difference.
Mary Clare: We help each other process little things that could end up spiraling. We give each other perspective by empathizing and asking good questions. If I put out the bat signal, somebody's going to call me and ask me the questions that I need: What am I really feeling? What is this really about? That's always there at a moment's notice, for small and big things.
Lindsay: In desperate times, our partners may use the WoMo Bat Phone. For example, the pandemic is a bit of a roller coaster, and three or four weeks ago I just hit my wall. I was in really bad shape. I was super-teary one night, and when I woke up the next day to take my daughter to school, I was still teary. My husband reached out [to the WoMos]. He just said something like: "She's not in good shape and could use a little love."
Before I even got my daughter dropped off at school, there was the most specific, complimentary, thoughtful note from Maia. There were voicemails from Mary Clare and another friend. And by the time I got home later, there were flowers, wine, and cookies waiting.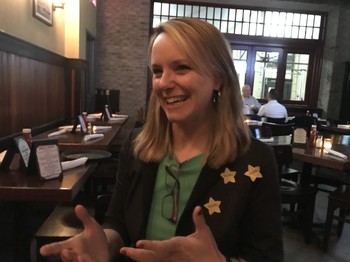 Beck: Has the group ever directly influenced a decision that changed your career or your personal life?
Lindsay: So many. Every major professional turning point we've had, we look to each other. And when we doubt our parenting skills. I have two kids with learning disabilities, and my son has a physical disability, and it's been a fricking journey. Sometimes it's helpful just to be like, "Guys, I feel really bad at this." The group is helpful in not just saying, "What are you talking about? You're great." They'll ask, "What's hardest right now?" Or, "What's within your control?" The beauty of this group is to be incredibly empathetic, but also to give each other the space to think.
Maia: When I went from a full-time big job to being a full-time entrepreneur, I consulted with the WoMos every step of the way. Then, when the pandemic started, I was paralyzed. My business has been gathering large groups of people, running workshops. I'm like, "Oh, my God, my life's work. I'm going to go bankrupt."
Mary Clare, I don't know if I ever officially thanked you for this, but on the text chain, you were like "Maia, you need to be writing about this. The schools just closed." And that spurred me to get off my butt and start writing. That was huge. Mary Clare, thank you.
Mary Clare: You're sweet. You pivoted an entire business in the matter of days, but yeah, I'll take credit for it.
Beck: Often when people talk about work-life balance, what they mean by the "life" part is family life. What is the role of friendship in work-life balance?
Lindsay: That's part of why we created this group. We're able to be our fully vulnerable, type-A selves with people who get us in a way that your partner or your kids may not. I think the reason my husband sent out the bat signal was that he was fully secure in saying, "She needs something different right now."
Mary Clare: The emotional support that we get from each other helps us have a better work-life balance. It takes pressure off of my husband. He doesn't have to provide all the emotional support. My mom always emphasized to me how important your girlfriends are. She really relied on them more than her marriage. We all protect [our time together]. We put it on our work calendars. We make sure our partners, our families know that we need WoMo time.
Maia: It's a space where we're whole people, and not just, the CEO of this, or the mom of these kids. You two are some of the only people who see me as the whole Maia.
Lindsay: That work-family dichotomy… We found each other on the premise that it's bullshit that we have to choose. We didn't want to believe that we've got to be the superstar top leader in the world, and perfect parents—and so, therefore, nothing else can fit. This group of friends wanted to find another way.
---
If you or someone you know should be featured on The Friendship Files, get in touch at friendshipfiles@theatlantic.com, and tell us a bit about what makes the friendship unique.