What If This Was the Last Year Your Loved One Was Lucid?
Dementia patients have deteriorated in social isolation. They've been robbed of both their health and some of their last clear memories with family members.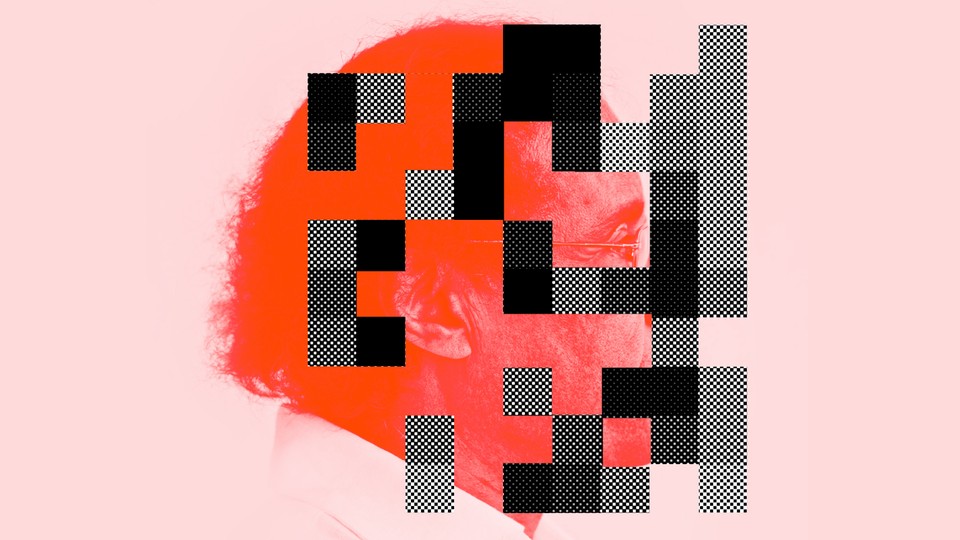 Margaret Licata has watched her husband's dementia progress gradually over the past two decades—and now, during the pandemic, all at once.
Joe Licata, 79, has frontotemporal dementia with aphasia, which means that he cannot speak or understand language. He began showing symptoms in his late 50s, when Margaret noticed a personality change: Joe would shrug off her attempts at conversation and seemed interested only in watching television. In his early 70s, he took a wrong turn while driving to a familiar destination. Margaret suspected memory loss, and she took him to several neurologists, who confirmed the aphasia. Joe lost all speaking and language abilities two years ago.
Around that time, the couple joined the Long Island Alzheimer's and Dementia Center (LIAD), in Westbury, New York. Several times a week, Margaret would take her husband to a music or crafts program. She would run errands or enjoy a yoga class while he was occupied. She also attended a support group and developed friendships with other women whose husbands had memory loss.
Then, on March 13, 2020, the COVID-19 shutdown orders arrived.
"We came to pick up our husbands and they said, 'This is the last day. The county gave the notice we have to shut down,'" Margaret told me. "I would say soon after, the behavior started. It hasn't stopped since."
Within a month, Margaret said, Joe had developed inappropriate behaviors such as blowing his nose on a tablecloth or opening packages in stores. By July, he was incontinent.
"Both Joe and I have suffered," Margaret said. "I like to say we were robbed of this past year.  We are not getting younger, so a loss to us at this stage of life is enormous."
A year ago, her husband could independently bathe, dress himself, and use the toilet. Now Margaret must put him on the toilet after meals, waiting maybe 45 minutes for him to defecate or urinate. To keep him on the commode, she sits nearby and plays a game on an iPad—she said he enjoys watching.
Margaret has to stop her husband from wandering into the kitchen and eating constantly: He is 5 foot 6, and Margaret said he has gained 35 pounds in the past year. She can no longer take him to grocery stores, because he pulls items off the shelf, opens the packages, and begins snacking.
Joe is now disoriented in his own home. "He'll put a pan in a dresser drawer. He'll put towels in the bedroom. He doesn't realize what he's doing," she said.
"I am his caretaker. He would go with anybody. I don't know if he really even knows me," Margaret said of her husband of 52 years. "I take him into stores and he wanders away from me. There's no anxiety about being separate from me."
Margaret feels like she lost her husband as a partner many years ago. But in the past year, he has lost her as well.
---
The Alzheimer's Association calls memory-loss patients the pandemic's "hidden victims." For most of 2020, nursing-home patients were not permitted to have visitors or socialize with other residents. Meanwhile, patients who lived independently were also denied access to the day programs that are vital to slow their disease progression.
The directions came from the Center for Medicare and Medicaid Services (CMS), which regulates nursing homes. The precautions were meant to keep memory-loss patients safe from COVID-19. But for many, the cost of this isolation has been a deeper state of decline. Some patients have stopped recognizing their spouses or children. Others have lost the ability to care for themselves in simple ways. Some have become nonverbal.
Everyone has lost a year to the pandemic. But dementia patients have, in some cases, lost many years—or perhaps even all of the relatively healthy time they had left. Their caregivers, meanwhile—daughters, sons, spouses—have lost something too. After all, they are the ones with fully intact memories. They know how their loved one's faculties have diminished, how their relationship has crumbled, how awful the personal toll of the pandemic has been.
State and federal health agencies are trying to determine how many Alzheimer's and dementia patients have died prematurely during the pandemic. Early studies suggest that these deaths are about 10 percent higher nationally compared with recent years. Medical researchers have also yet to determine how many years or months the typical patient has lost to pandemic isolation. But neurologists, care-facility directors, and family members of memory-loss patients say they can attest to the decline.
For Pace Tyson, 27, this is the second time he has witnessed rapid deterioration in a parent. His father developed early-onset Alzheimer's at the age of 54 and died three years later. Tyson was 17.
Four years ago, Tyson's mother developed early-onset Alzheimer's as well. The family moved her into a care facility then; she was 63.
Tyson and his three older sisters saw their mother regularly before the pandemic, and they took her from the facility on holidays so she could enjoy the day with family. Tyson's contact with his mother abruptly ended last March, with the CMS visitor ban. He was on his honeymoon at the time. "When we were back, we were told they could no longer accept visitors," Tyson told me.
The four siblings tried weekly "window visits." Their mother's care facility is a one-floor building, and they would sidestep bushes and landscaping to reach her window. Through the glass, Tyson could see his mother declining. The CMS ban had also ended communal dining and group activities. His mother spent almost all of her time alone in her room.
By Mother's Day, she no longer remembered that she had children. She became irritated after Tyson and his sisters taped a Happy Mother's Day sign on her window. "She said she wasn't anyone's mother," Tyson said. "She forgot me and my sisters were her children."
As the summer progressed, Tyson noticed other changes in his mother. Her sense of time became distorted, and mere minutes of standing at the window felt long to her. She would end visits early to return to bed.
Then Tyson told his mother that he and his wife were expecting their first child, a girl, who was born on January 28. His mother was happy to hear the news. But although she previously was able to remember major events, she could not recall that she was about to become a grandmother—even when Tyson told her again and again.
---
In September, a report commissioned by the CMS found that the visitation ban had caused "unintended harm" to nursing-home residents. They were described as anxious, lonely, and depressed. The report called interaction with family and friends a "vital resident right" and recommended that visitation and socialization restrictions be eased. The CMS ended the ban that month, but released guidelines encouraging outdoor visitation and allowing indoor visitation only if the facility had not experienced a positive COVID-19 test in the previous two weeks. Guidance allowing unrestricted visits did not come until earlier this month, almost a year after the pandemic began.
Neurologists agree that being cut off from visitation and socialization has accelerated the decline of memory-loss patients. And even asymptomatic patients who have been alone during the pandemic are expected to decline more quickly in the coming months or years.
"People who are alone are more likely to become demented earlier," says Borna Bonakdarpour, an assistant neurology professor at Northwestern University's medical school. "It's not anything we didn't know before the pandemic."
Scientists have long understood that social stimulation can slow the progression of memory loss in dementia patients. "It doesn't prevent the disease or reverse the disease, but they have a slower decline in their memory testing.  We know there are benefits to the brain from stimulation," says James Leverenz, the director of the Cleveland Clinic's Lou Ruvo Center for Brain Health.
Neurologists, including Bonakdarpour, have reported a rapid decline in their memory-loss patients due to pandemic isolation. Some patients have become agitated and violent. Others have advanced quickly through the progressive stages of Alzheimer's.
"I've seen horrible things with my patients, unfortunately," Bonakdarpour told me.
Day-facility directors have reported similar declines. Before the pandemic, LIAD, which Joe Licata attended, hosted about 25 to 30 participants each day for programming. Participants lived at home with their family and were brought to the facility to engage in activities, including singing in a choir on Sundays. The center also provided in-home visits, to give family members a break from caretaking.
After the center was forced to close because of pandemic restrictions, it provided virtual programming but found that the interactions were not the same. By October, as many as 25 percent of the center's 175 weekly participants had declined to the point of needing residential care, according to Tori Cohen, LIAD's executive director and a licensed clinical social worker.
---
As humans, we need to socialize to survive, but social contact is exactly what might kill us during the pandemic. This has been the basic tension of the past year; everyone has felt it to some extent. Memory-loss patients face the same dilemma, but with greater stakes.
Despite government mandates, the twin blows of dementia and the coronavirus have come together for some families. Michele Cook, who lives in Huntersville, North Carolina, lost her father in May 2020. He had Parkinson's disease and Lewy body dementia, which was diagnosed in August 2019, after his family noticed that he was hard of hearing, stumbled when he walked, and fell several times. Cook considered bringing in a part-time helper, and she contacted an at-home-care company. A nurse came to evaluate her father, saw a tremor in his hand, and directed the family to take him to the emergency room.
"I helped my mom load him into the car to go to the hospital, and he never came home," Cook told me.
The family initially thought he would temporarily stay in an assisted-living facility for physical therapy. But he soon required two-person assistance to walk and move. The facility became his permanent home.
Cook said her mother visited him every day for lunch until the pandemic started and the CMS banned visitors. In the following weeks, Cook said, her father began having hallucinations, a symptom of Lewy body dementia. On one occasion, he told her in a phone call that he was going to London with friends. Another time, he said he was in the hospital with her brother's dog.
Everyone lost time: the family, who missed their final quality moments with a loved one, and Cook's father, who didn't understand why he was being isolated. By May, he no longer had the ability to retain short-term memories. Cook and her siblings called daily and explained why they were not permitted to see him in person. Her father continued to ask why the family wouldn't visit and said he missed his daily lunches with his wife. "He'd say, 'I don't know why your mom isn't coming,'" Cook said.
When he contracted COVID-19 in May, the family gathered outside his window to say goodbye. "I feel he waited for us," Cook said. He died within an hour of their visit, at the age of 84.