Overcoming American Masculinity to Build a Deep Male Friendship
"I was by myself in a country that felt huge and overwhelming. I felt tiny, and Abhi was my anchor."
Each installment of "The Friendship Files" features a conversation between The Atlantic's Julie Beck and two or more friends, exploring the history and significance of their relationship.
This week, she talks with two friends who met after immigrating to the United States, one from India, one from Spain. They explored their new home together and became each other's support system while they were far from their families. They discuss how they learned to stay true to themselves after a period of culture shock, why they think of each other as "mirrors" for their lives, and how they are coping now that one of them is planning to move out of the country.
The Friends:

Abhinav Prasad, 39, a project manager who lives in Sheboygan, Wisconsin
Fernando Reyero Noya, 42, a teacher who lives in Waukau, Wisconsin
This interview has been edited for length and clarity.
---
Julie Beck: Tell me how you met and became friends.
Abhinav Prasad: I was new to the country. My wife, at that time, lived in Chicago. We were just meeting on the weekends, and I was by myself on the weekdays. Completely new country, new culture, not many friends. I was looking for anything to do, and I thought to pick up playing tennis. I was really, really bad at it.
At the tennis club, everybody had a much higher level than myself. I was looking for someone to practice with. I found Fernando playing by himself on a tennis court, and I instantly found my equally sucking tennis partner. [Later on] at one of the tennis mixers, I approached him and I said, "I'm learning tennis. Would you like to play with me?"
Fernando Reyero Noya: What impressed me about that moment was that it was kind of a date, in the sense that you sought me out. You had that intentionality. In between when you saw me sucking and the mixer, passed weeks. But you still had the plan, and you pursued me.
Abhinav: When you pick up somebody on a date, you find a cool person. I found a person who was sucking more.
Beck: Your friendship started because of tennis. How did it go from being an activities-based relationship to a deeper friendship?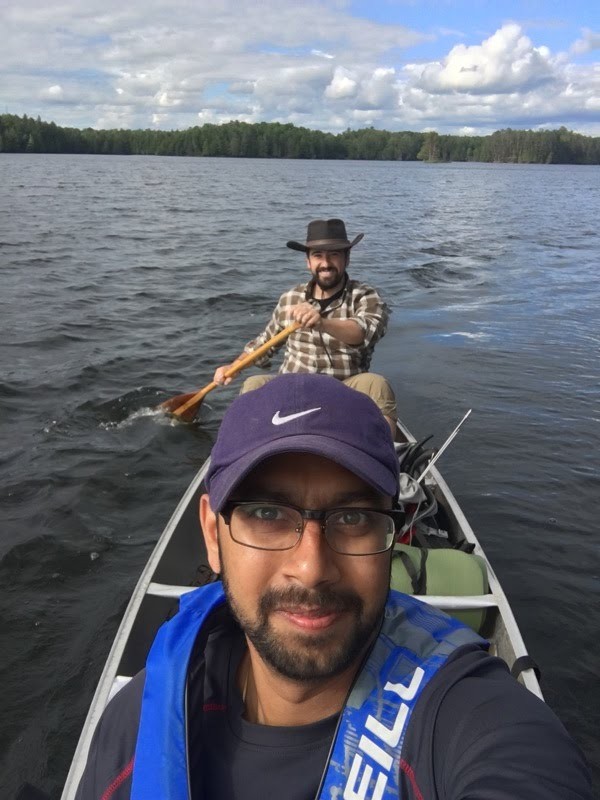 Fernando: Both Abhi and I have a passion for doing new things. Abhi had never camped in India. I was not an outdoorsman when I lived in Spain; I acquired that taste here in the U.S. So I introduced him to camping in a local state park. We made that our ritual. We started bringing cheap beer and just talking. So that became our excuse to be together.
Abhinav: Those camping sessions almost worked like therapy. You leave everything behind, you put on a campfire, and there are no distractions. Then you talk your heart out with somebody who you trust.
Beck: Have there been any moments in your life where those kinds of conversations helped you work through something?
Fernando: When I went through my divorce, Abhi became an integral part of my life. My whole family lives in Spain, so I didn't only lose a wife; I lost everything that I had as a family structure. I was by myself in a country that felt huge and overwhelming. I felt tiny, and Abhi was my anchor.
Beck: What was that like from your perspective, Abhi? Seeing a friend going through that?
Abhinav: Being from India, a socially active culture, I was trying to comfort him way too much. He was trying to find his own space. He moved into a one-bedroom apartment. It had one table, one chair, and one futon. That's it. My mind could not grasp how a person can live like that. Then I realized that he was trying to create a space for himself: Leave the old things and go to a new life. I remember I forced him to buy me an air mattress [for when I visited]. I said, "I cannot sleep on the futon."
Beck: Was that a big part of your friendship as well? Getting to know American culture from your own different cultural perspectives?
Fernando: For me, it has been a three-step process. First, you are shocked by things. Then, you try to be hyper-American, like, "I'm going to be more American than Americans." When I was in my 20s, I came to the States for the first time as an international student, and I discovered the concept of masculinity—the way that Americans understand it.
I remember going to Fleet Farm, a very Midwestern chain that sells agricultural stuff. I saw an image of this man on a John Deere, looking into the horizon that I imagine to be a field of corn or a crop. Just like, This is my land, and I'll take care of you. And I said, "I have to man up." I am not that kind of man.
Part of my experience in the States was mimicking what I perceived as being American. For some time, Google Calendar was my life. Abhi still jokes with me, like, "Well, it's in the calendar; we cannot move it."
The third stage [of adapting to life in the U.S.] is when you come to terms with who you are as a human being, what your baggage is. Everything intertwines a bit more organically. I'm not American, I'm not Spanish anymore. You are just a mutt that brings a little bit of everything. You try to find yourself and just relate authentically with the environment instead of trying to mimic a poster from Fleet Farm.
Abhinav: When I moved here, I had the same cultural things to learn, like the thing about the calendar. If I asked a colleague for a beer, he would say, "Okay. Let's meet next Wednesday, 6 p.m." What? I want to have a beer right now.
I got puzzled, like, Maybe I'm not punctual. Maybe I'm not disciplined enough. Then I meet [Fernando] who has the perspective of being here for the last 10 years, and he has gone through the same phase.
I realized that there is nothing wrong with me. That brought us closer together, because it told us that it's okay to be yourself with those imperfections, which may not align with this country's culture.
Beck: Fernando, I know you remarried—was Abhi part of your wedding?
Fernando: When Katherine and I married, we decided that we wanted to get married by ourselves, because my family could not come to the States at that time. We found a chapel, a minister, and we didn't think that anybody could do a better job at being our witness than Abhi. He is the mirror of my life. The only thing that I felt I needed that day.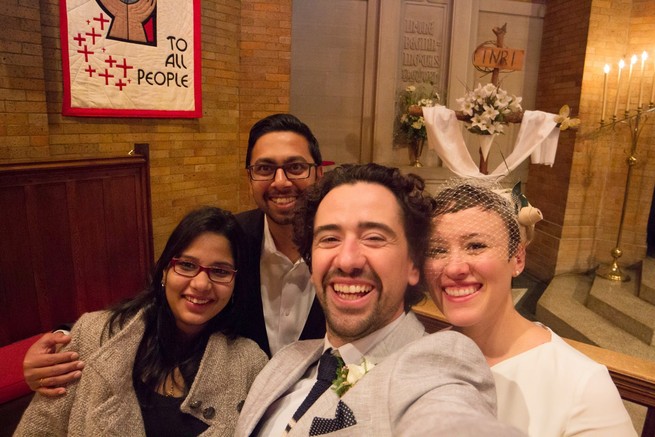 Beck: What do you mean he is the mirror of your life?
Fernando: It is important to have somebody to witness who we are and our life, someone who is honest, is critical, that can push back when necessary and support when necessary. Abhi is that for me.
Beck: Abhi, have there been major moments in your life where your friendship with Fernando played that role?
Abhinav: I think the first thing was trying to find my place in a new country, to find a social structure. Fernando gave me a strong footing. The second was exploring this country. He was there to take me through those new things. We went camping. We also learned skiing together.
One significant milestone that happened recently was my struggle in my own marriage. Me and my wife are going through a very tough time. My family and my old friends were telling me exactly what to do. Fernando was the only person who never told me what to do, but he always asked me what I really wanted. Without going into right and wrong, just trying to focus on what I wanted. I found that very comforting.
Beck: I know one big transition that is coming up is Fernando's move. When and where are you moving?
Fernando: June. I've interviewed [for jobs at] at two schools, one in Ethiopia and the other in the U.S. Virgin Islands.
Beck: How has preparing for that transition been for you guys?
Abhinav: I was telling Fernando yesterday that we actually have not spoken about this openly before, because it's very hard to talk about. But this interview made us talk about it for the first time.
I knew he had plans to live out of the U.S. He wanted to see a different part of the world. The first time he told me that was three, four years back. I knew it was going to happen sooner or later. But I never thought that it would happen so quickly after his master's.
Fernando: I'm graduating in May.
Beck: Wow, and then moving in June.
Abhinav: That same idea that brought us together—the idea to explore things—is taking us apart. I'm just coming out of my own emotional crisis [with my marriage] and now I have to deal with him moving. I didn't tell him about [my feelings] before, because I didn't want to dampen the plans.
Fernando: For me, it has been a more organic move [because I've been planning and preparing for it], but for him it's going to be like an off/on switch, something that's going to happen almost instantly.  I would not have had the empathy to see that had he not made me reflect about it. It is not only hard for me, but I should cater to my friend who is struggling too.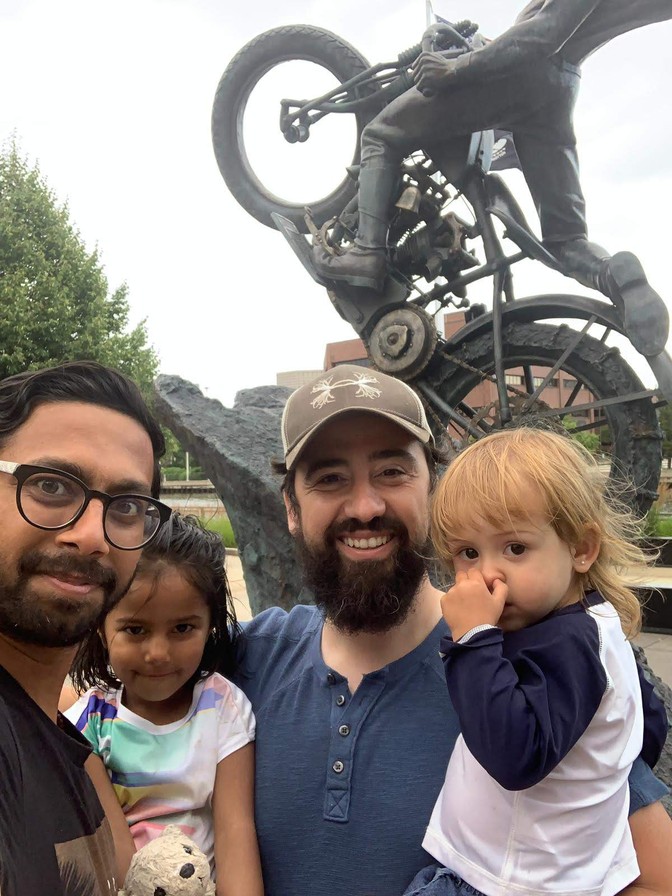 Abhinav: I'm totally happy for him and Katherine to move out to see the world. I have so much trust in this friendship that it will not be weathered down by just a move across the ocean. We will meet less, obviously. But we have to find different ways of connecting.
All that is intellectually fine, but next time I'm sitting by a campfire with a cheap beer, that won't be as fun.
Fernando: To keep our relationship alive, we plan to tour India on a motorcycle and visit Abhi's guru's ashram. That is another thing America has given us: the passion to ride motorcycles. Initially I felt discomfort riding on a motorcycle with another man. That would not be manning up. But then I thought that it should be, it must be, the same motorcycle.
Last night we were talking about the basis of physical proximity in our relationship. We always build our relationship on being together. We have talked on the phone, we have emailed, but that was not our thing. Our thing is being together. How do you feel that that is going to affect us? I'm hurting on that.
Abhinav: I'm hurting on that now. I'm sure we will find a different way, but we have to think about that a little bit.
I'll have to bring my own air mattress this time [to visit you].
Fernando: This time I'll have a bed for you. A proper bed.
---
If you or someone you know should be featured on The Friendship Files, get in touch at friendshipfiles@theatlantic.com, and tell us a bit about what makes the friendship unique.