How Our Relationships Affect What We Eat
When couples, families, and friends compromise on their diets, it can lead to devastating fights or creative new food cultures.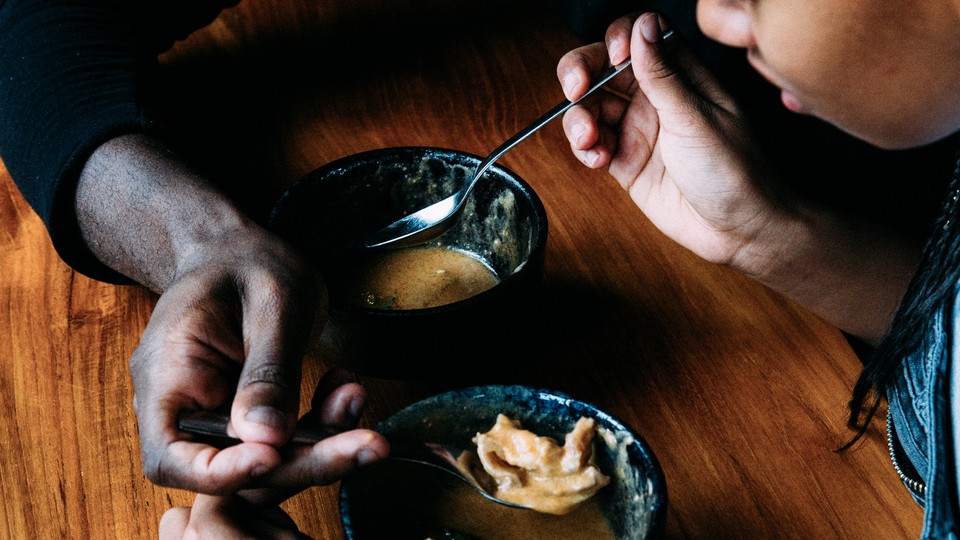 In my first serious long-term relationship, my ex hated three things that I loved—salmon, spicy food, and runny egg yolks. Food was often a bone of contention. I was a chef then and found it soul-crushing when my ex chose a Kraft Singles grilled cheese sandwich and a bowl of Campbell's tomato soup over the many meals I made. Once, after what I thought was a successful housewarming dinner party, I overheard my hangry ex on the phone lamenting that all I had made was "nasty Jamaican food."
These conflicts were hurtful and created deep emotional wounds. Anxiety and resentment began to flavor my home-cooked meals. As Eleanor Barnett, a food historian at Cambridge University, told me by email, "Eating together is a powerful means by which people solidify familial bonds, friendships, and allegiances. So much so that the word companion is derived from the Latin for 'bread sharer': cum panis."
Jess O'Reilly is a counselor who focuses on sexual health and relationship education and hosts the "Sex With Dr. Jess" podcast. She told me, "It's not uncommon to pass judgment on food from other cultures, and oftentimes our expectations are rooted in racist stereotypes, for example [thinking that] curries and other dishes are smelly." When I asked O'Reilly about the effects that these differences have on relationships, she said they "can lead to conflict due to the values that we attach to food-based rituals. For example, if you see the family meal as an expression of love and connection, you might read your partner's indifference to the meal as indifference to the relationship."
Many quarrels with my ex about food resulted in our having separate meals, often alone. My culture's food was ridiculed and forbidden in our apartment, and dining out resulted in screaming matches in parking lots. Yes, we were that couple. The only meal that brought us both joy was our weekly takeout order of spring rolls, cashew chicken, and fried rice. But that was not enough to sustain the relationship, and we broke up within two years. I was in love, but as a Jamaican-born chef, I could not stay with someone whose palate was so prejudiced.
---
From our earliest days, our relationships influence how and what we eat. Our palates are shaped, first and foremost, by our families of origin. The first five years of life are "when eating behaviors that can serve as a foundation for future eating patterns develop," according to a 2007 report in The Journal of Law, Medicine & Ethics. "During these early years, children are learning what, when, and how much to eat based on the transmission of cultural and familial beliefs, attitudes, and practices surrounding food and eating," it reads.
What parents feed their kids seems to shape their favorite foods and how open they are to new flavors. The 2007 study revealed that children are predisposed to be omnivorous. The researchers found that the flavors infants (even in utero) are introduced to can influence their diet later in life. Children who are introduced to complex flavors and spices early on may grow up with an adventurous palate, readily embracing new flavors.
Except for formula, I never had "traditional" baby food; as a toddler, I ate versions of my parents' meals. They would feed me porridge, crushed green bananas, yam, and pumpkin, sometimes with a little curry-chicken gravy. And I've never been a picky eater. With very few exceptions, I'll eat whatever is in front of me.
---
But then we grow up and forge new relationships through which we may be introduced to new foods we come to love. Or we may find ourselves compromising for another's palate.
When two palates come together within our romantic relationships, we tend to develop new mini–food cultures and eat differently than we would on our own. According to O'Reilly, "Food and meal culture are also connected to feelings of intimacy and connection, with many couples reporting that eating together is an important ritual for fostering social connection."
In another past relationship my partner was well traveled and loved everything I cooked—except overly spicy food, which is par for the course when a Jamaican is in the kitchen. But unlike in my first relationship, this request was made with tenderness, and overnight, I stopped using Scotch bonnet peppers and switched to deseeded jalapeños for a milder heat. I cooked without hot chilies for so long that my mother's cooking seemed incendiary when I went home for a visit. My palate changed. I have also seen new palates emerge among my friends who have married into other cultures. Their holiday meals now seamlessly blend cuisines from both their and their partner's ethnicities.
But as much as food can bring people together, it can also divide them. When I was growing up, my grandmother, a Seventh-Day Adventist, did not eat pork, mollusks, or fish without scales, keeping with the teachings of the Bible's Book of Leviticus. The family would have to hide the glazed ham at Christmas each year—under a dish towel, on top of the fridge, or beneath the potato salad on our plates.
It seems like a simple thing, but food is such an integral part of a family's culture that dietary preferences and restrictions can create subtle cracks in relationships. When mealtime customs are broken or disregarded, it can lead to more strife in some relationships than others. Conflict seems particularly likely to arise when someone you're close to changes their diet.
Meals are almost ceremonial in my family, and besides hiding ham from my grandma, we had very few conflicts over food growing up. That is, until I stabbed a fork in our happy dinners as an adolescent. At 13, to keep my weight under control, I decided to try vegetarianism. My mother quickly proclaimed, "Two pot not cooking in here!" Translation: She was not cooking two dinners. So I took over cooking for the family. I prepared vegetarian meals and shared them with my parents, who ate them with a side of meat, which I also cooked. However, I missed the shared experience of eating the same meal at dinner time, especially on Sundays. Christmas that year had as much taunting from relatives as there was tinsel hanging from the tree.
Kamau Brown also stretched the limits of his family's food culture when he decided to become a professional bodybuilder. During competition season, eating is a second profession for Brown. Each day, he will consume lean protein and lots of vegetables, totaling a maximum of 2,000 calories, compared with the off-season, when his caloric intake is double. Bread, sugar, and anything considered a treat are forbidden. Initially, there was "slight discontentment" within his family, he told me, when his competition season would coincide with birthday celebrations, including his own. It's a Brown family tradition to celebrate birthdays at a Chinese restaurant. But on Brown's competition diet, eating out is not an option. "In the off-season, when competition time wasn't close, it wouldn't matter as much, because I could pretty much eat anything I wanted, responsibly," Brown said.
As he began to earn medals and prove that bodybuilding was a viable career, his parents' stance shifted. His family started doing belated celebrations after competition season, and if schedules clashed, they would compromise. "They would start to ask questions about what I was and wasn't allowed to eat, and we'd be able to negotiate, which became easier for my prep," Brown told me.
Though it's been years, when Brown delays his family's birthday dinners, it's still not a piece of cake. "They still aren't too keen on the lifestyle, but they respect and encourage me since it is important to me," he said.
Conflicts over food are not necessarily irresolvable, but in the Atlanta chef Briana Riddock's experience, usually the person without the dietary restriction is the one who has to compromise. Before the pandemic, Riddock hosted pop-up dinners; now she bakes celebration cakes and has found herself frequently navigating conflicting dietary needs. She works to accommodate food allergies, vegan diets, and other restrictions without making the compromising party feel like they've sacrificed flavor.
"Communication is key to navigating food differences," Sarah Kolman, an integrative-nutrition health coach and registered nurse, writes in her book, Full Plate: Nourishing Your Family's Whole Health in a Busy World. "We must speak from the heart, but we must listen even harder. It is important to understand the core values behind why someone wants to change or not change their habits. Think listen, rather than convince."
I've been quarantining with my parents since last March. This time cooped up together has made me reflect on how food impacts relationships. My father now has a series of health issues, including Type II diabetes, heart disease, and kidney complications, which affect what he can eat, and how much. He can eat only three ounces of protein a day and cannot have carrots, beets, or coconut water—staples in our household. When I do bake, I heavily modify recipes so that he can partake. What comes out of the oven is often a surprise to us all. However, quarantine cooking has been a joy, and I am grateful that I have this time with my family.
We may not have been able to go on adventures outdoors, but we sure go on many around the dinner table. I've transported them to North Africa, Iran, Korea, Thailand, and India with new and exciting dishes—many of which have been vegetarian. In fact, they now often request my lazy-day go-to recipe of curried chickpeas and coconut rice. My skills as a chef and experiences dating people with wildly different diets from mine have made me able to, as we say in Jamaica, "tun hand and mek fashion." Translation: Use what you have to do the impossible.