Friendship and Stonework Grow More Beautiful With Time
"If the house was burning down, she would run in and carry me out. She shows up, boy does she show up."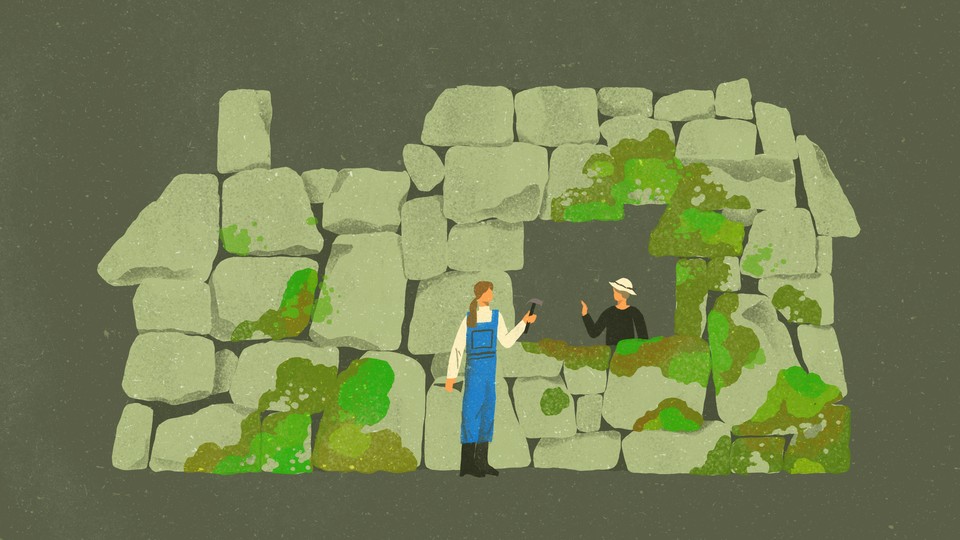 Each installment of The Friendship Files features a conversation between The Atlantic's Julie Beck and two or more friends, exploring the history and significance of their relationship.
This week she talks with Mary Beth Kelly, who wanted to reclaim her family home after her husband passed away, and Jane DeWitt, the stonemason who helped her do that. They discuss what it was like to work on such a personal project together, how a new friendship can be a refuge in a time of grief, and how they continue to show up for each other.
The Friends:

Jane DeWitt, a 43-year-old stonemason who lives in Delhi, New York
Mary Beth Kelly, a 70-year-old therapist who lives in New York City and in Delhi, New York
This interview has been edited for length and clarity.
---
Julie Beck: Where were you at in your life in the months before you met each other?
Mary Beth Kelly: I was married and had two young-adult children, and my husband was killed. We were cycling, and he was hit by a tow truck. I was in my grief and about to sell our family's farmhouse upstate because it was just so full of memories. We lived, and I still live, in an apartment in New York City. We bought the house upstate when my daughter—who is now 36—was a baby. Then I decided to reclaim it, to make it more my place and not have everything be about the past.
I heard about Jane building walls, and I had some tumbledown walls on my property, so I tried to get in touch with her.
Jane DeWitt: I was in my late 20s or early 30s then. It was about 13 years ago. I had come to the idea that stonework was what I loved to do and that I'd keep doing it as long as it made me happy. I grew up on a dairy farm a couple miles from Mary Beth's farmhouse, and I was deciding that this [town] really was my home. I was just trying to put together a life in this rural place.
Beck: Mary Beth, in your email you mentioned that you had a hard time getting ahold of Jane to hire her.
Mary Beth: Yes, she's very popular and hard to pin down. I knew I wanted her, because every time I saw a stone wall by Jane DeWitt I thought it was beautiful. The way I did pin her down was: Someone she was working for had a dog that wandered into the street. I brought his dog back to him. He was very grateful. I said, "By the way, is Jane DeWitt the one who is building your walls? I've been trying to get her for about a year now." The next day, there was Jane, knocking on my back door.
Jane: I think I interrupted your bath.
Beck: What were your first impressions of each other?
Jane: Mary Beth was so kind and excited. Those are the kind of people I like to work for and with, because it's so much fun.
Mary Beth: My first impression of Jane was: This is a woman of confidence. She's not going to be a bullshitter. Even though she's brilliant and has a degree in literature from Dartmouth, she was a spirit of nature. She loves browns and greens, and she was standing there with her long hair and perfect posture, and I said to myself: This is somebody that I want to connect with.
Beck: How did your relationship evolve from being a business owner and a client to being real friends?
Jane: One of the things that I like about my profession—but which also makes me hard to get ahold of—is that my work takes a while. And you're usually working at someone's home, so you get to have a rapport with people. We're a chatty crew. I think Mary Beth asked if I would like to go bicycle riding, and I thought that could be fun.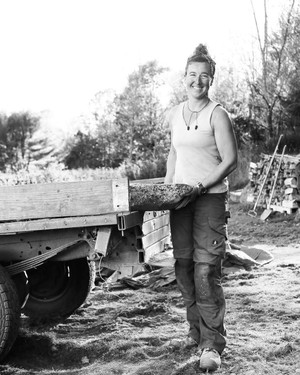 Mary Beth: She had an old Subaru, and she would leave the windows open and play NPR while working on a wall. I hear this and I think, Wow, she likes the same radio station that I listen to. I had a pond [on the property], so I may have said, "Help yourself to the pond," or something like that. There may have been swimming involved. It all happened very organically.
Jane: Swimming is something I love so much. Often on a hot day, even if she's not there, I'll go up and swim in her pond. It has become a refuge for me. It's just a beautiful place that she's created.
Beck: Mary Beth, I can't imagine how hard it was losing your husband, and then you're redoing your family home where there's all these memories. What was it like emotionally to make this new connection with Jane at the same time you were processing your husband's loss in this very special place?
Mary Beth: It's a very remote area. We didn't really know people up there, other than our closest neighbors. Jane was this breath of fresh air for me. She was a new way of connecting to [the town] and to my home. In the grief over my husband, the new friendships that I made have been extremely important to me, because they started when I was in a very rough place.
My son was 17 when my husband died, and my daughter had just graduated from college. So by the time I met Jane I had an empty nest. I was transitioning from somebody who was embedded in a family life to contemplating this possibility that I would be a single woman again for the rest of my life. Jane embodies that sense of independence.
Jane: I don't know if I knew this then, but I think pals are the most important relationships in my life. They are the ones who keep me hopeful in dark times, and keep me inspired. I have become very content with my single, childless life—so I really cherish having friends who have time for long conversations.
Mary Beth: She's been very willing to listen to my laments about trying to have a relationship again with a man, and my uncertainty about whether I want it or need it. Our friendship has been able to encompass many difficult aspects of our lives. We can also just talk and laugh. I love to cook, so she comes over and we have these wonderful meals and make some cocktails.
Beck: Jane, I'm wondering what it was like to fix up a friend's home as opposed to just a client's.
Jane: Stonework really comes into its own after a year or so, because of lichen and moss and things growing in. Often when we leave a job, it doesn't look quite right. I always have good intentions of going back and photographing years later, and I often am too busy to go. When I have become friends with the person, it has been wonderful to see the jobs come into their glory. Stonework just seems to get better and better as it melds into the landscape and the landscape melds into it.
Mary Beth: It looks like it was always there.
The friendship started over one wall, but now she's also built an amazing retaining wall for my basement area that has a door on it from her family's barn. And stonework around a flower garden, and two wells on the property. She is an artist.
Beck: I wanted to talk a little bit about the age gap and what that brings to your friendship.
Jane: I don't think about it. I just think your spirit is just so wonderful. I do have friends of all different ages, and I've always liked that. It's just so limiting when we only look for pals in our age group.
Mary Beth: I agree. There are two women in my life—one is still living, and she's 92, and the other died—but I bonded with both of them [when we were younger] because we were family therapists. And they became dear, dear friends. I often would feel like, I'm just in my 20s; why are they interested in me?
There are different life experiences brought to bear, and that's true of somebody who is younger than you, too. I loved my children's friends, and many of them I'm still in touch with.
Jane: Mary Beth has been very influential in me coming up to date with technology. She was the one that was like, "Jane, you must get an iPhone." Back [when we met] I didn't have a cell phone. That's what's fun about our friendship—you would guess by our ages it would be the opposite, but it's not.
Beck: What have you learned from your friendship?
Mary Beth: I can be judgmental, and Jane makes friends with everyone. So there are a number of people that I have met and come to enjoy that I wouldn't otherwise have known. Jane could run for mayor or governor, you name it—she'd be elected. Everybody knows and loves Jane. Hers is a wonderful spirit to observe and to borrow from. She's also somebody that, if the house was burning down, she would run in and carry me out. She shows up; boy, does she show up.
Jane: I love that Mary Beth is provocative with her questions. She's willing to talk about hard things that some people really want to avoid, and that feels like a really sacred thing to have.
---
If you or someone you know should be featured on The Friendship Files, get in touch at friendshipfiles@theatlantic.com, and tell us a bit about what makes the friendship unique.