The Type of Love That Makes People Happiest
When it comes to lasting romance, passion has nothing on friendship.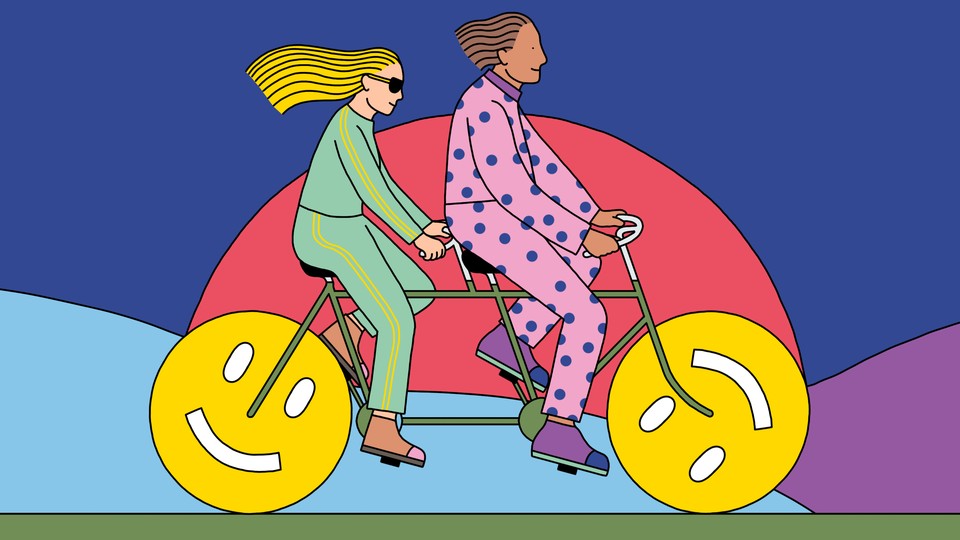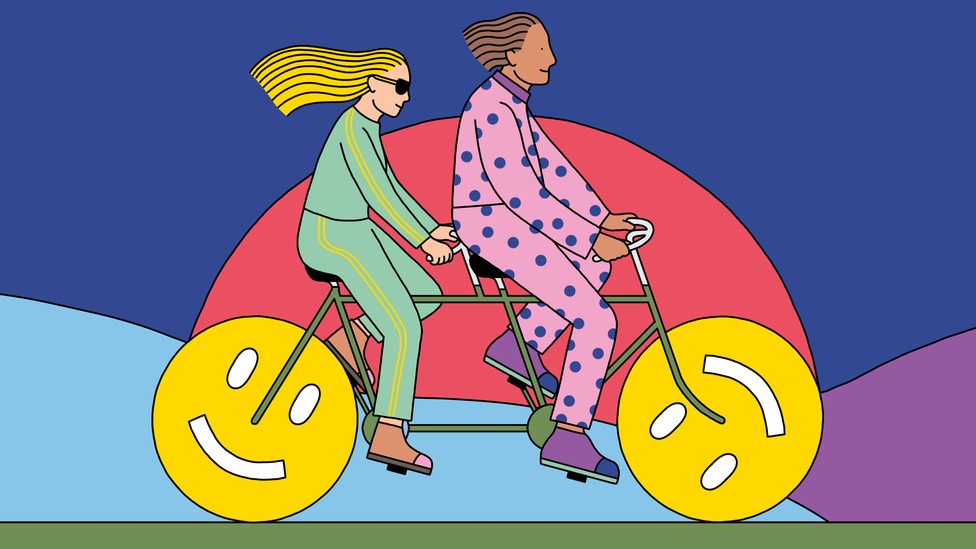 "How to Build a Life" is a weekly column by Arthur Brooks, tackling questions of meaning and happiness.
---
"I think I may have met my future wife," I told my father on the phone, "but there are a few issues." To be precise: I met the woman in question on a weeklong trip to Europe, she lived in Spain, we'd only been on a couple of dates, and we didn't speak a word of the same language. Obviously, I told my amused father, "she has no idea I plan to marry her." But I was 24 and lovestruck, and none of that stopped me from embarking on a quixotic romantic adventure. After a year punctuated by two frustratingly short visits, I quit my job in New York and moved to Barcelona with a plan to learn the language and a prayer that when she could actually understand me, she might love me.
Falling in love was Sturm und Drang: euphoric at times, but also risky, fraught, and emotionally draining. The long-distance relationship before I moved to Spain was filled with agonizing phone calls, unintelligible letters, and constant misunderstandings. I certainly didn't need a social scientist with a Ph.D.—future me—to present young me with scholarly evidence that a lot of unhappiness can attend the early stages of romantic passion. For example, if I had been shown the evidence that "destiny beliefs" about soul mates or love being meant to be can predict low forgiveness when paired with attachment anxiety, I would have said, "Well, duh."
---
Listen to Arthur Brooks and Dr. Vivek Murthy discuss remedies to alleviate the impact of loneliness on our daily lives in How to Build a Happy Life.
Subscribe: Apple Podcasts | Spotify | Stitcher | Google Podcasts | Pocket Casts
---
Falling in love can be exhilarating, but it isn't the secret to happiness per se. You might more accurately say that falling in love is the start-up cost for happiness—an exhilarating but stressful stage we have to endure to get to the relationships that actually fulfill us.
Passionate love—the period of falling in love—often hijacks our brains in a way that can cause elation or the depths of despair. Thrilling, yes, but it can hardly be thought of as bringing contentment; indeed, during some historical periods it has even been connected to suicide.
And yet, romantic love has been scientifically shown to be one of the best predictors of happiness. The Harvard Study of Adult Development has assessed the connection between people's habits and their subsequent well-being since the late 1930s. Many of the patterns uncovered by the study are important but unsurprising: The happiest, healthiest people in old age didn't smoke (or quit early in life), exercised, drank moderately or not at all, and stayed mentally active, among other patterns. But these habits pale in comparison with one big one: The most important predictors of late-life happiness are stable relationships—and, especially, a long romantic partnership. The healthiest participants at age 80 tend to have been most satisfied in their relationships at age 50.
In other words, the secret to happiness isn't falling in love; it's staying in love. This does not mean just sticking together legally: Research shows that being married only accounts for 2 percent of subjective well-being later in life. The important thing for well-being is relationship satisfaction, and that depends on what psychologists call "companionate love"—love based less on passionate highs and lows and more on stable affection, mutual understanding, and commitment.
You might think "companionate love" sounds a little, well, disappointing. I certainly did the first time I heard it, on the heels of the amateur romantic comedy I described above. I did not move to Barcelona like a knight errant in search of "companionate love," I can assure you. But let me finish the story: She said yes—actually, sí—and we have been happily married for 30 years. Our communication has improved—we text at least 20 times a day—and it turns out that we don't just love each other; we like each other, too. Once and always my romantic love, she is also my best friend.
Being rooted in friendship is the reason that companionate love creates true happiness. Passionate love, which relies on attraction, does not typically last beyond the novelty of the relationship. Companionate love relies on its very familiarity. As one researcher bluntly summarizes the evidence in the Journal of Happiness Studies, "The well-being benefits of marriage are much greater for those who also regard their spouse as their best friend."
Best friends get enjoyment, satisfaction, and meaning from each other's company. They bring out the best in one another; they gently tease one another; they have fun together. President Calvin Coolidge and his wife, Grace, famously had such a friendship. According to one story (perhaps apocryphal), when the president and first lady were touring a poultry farm, Mrs. Coolidge remarked to the farmer—loud enough for the president to hear—that it was amazing so many eggs were fertilized by just one rooster. The farmer told her that the roosters did their jobs over and over again each day. "Perhaps you could point that out to Mr. Coolidge," she told him with a smile. The president, noting the remark, inquired whether the rooster serviced the same hen each time. No, the farmer told him, there were many hens for each rooster. "Perhaps you could point that out to Mrs. Coolidge," said the president.
Promiscuous roosters notwithstanding, the romance of companionate love seems to make people happiest when it's monogamous. I say this as a social scientist, not a moralist: In 2004, a survey of 16,000 American adults found that for men and women alike, "The happiness-maximizing number of sexual partners in the previous year is calculated to be 1."
The deep friendship of companionate love should not be exclusive, however. In 2007, researchers at the University of Michigan found that married people aged 22 to 79 who said they had at least two close friends—meaning at least one besides their spouse—had higher levels of life satisfaction and self-esteem and lower levels of depression than spouses who did not have close friends outside their marriage. In other words, long-term companionate love might be necessary, but isn't sufficient for happiness.
---
Want to stay current with Arthur's writing? Sign up to get an email every time a new column comes out.
---
It will be no surprise to you that while I love reading Shakespeare, Pablo Neruda, and Elizabeth Barrett Browning on passionate love, my Spanish romance is best expressed by Miguel de Cervantes. In Don Quixote, Cervantes gives the hero this song about his beloved Dulcinea:
The divine Tobosan, fair
Dulcinea, claims me whole;
Nothing can her image tear;
'Tis one substance with my soul.
This conveys the intensity of passionate love perfectly. But when it comes to happiness, it is important to heed the un-poetic Friedrich Nietzsche, who wrote, "It is not the absence of love but the absence of friendship that makes marriages unhappy." True, Nietzsche never married, and was reportedly rebuffed in proposals three times by the same woman. (Nihilism isn't much of an aphrodisiac, it seems.) He is correct nonetheless.
All the data and studies aside, the best evidence I have about happiness and companionate love is my own life. Three decades and counting after tilting at the windmill of an unlikely romance, my Dulcinea accompanies me through good times and bad. We share our joys, and tremble together in fear—fear that, for example, one of our three adult children might do something ridiculous, like run off to Europe chasing passionate love. We hope to enjoy plenty more decades of life in love and friendship together. And then hers, I pray, will be the face I see as I draw my last breath—her image one substance with my soul.
---
​When you buy a book using a link on this page, we receive a commission. Thank you for supporting The Atlantic.