The Friend COVID-19 Took From Me
"Baby and I would talk about growing old together."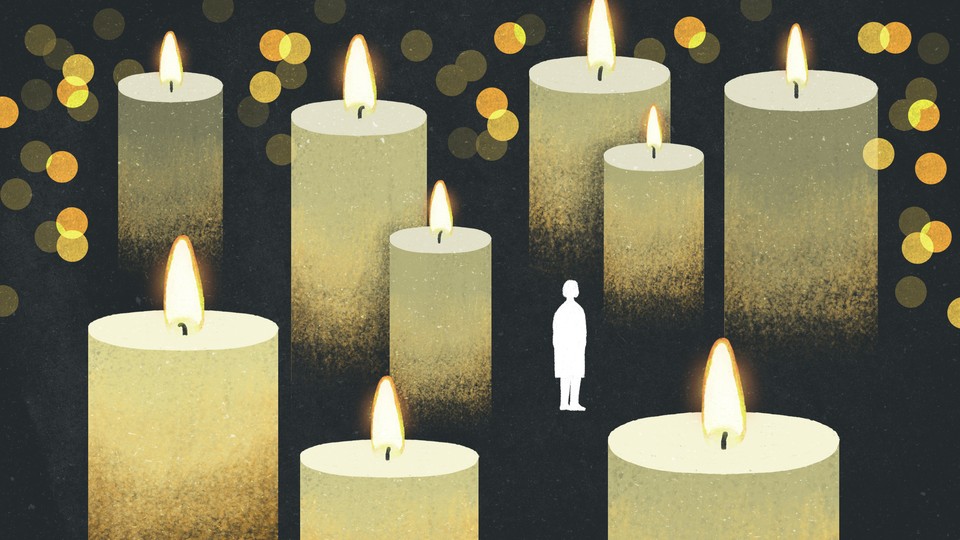 Installments of The Friendship Files typically feature a conversation between The Atlantic's Julie Beck and two or more friends, exploring the history and significance of their relationship. But this week she speaks with just one person whose friend passed away from COVID-19 earlier this year.
In this interview, Mary-Ann Ortiz-Luis shares the history of her friendship with Baby Herrera, whom she'd known since they were girls growing up together in the Philippines. She discusses what made Baby special, how they stayed close even when Mary-Ann moved overseas, her memories and regrets from Baby's final days, and how the void left by the loss of her friend will last long after the pandemic is over.
The Friends:

Mary-Ann Ortiz-Luis, 62, who oversees a food-packaging business and lives in Hillsborough, California.
Maria Lourdes "Baby" Goyena Herrera, the vice president of an industrial park, who lived in Manila, the Philippines, and died of complications from COVID-19 on March 31, 2020, at the age of 61.
This interview has been edited for length and clarity.
---
Julie Beck: Who was Baby Herrera?
Mary-Ann Ortiz-Luis: She was born several months after her older brother died. When her mother was pregnant with her, they were going to migrate to the United States. But then there was a terrible car accident. Her brother died, and both parents were in the hospital for a week or so. Because of the tragedy, they were so heartbroken; they did not want to leave anymore. So they stayed in the Philippines. Several months later, Baby was born. She grew up like an only child.
She was very good at organizing and spearheading programs. She was like a CEO-type person. She served the [former Philippine] Prime Minister Cesar Virata. Her last job was at an industrial park.
I have not lived in the Philippines for almost 40 years. So I did not have the pleasure of observing her professional life. I just heard about it.
Beck: And who was Baby Herrera to you?
Mary-Ann: She was my link to my life in the Philippines and who I was when I was there. As the years passed, I came to value that more and more. She was deeply religious; so is her husband. In the Philippines, you're Catholic until proven otherwise. My husband and I are more secular. But they never made us feel undeserving of their friendship. Baby has always been very inclusive and nonjudgmental. It's so easy to feel comfortable with her. That was an innate gift that she had.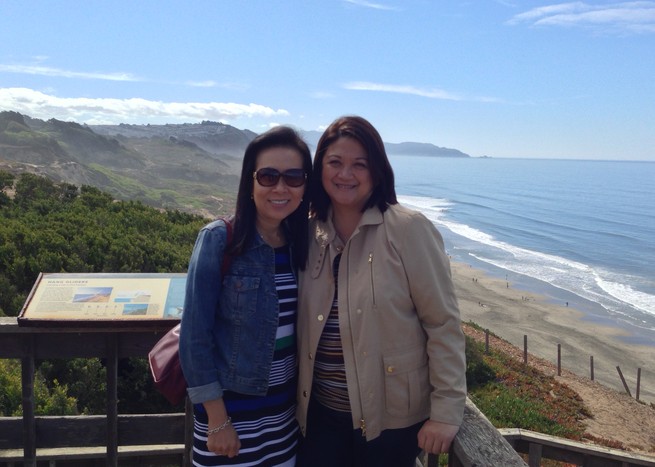 We would talk about spending more time in Manila when [my husband] Louie and I retired, maybe six months [out of the year]. Baby and I would talk about growing old together.
I was supposed to fly to Manila last February to visit my mother, but I stayed back, because our house flooded and we had to have repairs. I said, "Instead of February, maybe I'll go in March or April." So I postponed that trip. I deeply regret it.
In mid-March, [Baby's sickness] came from left field. There was not much to indicate how sick she was the first week. She just had a cough and a slight fever, but she was managing. She was sending us text messages at all hours. The second week she developed the shortness of breath, and she was brought to the hospital. The last text message I got from her was maybe a day before she was intubated. She died a week after she was brought to the hospital. Her kidneys supposedly shut down. She had a seizure. She developed the complications of COVID-19.
Freddy, [Baby's husband], told me they did not get to see her body after she died. They were just called to pick up the ashes. It's so hard in terms of closure, I can't begin to tell you.
Beck: How did the two of you meet and become friends?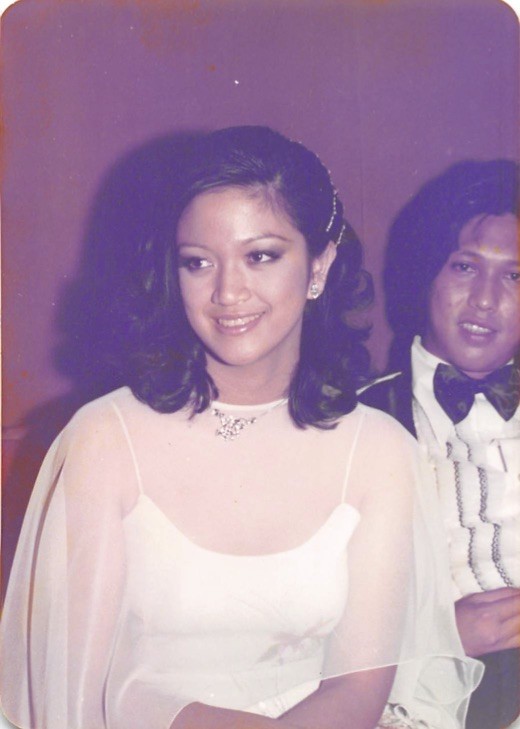 Mary-Ann: We met the first year of high school. I noticed her right away. She was so tall, and she was always raising her hand. We both sat in the back of the class. Academically, we were both competitive. We liked excelling. So a lot of things fell into place. We became good friends. She's a good actor. When we would do productions, I would do the props, the setting, the lights, the music, even the costumes, and she would act.
Then our parents became friends. Because my parents were very strict when it came to playdates, Baby was one of the few people whose houses I was allowed to hang out at.
She met Freddy in her third year of high school. Her parents were not for it, because Freddy was older, and they thought she was too young to attach herself. So when she graduated from high school, they made her travel for several months. Freddy was quite despondent; I felt like I was babysitting him. But it made for an even deeper friendship with Baby, because I became good friends with her eventual husband.
Beck: When did your friendship shift to being long distance?
Mary-Ann: I left the Philippines in 1984, when I was 25.
Beck: How did you keep in touch?
Mary-Ann: Email, letters, cards. When the cell phone came about, calling became easier. We used to buy phone cards. When she had a baby, she'd bring her baby to see my mom. Then, of course, my mother will call me: "I just saw Baby's newborn. When are you going to have a kid?"
Also, by the time [my husband and I] moved to California, we were going to Manila at least once a year, maybe more. Over about the last 15 years, they would also come through the U.S. at least once a year, because Freddy developed lymphoma. He went into remission, but most years he would go for his big checkup at Sloan Kettering [in New York]. [On the way,] they would fly to San Francisco and spend a few days with us.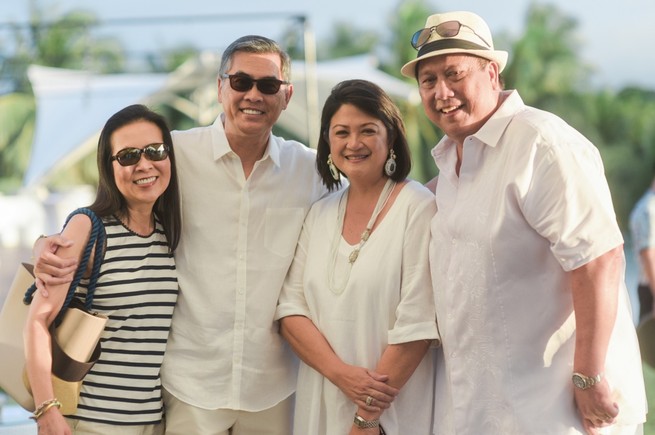 Beck: I know that Baby got sick pretty early on in the pandemic, but did you ever have a conversation with her about the pandemic and how it was changing our lives in those early days?
Mary-Ann: There was a conversation before Baby got sick, because one of our other high-school classmates' husband got sick and died early in March. Then our classmate died a week later. I was thinking, Holy cow, this thing that's coming upon us.
Beck: You mentioned some texts, but were you able to talk with Baby at all while she was sick?
Mary-Ann: No. I tried calling her, but she wasn't answering. But she was still sending text messages. The last conversation we had was about [our classmate] who had COVID-19 and was dying.
She likes to dress me; I don't know why. Back in February [before I canceled my trip to Manila] she started sending photos over text: "These are the dresses that I asked some friend who owns a boutique [to put on hold] that I think you should try on because I think they'd look good on you." I feel bad because I said, "Baby, I'm trying not to buy clothes. I don't want to have more than I need." But I think she takes such pleasure from dressing me. Maybe because she can't dress her daughters anymore. Sometimes I still can't believe she's gone.
Beck: Were you able to have a funeral? A digital one at least?
Mary-Ann: Yeah; it was a Zoom attended by hundreds of people. They had a picture of the urn with her photo beside it and flowers. The other people who paid tribute to her talked more about [her professional life]. My eulogy was about my memories of her. Once, she told me, "I can be my old self, like when we were kids," when we were together.
Freddy could not bring himself to bring her urn to the crypt until October. He kept the urn in their house from April all the way to October. I talked to him periodically. I didn't want to intrude. But every so often, I'd nudge with a text message, or I'd send him something I saw online to remember the days when life was simpler. A song from when they were dating or something.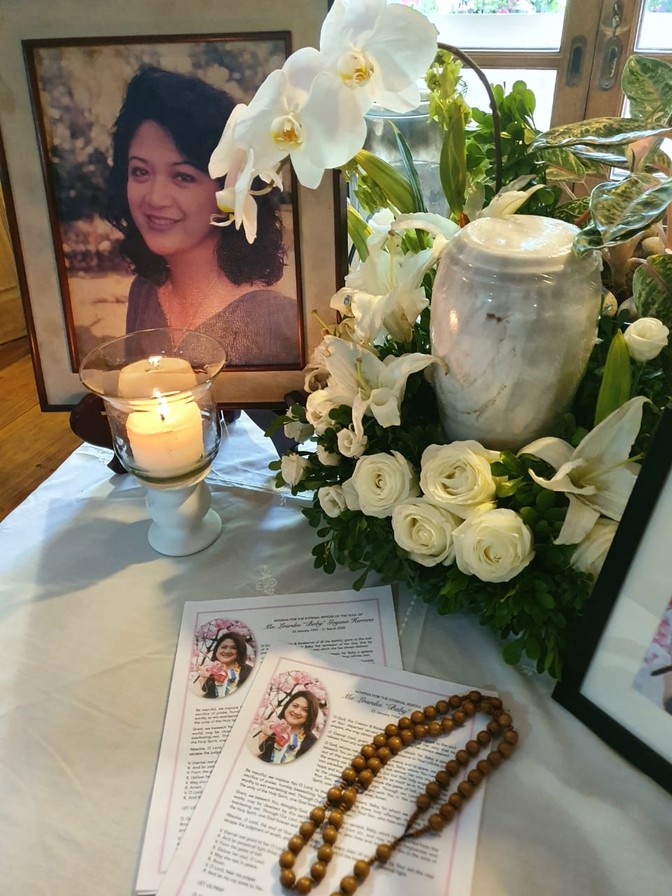 Beck: I know there are probably thousands, if not millions, of people who have stories like yours. It's very overwhelming when you think about the scale of it.
Mary-Ann: Julie, there are seven people I personally know who all died from COVID-19. Two weeks ago, I was walking around our factory, saying hello to everyone. I'm in full gear, with a face shield and a face mask. To one of our maintenance people I said, "Hi. I hope you're being careful. Times are really hard." He says to me, "I don't know. Everything is so confusing. This could all be fake, but I'm taking precautions." I stopped dead in my tracks, and I didn't catch myself soon enough. I was yelling at him, "Don't tell me it's fake! I have seven people in my life who have died from this. Do not tell me this is fake." Then all of a sudden I realized my voice was so loud, because there were other people looking at me. I said, "Oh my God, there are still nonbelievers or doubters."
Beck: Everyone understands how hard it is to lose a spouse or a family member—but there's something uniquely hard about mourning a friend, because people don't always understand what that means. But when you have a friend like you had in Baby, who has been with you for your whole life, that loss also really reshapes your world.
Mary-Ann: I was looking forward to going to Manila. I always looked forward to it because of her. I'm probably going to feel it even more when I go there. The reality will even be more jarring. Just imagining Manila without Baby is unthinkable. We were joking that they were going to come here when Baby retires, because Freddy wanted to write a memoir. We said, "Our house is your house. You can write out on the back porch. You'll have a great view of the bay." That was a standing offer to them.
Beck: People are looking forward to when the vaccines are ready and when the pandemic is over. In a lot of ways, it'll be a very celebratory time, but—
Mary-Ann: At the same time, I think the losses will be even more glaring. She leaves such a huge void.
---
If you or someone you know should be featured on The Friendship Files, get in touch at friendshipfiles@theatlantic.com, and tell us a bit about what makes the friendship unique.