New Orleans's Football Stadium Reflects the State of the City
When I was young, the Superdome was full of joyful chaos. Then Katrina hit, and filled it with despair. Now the stands at Saints games are hauntingly empty.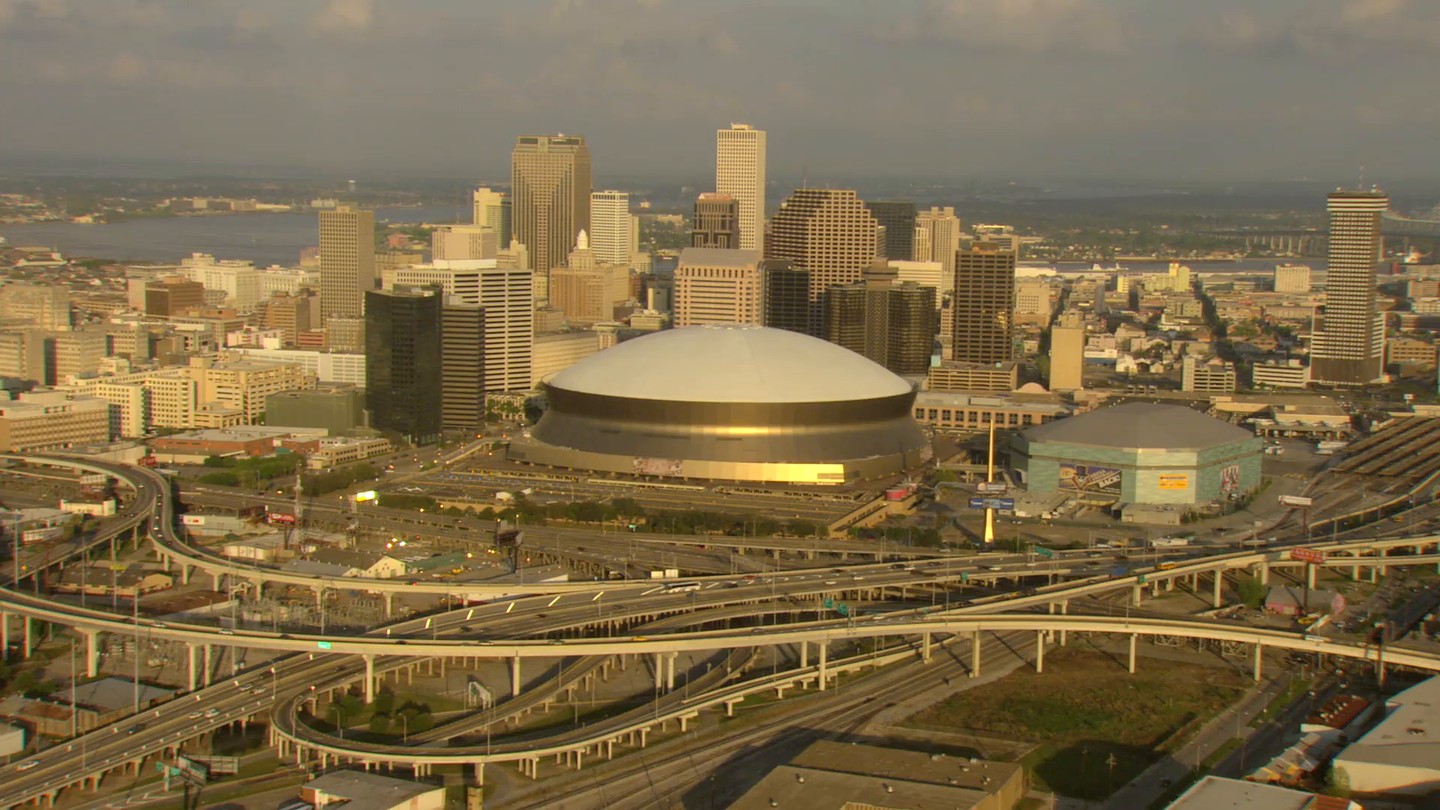 It sounded like thunder; it felt like heaven.
This is what I remember of Sundays at the Superdome in New Orleans after the Saints scored a touchdown. An endless sea of black and gold. Fleur-de-lis paraphernalia that glistened under the stadium lights. More than 60,000 people on their feet, stomping, screaming, and singing; awash in one another's delirium. Professional football is a centerpiece for many cities across the country, but it is difficult to imagine that there is a team that means more to a city than the Saints have meant to New Orleans.
My family has had season tickets for Saints games since I was a child. For as long as I can remember, for each Sunday home game, we have rotated our two tickets among the respective members of my family. Mom and Dad. Dad and me. Dad and little sister. Little sister and husband. Dad and little brother. Little brother and girlfriend. Little brother and me. The rotations evolved when one of us went off to college, when another of us moved away, and when we all came home for the holidays bartering Thanksgiving food across the table for a chance to see the hometown team.
As a child, I relished those Sundays I got to attend the games with my father. I loved parking the car a mile away and walking through downtown toward the Superdome surrounded by an ocean of other fans. I loved how we high-fived strangers and repeated "Who dat?!" back to anyone who howled the team's mantra in our direction. I loved the sight of scalpers on the corner trying to sell last-minute tickets. I loved the sound of hopeful attendees haggling with them for a lower price. I loved the smell of beer and popcorn spread across the floor. I loved knowing I would get a hot dog and chicken tenders and french fries during halftime. I loved that I would spill ketchup on my jersey and that it wouldn't matter to anyone because it was third and goal and our defense needed to make a big stop. I loved the time with my father, to see the thrill on his face as the game commenced and to feel the same thrill in my body.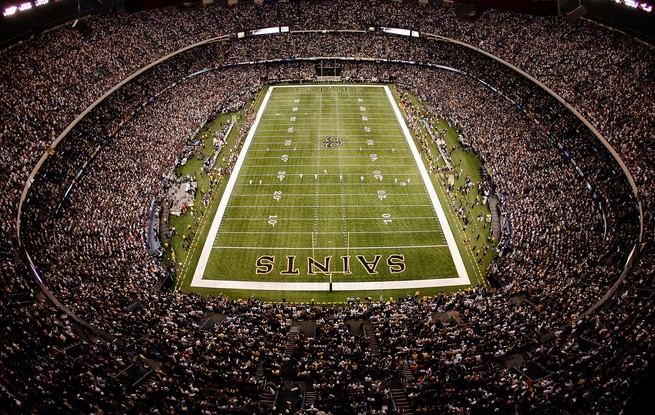 My early memories of the Superdome are all noise and crowds and joyful chaos. They're about people, about community. That's why it's been so strange, because of restrictions to stop the spread of COVID-19, to see the dome empty thus far this NFL season. To see it with no fans, devoid of the clamor I had come to know over decades.
Even before the season started, I had been thinking a lot about the Superdome. August marked 15 years since Hurricane Katrina plundered my hometown. And although so many of my childhood memories of that half-century-old stadium are shaped by football games, what I remember of that stadium from the second half of my life is the storm.
I was three days into my senior year of high school when my family evacuated New Orleans to escape Katrina. I had just turned 17, and I watched from my aunt and uncle's couch in Houston as people, desperate for help, streamed toward the Superdome seeking shelter.
When I'm back home in New Orleans and drive down I-10 past the Superdome, it is those people, those stories, and those faces that come to mind. I think of the 35,000 people stranded inside of the stadium, people who were abandoned by the government when they were at their most vulnerable. I think of the emerald turf littered with trash and debris. I think of the now-famous image of a single beam of sunlight pouring in through the torn roof of the dome, and how during the storm itself, rainwater poured inside, rather than sunlight. The Superdome had been a sanctuary for New Orleanians on so many Sundays over the course of decades, and over the span of several days it was transformed into a shelter of last resort for those with nowhere else to go. I remember watching the news and seeing all those Black faces and knowing that, if they had been white, it would have never been allowed to come to that.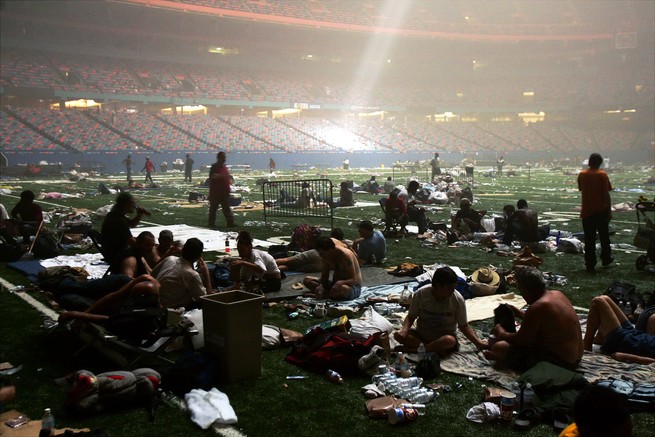 My relationship to football is more complicated than it once was. Although it has brought me so many Sundays I look back on fondly, it's hard to ignore the science that has emerged revealing the harmful long-term impact of the game on the brains of those who play it. I struggle, too, with the league's inexcusable response to Colin Kaepernick's first taking a knee in 2016 and the slow, and until recently hostile, response to the Black Lives Matter protests by its players.
Though I might not follow my hometown team as intensely as I used to, I still check the score after each game and tune in, even if briefly, when they play in nationally televised games. If I'm being honest, it's difficult for me to fully step away from football and the team I've loved for so long, because inside me is still the little boy who remembers going to these games with my father. Something in me is still seeking that nostalgic comfort, especially in a moment that otherwise feels so precarious. But the games I've watched this season haven't fully satisfied that desire. The field was populated, but the stands—where those memories were made—were empty.
In some ways, these differing conditions of the Superdome have come to represent the states of the city over the course of my life. First, the jubilation from days when fandom was uninterrupted by pandemics and natural disasters, when my childhood in the Crescent City was animated by screaming fans each Sunday—even in the seasons when losses came much more frequently than wins. Then the despair during Hurricane Katrina, when this building, which was in many ways the city's heartbeat, filled with people who had suffered losses they would take years to recover from, if indeed they ever could.
The current emptiness of the Superdome, the distance placed between the fans and the team that they love, has come to embody the sense of distance I now feel from my hometown. Normally, I visit New Orleans several times a year, and my parents frequently visit my family here in Maryland as well. But there is a void now. There is an emptiness between us, as is the case for millions of families across the country. My father, a two-time kidney-transplant recipient, is immunocompromised; my grandfather, who lives around the corner from my parents, is almost 90 years old; my aunt, who lives with my grandfather, is in remission from breast cancer. I have two small children, ages 1 and 3. I don't know the next time my parents will be able to hug them. I don't know the next time my father, a season-ticket holder of more than 25 years, will be able to safely attend another Saints game.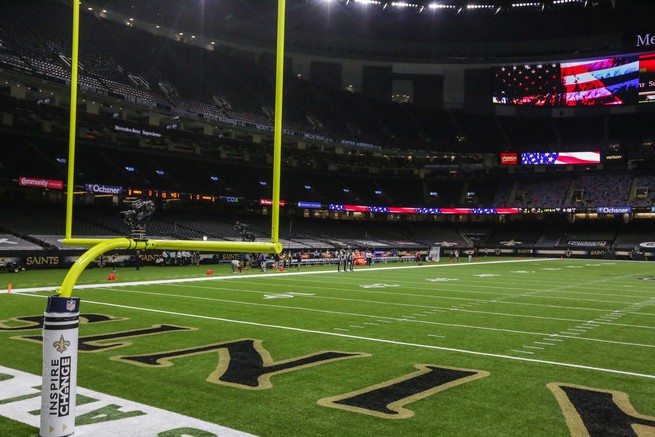 I understand why the seats are empty right now. We are in the middle of a once-in-a-century global pandemic that has killed about 220,000 Americans. But even as I agree with the precaution of keeping an indoor facility closed to tens of thousands of screaming fans, I mourn for what the city has lost. The pandemic has cut people off from our traditions, our rituals, our community. It has taken away so much of what makes us human—those moments standing in a stadium with strangers who over the years have become friends, and hugging one another after a game-winning touchdown that means everyone is going to start their week in a good mood. Those moments are gone.
On September 25, 2006, after more than a year spent splitting "home games" between Baton Rouge and San Antonio (after an initial one in New Jersey) because of Hurricane Katrina, the Saints returned to a packed, raucous Superdome to play the Atlanta Falcons. Within the game's first 90 seconds, the Saints special-teams player Steve Gleason blocked a punt that resulted in a touchdown that catapulted the stadium into euphoria. The Saints went on to win the game 23–3, and a statue of Gleason blocking that kick now stands outside the dome. Even watching the game from my freshman dorm room in North Carolina, I could feel what that moment meant to my city. It was a message to the world, and a reminder to ourselves, that we were back.
My hope is that, after the coronavirus is gone, and the Superdome is filled to the brim with black and gold, there will be a similar moment, something to mark our return from a disaster that has seeped into every part of our lives. The state of the Superdome reflects the state of my home. Things might be quieter now, but it won't be that way forever. And when things go back to normal, or whatever the new normal is, the noise from the Superdome will be among the first signs to let us know.