Is There a Safe Way to Be Home for the Holidays?
Throughout the pandemic, Americans have been tempted to violate public-health experts' recommendations. The winter holidays might be the strongest temptation yet.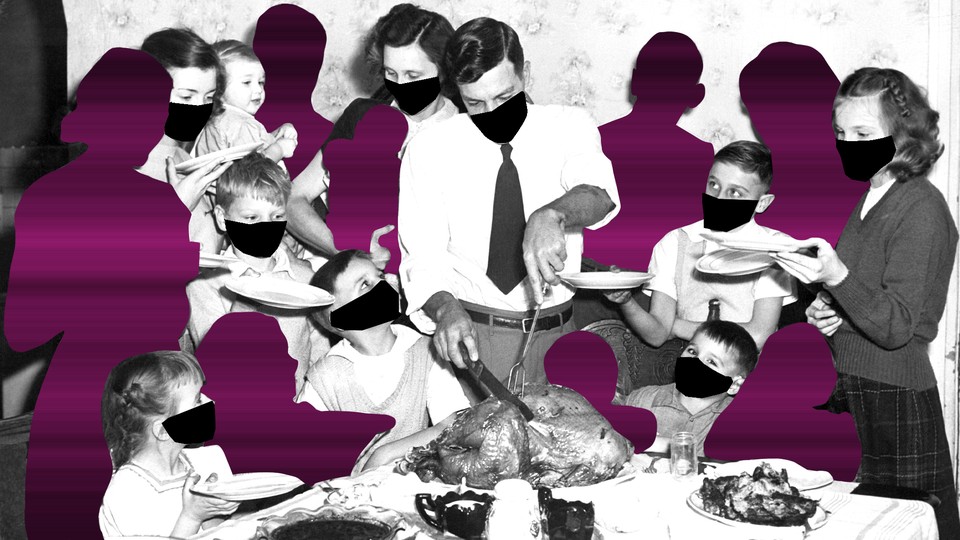 One of American culture's most cherished traditions is for a mix of young and old people from different households to sit close together and share food in a poorly ventilated space without masks on for an extended period of time. It's called Thanksgiving.
This year, the holiday season is laced with danger. Individually, Americans have been tempted over and over during the pandemic to violate public-health experts' recommendations, whether by the celebration of a family milestone or just a drink at a bar. But the holiday season represents a different, more collective sort of temptation that's likely stronger than any of the ones that came before it.
The dangers of the holidays will keep some people from traveling home. Xochitl Segura, a 30-year-old in San Francisco who works for a marijuana dispensary, most likely won't be at her parents' house, in Napa Valley, for Thanksgiving or Christmas, because her mom is worried about the health risks. This has been hard for her to accept. "My parents are getting older, and I think about how they're not going to be around forever," Segura told me. "Who knows how many more Christmases we're going to get, how many more Thanksgivings we're going to get."
These are the powerful and entirely valid feelings that public-health guidance will run up against when Thanksgiving, Hanukkah, and Christmas arrive. Many people will, unlike Segura, act on those feelings, and it could be dangerous when they do so during the same roughly monthlong stretch of time.
How many people will leave home is an important question. In a typical year, about 50 million Americans travel at least 50 miles from home for Thanksgiving, according to AAA. In this atypical year, it's not yet clear how large that number will be. On one hand, a survey from Morning Consult in early September found that just under half of Americans are scrapping their usual plans for holiday gatherings. And Gary Leff, a blogger who follows the airline industry closely, told me that based on airport foot traffic this year, he expects the number of flyers during Thanksgiving and Christmas to be no more than half of what it was last year. However, he notes that this year's uncertainty makes it difficult to predict travel patterns accurately this far in advance.
But on the other hand, air travel usually accounts for just a small fraction—about 8 percent—of Thanksgiving trips overall. The overwhelming majority of Thanksgiving travel is by car, and drivers have hardly been deterred by the coronavirus this year, according to AAA. That is consistent with data from the Bureau of Transportation Statistics showing that around the Fourth of July and Labor Day, the number of trips covering 100 to 500 miles rose significantly compared with last year, while the number of trips covering more than 500 miles fell significantly.
Whether or not those patterns hold for the upcoming holiday season, it seems safe to say that tens of millions of people will be spending extended periods of time indoors with friends and family who live outside their household. "Thanksgiving makes me nervous," says Andrew Noymer, a public-health professor at UC Irvine.
He expects lots of Americans to go home for the holidays, even if it'd be much safer if they didn't. The main threat, in his view, isn't the traveling or the gathering, but rather the combination of the two. "The actual three and a half hours you spend inside the [plane] is not what I worry about … but bringing people together in the [airport] gate area worries me—we've all seen people with their noses sticking out above their mask," he told me. "But even just driving 45 minutes to someone's house and sitting around the table at Thanksgiving with people who you don't normally mix with" is worrying too.
An additional danger is that the coronavirus could spread more easily in the colder months, as other respiratory viruses do. "It's not just that people are gathering. It's that they're gathering amidst the backdrop of this winter-seasonality effect," Noymer said. "I just don't see any scenarios, barring a vaccine, in which we don't have lots of COVID-19 this winter, and Thanksgiving is going to play a role in that," Noymer told me. (Black Friday, he noted, might play a role as well; aware of this threat (and of would-be shoppers' fears), many stores are moving away from having a big, single-day sale, instead spreading their deals out over a longer period of time.)
On top of increasing infections, holiday travel and gatherings might have a consolidating effect on what my colleague Ed Yong has called a "patchwork pandemic," a set of regional outbreaks that flare up and subside at different times. "I worry that interstate travel for Thanksgiving has the potential to synchronize the pandemic, so that we all have a winter wave at the same time," Noymer said. This simultaneity could put a strain on medical supply chains.
When I asked Noymer if people will be home for the holidays, and if they should be home for the holidays, he replied, "Yes," and then, "No."
That said, when I asked Stephen Morse, an epidemiologist at Columbia University, whether it's safe to travel, he said that although the collective risks of holiday travel are large—it could make the pandemic worse overall—the risks for any given individual traveler can be reduced. "With caution, it can be done," he advised, but if you're unsure, err on the side of not going.
If you do decide to go somewhere, Morse told me, there are a number of precautions you can take that, combined, could reduce the risks of getting or spreading the virus. (But ramping up the caution or just skipping the trip would be a good idea if you or your loved ones are particularly vulnerable to the disease.)
Consider visiting at an off-peak time—that is, not right around a holiday, when lots of other people might be traveling as well.
Plan a smaller gathering than usual. The fewer people from different households, the better. (The number of attendees can be more important than the length of the visit: It's not clear that shortening a visit marginally—say, from three days to two or from two weeks to one—will reduce risk in a predictable, linear way.)
Drive if it's feasible. If you're traveling a distance that's drivable in a day, driving is probably safer than flying. For longer distances, the risks for each mode are probably pretty similar, so flying would be okay. (Morse said that if he had to travel 1,500 miles, he'd fly instead of drive, though he noted that he'd rather not travel at all.) If you do fly, you don't need to purchase any special, heavy-duty type of mask—a comfortable, well-fitted cloth mask will suffice.
Keep an eye on case counts. If they're particularly high in the place where you're leaving or headed, think about rescheduling or canceling the trip.
Get tested. Each family member should be tested before and after the trip (though this might not be possible if demand for tests spikes around the holidays). If the test comes back positive or if you're feeling sick, bail on the trip.
It's okay to stay with your family. For longer visits, if your loved ones have the space, it's probably safer to stay with them than in a hotel.
Follow the basic guidelines that apply the rest of the year. Even if you're willing to take on some extra risk to see your loved ones for the holidays, you should continue to wear a mask in public, wash your hands frequently, stay at least six feet from others, avoid touching your face, and socialize outdoors whenever possible. Masking and keeping distance from loved ones you're staying with is "safest, but may make the whole thing untenable for some," Morse said. He offered "a middle course: distancing, good ventilation, all the precautions except masks, [which] would [still] be riskier, but might be more comfortable." And besides, if you've resolved to eat an indoor, maskless holiday meal with your loved ones—which, again, is risky—it probably won't add substantial risk to, say, hug them or be close to them during the rest of the holiday.
Personally, I would also suggest establishing some safety ground rules with your loved ones before the trip—not just so everyone is comfortable with the level of caution, but so that you avoid tension over figuring out protocols in the moment once you've already arrived. (For some additional recommendations on making holiday plans, the economist Emily Oster recently published a useful guide.)
Adhering to guidelines like these will likely make holiday travel even more stressful than it is in non-pandemic years. Michael Miraflor, a 38-year-old marketing consultant in Brooklyn, is planning to quarantine himself for a week before and after a trip to visit his family in Los Angeles; he'll get tested once he's on the West Coast and then isolate until he gets a result. "That means planning to visit for a week can take up to three to four weeks of actual time," given the quarantines, he told me. "I'm okay with that if it ensures the safety of those I come in contact with. … I'll do what I have to do." (For the record, Noymer said that quarantining doesn't seem necessary for people who traveled cautiously, but if you wanted to be extremely careful, a 14-day quarantine would be ideal. Quarantining for half as long would be less effective, but still better than nothing.)
For others, even such elaborate arrangements can't rescue the holidays. Keisha Brown, a 24-year-old retail-store manager in Rochester, New York, won't be able to drive home to Rhode Island for Thanksgiving or Christmas because of her work schedule and because New York's quarantine rules would mandate that she isolate herself for 14 days upon returning. "I guess I'll just have to FaceTime my friends and family and make my own Christmas dinner," she told me. She's planning to try cooking a green-bean casserole like her mom does, but the celebrants will be just her and her cat.
Segura is also planning an alternative Christmas, given that she won't be spending the holiday with her parents. Instead, she might drive down to Southern California with a friend who is also not going home for Christmas. "It would mostly just be relaxing in a little beach town, probably not a whole lot of celebrating, but a lot of chilling and hanging out and indulging—lots of good cannabis, some wine, some beer," she told me, "just trying to forget about the fact that 2020 is on fire and we can't do all of the things that we want to do." Perhaps we need a new national holiday to acknowledge just that.