As the Military Transformed, Their Friendship Grew
"As a queer woman in the military, seeing both Don't Ask, Don't Tell and the combat-exclusion policy repealed [during my career] was momentous."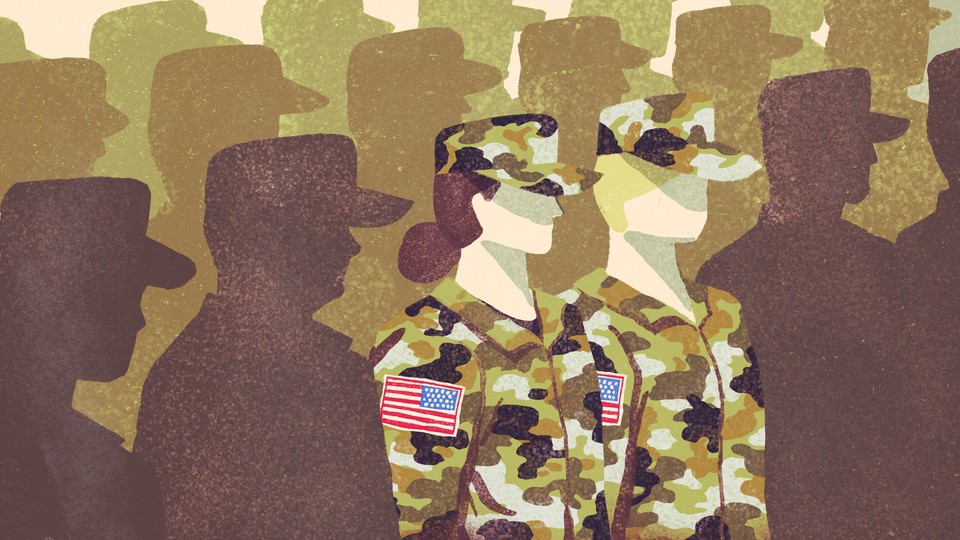 Each installment of The Friendship Files features a conversation between The Atlantic's Julie Beck and two or more friends, exploring the history and significance of their relationship.
This week she talks with two women who met as roommates during Army officer training. Emily, a queer woman, was wary of her roommate at first because of Don't Ask, Don't Tell. But they grew close and supported each other through their eventful military careers. They witnessed the eventual repeal of Don't Ask, Don't Tell and were both selected to serve as consultants for all-male special-forces units in Afghanistan. They discuss the changes they witnessed in the Army during their careers, the special bond among women in the military, and how their friendship grew after they left Army life.
The Friends:

Emily Miller, 34, a co-founder of Rumi Spice and retired U.S. Army captain who lives in Washington, D.C.
Jackie Munn, 34, a nurse practitioner and retired U.S. Army captain who lives in Washington, D.C.
This interview has been edited for length and clarity.
---
Julie Beck: You met through your military training—what were your first impressions of each other? And what was that social environment like?
Jackie Munn: We knew of each other at West Point, but we first met at the basic officer leadership course we had to take after graduation, in 2008. I was there early; I had already found a room, and Emily was looking for a room. She knocked on someone's door, who told her, "No, you can't be my roommate. I got approved to be by myself." I poked my head out the door, and I was like, "Well, you can be my roommate."
Emily Miller: Jackie was a very bubbly, outgoing personality, and I was a little leery of the bubbliness.
Jackie: I was like a happy golden retriever and Emily was like a Siamese cat.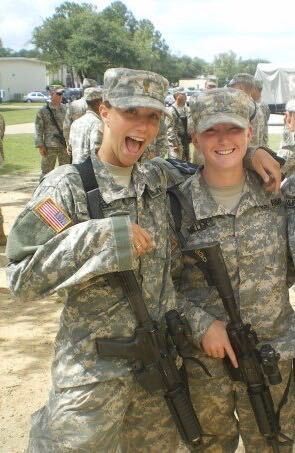 Emily: I was out to my family and a few friends [as queer], but Don't Ask, Don't Tell was alive and well then. People were still receiving dishonorable discharges, so it was a very big deal. My initial reaction to Jackie was skeptical because I wanted to live with somebody who I could be open with. I was nervous, knowing what little I knew of Jackie, whether I'd be able to be authentic.
Jackie: I was raised in a Mormon family.
Emily: It was only a two- or three-month training course, but in the Army it's a big deal who you cohabitate with, because of course we live in barracks. Your roommate sees you in your off hours; they see you first thing in the morning; they see you right before you go to bed. I had heard so many stories at West Point of people finding out that their roommate was gay and turning them in. You just never knew who to trust. I was especially afraid of very religious cadets because I think that they tended to be a little more homophobic than others. Maybe that's not a fair characterization, but that was just my lived experience. With Jackie, I was worried: Will I be able to go to a gay bar on a Saturday night? What if I want to start dating somebody? You can understand why a roommate is a big decision, even in a three-month course.
Beck: How did you move past that and end up becoming friends?
Jackie: It started very slowly. We got to know each other. Emily is just such a passionate and fierce person. She's the epitome of a badass military babe. I wanted to be by somebody who was like that.
Emily: Jackie is obviously just this beacon of optimism and positivity. I remember thinking deep down, Wow, it'd be really fun to take her to a gay bar, but that's never going to happen.
Jackie: Another thing is, Emily and I valued the same thing in the military, particularly as women. We both really wanted to be seen as professionals. I think women unfortunately struggle with How do you fit into this man's world? I gravitated toward Emily because we both just wanted to do the job. When we'd been roommates for a few weeks, we realized we were both supposed to be assigned Fort Lewis, in Washington State, as our first duty station. I enthusiastically and energetically came up with the idea that we should still be roommates at Fort Lewis. Emily wouldn't give me an answer.
One day, we'd just finished a 12-mile hike, we're just dripping in sweat, and I don't know why I chose that moment, but I was like, "Emily, come on. I need an answer. Will you please be my roommate?" She said, "Jackie, you just have to know I'm gay." I said, "I know. We can still be roommates." She said, "I thought you were Mormon." I was like, "Yes, I was raised Mormon, but that's not a belief that I share. I support who you want to be with. Just be my roommate, please."
Emily: We had also discovered a shared love of dancing on Saturday nights. We would go out and just have a blast. I think that's the beauty of the military—it forms these deep and lasting bonds, irrespective of your background, where you're from, your socioeconomic status, your sexuality, all these things. We had just developed this friendship that felt right and when I told her [I was queer], it was such a sigh of relief. So I was like, "All right. Let's [be roommates]."
Jackie: And go to gay bars.
Emily: And share our deep love of Lady Gaga.
Jackie: When we finally get to Fort Lewis, Emily finds out she's not going to get to be my roommate, because she's got orders to deploy.
Emily: I deployed to Iraq two or three weeks later.
Beck: Wow, so you've had this friendship breakthrough, then right after, Emily goes to Iraq. Did you not see each other for a long time? Can you give me an overview of your military careers and how your friendship evolved during them?
Emily: I was an engineer officer in the Army, and Jackie was a quartermaster officer in the Army, so we were in different units, and we had different specialties.
Beck: What is a quartermaster?
Jackie: It's a logistics officer.
Emily: I went to Iraq for about six months, then got back to Fort Lewis.
Jackie: I picked you up, and we went to a gay bar, and we went dancing. And then I deployed shortly after, to the same base Emily was at.
Emily: I think the Cultural Support Team (CST) program that we did is really the pivotal thing that we shared in the military. In 2011, the military had just put up this brand-new program to recruit the best of the best women from across the services to deploy with these all-male special-ops teams, like the Army Rangers, out doing these missions in Afghanistan. The women would train them on cultural standards, processes, the language, to then interact with Afghan women and children to be able to get information.
Jackie: We wanted this so bad, and I think for the same reasons. Emily and I knew we had the physical capacity to do it, the mental capacity, but also the professionalism to show that women can thrive and help these units. There is a place for women; they can do the job and they can do it well. There were a limited number of women who could apply at any time, so Emily goes first, makes it into the program, and gets deployed while I start the tryout.
Emily: Then I got really seriously injured in Afghanistan. I was fast-roping out of a helicopter, had an accident, and smashed my ankle joint. I had to get medically evacuated back to the United States. I had an emergency surgery in Afghanistan and then multiple follow-up surgeries. I ended up back at Fort Bragg, North Carolina, where Jackie was just finishing her tryouts for the CST program, which is where she was when she found out.
Jackie: So I get done with this weeklong slog of tryouts, I turn on my phone, and there's a voice message [about Emily] from a mutual friend that just shocks me. I got in my car and I rushed to the hospital. It was this very surreal moment—to see your best friend with bars and metal hanging around her leg to hold her bones in place. The next day, I found out that I was selected for the program. I had to go back to Washington, D.C., for a few weeks. So the night before I went to D.C., I'm sleeping in a hospital chair next to Emily's bed.
Beck: Wow. A lot happened in such a short time.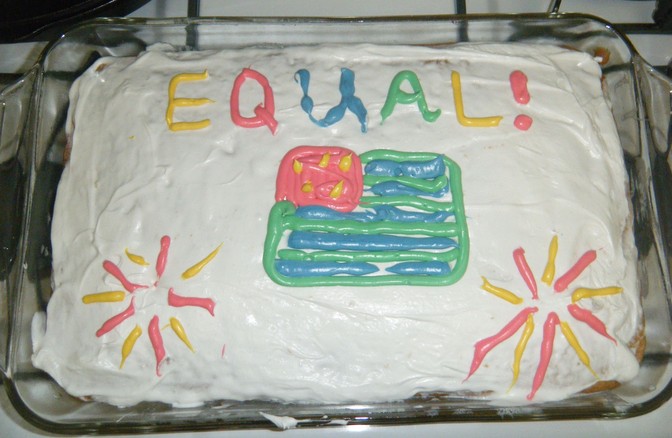 Jackie: Oh, just to share one happy story—Emily was invited to the official signing for the repeal of Don't Ask, Don't Tell. I baked her an equality-sign rainbow cake.
Emily: December 2010 was when the signing ceremony took place. And then I was actually in the hospital when the actual repeal became official in the military in 2011. But luckily, Jackie was curled up sleeping in the chair next to me.
Beck: It's really interesting to hear how your careers have coincided with these moments of change for women and for LGBTQ people. How has this evolution of the military affected your relationships and how you've thought about the institution?
Jackie: The first team I was with for the Green Berets Special Forces mission was this amazing group of men. Their job was to partner with local Afghan government officials, and police officers, to [enable them to] provide their own security. So we provided training on how to protect a school, how to protect your village. The first group I was with requested the CST, they knew and believed that women had a place, that our mission set would help them be successful. They were so professional. But everybody has to go home at some point, and they were replaced by a different group of Green Berets, and the experience changed 180 degrees. The new group of Green Berets just didn't want to leverage the knowledge or experience that we had. We started enduring sexist comments. On one hand, yes, there are men who are supportive, who want us there and believe in what we can bring to the table. But that experience was disheartening for me.
Emily: The combat-exclusion policy [banning women from holding combat positions in the military] was lifted in 2013. As a queer woman in the military, seeing both Don't Ask, Don't Tell and the combat-exclusion policy repealed [during my career] was momentous. As a queer person in the military, I could code switch quite easily. A lot of people in my unit had no idea I was gay. But when [Don't Ask Don't Tell] got repealed and I came out to people in my unit, it was very heartening. I think it's really hard for people to hate a person once they know a person.
And then as a woman, I think the CST program in and of itself was a reckoning for the military, to show that we can do better work when we're a diverse force. [In the military] anything masculine is what is valued. I felt camaraderie with fellow women; the CST program was the first time I was surrounded by other amazing, strong women, and I felt invincible. I can't say I felt that way when I was a platoon leader, and basically the only woman in my platoon.
Beck: When and why did you both decide to leave the Army? Where did your lives go from there?
Emily: I left the Army because of my injury. I had pins and metal plates in my leg and just couldn't perform to the physical standards that I held myself to. It was a bittersweet decision. I thought I would stay in the military for my whole career, and the injury put an abrupt end to that. So I ended up going to Harvard Business School after leaving the military, and started my business with a fellow veteran while I was in school. It's called Rumi Spice—the company imports premium saffron and other spices directly from Afghan farmers.
Jackie: When I got back from Afghanistan, my husband was in the process of becoming a Green Beret. I loved the special-operations community, but I realized if I was to continue down that road, I likely wouldn't be able to have the family life that I wanted, because in special operations, you're deployed so much. I worked at Walter Reed [National Military Medical Center] for a time, and I was really inspired by the work of the nurse practitioners. It felt like an intuitive fit for me—I wanted to continue to serve; I wanted to help people. So I became a family nurse practitioner.
Beck: And you both ended up in D.C.?
Jackie: Magically. My husband got out of the Army, and got a civilian job in the D.C. area. That's what brought me here.
Emily: My partner and I had just got married, and we were trying to find what we call a "compromise city" on the East coast. I do not love New York. So D.C. was one of the best cities we could agree on, where we would both be happy.
Beck: Did your friendship change or grow in any new ways once you were out of that military lifestyle?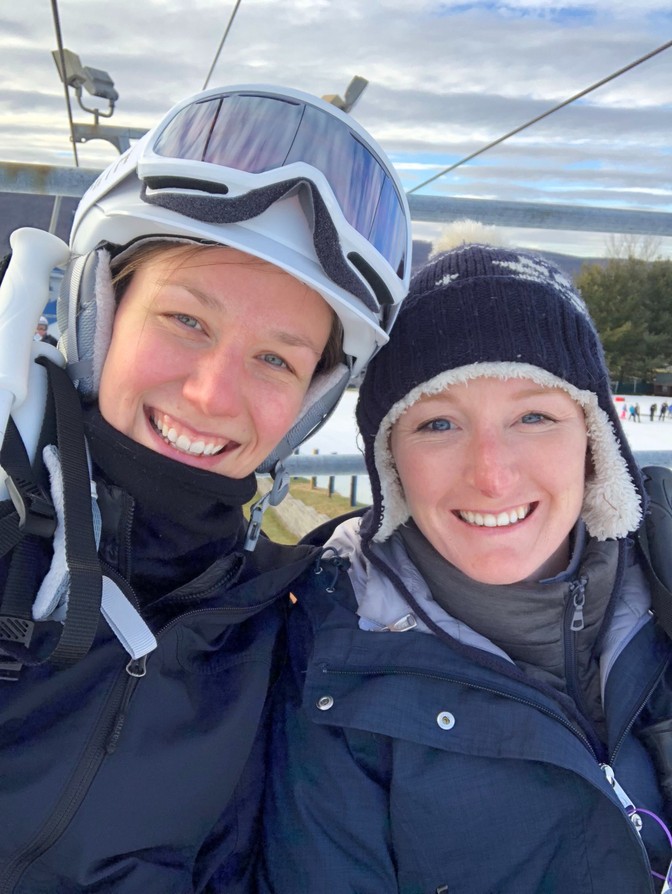 Jackie: The thing that's unique for me is, I grew up as an Army brat and I was not used to keeping friends. Friendship to me was something that I enjoyed for two, three years max. I never had a friendship that was sustainable. Emily was the first person. It was very conscious. I was like, I want this person. Emily's like an aunt to my son. She's my medical-emergency number. She's my family now.
Emily: Leaving the military is really hard. You leave this thing that was this all-encompassing support network, career, and family that you've spent many years in. But I think our friendship got so much more magical after leaving, because we had to grow and find our own voices outside of the military. That process of transitioning into the civilian world, finding your career, finding your passion—we got to do that together, which was amazing. I think a lot of veterans don't have that.
Beck: It sounds sort of like high school. When you're in high school, it's easy to be friends with the people you see every day. And then when you don't have that structure, it's on you to build in ways to maintain the friendship.
Emily: Yeah, and then imagine not just going to school with the people, but then you live with them. They see you in combat; they see you working out; they see you eating. And then one day, it's just done. You start over. It's really intense.
Beck: Have you built any new rituals or structures of your own for your friendship?
Emily: We spend Thanksgiving together. That's the ultimate.
Jackie: When my husband was out of town for Mother's Day, she and her wife threw me a Mother's Day brunch. Emily's wife is the best cook in the universe. So she feeds us. Once a month, we get together and have family dinners. Emily and I have a lot of shared interests, like hiking and skiing. She found this really cool writing program for veterans, and we got to spend [every] Saturday for six weeks together, writing about these experiences.
Emily: It's just a really special sisterhood to have another woman as your best friend in the military. I think it's a really rare, special thing. It was a place of strength and also respite in a very tumultuous career.
---
If you or someone you know should be featured on The Friendship Files, get in touch at friendshipfiles@theatlantic.com, and tell us a bit about what makes the friendship unique.