When Your Best Friend Gives Birth to Your Babies—All 4 of Them
"My kids know they're a product of me and their dad, but that Debbie was our oven … They love her even more knowing the sacrifice she made."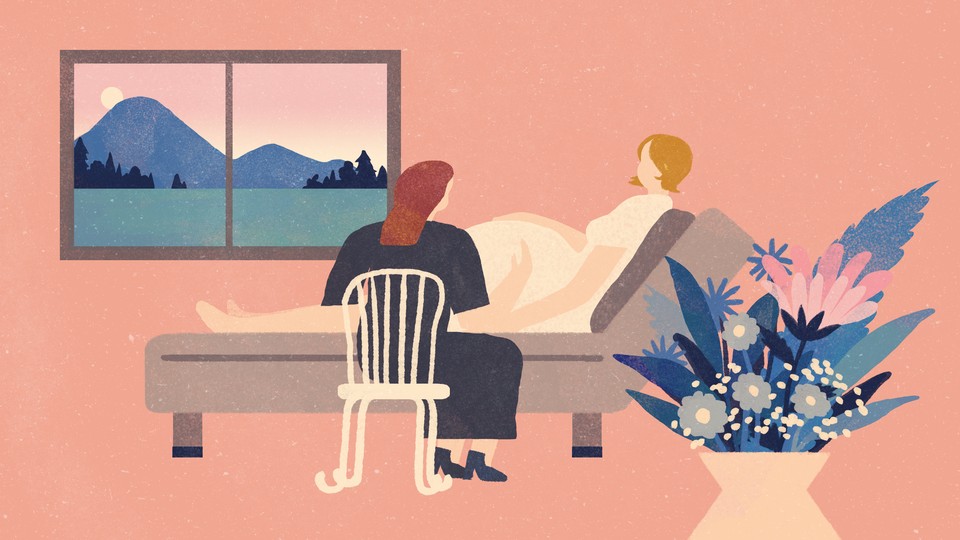 Each installment of The Friendship Files features a conversation between The Atlantic's Julie Beck and two or more friends, exploring the history and significance of their relationship.
This week she talks with Stacey Beehler, the mother of quadruplets, and her best friend, Debbie Vibber, who gave birth to them in 2001. Debbie offered to serve as Stacey's surrogate after seeing her friend struggle with miscarriages. Nineteen years later, the kids are grown up and the friends—and their kids—are still as close as family.
The Friends:

Stacey Beehler, 54, a mortgage-loan officer who lives in Glendale, Arizona
Debbie Vibber, 49, an account manager who lives in Surprise, Arizona
This interview has been edited for length and clarity.
---
Julie Beck: How did you meet and become friends?
Debbie Vibber: I met Stacey for the first time at my wedding.
Stacey Beehler: Our husbands worked together.
Beck: So Debbie's husband invited Stacey's husband to the wedding?
Debbie: Yeah. Very soon after that, we really started hanging out and doing our little weekend trips and stuff like that.
Stacey: Our husbands had some work thing at a hotel in town and that was the first time that we really hung out together for the weekend. We had a great weekend, and from then on we were just the best of friends. It just was a "meant to be" type of thing.
Beck: It's interesting that you met through your husbands—so your families were close from the beginning. When you started trying to have kids, did you talk about it as friends?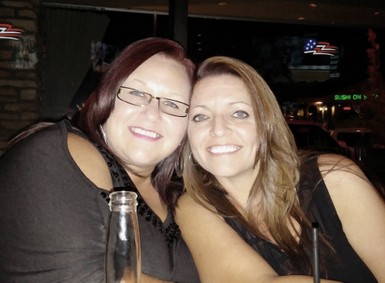 Stacey: We both talked about family and having kids. Debbie had her first baby just a few years after we met. David [my husband] and I had been trying to have kids even before that.
Debbie: I have two kids. My son was born in '96 and my daughter in '99. [After that] I knew I was done having kids, and she was having so many struggles.
Stacey: I don't even remember how many miscarriages I had before we met—Deb, do you?
Debbie: A good handful.
Stacey: I had 10 altogether.
Beck: Wow, that's a lot of miscarriages. That's really tough. Debbie, is that what led you to offering to be a surrogate for Stacey?
Debbie: It was an easy decision for me to offer. I loved being pregnant. Love it. Wish I still could. And my husband and I were fine with two kids. It was a harder decision for her to accept my offer, because she wasn't ready to stop trying herself.
Stacey: You actually offered to carry a baby for us before you had [your second kid]. It was in '97, when I had that really tough [miscarriage] where I had to give birth. I was super depressed after that. And it was so hard for Deb. She had a hard time coming into the hospital room when I was waiting to give birth, and I think it was after that that you offered. I wasn't ready, and it was maybe two or three years later where we revisited it.
Beck: Tell me about the surrogacy process—what were the steps involved in the decision and then actually making it happen?
Stacey: Before we even decided, we had to get buy-in from both of our families. My family, of course, was like Wow, that's amazing; of course we're supportive. But we were more concerned about Deb's family and how they would feel, because it's her body. Her family was concerned about how she'd feel giving the kids to me, but her entire family was supportive and has never stopped being part of our life.
Then we sought out my infertility specialist and had a meeting with him. They had to suppress her cycle so that she was not ovulating, and hyperstimulate my cycle so I'm producing as many eggs as possible. The first time we did it, they harvested my eggs and just implanted the sperm and eggs in Deb's fallopian tube to try to let it happen naturally, and it failed. So the second time we did it, they fertilized the eggs first and then implanted them in the fallopian tubes, and that's when she got pregnant.
Beck: And you ended up with quadruplets!
Stacey: We didn't know we would have quadruplets, but it's always a possibility because you're implanting more than one embryo for your optimal chances of getting pregnant. But we never expected quadruplets, no.
Debbie: They almost canceled the second procedure because the embryos were so misshapen and bad quality. But we went for it.
Stacey: Of the 10 eggs they fertilized, there were none, according to the embryologist, that were excellent or good condition. So they said chances of conceiving are reduced greatly.
Then one of my doctor's nurses came out and she said, "Listen, they told me the exact same thing with my embryos, and I have twin boys. So don't let that drive your decision."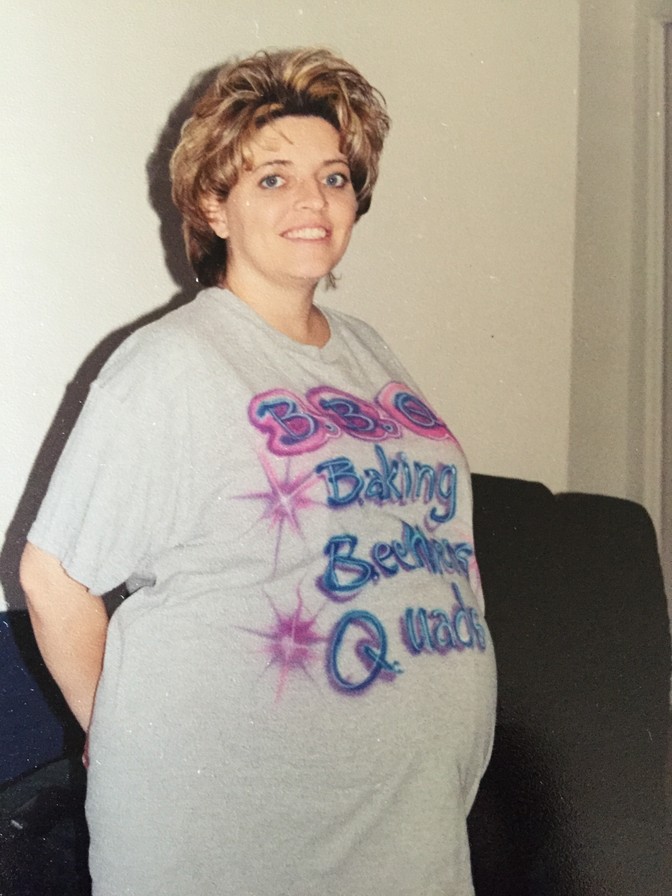 Beck: So they implanted 10 and then four worked out?
Stacey: Correct.
Beck: That's a good success rate.
Stacey: It was kind of scary. I remember the day we found out she was pregnant—of course we were together. We were at a gas station, and they called and told us she was pregnant. They also told us that her [hormone] levels were really high, so they were fairly confident that there were multiple. Then we went for the ultrasound and saw the four heartbeats.
Debbie: Seems like yesterday, huh, Stace?
Stacey: It really does.
Beck: How did Debbie's pregnancy go? How did your friendship evolve during it?
Stacey: When she was on bed rest, I would go over to her house every day and take care of her. She had to have shots on the daily of progesterone to help build up the lining of her uterus to maintain the pregnancy.
Debbie: Yeah, every 12 hours.
Beck: Stacey, did you give her the shots?
Stacey: I did. Yes.
Debbie: She would come over when my husband would go to work and stay with me all day because my kids were little when I was on bed rest. She took care of us.
Stacey: She did have a stint where she was hospitalized. She had started to go into preterm labor. And everybody said, Once a quad mom goes in the hospital, she's never coming out until she delivers. It ended up that she was anemic. My kids were sucking up all her blood. So she ended up having a blood transfusion and amazingly after that, she was able to come home.
Debbie: Stacey, tell her about the water thing.
Stacey: The hydrotherapy. [While she was in the hospital], she loved going in—it felt good for her to be in water and float and not have the weight of the belly. But it was so humiliating for her, poor thing, because they put her in this harness, which felt like lifting up a cow.
Debbie: It was a tank like you'd put an animal in, honestly.
Stacey: When she got to come home, she would come over and get in our pool.
Beck: Tell me about the delivery—who was in the room? And what was it like to see your best friend give birth to your babies?
Stacey: It started around midnight. I was up and in the bathroom with a horrible stomachache—just having a feeling that something was going on. I don't know if my body knew something was coming or what, but Debbie called me and said her water broke. We got dressed, rushed over, picked her up, and ran off to the hospital.
We got to the hospital, and it took forever for the anesthesiologist to get there to give her the epidural. So she was in a lot of pain when she really shouldn't have had to be in pain. That was very stressful for me and David, but really extremely stressful for Deb's husband. He's a stress monkey anyway, and he's laying on her like, Please don't die!
Debbie: Knowing that, with four babies, it was going to be a C-section, I don't think any of us thought that I would be in labor for that long. But yeah, my water broke at midnight, and the kids weren't born until 7 a.m.
Stacey: When the babies were born, there were two nurses per baby and the room was packed. So it was just me, David, and Deb in there.
Debbie: And the Channel Three news.
Beck: Really?
Stacey: My sister called Channel Three news and told them the story, so of course they showed up, and yeah, they were in the delivery room as well, videotaping the babies being born.
Beck: That's wild.
Stacey: Yeah, it was.

Beck: How were things after the kids were born, Stacey, for you as new parents? How involved were Debbie and her husband? How much were you helping each other out?
Stacey: One thing that was kind of interesting is that I was able to produce milk. I received estrogen patches and stuff that faked my body into thinking it was pregnant. So after the kids were born, me and Debbie were both sitting in the hospital room pumping milk.
Beck: Tell me a bit about what your family life has been like over the years, both of you. How involved are you with each other's kids? As the quads got older, how did you tell them the story of how they were born?
Debbie: Our families have done vacations together, and all the holidays. The kids went to high school together, and all of our girls play volleyball.
Stacey: We've been so close from the beginning, and I think me and her are more endeared to each other because of how much our kids love each other. My kids love and adore Debbie, and it's the same with her kids and me. Now we feel like we have one big, huge family. Justin and Jordan [Debbie's kids] know no matter what is going on in their life, I'm always there for them. And my kids know the same exact thing about Debbie.
Debbie: She's like my sister.
Stacey: My dad even introduces her as his daughter.
My kids know exactly how things went down and where they came from. Once they were old enough to understand, I definitely wanted them to know the story, because it's just such an amazing gift. My kids know they're a product of me and their dad, but that Debbie was our oven, and they're super grateful to her. They don't feel like they're any less my kids. That's Aunt Deb and they love her even more knowing the sacrifice she made. I think they'll really come to understand even further what that sacrifice was once they have their own kids.
It did become a little more difficult for them to understand when I got pregnant on my own. When the kids were 2 years old, I went to my gynecologist and told him I wanted a hysterectomy. I had my four kids and I had a bad history in my family of female cancer. But when I went in for my pre-op, I was seven weeks pregnant. [Because of all my miscarriages] I didn't put much faith in it lasting, but it did and Katie was born, 35 weeks later.
Beck: Is there anything you learned about your best friend, going through something like this together, that you wouldn't have learned any other way?
Stacey: Debbie is a very selfless person. She considers everyone before herself. She's my constant; I know that no matter what I'm going through, she's going to be there. And my kids know that about her too. They've been through quite a bit in their lives. When the quads were 11 years old and Katie was 8, my husband had a major stroke. He's permanently disabled and it's been a real struggle, but it really taught my kids to love and appreciate what they have while they have it, and Deb's kids are the same way. They don't walk out the door without saying "I love you." That has made me even more thankful for what we have in our friendship.
She's such a good mom and I've learned so much from her, even though I'm five years older. And she's got amazing kids who are just like her. They've got the biggest hearts.
Debbie: We both got pretty lucky with all of our kids. They're amazing.
Stacey said it perfectly. I feel the exact same way about her. She's taught me a lot too—I've always enjoyed her strong personality and wished I'd had more of that in myself.
Stacey: I'm outgoing, kind of rough around the edges, and speak my mind all the time, and Debbie is really soft. We always said if we could mix our personalities together, we'd be the perfect person.
Beck: But your kids have both of you!
Stacey: They're very lucky. They always call Deb their second mom. If there's a graduation or a birthday or something important, they don't even ask "Is Aunt Deb coming?" They know that she's going to be there. There are not a lot of people that are as lucky as we are to fall into a friendship that lasts a lifetime. A lot of people go out and try to find all these friends, but I'd rather have one good-quality friend than 20 half-ass friends. All that's important is that one person in your life.
---
If you or someone you know should be featured on The Friendship Files, get in touch at friendshipfiles@theatlantic.com, and tell us a bit about what makes the friendship unique.