The Empty Nesters Who Run a Bookstore—And Live Together
"A lot of people told me, 'Don't do it.' I said, 'But I love books and reading.'"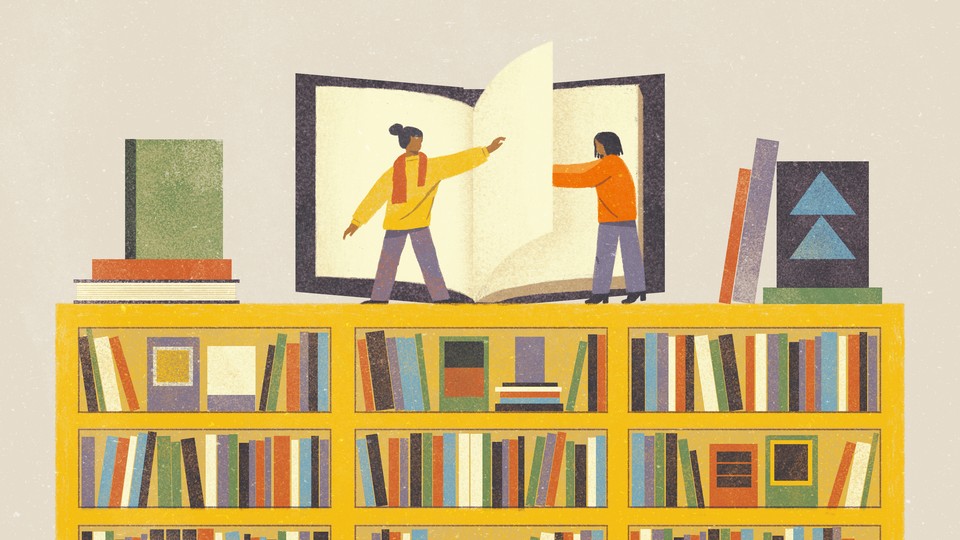 Each installment of The Friendship Files features a conversation between The Atlantic's Julie Beck and two or more friends, exploring the history and significance of their relationship.
This week she talks with VaLinda Miller, whose empty-nest syndrome inspired her to buy a bookstore, and Arrylee Satterfield, her best friend, whom she hired to run it. After some hardships, the store changed locations—and VaLinda and Arrylee moved in together. They discuss the joys and pains of running a business, their Odd Couple roommate relationship, and, of course, books:
The Friends:

VaLinda Miller, 55, the owner of Turning Page Bookshop, in Goose Creek, South Carolina
Arrylee Satterfield, 55, the manager of Turning Page Bookshop
This interview has been edited for length and clarity.
---
Julie Beck: How did you meet and become friends?
Arrylee Satterfield: We've been friends since 2004.
VaLinda Miller: She and I attended the same church here in Goose Creek. We became close because we were members of the Christian book club at the church. We would meet once a month at different restaurants. Arrylee and I just started talking, I guess because we're both black women, we're both divorced, and we both have one child.
Beck: What is it about reading that facilitates friendship for you?
VaLinda: Me and Arrylee, we will argue or discuss a book for days.
Arrylee: We have different opinions on every book we read.
VaLinda: I am a big Agatha Christie fan. She likes the Hercule Poirot TV show, and I like it too, but I always say, "Did you ever read any of Agatha Christie's books?" She goes, "No, I don't want to read that." But I'll get her to read an Agatha Christie eventually.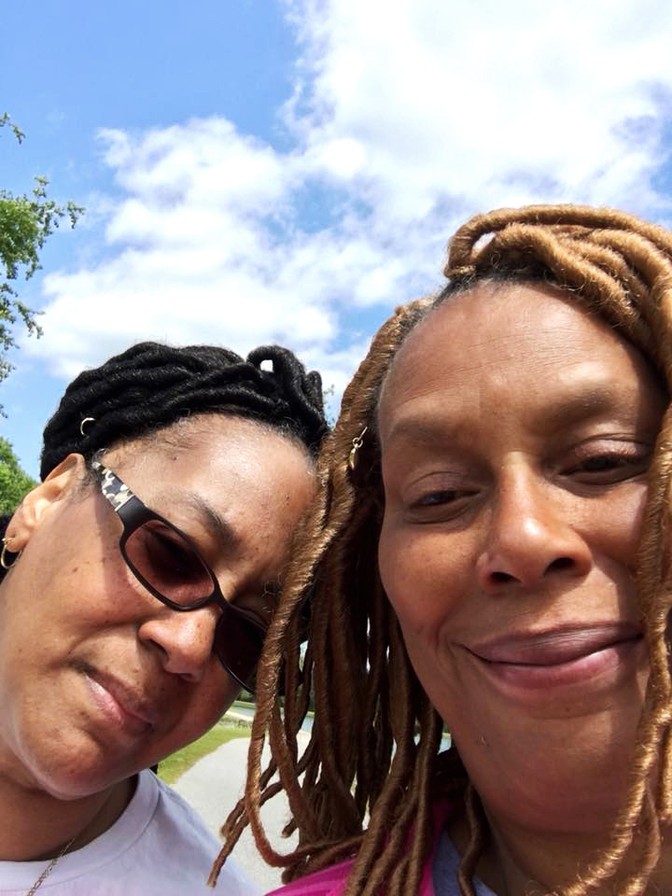 Beck: Are there any books that have been particularly important to your friendship?
VaLinda: We love V. M Burns. She's an African American author who writes books about this woman whose husband died and she bought a bookstore. There's a murder that happens, and she's solving the murder with her grandmother and the grandmother's three friends. Reminds you of The Golden Girls. The bookstore they run carries murder mysteries, and we are big murder-mystery fans.
Arrylee: The first book is The Plot Is Murder.
VaLinda: We loved Redeeming Love, by Francine Rivers. And we loved the Mark of the Lion series, by the same author. You know we must've really loved it, because I took the day off from work because I wanted to read all three books.
Arrylee: I stayed up 'til two or three in the morning finishing one of the books. I wanted to get past her, but, of course, she got past me.
VaLinda: I would go, "Did you get here?" She'd say, "No. Let me finish." She's downstairs and I'm upstairs, and we are screaming at the top of our lungs. I'm sitting there going, "Don't you just hate that bastard? What is he thinking?" She's going, "I haven't got to the bastard yet. Give me a minute." That's the connection that we have.
Beck: How did you come to own a bookstore, VaLinda?
VaLinda: After my kid graduated from high school and went to college—you know how you have the empty-nest syndrome? I guess mine was pretty bad, because I sat in the house going, "What am I going to do?"
Then I [heard about] a class on how to own and run a bookstore, and I signed up for it. It was in Florida, and when I was down there, the people who were running the class told me about a bookstore [for sale] in Seneca, South Carolina. In 2014, I bought it from the previous owner. A lot of people told me, "Don't do it." I said, "But I love books and reading and kids."
Beck: I feel like a lot of people who love books, myself included, have this fantasy of owning a bookstore, thinking it would be like You've Got Mail. And you're running it with your friend, which just makes it even better. But I'm sure I'm romanticizing it too much. How off is that fantasy, in your estimation?
VaLinda: You do run into that customer who says, "Oh, I'm looking for this particular book," and you're able to have a nice conversation with them. But the reality is, it's like running any other business. You don't realize the problems you'll have until you jump into it.
Running a bookstore was expensive. I would drive up to the bookstore every other weekend, which was about a four-hour drive. I wanted somebody to run the store since I couldn't be there every day. Arrylee had lost her job recently, so I said, "Would you be interested?" I think I mentioned it September the 15th.
Arrylee: And in October I moved up [to manage the store].
VaLinda: I think we got a little bit closer when I was driving back and forth, because we had to have very long conversations on the phone. She had to tell me what was going on there; I was telling her what's going on here.
There were some days I would say, "I don't think I can do this. I just can't." She would be the one to give me a pep talk, sit with me and pray with me. And when she starts having a bad day, I would do the same thing.
Arrylee: We can tell if something is bothering each other and we haven't said anything. It's almost like sisters.
VaLinda: I did feel like that girl in You've Got Mail in one way, because in March last year, the landlord said, "We're not going to renew your lease, so you've got 30 days to get out." Arrylee had been working there for three years.
But you know what? It turned out to be the biggest blessing. I got tired of driving up there; I was still trying to climb out of debt from buying the store. It seemed like it was the perfect time, so when the landlord called, I drove up there, got a U-Haul truck, and I said, "That's it. Sell everything." I told Arrylee, "I know you're out of a job, but I'll help you find a job."
Somebody told me, "You shouldn't give up your bookstore dreams. There's a retail space there and there" [in Goose Creek, where I live]. I said, "Well, I'll check them out." Three days later, the landlord called me up and said, "I do want a bookstore here. Would you mind?" I couldn't believe how fast somebody offered us another space.
Arrylee was a little worried. "Where am I going to live? What am I going to do?" I said, "Well, I got this big old house. Ain't nobody in the house but me and the dog." [She moved in, and] three days later she had a job. Just that fast.
Beck: Oh my goodness. You're roommates as well?
Arrylee: We're roommates.
VaLinda: She drives me insane. Our kids said we should make a YouTube video, because we act like Blanche and Dorothy from The Golden Girls, or like Felix and Oscar from The Odd Couple. I am a nerdy neat freak.
Arrylee: I'm all over the place.
Beck: How did your relationship change when you went from being friends and business partners to roommates?
Arrylee: I have changed her from a meat-eating person to a vegetarian.
VaLinda: That hurt.
Arrylee: This happened before the pandemic, but it got serious during the pandemic.
VaLinda: Because you can't go out to eat.
Arrylee: She couldn't order that hamburger. She couldn't get any of the pastrami and stuff that she likes. Now if she gets a bite [of meat], she says, "Oh, I can't eat this."
VaLinda: Which is a good thing. Arrylee is the cook. I'm the one that cleans.
Beck: What are her best dishes?
VaLinda: She makes this vegetarian lasagna.
Arrylee: She did not realize that she was not eating meat. I ground up carrots and onions and all kinds of vegetables, ground it up so it looked like ground beef, and she thought it was ground beef.
VaLinda: Oh, it was good.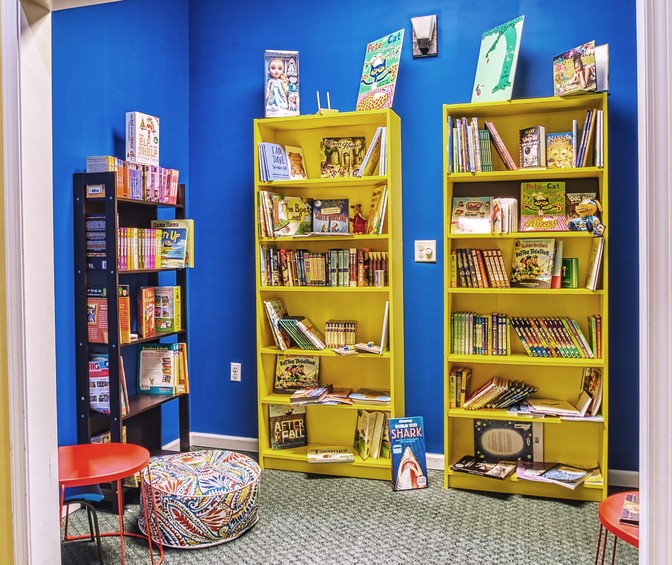 Beck: Do you ever feel like you see each other too much while living together and then also working together at the store?
Arrylee: No, because she doesn't come into the store that often. I'll come home with orders, and we put them in the computer, and that's it. But if I have to go away for a weekend, then she'll go into the store. But, of course, I have to leave her notes as to what to do.
VaLinda: It's my store, and she tells me what to do. I never did get that.
When the COVID-19 [pandemic hit] in March, we had to shut down for a whole month. We were home every day, and during that time, we did drive each other crazy. She had withdrawal because she wasn't in the store every day.
Arrylee: We did not open back up until the state opened back up, and I believe that was sometime in May.
Beck: Has moving in together helped with your empty-nest syndrome? Would you recommend it?
VaLinda: You know what? This is 2020, and I would recommend it. When you raise a kid and they leave the house, you look up and you are living in this huge house by yourself with a dog. I was living in this house for quite a few years by myself. It's okay to come home after work and look at TV or eat dinner, but you've got to have that human interaction, whether they're your roommate or your husband or your wife. And this pandemic just makes it even worse. Having Arrylee here, it has made me feel a lot more comfortable. I think it's the same for you.
Arrylee: My son is in his 30s and married. He did not like the fact that I was by myself, because I'm older. But now that I'm here, he feels secure.
VaLinda: You can watch your friends on video, but after a while you get tired of that. Nobody's created on Earth to be alone.
---
If you or someone you know should be featured on The Friendship Files, get in touch at friendshipfiles@theatlantic.com, and tell us a bit about what makes the friendship unique.
---
​When you buy a book using a link on this page, we receive a commission. Thank you for supporting The Atlantic.