20 Years of Friendship With the Woman Across the Hall
"I used to joke and say, 'If I died in my apartment, I knew that Barbara was the person who would find me.'"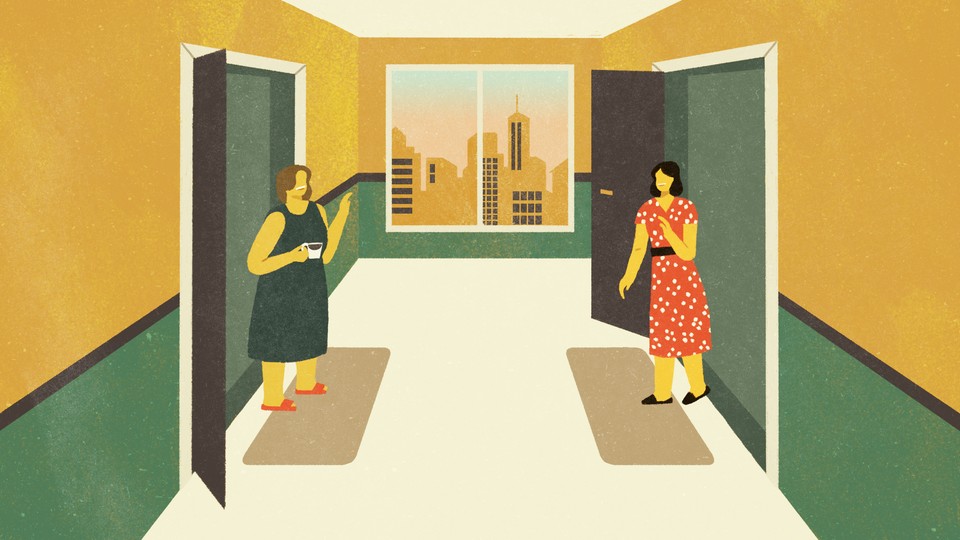 Each installment of The Friendship Files features a conversation between The Atlantic's Julie Beck and two or more friends, exploring the history and significance of their relationship.
This week she talks with two women who have been neighbors in the same New York City apartment building for 20 years. They live alone and have always looked out for each other—but their connection has been extra important to them during the pandemic. In this interview, they reminisce about their years living across the hall from each other, share their pandemic habits, and reflect on what it means to know your neighbors.
The Friends:
Barbara Gold, 84, a retired hospital administrator who lives in New York City
Nandita Shenoy, 48, an actor and a playwright who lives in New York City
This interview has been edited for length and clarity.
---
Julie Beck: You've been neighbors for 20 years—do you remember how you met and what your first impressions of each other were?
Barbara Gold: I had been living in the building before Nandita moved in, and I was very glad to have her as a neighbor because the people that had lived there before were not very friendly. I didn't actually spend that much time at home [at the time] because I worked long hours, but I was very happy to see a nice young lady move in.
Nandita Shenoy: I bought the apartment in 2000, with the money I had saved after a year and a half on the road with The King and I. I was very proud of my accomplishment. I don't remember the first time that I met Barbara, but I remember her always saying hello and asking me if I needed anything. Because I'm an actor, I have spent periods of time outside the apartment. So I would ask Barbara to keep an eye out if I wasn't going to be there. We just followed the rhythms of each other's lives for all these years.
Barbara: When she moved in, she used to practice her scales, singing. It was so wonderful. I hated when she gave that up.
Nandita: I had been mostly doing musical theater when I moved in. I would try to wait until 9 o'clock, then do my scales, and then I would take class, do an audition or whatever. I always felt so bad because I thought I was harassing everybody else in the building.
Barbara: Not at all, I enjoyed it.
Nandita: I used to joke and say, "If I died in my apartment, I knew that Barbara was the person who would find me." And that's even when my brother lived in this building.
Beck: Have you typically been close with your neighbors, or is this a unique relationship?
Barbara: I guess it's unique. The only other place I've ever lived was with my parents. When I moved in here, there was a woman living across the hall who used to hem my clothes for me. So I knew her that way. But then Nandita moved in, and she's such a friendly person that we just became more friendly than I normally would. Though between her traveling and me working, we really didn't see each other that much. I would come back in the evening, and by that time, she was out dating. I finally retired in 2001. Then I got to see Nandita more.
Nandita: I think it's hilarious that anyone had that impression that I was out dating. The early 2000s were a very bleak time for my romantic life.
Where I grew up in Buffalo, we did know the neighbors well. They used to watch us after school, and they became so close to us that we call them Grandma and Grandpa. So I don't think I thought anything of it to be friendly to Barbara.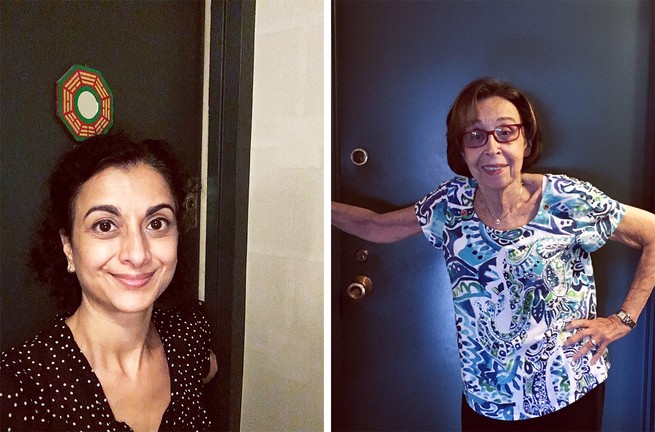 Beck: How did your relationship evolve from a friendly neighborly relationship to more of a friendship?
Nandita: I think it was just time. It just happened. I do remember one time I was very, very sick and I was like, Barbara is the only one who knows and cares. She used to leave me orange juice and soup on the doorknob. And Barbara has had some health issues. I remember [once] when she was getting better, I came to visit her, and I met her sister and her brother-in-law.
Beck: What kinds of things have you connected over?
Nandita: I used to go away on trips once a week, and I always used to buy People magazine on my flights. I think maybe I left my magazines in the recycling or something, and Barbara [would read them]. And she was like, "I really love the royal family." So anytime the royal family was on the cover of People, I would give it to her. And then one day she said, "Well, do you want to subscribe to it?" So Barbara and I now share a subscription to People magazine that we trade off.
Barbara: I get it first.
Nandita: We have a special bag, and she leaves it on my door when she's finished. I had a party for the royal wedding, when Harry and Meghan got married, and Barbara came over for that party as well.
Beck: What do you guys think about Megxit?
Barbara: About what?
Nandita: Harry and Meghan leaving the family.
Barbara: You know what, I didn't like her. So I didn't care if she was gone. I think she was a troublemaker. I happen to like Kate a lot.
Nandita: For me, it seems like she was being hounded there in a very racialized manner. I just felt like the way she was talked about in the British press was really terrible. So I don't blame them for leaving. Barbara and I disagree on this because I don't think it was her who's causing the trouble.
Beck: How have things been for you since the pandemic started? Do you both live alone or do you live with other people?
Nandita: I live alone.
Barbara: I live alone.
Nandita: We talk every single day of this pandemic.
Barbara: She wanted to see if I was still alive.
Nandita: When it became clear that people in Barbara's age range were more at risk, I told Barbara my plan, that we would talk to each other every day. We always made sure we didn't call each other during [Governor Andrew] Cuomo's press conference, because we both had to watch that. And we would check on each other and see if we needed anything. Barbara would go out once a day, because she needs to get exercise. I've been trying to go out every other day or every third day to minimize the risk.
On Saturdays, I go to the farmer's market, and I go to this bakery further away that I think would be quite a walk for Barbara to get to. Which reminds me, Barbara, if you want anything for tomorrow, let me know.
Beck: Have you gotten to know each other better during this pandemic?
Barbara: One day Nandita said to me, "Why don't we open our doors, and sit in our own apartments? We're right across from each other. But talk to each other through the open doors." That was really good because you got to talk to somebody, not on the telephone. You got to see the person you were talking to. I thought that was a great idea, and it worked out very well.
I talked a lot during that meeting that we had. I gave her my whole background, every job I've had and whatever.
Nandita: I knew you had lived in the building a long time, but I didn't realize you were here from the beginning of the building. I just didn't know that much about her history.
Barbara: I've done a lot.
Nandita: Because we both live alone and we're in our apartments all the time, we don't get to make eye contact with other people [very often]. For a while, the only people I was talking to in person were at the grocery store. Barbara and I are both extroverted people. So that has also made it hard to be alone so much.
Beck: Has your relationship to living alone changed since the pandemic?
Nandita: I like it. I'm very used to it. For three weeks, my boyfriend, who lives in New Jersey, did come  and stay with me for a while. So that was going from literally not being with another human in 11 weeks to being with someone 24/7. It was very, very intense. So I guess I got the view of both [situations], and I think there are pros and cons to both of them. But I don't feel like, Oh gosh, this pandemic has taught me that this was a mistake to live by myself.
Barbara: Since I have such a nice neighbor, I feel very confident and okay living here. When she's away, sometimes I get scared.
I think it's nice to be friendly with your neighbor. Especially if you live alone like I do. I feel that I can call upon her. I can ask her something about my iPhone, or iPad if I can't get the picture on because she's definitely more technical than I am.
Nandita: I agree with Barbara that having a good relationship with my neighbor has made me feel more comfortable living alone. I always know that there's someone to reach out to if something happens. I don't get sick often, but when I did, I felt like there was somebody who would make sure I was okay. There's something really comforting and wonderful about that. It makes me feel not alone in the world. So I highly recommend being friends with your neighbor—if your neighbor is a nice person.
---
If you or someone you know should be featured on The Friendship Files, get in touch at friendshipfiles@theatlantic.com, and tell us a bit about what makes the friendship unique.