I Didn't Have Any Graduation Wisdom. So I Asked 19 Smart People Instead.
What a novelist, a therapist, a Buddhist teacher, and others have to say to the class of 2020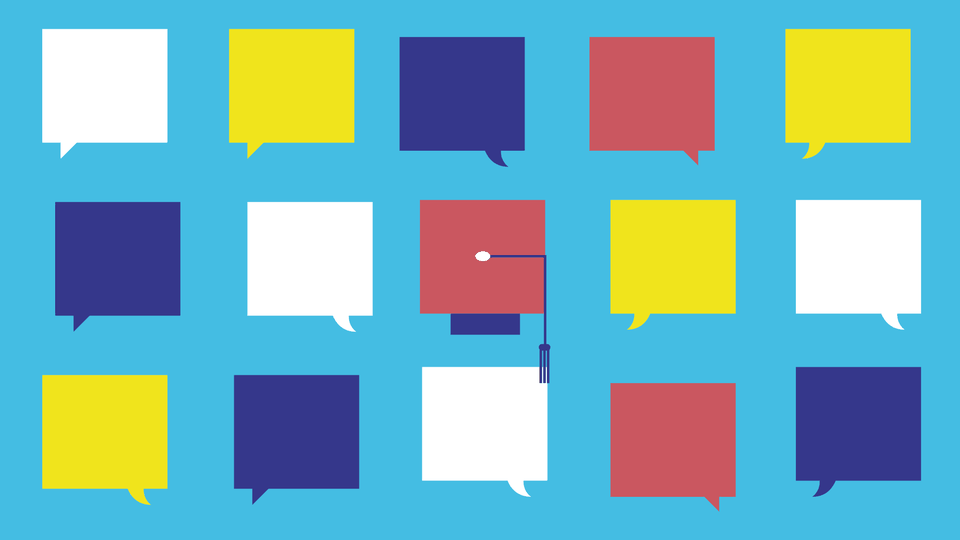 Editor's Note:
This article is part of a series of commencement addresses commissioned by The Atlantic for students who will not be able to attend their graduations because of the pandemic. Find the collection here.
In late January, I agreed to give a commencement speech at the high school I went to. I had vague ideas about what I might say—probably something about the perils of following predefined college-major, career, and life "tracks." But before I began preparing in earnest, the pandemic hit, and I soon felt that my message seemed irrelevant and probably even unnecessary, since everyone has recently been derailed from their tracks in one way or another. On top of that, I realized that I didn't have the faintest idea of what I could say to a group of people who were graduating into chaos and misfortune.
I struggled to come up with any guidance because, frankly, I see so little that people, especially young people, can do to dodge the many harms of the pandemic. But since I couldn't plausibly get up on a stage (or a videochat) and tell everyone to just give up, I decided that I'd instead outsource the task of wisdom production by asking a bunch of smart people from a variety of fields—writing, psychology, history, and others—what they'd say to the class of 2020.
I'm not giving the commencement speech after all, but I thought that convening this pandemic-commencement brain trust anyway might be useful, because it's who I'd want to hear from if I were graduating right now, whether from high school or college. The following advice is not meant to provide a positive spin on miserable circumstances; the pandemic sucks, unavoidably and, it seems on some days, irredeemably. Nor is the advice meant to be definitive; no one truly knows the way forward. But hopefully the guidance I heard from these 19 people—which I've grouped below into five categories—will help steady this year's graduates, along with anyone else who needs steadying.
---
"The future is uncertain," said Dzogchen Ponlop Rinpoche, a Buddhist teacher in Seattle, when I asked him what he'd tell the class of 2020. "But the strange thing is, the future has always been uncertain. Change is taking place in every moment, with every rising opportunity." He thinks of the pandemic as a chance to note the constancy of change—"a forced opportunity to transform our relationship with uncertainty."
Along those lines, the fiction writers Karen and Jim Shepard think that this moment of heightened uncertainty "should be simply sobering, and not paralyzing." "When our middle son was applying to colleges," they told me, "he said he felt like he was making an enormous decision with almost no information, and we noted in response that the trick was not to avoid uncertainty but to try to develop the skills to manage it. So our hope for the graduates of 2020 is that, even acknowledging the instabilities of our time, they remember and continue to nurture the skills necessary to read and react to the unexpected."
Lori Gottlieb, The Atlantic's "Dear Therapist" columnist and the author of Maybe You Should Talk to Someone, also sees uncertainty as a sort of opportunity. "Sometimes when we feel like our path is planned out, we blindly walk along it, and it's only later that we say, 'I wonder what would have happened if …,'" she told me. "Uncertainty allows you to reinvent yourself. It opens you up to new experiences."
Oliver Burkeman, the author of The Antidote: Happiness for People Who Can't Stand Positive Thinking, agreed that uncertainty has its uses, despite the skepticism his book title suggests. "There's a crucial way in which these two things—uncertainty and possibility—are actually the same," he pointed out. "Things have to be up in the air, at least to some extent, in order for anyone to engage creatively with the world, and thereby craft a meaningful life. If we were ever to achieve the definite knowledge of the future that we tell ourselves we want, it would feel like a kind of death," in that knowing one's life story in advance would squash one's sense of forward-looking possibility.
He also made an observation that seems obvious but that might go overlooked at a time when people are so fixated on the future: "The fact is that you've never known what the future holds … so you're very probably better than you think at coping resiliently in conditions of radical uncertainty. You've been doing it since the moment of your birth."
The unpredictable, then, doesn't have to be paralyzing—a conclusion backed up by the advice of Colin Ramsay, whose job it is to teach people how to quantify uncertainty. He's a professor of actuarial science at the University of Nebraska–Lincoln. "Do not be risk-averse," he said. "Gather as much information as you can—then take measured and calculated risks." Similarly, he suggested that graduates draw up a short-term plan ("say for one or two years") in addition to a longer-term one—advice that could prove useful for other adults too, young and old alike.
Jason Farman, a media scholar at the University of Maryland, has studied how people respond when they have to wait for something to happen, giving him an unusual perspective on the present moment. "Whether living through a pandemic or in an era of health, you should never defer your happiness to an unknown future," he said. "You will do your best work when you understand that the present moment is not a delay or an in-between time … Do not wait for conditions to be perfect; perfect conditions will never arrive."
One way of pursuing contentment now, suggested Kelly McGonigal, a psychologist who focuses on health and happiness, is to find ways to help other people. "Maybe that seems cliché or corny, because it sounds like advice to 'be nice' or to 'do good,'" she said. "But the truth is that humans are wired to experience hope and courage when we are needed."
Of course, during the grueling wait for this crisis to end, many people aren't searching for happiness so much as wondering how they'll make it through. For insight on that, I consulted Tony Mangan, an endurance athlete who holds the world record for the longest distance run on a treadmill in 48 hours—which is not just an incredible feat, but also, given the perseverance required and lack of actual forward motion, probably the most fitting metaphor I've yet to come across for life in lockdown.
Mangan's record stands at just over 250 miles, and I asked him what was going through his head, helping him keep his legs moving while not actually going anywhere. "I broke the treadmill run up into manageable segments of 30 minutes, that's all—all 96 segments," he wrote in an email from Tanzania, where he is waiting to continue a roughly 30,000-mile walk around the world put on hold by the pandemic. "You say I wasn't going anywhere, but I was on my way to a world record." (In case you're curious, Mangan napped for about an hour cumulatively during those 48 hours, plus "pretty minimal stopping for food, toilet, etc.")
So much of this pandemic is unprecedented, but a bit of solace can be taken in how people have weathered previous chaos and disasters. "If you spend the next 30 years reading and writing about epidemics, as I have, you'll be able to take heart in the fact that we will get through this terrible pandemic," said Howard Markel, a historian of medicine at the University of Michigan.
The class of 2020 is not the first bunch of graduates to finish school at a deeply uneasy time. Paul Hendrickson, an author and former Washington Post reporter (as well as a beloved college professor of mine), told me that when he finished college and then graduate school in the late 1960s, "it seemed as if the world was about to end every day." The Vietnam War, riots across the country, the killings of Martin Luther King Jr. and Robert F. Kennedy, the violence at the 1968 Democratic Convention—it was overwhelming. "It almost seemed as if nothing would ever be the same again in America," Hendrickson said. "Except it was. Except the boat eventually righted itself. So I have to think the same kind of righting is somehow not far off. We just can't see it now, in the midst of our miseries. In the meantime, we have to go on—trusting, believing, working to overcome."
Some more recent history might be reassuring as well. Tim Ebner, a writer and communications director in Washington, D.C., graduated from college in 2008, during the Great Recession. Looking back 12 years later, Ebner said that while he did see his peers' job stability and earnings take a hit, the recession "helped me to explore pathways in my career that I never imagined before," and he's "extremely happy with where my career is now."
Ebner, having built a career after emerging from school into a major economic downturn, also passed along some advice about finding a job. "Get comfortable talking to strangers," he said. "Almost every career opportunity that has come my way resulted from a soft connection—a job lead from a next-door neighbor, a referral from a friend of a friend, or even a chance encounter with an HR recruiter on an airplane." He acknowledged that face-to-face networking is difficult right now, but encouraged graduates to develop connections digitally and reach out to people for virtual informational interviews.
There's room for ambition, too. "You can still dream big," said the philosopher Martha Nussbaum. "Don't let fear put you in a box. Think what really brings you joy, and pursue that with all your energy and commitment."
Still, job searching right now can be exasperating, so thinking about work with a zoomed-out perspective might be helpful. "Careers are long," said Vida Maralani, a sociologist at Cornell University. "Be flexible in what you do next and know that your next job doesn't have to be what you do forever. Some of my most valuable experiences have come from jobs that I thought of as temporary stepping stones. Use these stepping stones to get yourself through the current crisis, and know that they will become distant first steps on a much longer path."
The same outlook applies to money and savings. "Don't take your personal finances personally right now," said Farnoosh Torabi, a personal-finance expert. "If your dream job is no longer viable or if you have to move back in with your parents to help make ends meet for a while, that is not your failure." The present circumstances will make it hard for many young people to start building up their savings, but they should remember that this is not their fault.
Besides, earnings and productivity aren't a reflection of self-worth, even if American society sometimes makes them out to be. "The culture that a student is graduating into right now prizes individualism and constant output of visible results, to an extent that can easily lead to isolation and burnout," said Jenny Odell, an artist and the author of How to Do Nothing. "My advice is to have the patience and trust to disengage from that value system … The times in which you're not making anything or racking up achievements may well turn out to be the most meaningful times in your life."
These days, the perennial commencement-speech subject of making the world a better place is more charged than usual: Saddling this year's graduates with the burden of fixing this terribly unequal and unjust world seems unfair. But for those who want to try to change how things operate here on Earth, I heard from some people who had ideas.
First, how to react to the present crisis. "Young adulthood is a time of breaking away. I hope that some of you will seize that feeling and lead a public-health revolt," said Monica Schoch-Spana, a medical anthropologist at the Johns Hopkins Center for Health Security. "Overturn social structures that produce uneven health impacts and curb risky practices at the human-animal-environment nexus that can spur the emergence of novel pathogens. Go for broke."
Interruptions of normalcy also present an opportunity for a broader rearrangement of society, beyond public health. Katie Eder, the 20-year-old executive director of the youth advocacy group Future Coalition, noted that young people are often the group that sparks change. "Everyone in our generation has this power and it's up to each of us to realize it," she said. "We must meet these times of uncertainty by standing up for justice and continuing to test the limits of the impossible."
Andrew Solomon, the author of Far From the Tree: Parents, Children, and the Search for Identity, told me that "if we are lucky, [the pandemic] will awaken humankind to the fact that disaster is always possible." He hopes that the present upheaval will spur renewed efforts to heal the environment and tamp down on economic inequality. In witnessing the pandemic firsthand, he said, "you have the gift of knowing that the social order can be undermined by a sudden and unanticipated change; that people can radically transform their behavior when the severity of the threat is made evident to them (you can help make it evident); and that most of us can manage when our way of life is changed beyond recognition. Don't squander that gift."
---
As I read the responses that came in for this article, one thread I saw running through much of the advice was the observation that, ultimately, everyone is buffeted by uncertainty even in non-pandemic times, whether they pause to dwell on that fact or not. Really, we're all making it up as we go along, even the experts. But I think that they are, collectively, onto something, and here's how I'd distill their guidance: Recalibrate your relationship to uncertainty, remember that others have been in your position before, and don't forget to make time for "food, toilet, etc." The et cetera is often where the joy is.