Virtual Parental Visitation Could Have Unintended Consequences for Abuse Survivors
Court-mandated video chats with their kids could give abusers intimate glimpses into their victims' homes.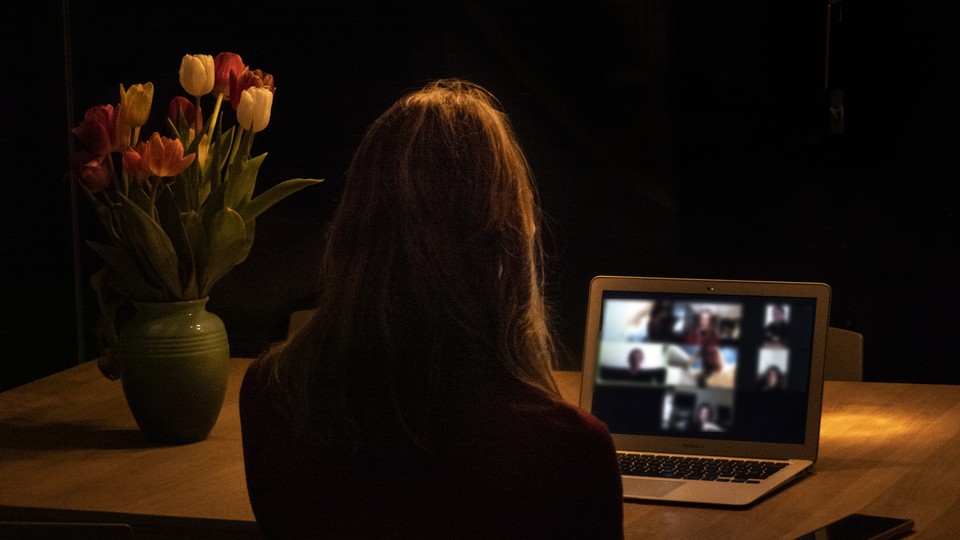 In March, A learned from the agency supervising her son's court-mandated visitations with his father—her abusive ex-husband—that their visits would have to go virtual because of the coronavirus outbreak. She started preparing by taking out all her extra bed sheets and attempting to cover the windows. She couldn't take any chances. Even a glimpse outside her New York City windows could be enough to help the man who'd violently abused her discover her address.
A is dreading her son's first video visit with his father, set to take place whenever the agency sets a date. Before the pandemic, she could drop her son off with her ex-husband at a safe, public location, such as outside a marketplace near her mom's house. Now she'll have to let her ex into her apartment, albeit virtually, and that scares her.
"Hearing the voice of my child's father only reminds me of the last words he threatened me with, so I have to admit it's traumatizing to think about hearing him," A, whom I'm identifying by her first initial to protect her safety and privacy, wrote to me in an email. Though she has been separated from her ex for a few years, she says he would continue to harass her whenever they met up for their child's visits. While they were together, A's ex strangled her and beat her in front of their son. She's worried about what her ex might see on a virtual call. Her son has a habit of pointing the camera out the window when he's chatting with family and friends, and she fears that if he does so during virtual visits with his father, it might lead her ex right back to them.
"Since I cannot be present [during the visits], I will not be able to redirect my child to … keep our home location confidential from his father," she said. Custodial parents are generally not supposed to interfere with noncustodial parents' visits, and this still applies for children old enough to be on video calls by themselves.
When stay-at-home orders went into effect across the U.S., many parents with shared custody or visitation arrangements were at a loss. They had to adapt to what family lawyers are calling "unprecedented" situations, because many state and local governments haven't provided direction on how parents who share custody should handle visitation while in quarantine.
In some places that did offer guidance, the new orders meant far more contact than usual for separated couples. Noncustodial parents in Pennsylvania's Bucks County gained the right to nonphysical, "daily contact" with their children, and Ohio's Ross County ordered separated parents to communicate about their children's well-being every day. For many parents, in-person visits changed to virtual ones, in which children Skype, Zoom, or FaceTime with noncustodial parents.
New York hasn't provided such straightforward guidance, but Sanctuary for Families, a New York–based service provider for people experiencing domestic and gender-related violence, has been getting an increasing number of calls from parents dealing with visitation and custody issues as of early May, according to A's attorney, Rebecca Moy, who works with the organization. While virtual visits can be trying for any parent to negotiate, intimate-partner-violence survivors face added perils when arranging such visits with their abuser.
Those perils include abusers getting clues about their ex's life from what they see in the background on video calls, and using them to ask children questions that could jeopardize their parent's safety, experts say. (Though this danger exists with in-person visits as well, seeing the intimate space of someone's home may give abusers more detailed information.) Abusers may also direct comments at children that are meant for parents to overhear, potentially retraumatizing those abused by their ex. One way to conceal visuals indoors is by using artificial Zoom backgrounds, but A isn't confident this feature will serve as a reliable shield, according to Moy.
"It's an invasion of privacy," says Heidi Ross, the assistant director of social work at Mount Sinai Beth Israel's Victim Services Program in downtown Manhattan. Not only do video visits give parents an intimate peek into their ex's life, but they can also give abusers ammunition against their ex. Multiple domestic-violence experts I spoke with described video calls as unique opportunities for abusers to "gather intelligence" on their ex's living conditions. They can take notes on or even screenshots of things like what the children are eating or who else is in the home.
Abusers might use these observations "to make a report to child welfare, or to support a petition to modify custody," says Gabrielle Davis, a legal and policy adviser at the Battered Women's Justice Project in Minnesota. In abusive relationships, aggressors seek to maintain control over their current or ex-partner, and the legal system is one powerful tool they use to do so. "There's no limit to what an abuser might do with information," Davis told me.
With physical visits, many parents with an abusive ex had exchange arrangements in which they didn't have to see their former partner. Now parents with toddlers or babies, who can't get on virtual calls by themselves, have to look their abuser in the eye. For children of all ages, some visits are supervised by representatives of  court-appointed agencies, who join the call. With unsupervised visits, parents have to organize virtual calls on their own. Courts determine whether visits are supervised or not based on things like whether there are charges or convictions of abuse against the visiting parent.
There are benefits to having supervisors on these calls. Talia Anderson, who manages Catholic Social Services' Family Time program, which supervises child-parent visits in Ann Arbor, Michigan, and her colleagues have been working out protective measures to take for virtual visits between children and parents with histories of intimate-partner violence. "Let's say they ask the child a question like 'Did you move?'" she says, when the custodial parent's location is unknown to their ex. Video-call supervisors can "mute the child immediately" if they begin to answer.
Supervisors can also step in if a child decides to take the device they're using for the call outside, as A is worried her son might. "We can put the visiting parent in the waiting room," Anderson told me, and then privately chat with the custodial parent about whether giving their ex a view from outside the house is okay. A's son's visits will be supervised, but how much the supervisor will be willing or able to interfere with the video call is still unclear.
"We've also heard stories where the abuser wants virtual visitation, but the survivor doesn't have the technology," Davis said. "So the abuser decides to supply the technology, and there's spyware already loaded up on that device." The most effective spyware scans, however, have to be done in person by a specialist, says Tom Ristenpart, a member of Cornell Tech's Computer Security and Privacy for Victims of Intimate Partner Violence research team. For remote clients, his team recommends installing antivirus apps from "major vendors" such as Kaspersky, Avast, and NortonLifeLock. "Some have free versions, and they are better than nothing, but we note that they may not detect all potentially dangerous apps," he told me.
A lack of clarity about when and how people in the U.S. can resume some semblance of their previous life means virtual visits will likely have to replace in-person ones for some time. "Nobody wants their visits to stop," says the Brooklyn-based attorney Miechia Gulley, who represents some clients whose exes have alleged intimate-partner abuse. "Usually, the children are not a part of [the abuse], so being able to foster that relationship with the child is extremely important to the majority of my clients."
Parents and service providers alike are doing all they can to keep visits going. But for abuse survivors such as A, this could have lasting consequences.
"I spent several years trying to escape my child's father, and now that I finally live a simple, calm, peaceful life, I fear it might all come to an end through these mandated virtual visits," A said. "I cannot afford a new home if we are discovered."