The Endangered Art of Letter-Writing
"There's nothing nicer than opening the mailbox and seeing something friendly, something that's not a bill."
Each installment of The Friendship Files features a conversation between The Atlantic's Julie Beck and two or more friends, exploring the history and significance of their relationship.
This week she talks with two women who met as strangers on a ferry. Their casual conversation turned into a summer spent together in Canada, and then into a 40-year pen-palship. They documented job changes, marriages, divorces, and life's other ups and downs, staying committed to physical letters the whole time. They discuss what's so special about the endangered art of letter-writing and how it's sustained their friendship even though they rarely see each other in person.
The Friends:

Julie Fletcher, 62, a writer and editor who lives in Ottawa, Canada
Belinda Spofforth, 68, a psychotherapist who lives in Lee-on-the-Solent, England
This interview has been edited for length and clarity.
---
Julie Beck: When and how did you meet?
Julie Fletcher: I was on the Toronto ferry with [my friend] Kelly—who has since passed away—in the summer of 1981, going to Toronto Island to go to the beach there. You, Bella, were also on the ferry and you started talking to us. We ended up chatting, spending the day together, and exchanging contact info.
And then we did all kinds of things. We ended up camping and going whitewater rafting together. And we did a lot of, I don't know, going out and drinking probably.
Belinda Spofforth: The whitewater rafting was terrific. I've got a photograph of us [doing that] in my bathroom. I'm grinning at the front.
[After the trip to Toronto] I went out West. I took a trip to Saskatchewan and Manitoba, down to the Rockies.
Julie: And I stayed for a few more months and then I went back home to Florida. We spent most of that summer together in 1981.
Beck: What made you want to stay in touch with someone you just had a chat with on a ferry? What took it to the next level?
Julie: Going back to that summer, the thing I remember most is that you were one of the funniest people I'd ever met. My God, we just laughed all the time. It's funny because Kelly and I didn't stay in touch, but you and I did. Bella is just a fabulous correspondent. You were always really good about sending birthday and Christmas cards. Before we had kids, we probably wrote even more than twice a year.
I always loved writing letters. And then it became such a rarity. I tell people that I have one person in the world who I still exchange letters with.
Belinda: I mean, there were only letters in those days. So the only way to correspond was through letters, and that kept it going for me.
Beck: I thought it might be fun if you each described the other person's letter-writing style.

Belinda: Julie writes beautifully—her English, her diction, and the words she uses. I just admire the flow of her writing. Her spelling is perfect. And she's very informative, telling me all about what she's doing, about the kids, about this and that. When her letters came, I would always put them to one side and wait until I had time to digest them and enjoy them.
Julie: Because they were so damn long.
Belinda: We used to do long ones. You still do long ones, because you tend to do it on the computer.
Julie: Yes, I type them now.
The first thing I would have to say about Bella's letters is [that her handwriting is] really hard to read. But I get through them. I've gotten very good at it now; I only occasionally have to ask her what she said. I love her turns of phrase. I love how she says things in her British way. She makes me laugh. I don't hear nearly as much about her travels as I would like to, but she's always off somewhere amazing, traveling the world by herself.
Belinda: [I caught] a bit of a bug, which started off with Canada.
Beck: How did your lives progress, and how did the letters and your friendship intersect with big moments in your lives? Do you remember celebrating together or being a support system for each other through your letters?
Julie: Oh gosh, we've written about everything.
Belinda: That's a big question isn't it? I mean we're talking about—what, 40 years now?
Julie: We were single and footloose and fancy-free, then we both got married and had children and got divorced. And I've remarried. I'm like Bella—I always save her letters for when I know I have some time to read them without interruption. And I remember one summer there was a letter from her and there was just something about the first few paragraphs that made me think, Oh, there's some big news in here. It put me on edge a little bit. Bella, that was the letter where you told me about the breakup of your marriage. I still remember that feeling so well, the foreboding of the first few lines.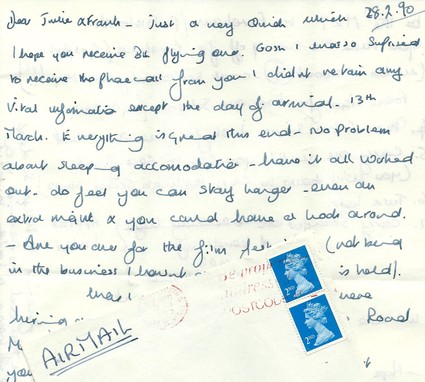 Belinda: We've been very open in our letters about our family situations. And with Julie's ex-husband, I remember the struggle and how brave Julie was as she attempted to keep the marriage together. I suppose I sensed that it probably wouldn't work. It has to take two. It's terribly tragic, really.
Julie: It's tough. Both of our kids have had their struggles too. And there are ups and downs with jobs and moving. We've written about it all over the years.
Belinda: Things haven't stayed static, have they?
Julie sent me quite a long letter, which I just opened today. [This was in late March.] And she was excited because we were going to meet up in June. I just sent her a note to say "I doubt this will happen." And how sad is that?
Julie: Yeah, we're going to have to wait. But we've been able to see each other a few times [in the past], maybe four or five. My ex-husband and I brought our kids to London when they were very young—in 2005—to meet Bella. I said to my kids, "I bet you anything, when Bella and I hug, she's going to pick me up." Every time we saw each other she would pick me up because she's so much taller than I am. I'm not even 5 feet. And sure enough, she did.
Beck: In between seeing each other, have you guys stuck with only physical letters, or have you branched out into emails or phone calls as well?
Julie: More emails recently, but I'm determined to still do the letters, although I do type them now.
Belinda: Julie has become better than me on that. I write Christmas and birthdays, but email in between.
Julie: And my letters are always, always late. That's why you got a letter in February for Christmas.
Beck: What is it about physical letters that has stayed so special for you?
Belinda: Picking them up from the floor, actually opening the envelope, looking at the stamp, and saving the stamp. Feeling the paper and seeing the written word—it's everything. I still read books. I don't have a Kindle. I like to physically touch things.
Julie: I'm the same. There's nothing nicer than opening the mailbox and seeing something friendly, something that's not a bill or trying to sell me something. And I recognize Bella's handwriting right away. When I was at camp, I would write letters home when none of the other kids did. It's nice to have a correspondent who will write back.
Belinda: I don't see the correspondence ever stopping until one of us dies. Or we become unable to read or write. Hopefully that won't happen, because I'm just going to pop away without any problems of course.
Julie: Me too.
Belinda: And I hope to see you, Julie, this year, not next year.
Julie: My new husband and I were going to come to the U.K. in June, not far from where Bella lives. But it's been really hard-hit by this virus, I gather. So it's probably going to be next year before we can do it. We just have to stay healthy and fit up until then. And then you can pop off.
---
If you or someone you know should be featured on The Friendship Files, get in touch at friendshipfiles@theatlantic.com and tell us a bit about what makes the friendship unique.