The Pandemic's Long-Lasting Effects on Weddings
Even after big parties are safe, smaller, intimate ceremonies are likely to persist.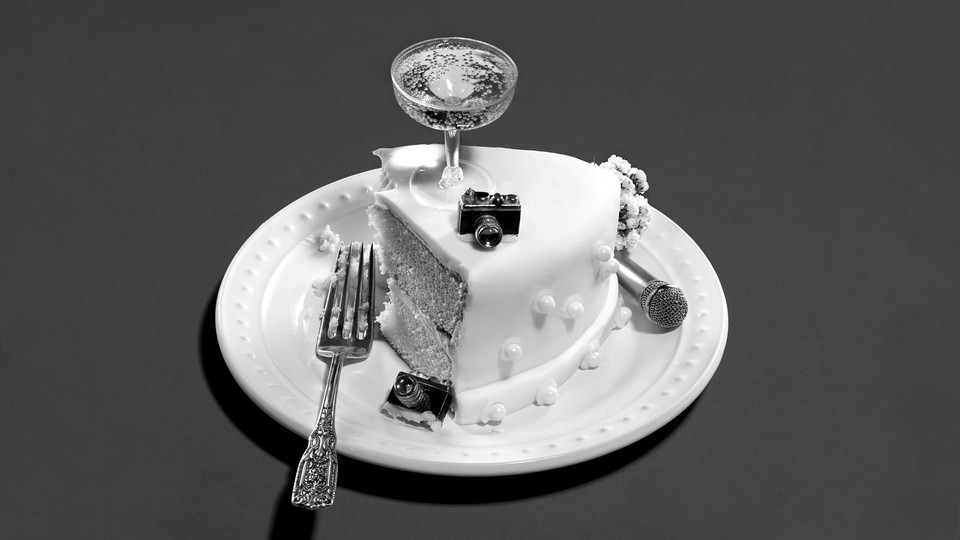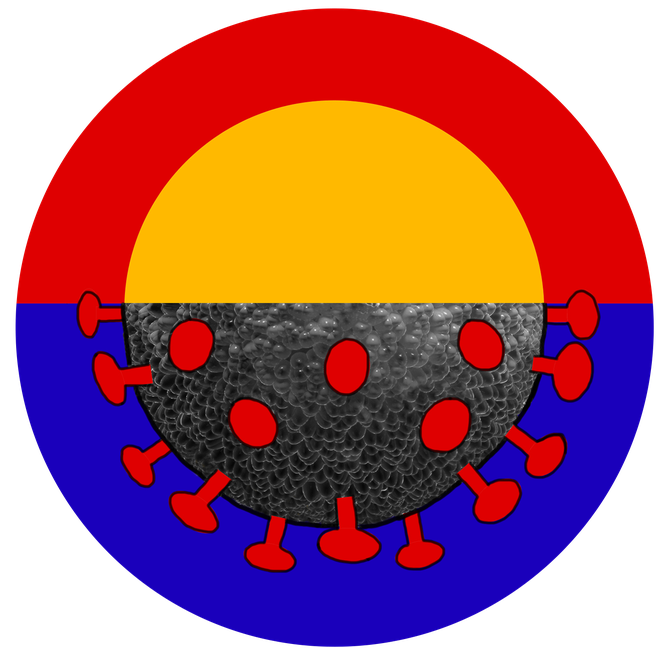 Editor's Note: This article is part of Uncharted, a series about the world we're leaving behind, and the one being remade by the pandemic.
---
In a normal year, lots of Americans (myself included) would be getting ready to attend summer weddings right about now—steam-ironing new suits and sundresses, ordering gifts for the happy couples, writing toasts, rehearsing dance steps, securing vacation days to travel out of town. But as we all well know by now, 2020 is no normal year. The global pandemic and the social-distancing policies that have been put in place to curb the spread of COVID-19 have effectively ruled out large gatherings and made many people, in particular the elderly, much more hesitant to go far from home.
En masse, weddings have been dramatically downsized, postponed, or canceled. The gauzy, fluttery dress I bought in February to wear to a friend's now-postponed May wedding hangs solemnly in my closet, a delicate question mark suspended in the air. The virtually nonexistent wedding season of 2020 promises to be strange: a May-to-October stretch with an anomalous number of free weekends. And there's a strong possibility that this weirdness will last, that weddings as we know them—grand, festive events, with extended family and friends in attendance—won't be the norm again for a long time.
Social-distancing measures are likely to make big wedding celebrations essentially impossible for the rest of this year. The Centers for Disease Control and Prevention still recommends that Americans cancel gatherings of more than 10 people "for organizations that serve higher-risk populations," and many states have imposed limits on the number of people who can gather for any sort of party or event.
Dave Grossman, who lives in New York City, was supposed to get married in April at an old luxury hotel 25 miles outside the city—but in early March, New York State officials directed residents to cancel any gatherings of more than 50 people. Grossman and his fiancée initially rescheduled their wedding for August, but then the venue announced it was closing for the remainder of the year. Now they're not sure when, or where, they'll get married.
Grossman, 44, and his fiancée, 40, both had a specific vision for what they wanted their wedding day to look like. Watching their dream crumble before their eyes, Grossman said, has been devastating: "This was supposed to be the most exciting time—like, We're getting married soon! Instead, it's all stress." Naturally, though, the idea of a smaller, more low-key wedding is now starting to look more and more appealing to the pair.
When the coronavirus first hit, Kristen Maxwell Cooper, the editor in chief of the wedding website The Knot, initially saw a lot of couples push their ceremonies to later this year. But the pandemic has become a more prolonged ordeal than many of those couples expected at first—so some are turning to what Maxwell Cooper and her team at The Knot have dubbed "mini-monies," for miniature ceremonies. Small enough to comply with size limits on gatherings and also to responsibly practice social distancing, these are pared-down, minimalist events with "usually around 10 people—just their family, maybe," she said. Some or all of the ceremony "may be virtual. They may have a virtual officiant or something like that." Maxwell Cooper added that most of the couples she's seen opt for the mini-mony still plan to have a bigger celebration later on, after restrictions have lifted.
Amy Jones, a wedding planner in Connecticut, told me that a few of her clients whose weddings were planned for spring and summer 2020 have chucked their original plans for a big event and gone the mini-mony route. This is especially true of those who want to get married on the sooner side so they can start a family. But more common, as Jones and other people who work in wedding-adjacent industries told me, are the clients who are (perhaps optimistically) rescheduling their weddings for the same weekend next year. As a result, scores of weddings that were supposed to take place in 2020 have been moved to 2021, and they land on the calendar on top of the weddings that were already planned for 2021 before the coronavirus arrived.
There's no way to predict, of course, whether "wedding season" as we know it will even be a possibility by this time next year. Strict disease-prevention measures will likely still be in place in a number of states—some of which will make it difficult for vendors and venues to commit to big weddings. Small, low-key ceremonies might seem especially appealing now because they can be adapted to whatever restrictions might be in place in a year. But even without constraints on their guest list, couples starting to plan a wedding right around now might well find that the venues they want are booked through the end of 2021. This by itself would be enough to push some couples toward a simpler, more scaled-back, easier-to-plan wedding day.
For those who still want to go all out, the number of guests who attend might be somewhat out of their hands. As Maxwell Cooper pointed out, many venues will have to start booking weddings on Thursdays, Fridays, and Sundays to keep up with demand. As I've written before, a weekday or work-night wedding is almost inevitably a smaller and more intimate affair than a Saturday wedding: Not everyone can or is willing to take the extra time off, especially if they have to travel.
Vendors' availability (and ability to do their jobs) will also have a significant impact on what weddings look like in the next few years. Olivia Hawthorne is a hair and makeup artist in Portland, Oregon, where reopening guidelines stipulate that hairstylists and makeup artists must drape each client with a clean cape and change into a clean smock themselves between clients. They're also strongly encouraged to wear clean personal protective equipment for each new client. On the morning of a wedding, when a bride and her bridesmaids tend to get their hair and makeup done together, both time and money spent would add up quickly, Hawthorne said. "So doing a smaller wedding at this point would just be overall a lot more feasible [for me], especially with all of the extra time that we're going to need for sanitation."
And, of course, as Grossman and his fiancée recently discovered, economic hardship will force some small venues and vendors to close or dramatically reduce their services between now and next summer. Danielle Tamasi, a florist in West Des Moines, Iowa, told me that a majority of her 2020 wedding clients have postponed their ceremonies, and she's already worried about whether she'll be able to keep making the rent payments on her studio space as a result. Tamasi said that some vendors she knows are staying afloat by asking couples who have postponed their weddings to pay their full vendor fees ahead of time. Still, closures are inevitable, meaning some couples will have to essentially start over on their wedding planning. Some might just give up and elope—which might mean having a tiny low-key ceremony, getting married at a courthouse or by a virtual courthouse officiant, or holding a self-uniting wedding.
Maxwell Cooper said she thinks that as soon as people can throw big weddings, they'll be back up and running like the pandemic never happened, because "there's going to be a greater appreciation for these moments." But once people can more freely gather, move around the country, and do things like dance together and sing loudly into one another's faces, there's no guarantee that they'll want to do so in large numbers. As several of my colleagues have noted, this pandemic could heighten Americans' collective fear of health risks. Now that all big gatherings are suddenly looming large in the public imagination as potential hot spots for the spread of disease, the average size of a wedding could shrink dramatically. People might also feel a lingering reticence toward nonessential travel, which could keep out-of-town friends and relatives away from the party.
Moreover, wedding trends are—for lack of a less cringey term—contagious; many couples plan their wedding day by borrowing elements of what they've seen and liked at other weddings. In the months and years ahead, couples who might have otherwise opted for the whole enchilada might model their own wedding day after friends' or relatives' small ceremonies and elopements. Small wedding ceremonies could, in other words, become more common not just for health reasons, but because coziness and intimacy might organically become trendy.
Some couples might not have a choice about whether to throw a big party at all. The pandemic has already been financially devastating for people all over the country; big, lavish weddings might start to seem like even more of an unnecessary extravagance than they did before. In 2019, the average cost of a wedding and reception in the United States had ballooned to about $28,000, according to data from The Knot—and while weddings have long been famously expensive for the marrying couple and their families, they've also grown expensive for their guests and members of their wedding parties. Especially when many Americans are financially struggling, the requirement to hold smaller, simpler, cheaper weddings could come as a relief.
Inevitably, the big wedding celebrations lost to the coronavirus will be disappointing for families and would-be guests, and heartbreaking for marrying couples. On the other hand, the purpose of a wedding is to be a public declaration of commitment and enduring love, and it's hard to imagine a more powerful testament to the durability of two people's bond than the story of how they survived a pandemic together, endured the hardships it presented, and made personal sacrifices for the greater good. As a friend of mine recently put it, in the future, the stories of couples who married during the coronavirus era will be the stuff of family legend, of toasts at anniversary parties. Grandma and Grandpa could only have a small wedding because they were living through the coronavirus pandemic—so here we all are, on their 50th wedding anniversary, to give them the celebration they deserve.