The Worst Situation Imaginable for Family Violence
All over the United States, adults and children have been quarantined for weeks with people who hurt them.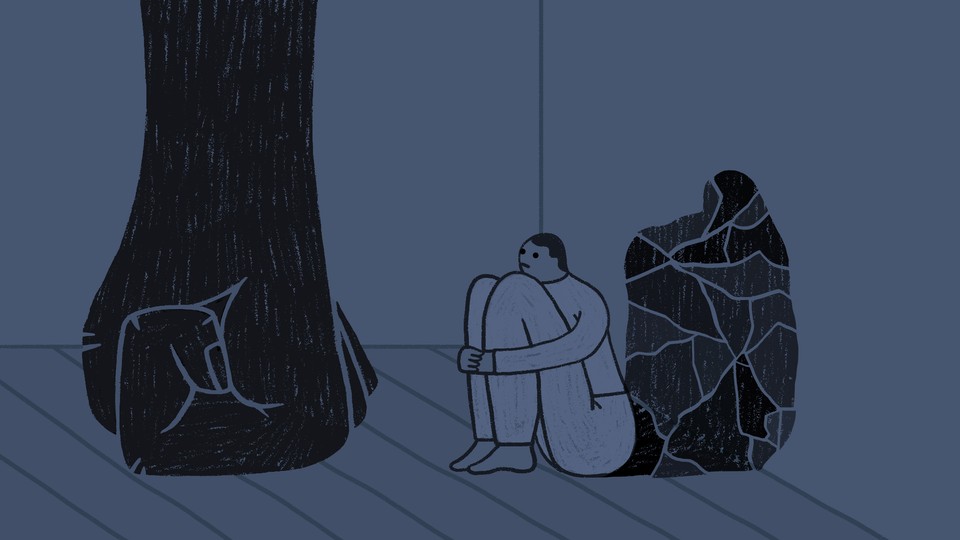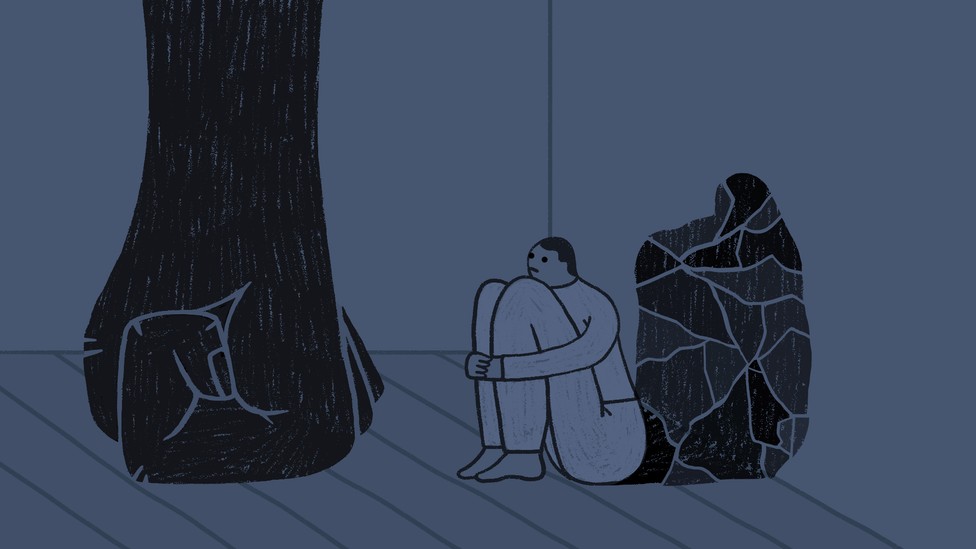 When lockdown and shelter-in-place protocols aimed at curbing the spread of COVID-19 went into effect earlier this spring, they put many Americans into circumstances they previously could only have imagined. While for many families the situation has meant isolation and monotony, for those who live with their abusers it has been a nightmare. Under coronavirus social-distancing protocols, the worst-case scenario for people who live with an abuser has more or less materialized. Social workers, lawyers, and advocates have had to rapidly adjust their services in order to get help to domestic- and child-abuse victims who are trapped inside with their abusers.
It's hard to imagine a set of circumstances that would facilitate abuse so much as the ones we've been living under. For one thing, people are stressed. They're getting sick, losing loved ones, or worrying about getting sick or losing loved ones. The income loss many have experienced only adds to the daily anxiety. Plus, school cancellations mean that many parents have lost their regular affordable child care. Financial strain has been linked to increases in the frequency and severity of domestic abuse, and a 1 percent increase in the unemployment rate leads to a 25 percent increase in child neglect and a 12 percent increase in physical abuse, one study found. Other research has suggested that the stress from catastrophic events like natural disasters can also increase the risk of domestic and family violence. All of this adds up to a potentially dangerous situation for those who live with their abusers—even before you consider the current lockdown protocols.
---
In normal times, someone living with an abuser and feeling unsafe might be able to place a phone call to a help hotline, to police, or to a friend or family member who might be able to help, when the abuser is at work or out of the house. Under the stay-at-home and shelter-in-place orders in many regions, however, the abuser may never leave the house long enough for that call to take place. (Indeed, some shelters and advocacy groups noticed a drop in call volume to domestic-violence shelters and hotlines in the first few weeks social-distancing guidelines were in place.)
Sometimes victims reach out for help via text or email, but as Lindsey Song, a staff attorney at the New York nonprofit Sanctuary for Families, explained to us, abusers often find ways to surveil their partners' phones and computers, and now have more time and access during the day to do so. Other victims simply walk into a courthouse to get information on resources from legal-aid or advocacy groups that have set up outposts there. But Sanctuary for Families temporarily suspended its operations at local courts in mid-March. Other groups did the same.
The pandemic's financial disruptions also make it harder for someone to escape an abusive household, even if they've been planning to do so for some time. "One of the reasons that victims sometimes can't leave, or are afraid to leave, is because of the economic tie they may have to the abuser," Judy Harris Kluger, a former judge and the executive director of Sanctuary for Families, told us. A victim may have just lost her job, "and [the abuser] is the person who's putting food on the table." The victim, Kluger said, is probably thinking something along the lines of "How can I leave with my children now?"
---
Experts also worry that the coronavirus lockdowns are leading to a rise in child abuse. It's hard to tell for sure—reported cases of child abuse are actually down in several states and cities. In Milwaukee, for example, reports from child-protective services are down by more than 50 percent since this time last year. This, unfortunately, makes perfect sense, and doesn't necessarily mean that abuse itself has decreased. "All the normal contacts that children would have … a therapist, or a teacher, or a doctor—everything is being canceled," says Emily Putnam-Hornstein, a professor of social work at the University of Southern California. "It leaves me quite nervous."
Already, there are worrying signs of an uptick in violence against children. In late March, a hospital in Fort Worth, Texas, reported six apparent physical-abuse cases in a week; it typically sees about eight a month. The National Sexual Assault Hotline saw an increase in calls from children during March compared with the previous month.
Teachers are among the most frequent reporters of child abuse, but with children out of school, no one outside the family may be able to detect bruises or notice that a student seems too hungry. Social workers following families suspected of abuse rely on checking school records, talking to therapists, and other types of due diligence that are more difficult when all those institutions are closed. Some social workers are switching to virtual visits with troubled families, but "there's only so much you can really see in the environment if you are interfacing with someone virtually," says Josh Mersky, a professor of social work at the University of Wisconsin and a co-director of the Institute for Child and Family Well-Being.
With adults and children stuck at home together, sexual abuse may also be happening more frequently and going unnoticed. Sexual abuse typically occurs within homes, at the hands of a family member or a boyfriend of someone in the house, experts say. These days, would-be sexual abusers have unlimited time with and access to their prey. "Kids are at greater risk from … live-in boyfriends, stepfathers, people who play a father role but aren't the kids' biological dad," says Michael Seto, director of forensic rehabilitation research at the Royal Ottawa Health Care Group and an expert on sexual offenses. "I would predict there's going to be an increase in intrafamilial child sexual abuse."
Not only are more children locked in with their abusers, but the strain of caring for children around the clock could nudge many previously nonabusive parents over the line. Isolation and parental stress are major risk factors for child abuse. When parents are stressed, "they will fly off the handle more easily, use more harsh physical punishments," says Jennie Noll, a professor of human development and the director of the Child Maltreatment Solutions Network at Penn State University. Child neglect is far more common than child abuse, and as parents are unable to get child care or pay the bills, instances of children being left alone or without sufficient food may also be on the rise.
---
Nevertheless, aid groups have found some ways to meet the needs of people in danger during the COVID-19 crisis. Sanctuary for Families put more staffers than usual on its hotline as soon as social-distancing policies went into effect, made the hotline reachable via text message, and published guidelines for people who are isolating with their abusers. The organization's recommendations include identifying at least one friend who might be able to provide shelter in an emergency, finding the "safest room" (away from all weapons and near a door or a window) in the house or apartment to retreat to, and coming up with code words to share with children to let them know it's time to discreetly get ready to flee.
Domestic-violence advocates are also coming up with digital ways to connect with and check in on clients. Lindsey Song, of Sanctuary for Families, noted that people who work in domestic-violence prevention are used to interacting discreetly with clients, so she's found it relatively easy to move all of her communications with clients to text or email. Sanctuary for Families has also made the walk-in services it provides at courts available online, Song said. In April, she and her team began connecting victims with volunteer pro bono attorneys who could assist them with filing for orders of protection remotely. Beverly Upton, the executive director of the San Francisco Domestic Violence Consortium, told us that in San Francisco, social workers and case managers are encouraging clients to call them from their car or a bus stop or to just text a smiley face if they are okay but worried about surveillance. Upton believes that the lobbying efforts of domestic-violence groups helped bring about a measure that went into effect last month in San Francisco that makes it possible to text, rather than call, 911 to report an incident of domestic abuse. "It's not a perfect system," she said, "but people are finding ways to continue to give and receive support."
The experts we spoke with for this story had not seen a particularly high demand for spots in domestic-violence shelters since lockdowns began in the United States, in part because it has been so difficult for victims to leave abusive situations. As a result, many service providers haven't had to lean heavily on other entities that sometimes partner with shelters or advocacy groups to act as emergency housing for victims, like hotels. Upton and her team, however, are trying to ensure that domestic-violence shelters in the San Francisco area are able to accommodate victims and families while complying with social-distancing protocols, such as making sure that no one has to share a room or a living space with anyone they don't regularly live with.
Teachers and social workers can also try to increase the number of video visits they're paying to kids. Though it's not as comprehensive as having eyes on a child in person, it's still better than nothing. Lauren Miller, a family case manager at Children's Wisconsin, a children's hospital in Milwaukee that is contracted to perform social work for the city, has been doing virtual visits with the children on her case list through FaceTime or Zoom. She tries to avoid having their interviews influenced by the adults in the house by asking the kids to take the device into their bedroom to talk with her alone, much like the private conversation she would have if she were meeting with them in person.
Although this is a time of unprecedented hardship for victims of abuse, it's possible that service providers will, in the future, be better equipped to help because of the adjustments they're making now. For example, we might see a techier crop of social workers, family attorneys, and advocates. Miller said the virtual visits have been a good way to reach parents who have transportation issues or other barriers to meeting in person. "We see more and more child-welfare agencies pushing ahead on remote support for families," Jennie Noll, of Child Maltreatment Solutions Network, told us. Lindsey Song, too, noted that she's recently gotten familiar with apps like Signal, which provides end-to-end encryption for text messaging and makes it safer to communicate with domestic-violence victims.
Still, perhaps service providers wouldn't be in such a challenging position right now if the safety net for people in need were broader and more reliable in general. In the future, some instances of child abuse could also be prevented through better funding and having universal programs in place, says Gabe McGaughey, the director of child well-being at Children's Wisconsin. Rather than sending social workers only to the homes of troubled families, all families could get a onetime visit from a social worker, and only the parents who showed signs of abuse or neglect would get more intensive services. "How do you provide more universal support," such as through home-visiting programs, he said, so that parents are "not off on their own and isolated? That decreases the stigma, because everybody gets a little bit." Upton, meanwhile, said her efforts to help people in abusive situations during the pandemic could be helped along if there were more public-health campaigns that make people aware of what abuse looks like, as well as more funding to outfit places like hotels to act as fully functioning domestic-violence shelters in times of overflow.
Though going out still poses a risk of contracting coronavirus, in some cities, counties, and states, stay-at-home and shelter-in-place orders are lifting. In those areas, children and women will no longer be trapped at home with their abusers—which means that courts and shelters might soon be overwhelmed. Upton suspects that a lot of people have been making plans during quarantine to flee their abusive living situations as soon as possible. In other places, however, victims won't make it out so soon, and a number of them won't make it out at all. In the most extreme way possible, the coronavirus lockdown has spotlighted the ongoing crises of child abuse and domestic abuse. Now that people who live with abusers are truly distanced from those who could help them, it's becoming clear how isolated they were all along.