What It's Like to Live Next Door to Your Best Friend Right Now
"We don't have this superficial friendship where I'm only best friends with you when things are funny and happy … I'm also here for all the transitions and all the rough patches."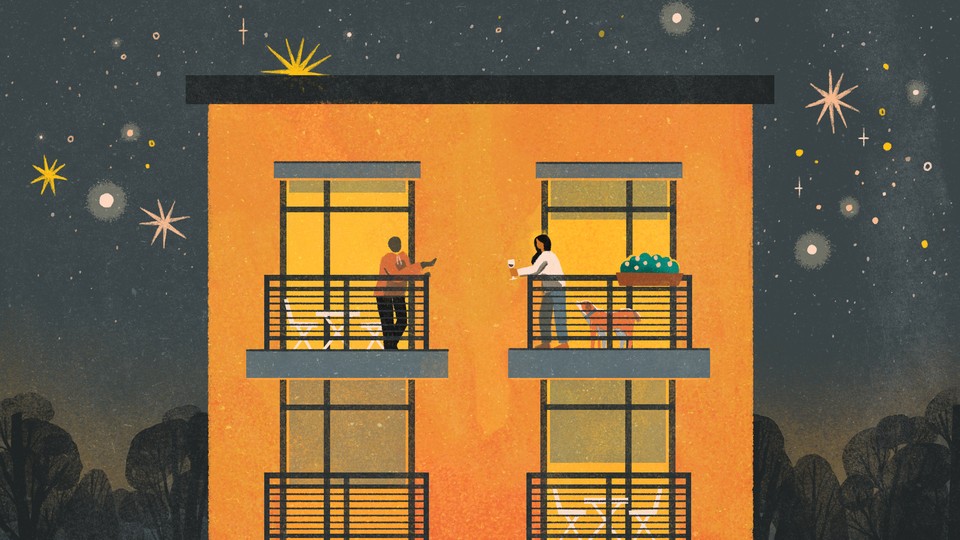 Each installment of The Friendship Files features a conversation between The Atlantic's Julie Beck and two or more friends, exploring the history and significance of their relationship.
This week she talks with two best friends who moved in next door to each other long before the coronavirus pandemic—but they're particularly grateful for that decision now. They still see each other every day on their adjoining balconies, where they have morning coffee and evening drinks, take breaks from working at home, and keep each other sane. They discuss the importance of friends as a support system—all the time, but especially in quarantine.
The Friends:

Amina Akhtar, 26, a digital producer and podcast host for a nonprofit, who lives in Washington, D.C.
Lincoln Mondy, 25, a project director for a reproductive-health nonprofit, who lives in Washington, D.C.
This interview has been edited for length and clarity.
---
Julie Beck: Right now, how far apart from each other are you?
Lincoln Mondy: Oh my God. I'm not good at distances. Probably, I would say, like 20 feet?
Beck: You live in apartments that are right next door to each other—tell me about your setup.
Amina Akhtar: It's been three years that we've lived this way.
Lincoln: We actually looked for apartments together. I went into leasing offices and was like, "We'll take two apartments next door to each other." And a lot of them were like, "What?" We finally found [a building] that had availability on the same floor, and three years ago, we moved in. We're separated by an elevator. Amina's in a studio, and I'm in a two-bedroom. My balcony is off of my room.
Amina: My balcony is off of my living room. Balcony to balcony, where we both stand and sit, we're probably 20 feet apart.
Lincoln definitely has a better-crafted balcony. He's got a little table and chairs; he's got a rug down. Mine is just sort of—plants are all over the place; they're either all dead or all flourishing. But this whole [quarantine] situation has motivated me to order my own little patio set.
Lincoln: This whole situation has forced me to bring in all of my patio furniture and convert it into a workspace.
Amina: From where I set up my workstation—on the couch in the living room—I can see directly into Lincoln's bedroom through his balcony doors, so I can see him working. Sometimes I'll just look over and think about how cute he looks when he's in serious work mode.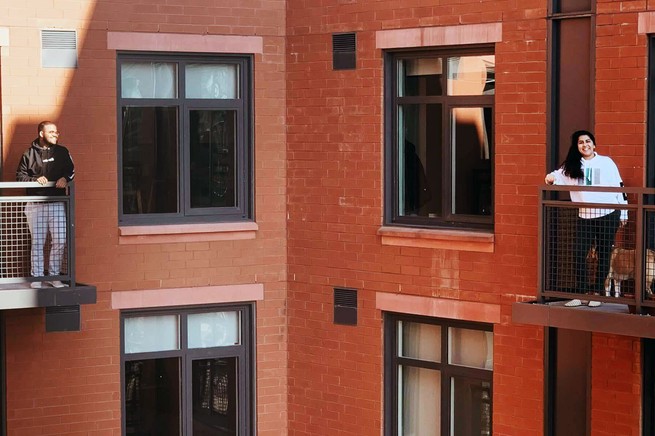 Beck: Let's rewind back to the before times; tell me how you met.
Lincoln: Her mom sat her down at the table with me. It was the first day of freshman orientation at George Washington University here in D.C. I just sat at a table, and then all of a sudden this very, very cute woman—very mom vibes—came over and pulled up a chair. She said, "Is someone sitting here?" I said, "No." She looked over at Amina and said, "Sit and talk, or I'm not going to leave." And then she just stares at Amina.
Amina looks at us and she's like, "Hi. I'm Amina," very shy. Honestly, the rest was history. Ever since, we haven't gone too long without being around each other.
Amina: My mom was basically like, "If you don't sit down there and make friends, I am going to embarrass you." I was super shy, so meeting Lincoln was honestly a godsend. I immediately felt like I could be myself around him.
Beck: What were your first impressions of each other?
Amina: Lincoln, he's goofy. He has a very warm Texas soul. There's a certain type of charm that is only available to people born and raised in Texas, and Lincoln embodies that: very friendly, always trying to include everybody and bring them together. He's definitely more of an extrovert, while I was more of an introvert.
Lincoln: Amina was so bubbly, silly, and funny, but she also had these wild experiences and stories. I came from a very small town in Texas—it's really, really rural—so I was already nervous moving to D.C. I was really nervous about fitting in. There wasn't a lot of diversity where I came from, so hearing Amina's experiences from Saudi Arabia and Pakistan and her travels was really cool. But she wasn't pretentious. I met a lot of people at GW who were pretentious. And Amina, she's so down-to-earth, so friendly, and so warm.
Amina: I'm Pakistani American, and I grew up in Saudi Arabia as an expat for most of my life. I went to an international high school there. The one [type of] person I've met that I hate the most is a diplomat's brat. It's helped me be self-aware, like, Am I that annoying kid who grew up abroad, who's only friends with other kids who grew up abroad? I really took the chance in college to distance myself from that whole world and focus on crafting good relationships with people from backgrounds different than mine.
Beck: The first people that you meet freshman year are often not the people you ultimately become friends with. How did you two stay close throughout college and up to now? What kept you together?
Amina: I went through a lot of mental-health struggles in college. Lincoln was always there, and very intuitive about my sadness. That was definitely the glue that stuck us together.
Lincoln: D.C. can sometimes be very pretentious. Everyone's talking about, like, "What internship are you going to work at?" We didn't curate our personas for each other; we were just raw and honest. I took that really seriously because Amina didn't have to open up to me. Amina didn't have to share her struggles, or her anxiety, or her depression. So the fact that she was really open with me signaled to me that she valued our friendship. When either of us were in a funk or in a deep depression, giving each other the opportunity to be genuine really, really helped.
Beck: I imagine that is something that's serving you guys well during this very anxious time of the pandemic.
Amina: Absolutely. We've gotten really good at communicating. I think I'm helping Lincoln to remember during this time that it's okay to rest. I've been able to give him that with my tools that I've learned through seven-plus years of therapy.
Lincoln: For most of our relationship, I've had an instinct when Amina may need some more support, especially in the winter if the blinds are down.
Amina: The seasonal depression hits me.
Lincoln: If I don't hear from her for two days, or if the blinds are always down, or she's not responding, I know that might be a time when I just go in [to her apartment] and try to do something with her. It's not a one-way street—she helps me so much. Amina checks in with me and [says stuff] like, "It's okay to rest. It's okay to just wait in this moment." She also reminds me to eat when I'm working and even makes me dinner when she knows that I'm having 12-hour days.
Amina: If he doesn't eat, I get so mad at him. I have been known to just come by with a meal and tell him to stop working, and watch him eat until he finishes.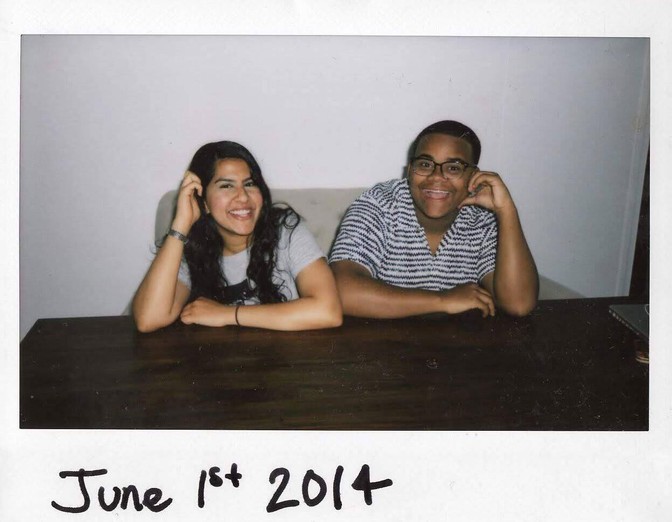 Lincoln: It's a really good support system. I don't really feel like a burden, and I hope that Amina doesn't feel like a burden either, because we know that there's times when each of us needs different types of support. We don't have this superficial friendship where I'm only best friends with you when things are funny and happy and we can party. I'm also here for all the transitions and all the rough patches.
Beck: I know you moved in together briefly after college. How did that go?
Lincoln: We moved in together for a year, and I feel like that really taught us a lot about each other. We had to manage a lot of things, like rent, utilities, and furniture. We didn't really have that type of relationship before.
Amina: Living together did have its challenges. I am a bit messy. Because we're so close, there wasn't any sort of waiting [to address issues]; Lincoln would literally just come into my room and yell at me. And I'd be like, "You're right. I should probably go do those dishes."
Lincoln: It was also a lot of fun. If I had a bad day, it was fun to have Amina around, but obviously at times it got to be too much. I think that's bound to happen when you're best friends and also living together. I think that one year taught us that we needed a couple boundaries. When we moved, we made the conscious decision to live separately, so we can hole up on our own but still be very close to each other.
Beck: So it ended up that the right distance was just one apartment away.
Lincoln: Yes. But we are moving back in with each other after all, supposedly in July.
Beck: Oh really?
Lincoln: I'm kind of nervous about it. Now we're having to consider moving in a pandemic and what that entails. But we're doing another one-year hurrah, because we're planning for some transitions. I'm in my first year of a relationship, and Amina is very clear about wanting some more "us time" before that gets any further. So we're going to live together for a year before I probably move in with someone else.
Beck: How do you feel about moving in together again? Do you think things will be different this time?
Amina: I think it's going to be so much more seamless, because we've worked on communicating and we already have our concerns laid out. Lincoln's concerned about the dishes; that's totally valid. But also, we're reaching our late 20s. It's sort of the last time we can truly be roommates without all the responsibilities of a relationship, a family, and things like that.
Beck: You are close with each other's families as well—obviously Amina's mom is the one who forced you guys to be friends. What have you learned about each other by getting to know each other's families?
Amina: Lincoln has spent Thanksgiving with my family for the past five or six years. My brother calls him "brother Lincoln." My mom, every time she calls me, at the end, it's, "And how's Lincoln?" I think as long as Lincoln's around, they always feel like I'm safe and I have a good support system. And Lincoln's family is a lot bigger than mine. I've met his mom; I've met some of his siblings. But when I finally got to meet all of his nieces and nephews this past December, it was like I already knew them, because he talked about them so often.
Lincoln: My mom to this day calls Amina her daughter, and when I was not out, my mom was like,
"You're marrying her, right?" We do consider each other family. Like for graduation at GW, my family came and Amina's family came, and Amina's family hosted us; we all hung out together all weekend.
There've also been challenges, of course, like when Amina and I were living together.
Amina: My family is Muslim, and my parents were a bit uncomfortable about me living with a member of the opposite sex. That was something I had to explain to Lincoln, culturally, that even though my parents didn't want me to live with him, that they still love him to death. But I think my parents really learn and grow with us.
Lincoln: I was like, "Y'all, I'm gay. It doesn't matter."
Beck: Are they feeling better about you guys living together the second time?
Amina: My mom's okay, but my dad will always struggle. He's not going to change at this point. There's a level of respect I will always give to my parents, but, you know, it's happening.
Beck: What was it like living next door to each other pre-pandemic, and how have things changed?
Lincoln: My love languages are physical touch and quality time, so my crops are dying over here. It's really put into perspective how many times I normally run down the hallway and barge into Amina's apartment with anything that's funny or any hot gossip. I keep putting on my house slippers, ready to go out the door, and then I realize Oh no, I can't do that." But it's also made me aware of how lucky we are to have our people so close. I'm quarantining with my boyfriend, and then my best friend is across from me. I still physically see her every day, even if I can't be in the same space as her.
It's been nice to take a break from the screens during the workday and go onto the balcony. I'll [go and] flail my arms, she'll come out, and we'll talk about anything and everything.
Amina: Sometimes when I don't see him, he'll just yell out my name again and again, like, "Amina! Amina! Amina!" Then I'll come out and he'll be gone, but the neighbors will be out and they'll tell me,
"Oh, he was trying to call you. You should probably call him back."
Lincoln: Most of our neighbors with balconies are in on it; they know us.
Beck: Has living through this moment in history changed how you think about relationships, friendships in particular?
Lincoln: Growing up, you're really taught that you're supposed to find one person in your life who's your support system, and the message is that it has to be the romantic partner.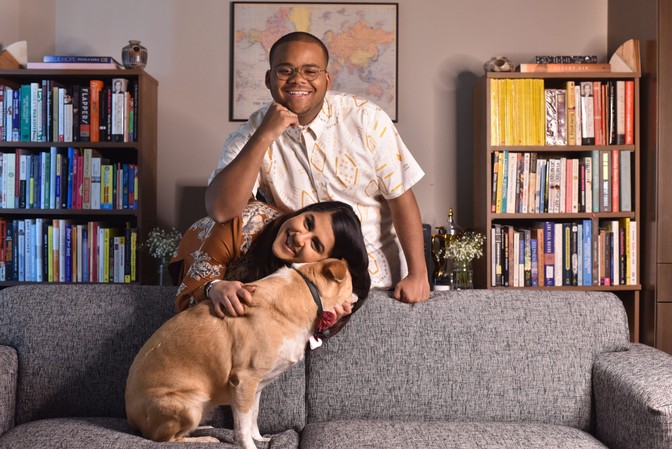 Amina: Lincoln comes from a very Christian family, I come from a Muslim family, and at first when we got really close, it was kind of like, Oh, a boy and a girl. Are they in love? Are they dating? We've both been single for the majority of our friendship, and it's really shown me that my best friend is the person who gives me all those things. I think that's beautiful, that I don't have to go looking for a guy to give that to me. When I am dating, I feel so secure because I [already] have this guy named Lincoln who I can talk to about everything.
Lincoln: When I started getting serious with my partner, we had to have a sit-down talk because I think Amina might have been worried about how that would affect our relationship.
Amina: Yeah. Because we were always going to be single together forever, until something happened. And his boyfriend was the thing that happened. My concern was that many people do sort of fall off the earth during a new relationship, so I was very paranoid about that. But he did such a good job balancing time.
Beck: Do you guys have balcony plans for later today?
Lincoln: Well, we already had our morning coffee.
Amina: We are going to have a drink this evening on the balcony.
Lincoln: We have many a drink on the balcony.
---
If you or someone you know should be featured on The Friendship Files, get in touch at friendshipfiles@theatlantic.com and tell us a bit about what makes the friendship unique.