COVID-19 Is Upending Parents' Birth Plans
A global pandemic adds several more layers of logistical and emotional overwhelm to the already overwhelming time of new parenthood.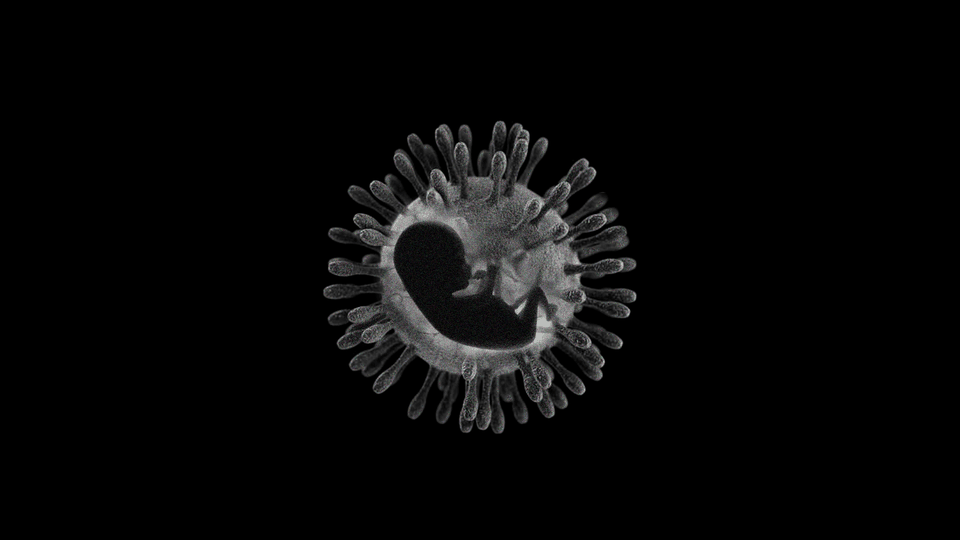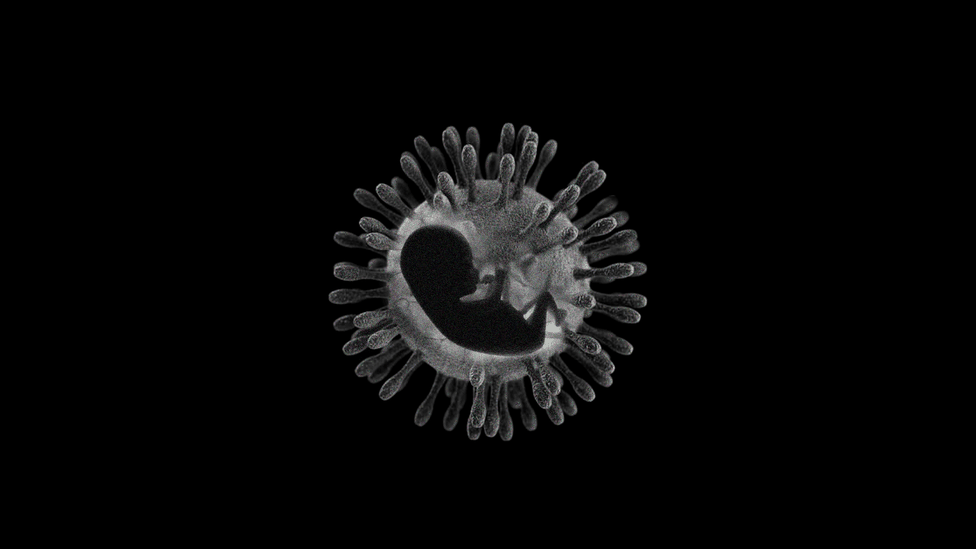 Every birth of a human baby is difficult—difficult to prepare for, difficult to execute, difficult to adjust to afterward. Living under lockdown conditions while a pandemic encircles the globe is also difficult, logistically as well as psychologically. At this very moment, hundreds of thousands of pregnant Americans are preparing to do both of those things at the same time.
Each day in the United States, more than 10,000 babies, on average, are born. A lot of things will change in the U.S. under the new protocols aimed to curb the spread of COVID-19, but this fact will not. Schools, churches, day-care centers, bars, and restaurants will be closed for weeks or months; travel will be severely interrupted; and entire sports seasons will be postponed and rescheduled for the fall. But babies will still be born—even though the conditions under which people prepare, give birth, and care for their new babies will be radically altered. The coronavirus is adding practical and emotional layers of overwhelm to a time that is, even under normal circumstances, overwhelming.
THE NINTH MONTH
Elise Batscha is expecting her second baby, a little brother for her 2-year-old son, in early April. As recently as a month ago, she was planning to spend her last few weeks of pregnancy relaxing and mentally preparing herself for kid No. 2—spending a weekend in New Jersey with some girlfriends, making final arrangements for her parents to fly in and help out with the new baby, maybe getting a massage. Instead, she's planning for a whole new set of contingencies.
She's worried about shortages in her neighborhood in Brooklyn, for one thing. As people rush to batten down the hatches and stock up their homes, grocery stores are already looking barren; in the coming months, global supply-chain issues could exacerbate the problem. So Batscha, and no doubt many other soon-to-be parents, are stocking their homes with things they wouldn't ordinarily.
"There's a shortage, for example, with toilet paper and paper towels—so I don't know if there's going to be a shortage on [maxi] pads," Batscha said. Since bodies that have just given birth tend to bleed heavily for a few weeks afterward, she's already placed orders online for a bunch of postpartum and super-absorbency maxi pads. Before the threat of a pandemic, she said, "I took for granted that I could just order this stuff through Amazon Prime and it would arrive the next day."
She's also mentally fast-forwarding to the coming months of infant care—and she's preparing for a worst-case scenario there, too. Batscha, who breastfed her first son for more than a year after he was born, has been closely monitoring authorities' evolving advice for breastfeeding parents. At this point, the Centers for Disease Control and Prevention's website informs readers that in the few studies that have been conducted, COVID-19 "has not been detected in breast milk; however we do not know whether mothers with COVID-19 can transmit the virus via breast milk." Because there's uncertainty, Batscha is planning to stock her home with baby formula, in case she gets sick. She hopes she'll never have to use it. "Ideally, nobody has [COVID-19] in this house, and this isn't a concern. But if something happens and we need to act very quickly," she said, "I just want to feel as if his nutrition needs are also met if I can't meet them."
Batscha has also seen all the plans she had squared away months ago for labor and delivery get thrown into jeopardy. Her hospital is an hour away, in Upper Manhattan, and because Americans have been advised to practice aggressive social distancing, she's not sure who will be able to look after her son when she goes into labor. The original plan was for both the Batschas' nanny and their best friends to have a key to their home and be on call. "But what if my nanny or my best friends get [the virus]? Who, then, comes to watch our son? Does my husband stay at home and I go to the hospital by myself?"
For now, she's accepted that the plan could shift any day. "Every couple days, we'll have to just be like, 'Okay, these people are all still healthy. This is plan A, this is plan B,'" she said.
For now, Batscha is doing her best to adapt her month-nine relaxation plans to comply with the new guidance on staying safe—for her own health, for that of her new baby, and for that of her parents, who are planning to drive up from North Carolina after the baby is born (provided everyone stays healthy). She told me she feels a little shortchanged that she hasn't been able to spend her last month of pregnancy relaxing and seeing friends. But on the day before we spoke, she had managed to snag a moment for herself: She walked to the park during the day with her dog, where she sat on a bench, plugged her headphones into her phone, and watched Netflix shows while she ate lunch. "I felt the sun beating down on me and it just felt refreshing—to, you know, be outside, have that fresh air, and find a little bit of mental clarity."
BIRTH
When I first spoke with Stevie Merino on Thursday of last week, she was worried about hospitals tightening up their visitor policies. As a doula, even though she goes to hospitals specifically to assist people as they give birth, she's technically considered a visitor. While some hospitals in her hometown of Los Angeles had preexisting rules that restricted the number of delivery-room visitors to just two, she said, "if they get restricted to one, that will definitely cause a lot of people to reconsider having doulas." By the weekend, Merino had been personally affected by hospitals doing just that.
Ever since the novel coronavirus became a global threat, many hospitals around the United States have instituted these visitor-limitation policies. Some hospitals, like the George Washington University Hospital, in Washington, D.C., have temporarily restricted all visitors except those who are visiting end-of-life patients, those who are parents of a pediatric patient, and those who are there to support a patient in labor (limit: two total). The rules about who can visit the maternity and infant-care wards have caused some heartache: Restrictions like GW's mean that patients in labor now may have to make difficult choices about who they want in the room with them, and that older siblings will meet their new brothers and sisters only when they come home from the hospital.
As a result of both tightened visitor policies and concerns about being in hospitals, potentially near COVID-19 patients, some Americans are switching at the last minute to home births. Others have dropped their doulas in favor of having their partner in the room. Merino told me that her clients who will now be unable to use her as a result of new policies were feeling anxious about losing that source of support during birth.
If plans for labor and delivery are up in the air at this point, so are plans for immediately after birth. Regan Theiler, an obstetrician at the Mayo Clinic, in Minnesota, told me on Friday afternoon that the protocols for birth throughout the Mayo hospital system during the coronavirus pandemic were being written as we spoke. "We're deciding things like, if Mom is asymptomatic but tests positive, are we going to separate the baby from her? We're going to recommend separating the baby from her at birth if she is symptomatic, but if the test is pending, do we isolate the baby?" she said. It's obviously a huge and heart-wrenching decision to keep a mother from holding her new baby; these are the kind of devastating emotional side effects that a pandemic can produce.
At the moment, Theiler said, she and her staff were staying on the conservative side. "Let's say that Mom has a fever and her [COVID-19] test is pending. Everybody [attending to her] is going to be in respirators, the mom's going to be in a mask, and she's going to be in isolation," she said. "We're going to be talking about, can we pump the colostrum, can we pump the breast milk, in a clean fashion into bottles that we can take to the baby, so that we can get the physiologic benefits of the breast milk itself, even if we can't get the skin-to-skin [contact]?"
That said, Theiler told me, given the dearth of scientific understanding of the novel coronavirus, it's incredibly hard to make evidence-based policies to govern how the entire hospital system will work—and in the meantime, patient autonomy still has to be considered. "The CDC is recommending things like, you know, assessing the patient's wishes, whether she's symptomatic, and using physical barriers. Like, can [a new mother] still breastfeed? Yes, but consider a curtain," Theiler said. "Things like that, that are the sort of soft language we use when we really don't have the evidence we need to make firm decisions." (On Wednesday, Theiler wrote to me in an email that the Mayo Clinic would be counseling new mothers who tested positive or had symptoms of COVID-19, if their babies were healthy, about whether to "room in" or isolate their babies—but ultimately leaving the choice up to them. She also mentioned that the hospital system had instituted a policy of helping those mothers pump and delivering the milk to their babies, even if they were isolated.)
THE FIRST MONTH HOME
In many ways, the first weeks and months of having a new baby at home won't change much under coronavirus protocols: Even under normal circumstances, new parents are encouraged to keep infants away from crowds and sick people, which by default often means a lot of hunkering down at home. But one way in which that time at home is changing is that it could start quite a bit sooner.
At the Mayo Clinic, "low risk" moms and babies are now routinely being sent home at 24 hours postpartum. "As much as we like to keep them for education and lactation and comfort for [up to] 48 hours," Theiler told me, "it may behoove us to get them out of the hospital earlier." That way, the hospital can both limit new babies' exposure to COVID-19 cases and conserve beds—"because we are predicting a surge."
Theiler worries, though, about the ramifications of releasing new parents back into homes where they'll have less support than usual. Phone calls, patient portals, and teleconferencing can facilitate follow-up appointments, lactation help, and even depression screenings. But self-isolation policies and guidelines will likely weigh on new parents at a time that can already be severely isolating, even without a pandemic.
"I think we need to be really concerned about these exhausted postpartum moms," Theiler said. They are "already at risk for significant depression and significant sleep disruption, and then to not have the normal social support that they would [otherwise] have—be it day care, church groups, or family—they certainly are at risk. Making sure that we adequately follow up with them, without increasing their risk by bringing them into the clinic frequently, is going to be high on our list of priorities."
Georgia Rubenstein's due date is this coming Friday. It's her first baby, and her mother has a plane ticket to come and help with the new baby later this month. When I asked about the status of those plans, Rubenstein's voice broke. "We keep saying, 'Oh, it's changing so fast, we'll check in closer to the day,'" Rubenstein told me. "But, increasingly, I don't know what could possibly change to make us think that it's fine [for her to come]." For one thing, she doesn't want her mother to bring potentially deadly germs picked up en route into a home with a tiny infant; for another, she doesn't want her mother to catch the virus, especially while traveling.
Thinking about having a new baby at home without her mom around also makes Rubenstein cry. "My biggest worry is that my partner gets sick, or I get sick. That one of us is having to take care of both of us, the baby and the other person," she said. "And we don't know how long it's gonna be—I don't know when [my mom] is even going to be able to see the baby."
Rubenstein's new reality is the one faced by thousands of people due to give birth in the coming days, weeks, and months. Elise Batscha and her husband, too, will have less external support in the first weeks home than she initially planned; her mother-in-law, who's over 70, canceled her trip out from New Mexico. "It was really tough," Batscha said, to get that news.
However, Batscha and Rubenstein both emphasized that it was the smaller measures that made them feel calm, that gave them a small sense of control in a time when little is going as planned. After we talked, Rubenstein was going to turn off her phone and clean a window she's been meaning to clean. Meanwhile, Batscha was planning a quick and careful trip to Whole Foods. She wanted to buy a bunch of baking supplies so she could "just start making, I don't know—cakes, and cookies," she said. "Things that make me happy."