America's Nursing Homes Are Bracing for an Outbreak
As the disease caused by the coronavirus has spread in a nursing home near Seattle, other facilities around the country are implementing plans to mitigate risk.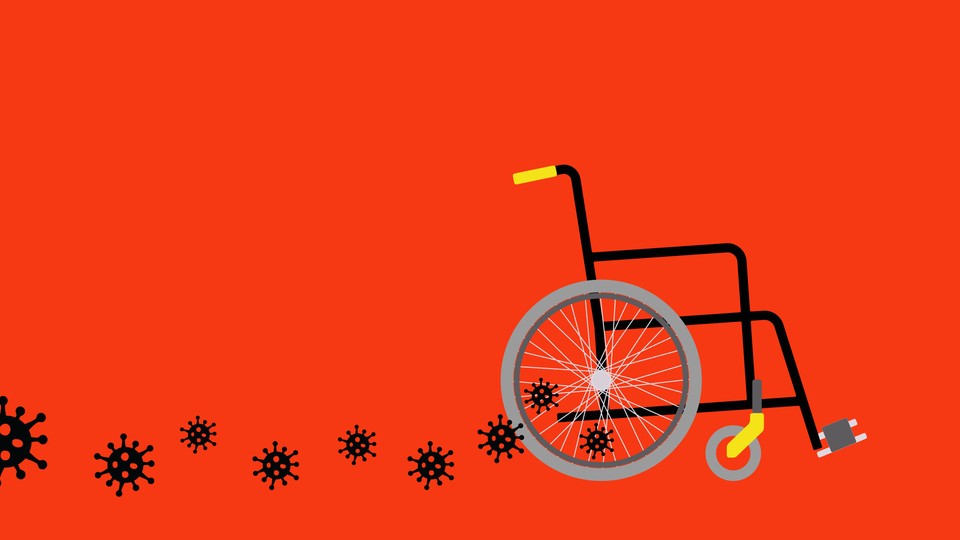 As of Wednesday, nine people in the United States had died from confirmed cases of COVID-19, the disease caused by the coronavirus. All nine of them died in the Seattle area, and seven of them lived in the same place in the suburb of Kirkland: Life Care Center, a nursing home with roughly 200 beds. Health officials have confirmed that several other people with connections to the home, including staff members and a visitor, have been infected too.
Operators of nursing homes and other long-term-care facilities around the country—which house some 5 million Americans each year—are watching the developments in Kirkland from afar, and coming up with plans to prevent the same things from happening on their premises. But that may turn out to be terribly difficult: It is hard to imagine a living arrangement more poorly suited to a COVID-19 outbreak than one in which large numbers of older people live in close proximity, eating and socializing in communal spaces.
To begin with, older people are more vulnerable to infections regardless of where they live. "As you age, your immune system is not as hearty as it was when you were younger," Robyn Gershon, a clinical professor of epidemiology at NYU's School of Global Public Health, told me. "Things that would normally help protect us—for instance, the integrity of our skin—[can be] compromised." Moreover, older people are more likely to have chronic diseases, such as diabetes, heart disease, or chronic obstructive pulmonary disease (a lung condition), which can make them more vulnerable during outbreaks as well.
We don't yet have a complete picture of how deadly COVID-19 is, but an analysis of more than 70,000 confirmed and likely cases in China published late last month in JAMA indicated that the fatality rate for confirmed cases among 70-to-79-year-olds was about 3.5 times higher than the overall fatality rate, and the rate among those 80 and up was about 6.5 times higher than the overall rate.
When older people live alongside one another, their vulnerability to infectious diseases is compounded. Gershon said nursing homes can become a "soup cauldron" of infection and transmission. This often happens with skin diseases and influenza in long-term-care settings, and COVID-19 would be no different. This outbreak aside, each year an estimated 380,000 people living in American long-term-care facilities die of an infection, including staph infections and diarrheal diseases.
It doesn't help that caregivers' jobs require them to come into close contact with many residents, while helping them get dressed, bathe, eat, and use the toilet. Many home health aides, who visit their clients at home to assist with a similar array of tasks, do their jobs with less support and access to protective equipment than caregivers at live-in facilities; a 2010 study that Gershon co-authored found that fewer than half of home health aides surveyed said they would show up to care for a client during a pandemic. And whether they visit patients or tend to them in a nursing home, care workers are not only at risk of contracting COVID-19 themselves, but also of passing it on to those they care for; many young and otherwise healthy workers might exhibit only mild symptoms if infected, and thus might think they can keep on working.
Gershon outlined some best practices for preventing the spread of disease in senior-living settings: rigorous and thorough hand-washing, the proper use of personal protective equipment (gloves, masks, gowns, and such), and "cleaning like mad—not just once a day at the end of the day, but several times during the day." And if residents exhibit concerning symptoms, they should be isolated and monitored.
These measures are applicable in any communal environment, but deploying them in a long-term-care facility comes with a unique set of obstacles. Kevin O'Neil, the chief medical officer of Affinity Living Group, told me that implementing this sort of basic but crucial regimen can be particularly challenging in "memory care, in dementia-specific facilities, because people may not understand why it's important to wash hands and wear a mask and so forth."
O'Neil is currently guiding coronavirus-preparedness planning at Affinity's 160 assisted-living facilities, which are located throughout the Southeast. "I still feel there's no need to panic," he told me when I asked him how worried he is. "At this point I don't think we need to fully disrupt our lives." So far, Affinity has, among other things, educated staff about infection-control measures and put up signs encouraging prospective visitors not to enter if they have any potential symptoms themselves.
But Gershon told me that many nursing homes—there are more than 15,000 of them in the U.S.—likely aren't prepared for an epidemic. "It's a chronic problem in those homes—not enough staffing, not enough resources, underfunded, unsupervised, undertrained staff, with very vulnerable" patients, she said.
If the virus starts to spread at a nursing home, things can get chaotic and stressful. One woman whose mother lives in Kirkland's Life Care Center told The New York Times on Monday that she hadn't been able to speak with her mother, who is 85 and has dementia, for several days. "They are prisoners with no information in there," another woman said of Life Care Center's residents, her father among them.
Other senior-living residences in the Seattle area are trying to prevent outbreaks as the tally of confirmed cases of COVID-19 continues to tick up. "What I find is that fear isn't as helpful as being calm and being prepared, so we're emphasizing keeping ourselves and our surroundings clean," says Albert Munanga, the regional director of health and wellness at Era Living, which has eight independent- and assisted-living locations in and around Seattle that house about 1,200 people in total. In addition to screening visitors for symptoms and postponing upcoming community events, Era Living has instituted routine cleaning of common surfaces throughout the day, disinfecting everything down to elevator buttons, handrails, and doorknobs.
"In a best-case scenario, things remain the same and we learn from being proactively prepared that our plan is effective," Nicole Francois, a spokesperson for Era Living, told me. In a worst-case scenario, "if there were a resident infected, then we have a plan in place to help place that resident in quarantine, and possibly off-site, out of the community."
As long-term-care facilities try to stave off an outbreak, their residents are in an awful bind: Many of them require round-the-clock care and assistance, but living in the place where they can get that necessarily increases their risk of being infected with COVID-19. Hopefully, the safety measures these places are taking will mitigate that risk, and the outbreak in Kirkland will turn out to be a blip, not an omen.