All the Cozy Little Things Keep Me Going
The sound of rain, the feel of a pencil, the routine of making the bed—the power of these things to make me feel better, even in a pandemic, shouldn't be underestimated.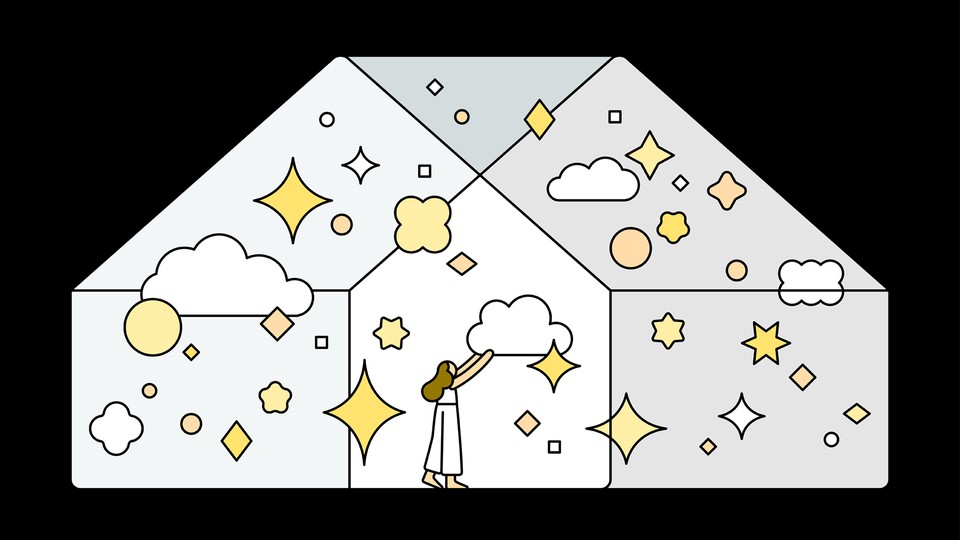 On the morning of the seventh day of our self-isolation, the first thing I said to my husband was, "I'm terrified."
"About what?" he asked.
I said, "Everything."
He said, "There's this funny thing people are doing on Twitter; they're saying what their coronavirus nicknames are. What was the last thing you ate out of the fridge?"
"An apple," I said.
"So your coronavirus nickname is Terrified Apple."
I'm a terrified apple. Even in normal times, none of us truly knows what's going to happen from one day to the next. Just because we signed up for a pottery class doesn't mean we'll actually get to glaze and fire a ceramic bowl. Just because you're a senior in high school doesn't mean you'll end up wearing a cap and gown. Certainty is an illusion; none of us ever gets to know.
Life's uncertainty feels more vivid than ever during the coronavirus pandemic. Our family is one of those "blended" families, and we've been separated in the lockdown. Our youngest kid is with my husband and me in Maine, our middle kid is on Long Island, and the oldest is in Colorado. Everyone's okay today, but we don't know when we'll next see one another face-to-face. One dog isn't eating. Our 15-year-old's spring sports season, which he was so looking forward to, has been canceled. Work I was banking on in the spring is no longer happening. My husband is home for lunch, which, though nice, is odd. Inside feels undefined and anxious; outside, the whole entire world is in crisis. It's all wonky and sad.
If you're like me, the pandemic has left you feeling lost, even as you stay in one place. Being lost in your own home—what a feeling. The question is, what will bring you back? What will help you find your way? How can you survive the disorientation and dislocation? I've heard it said that you don't want to find refuge from the storm; you want to find refuge in the storm.
Last year, I published a book called Cozy: The Art of Arranging Yourself in the World. It's about finding the truth of who you are and then arranging yourself so that you feel better—even for a moment. It's a deeper beat than what we might immediately think of as cozy—fireplaces, candles by the side of the tub. Those things can be cozy for some, but not everyone lives where it's cold, and some people think candles are a fire hazard. It's more about what makes you tick. Who do you love? Where are you from? What paths have you traveled? Coziness is in the particulars. What will be cozy for you may not be for someone else. I'm coziest on the No. 1 subway line, in a corner seat with The New York Times. Of course, I can't ride the subway anymore.
When I published the book, it felt almost foolish. Who gives a hoot about how cozy jury duty is? But I believe in this down to my toes. As flip as it may sound, coziness is something you can identify and use like a tool, even during life's darkest hours. It is precisely in these hard moments that we need to call upon our most authentic selves, and identify what makes us cozy so we can put it to work.
I'm not going to get through these days by doing puzzles or baking bread, although I have pulled out the puzzles and we are baking a lot of bread. What has sustained me during the challenging times are noticing the small parts of my life that I love. The sound of a radio dial, making the bed, a dirt road, pencils. Just the sight of a pencil is cozy, and if you look, you will see them everywhere. There is something about a pencil that says, I will help you try. If I'm feeling like a terrified apple, I could take a moment to notice the soft wood of the Ticonderoga No. 2 I'm using to underline a book. I could rub the eraser and marvel at how well it whisks away my mistake. I could let it make me think that everything is going to be okay.
Many of us are afraid that we, or someone we love, will end up in a hospital. I believe coziness can be found even in hospitals. For my book, I interviewed Ann Fink, who was a critical-care nurse for 45 years in the neurointensive-care unit at New York–Presbyterian/Columbia University hospital. She sat bedside with the most traumatized patients for much of her life. When I asked her about being cozy in a hospital, she lit up. "Of course hospitals are cozy, and ICUs are where coziness is needed most. There are a thousand ways to make someone cozy. Coziness is something you have to figure out patient to patient, and family to family."
She went on for a chapter about the multitude of ways she knew to try to make people feel okay. For Ann, arranging the many, many IVs so each one is neatly lined up and properly labeled soothed her and her patients. She found correct information cozy—explaining what the machines were doing was an important, comforting measure. Whenever I have been in a hospital, I have asked myself questions like: Is there a perfect little shelf by the bed where I could rest a cold apple juice? Can I hear an accent? I find Long Island accents soothing because they remind me of my father and husband; if I listen carefully, I can usually find one. Most people who work in hospitals wear name tags. Knowing someone's name can make you feel closer and more protected. Notice how good people are at their jobs. Watching a nurse cut a bandage or an orderly help someone shave is pretty moving. They are healers. They practice all day long. They've done these things hundreds or thousands of times, and will do them hundreds or thousands more. In the uncertainty of a pandemic, I feel cozy just being aware of the efforts made, even if we can't know outcomes.
I just looked up and saw rainwater dripping off the corner of the roof. It's raining. I will pause for a moment and remember how much I love the rain and fog. It reminds me that my people come from Scotland. That makes me think of my parents. Then I think of my children and husband, who made me laugh this morning. Then I think of my friends, who make me laugh. Then I think of all the people on the internet who post funny videos to make as many people laugh as they can. Then I feel better. It's only for a moment, but I feel better.