Why Grocery Stores Have Tiny Kid-Size Carts
Giving children their own cart teaches them about courtesy and commerce while building families' loyalty to the store.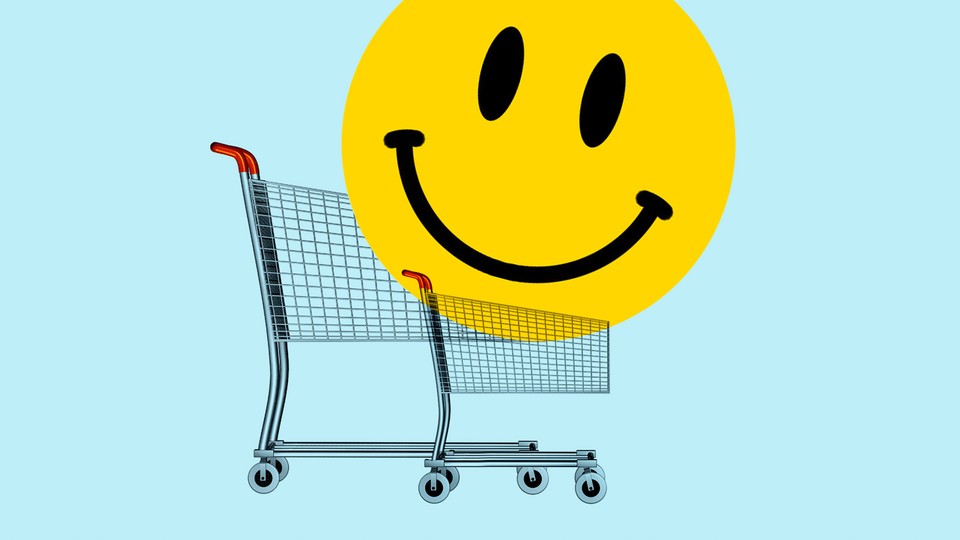 When Danielle Eskinazi's 4-year-old son gets his own small cart to push at the grocery store, he carries himself differently. "His back straightens up a little bit," she told me. "He looks around like a peacock to make sure everybody's watching [and can see that] he has a bit of independence in what he chooses to eat."
Or at least the illusion of independence. As he tools around the store, he'll often add copious amounts of junk food—chocolate, mostly—to his cart that Eskinazi, a casting director living in Santa Clarita, California, will frequently veto before the end of the shopping trip.
That doesn't stop him, and countless other children, from wanting to steer shopping carts tailored to their small frame. These mini carts, a fixture in many grocery stores in the United States and abroad, are widely adored by children and generally useful to retailers' business strategies, even if they are also occasionally irritating to the shoppers who must dodge them in the aisles.
According to Sheila Williams Ridge, who teaches early-childhood education at the University of Minnesota's Institute of Child Development, kids relish the sense of ownership that comes with pushing their own cart. "Children get to do real work and they love that," she wrote to me in an email. "They get to drive the cart independently because the grown-ups have their own. That feeling of autonomy is important for young children."
The carts also offer an education of sorts. Williams Ridge noted that pushing one around a store can teach children "important life skills" such as "making selections, negotiating, planning, [and] courtesy." It also, she added, introduces kids to the world of commerce, which is essential training for life as an American adult.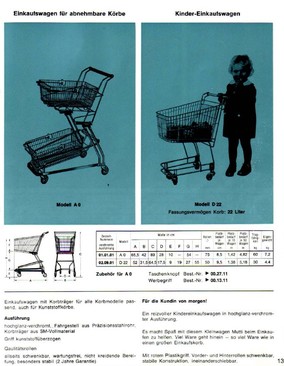 Mini carts have been teaching these lessons for more than three decades. The first shopping carts appeared in stores in the mid-1930s, after the owner of two American grocery chains observed that basket-toting customers would buy more food if they had more storage space as they navigated the store. The first child-size shopping carts followed about 35 years later, at the latest: Wanzl, a German shopping-cart manufacturer that may have been the first to produce them, told me it found an image of one in an archived product brochure from 1972. Tiny carts likely arrived in North America in the late '80s, according to Technibilt, an American manufacturer owned by Wanzl. (At Technibilt at least, child-size carts predated their also-fun cousins, shopping carts styled as cars, with front seats for kids.)
Many grocery chains now have ample stocks of these carts for young shoppers. Food Lion, a chain in the mid-Atlantic and Southeast, told me that it rolled them out in 2014 and now has about four per store, which works out to a fleet of more than 4,000 nationwide. Giant, an East Coast chain, has about 500 distributed among its 162 locations, and Albertsons, whose grocery brands include Safeway and Vons, has roughly 2,200 locations and about the same number of carts.
Meg Major, the vice president of content at the trade publication Winsight Grocery Business, says that for retailers, these carts have two main benefits: They keep kids engaged while busy parents shop, and because kids like them so much, they can encourage repeat business at a particular store. "Children have a lot to do with what goes in a household's grocery cart," Major told me. "I do think it's a loyalty builder for kids that get a vote to say, 'Let's go to Store X.'"
Indeed, Raj Singh, a parent in Silicon Valley, told me that when his son was 3 or 4, he "would enjoy going to the grocery store as much as Disneyland," and was particularly enamored with stores that had car-themed carts or, as was the case at a local Trader Joe's, child-size carts. "The net effect was that I did end up going to Trader Joe's more and that resulted in us becoming more of a Trader Joe's family," Singh said. This sort of loyalty comes pretty cheaply to stores: Technibilt told me that its kids' carts sell for about $60 apiece.
Child-size carts sometimes bring a dark energy to the aisles, though. Twitter is rife with complaints about shoppers getting blindsided by them, hit in the ankle or shin by an errant cart and its remorseless driver. "Sometimes he makes the little shopping cart like a go-kart," Eskinazi said of her son. "He tries not to ram into people, but he rams into things, and he looks at me when he does it" as if the impact were inevitable.
For at least one retailer, the minor chaos unleashed by tiny shopping carts was enough to retire them. In 2016, Target ended a test run of them at dozens of its stores after, according to Minnesota's Star Tribune, "customers vented on social media about … shopping cart collisions and meltdowns that resulted from parents not wanting to buy all of the items [kids] put in the carts." "Traffic jams in the aisles" were reportedly also an issue. "A few years ago, we briefly tested kiddie carts in our stores," a spokesperson for Target told me in an email. "Based on guest feedback and operational challenges, we did not move forward."
Williams Ridge did mention one other lesson that tiny shopping carts are good, perhaps too good, at teaching kids: "what happens if you crash into someone."