How Two Candidates Became Friends, and Ran a Joint Campaign
"Maybe there should've been some animosity, but we're both naturally not drawn to unnecessary conflict."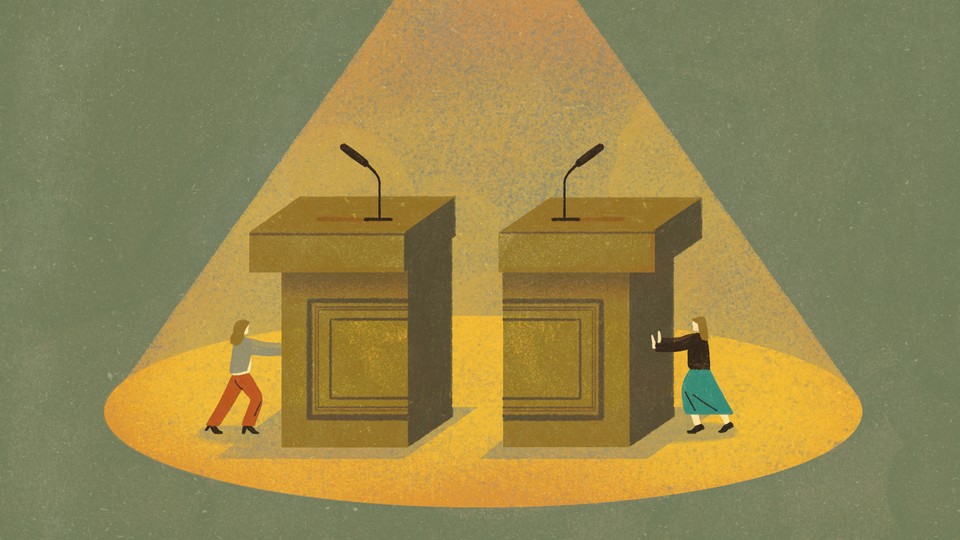 Each installment of The Friendship Files features a conversation between The Atlantic's Julie Beck and two or more friends, exploring the history and significance of their relationship.
This week she speaks with two women who were the only Democrats running for board seats in their Illinois county in 2018. A campaign that could have been a competition between them instead became a collaboration, and a friendship. The two ran all their campaign events together, and promoted themselves as joint candidates in all their literature. In the end, only one of them won, but they remained close friends—and the other is running again in 2020.
The Friends:

Ashley Selmon, 30, a commissioner on the board of DuPage County, Illinois
Zahra Suratwala, 41, an English professor at Elgin Community College, and a candidate for the board of DuPage County
This interview has been edited and condensed for clarity.
---
Julie Beck: Tell me the story of when and how you each decided to run for office.
Ashley Selmon: I was 27 when I decided to run. I've always been interested in politics, but it seemed like something I would do far off in the future. I worked for nonprofits, in fundraising. And after Donald Trump won the presidency in 2016, I thought I would [find a Democratic] campaign to work on [in 2018]. Our local incumbents that were Democrats were pretty well staffed, so I started looking at the county level. I realized our representation did not look like what I thought it should. It didn't look like me and it didn't look like Zahra. So I decided to run for county board myself.
Zahra Suratwala: My story was the opposite. I've never followed politics in any way, shape, or form. When Donald Trump won, I felt a responsibility to educate myself, do more, and be more informed. So I became more of an activist, which I did by participating in marches and things like that. All of that felt good at first, but it didn't feel like it was having really deep, lasting effects.
Then I was watching [Obama's farewell] speech, and he basically said, "If you are dissatisfied in any way, grab a clipboard, get some signatures, and just run for office." The flippancy with which he said "Run for office" was what planted a seed in my mind. I had always considered running for office something that only certain people could do. I am educated, but I don't have a background in politics, or any family connections. I started to see myself in a different light. Being intelligent, hardworking, driven, and kind can actually be the groundwork that you need to run for office, as opposed to just having been groomed to do so. That was what lit my fire.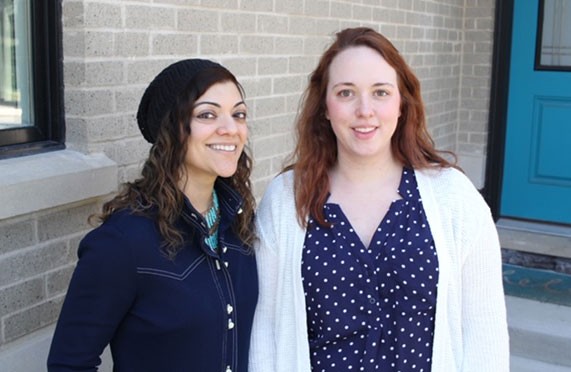 Beck: And you ended up running for the same seat on the county board?
Zahra: There were two seats opening up, so we were running for two [separate] seats. We were not in opposition with one another.
Beck: Were you the only two Democrats running for those seats?
Ashley: Yes. [When we ran] in 2018, there were two four-year terms that were up.
Beck: When did you first hear about each other, and when did you meet?
Zahra: Really early on. We met while writing petitions, which is the very beginning [of the process] when you're starting to get signatures so that you can get on the ballot. At the Democratic Party's DuPage County office, we were introduced to one another. The vibe from that first meeting was: We're both totally out of our element, but we are confident that we can do this, so how can we help each other?
Ashley: DuPage County has always been the Republican bastion in the northern part of the state. [That year] was the first time Democrats had a real opportunity to win a bunch of seats on the board, which we did. Maybe there should've been some animosity, but we're both naturally not drawn to unnecessary conflict.
Zahra: In that first meeting, we said, "Let's not spend any money on the primary, because we're going to need it all in the general." That lightened the pressure a lot.
Ashley: We got the gift of an uncontested primary, pretty much. Then we got to work together in the general, which was awesome.
Beck: In a lot of ways, you ran a collaborative campaign. How much of your respective campaigns did you run solo versus together?
Zahra: We had Facebook pages and Twitter accounts for our [individual] campaigns, and we would post on those as ourselves, but a lot of the content we were posting was stuff we were doing together. Those were the only things that were separate. Our platform was together and we made sure that we translated that onto our websites as well. Our literature was together; all of our efforts were together.
Ashley: And our yard signs. When voters went to the ballot, there were four names and they were supposed to pick two. We wanted it to be as easy as possible in the voters' heads. If they had a piece of paper with one of our names on it, it [also] had the other one's name. There were pairs of women running in other districts—who weren't working together in this way—and they all told us, "I wish I could also do this."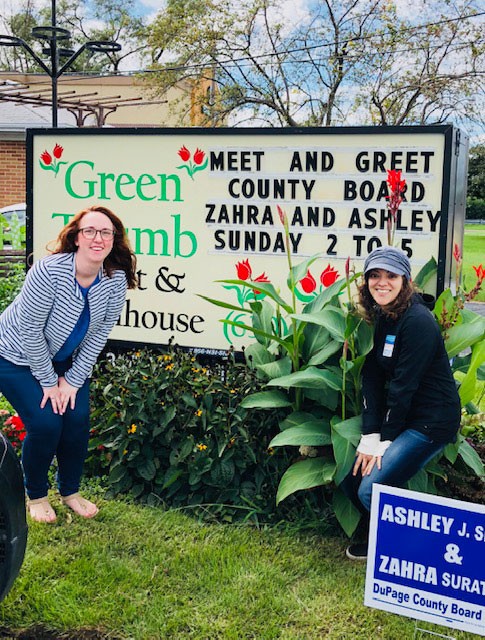 Beck: In terms of logistics like fundraising, how did you organize that together?
Ashley: We had separate fundraising accounts because that would've been an absolute nightmare. But it was a local campaign and we barely spent over 10 grand. We only held one fundraiser, and it was together.
Zahra: If anybody donated to us, we just split it 50/50.
Ashley: When we would speak at events, we usually just asked to speak together because again, we wanted everyone to know to vote for both [of us] at the same time. There were a few times when there were two events at the same time, or I had to work late, or Zahra had some other obligation. Then just one of us would go.
Beck: How did your friendship progress over the course of the election?
Zahra: We came to depend on each other a lot. We were in constant contact. I find Ashley very easy to get along with and I just understand her. We're different in some ways, but I feel we have similar values when it comes to how we treat people, and what we want for the people around us, our environment, and our county. We're two like-minded people who were thrown together [and] honestly, she made it pleasant. Things that we had to do [became] things that we got to do together.
Ashley: And we offered each other mental support. It's so helpful to vent about the crazy things that happen while you're campaigning with someone who fully understands why it's crazy. [For instance], the disrespect you might get when you're trying so hard to be pleasant—no one likes a cold call. It's such an engulfing experience that is so intense at all times. Having someone who intimately understands that, I'm so grateful for that.
Beck: What was your Election Night like? What did you do?
Zahra: We didn't go to any parties or anything. I was so anxious and nauseous that I was like, I just need to watch this at home. Ashley felt the same way.
Ashley: I could not possibly have been in public. It was a 14-month campaign and there's so much stress and anxiety that builds up in that time.
Zahra: We were, obviously, in constant text contact, just watching the numbers. Early on, I had a hunch about how it would go and that hunch [came true]. There were two seats up for election. Ashley won one of them and the incumbent won the other one. It wasn't a nail-biter until midnight or anything; it was obvious.
Beck: That's a hard thing—you ran a collaborative campaign, and were trying to get both of your names together in people's minds, but only one of you actually won. Do you have thoughts about why that didn't work out?
Zahra: I feel like this was a success because of the way we ran together, but also the way that we engaged so many people to be a part of this campaign. People were volunteering for a midterm election at the county level when they had never been involved in politics before. I feel like we made so many inroads. The fact that Ashley won is success No. 2. That's been my perspective. I had a day of disappointment, and then I just felt so good for having been part of something that important. My kids were watching and they saw how I carried out the campaign. I feel very satisfied that I fought hard for something I believe in.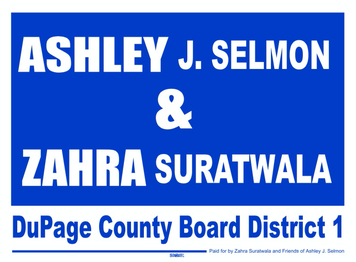 Ashley: We had numbers and we had a hunch of how it could turn out. So there was no big surprise. Sadness for sure. I still very much want Zahra to be my co-worker.
Zahra: One out of two is pretty good. As we speak, Ashley is bringing her intelligence and her perspective to the county board. This is a very good thing. I would love to join her, which is why I'm running again.
Ashley: In 2020, there's one two-year term that is up. That's what Zahra is running for now.
Beck: What's your general impression of the political social scene in your area? How interested are people in making friends?
Ashley: There are always friendships that form. I'm friends with some Democrats and some Republicans. When we ran, it was a real turning point in our county. Out of a board of 18, there were 17 Republicans and one Democrat. There was so much pressure and fear that we were going to blow this opportunity to get as many seats as possible. I don't think it was animosity; I think people were just trying so hard to make some headway on this board. But people buckle down differently, and the way we buckled down was, "How can we help each other?"
It's a hard transition for anyone to go from being an activist, which is what you are as a candidate, into leadership, which is different. It doesn't always go totally successfully. It's harder than I thought it would be, honestly. It's the weirdest job you've ever had. There are about a million people who picked your co-workers and no one can fire them for four years.
Beck: How did your friendship change once you were not running together anymore?
Ashley: We were good about recognizing that, regardless of how that night turned out, we both were exhausted and needed to just exist as humans for a little bit. We gave each other a little space and stayed in touch.
Zahra: We're not in daily contact anymore, but we're in pretty frequent contact. It's no longer the business of running a campaign, where every day we have to send 600 texts. Now all the stress is gone, all the to-dos are gone.
Beck: Is the stress coming back now for your 2020 campaign?
Zahra: Although I know that it will be busy, running again, I think I'm much more Zen about it. I've done this before. I put 1,000 percent into it and didn't win. And it's okay; no one died. But now I know how to do it even better. So I feel very determined.
Ashley and I did everything ourselves the first time around because we didn't have a team. But over the course of those 14 months, we met people. So now I have a campaign manager, and I have Ashley doing data. We have a team in place, so everything doesn't need to be on my shoulders.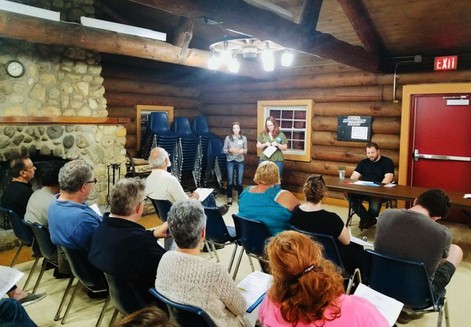 Beck: Do you think that politics would be better if it were less of an individual sport?
Ashley: Yes. Lord, yes. I think [collaboration] can work well when it's genuine. If you're just mushed together for politics, people are going to tell that you don't like each other. Zahra and I were clearly friends, and you still see us together all the time at events in our communities.
There's an online community on Facebook that is for down-ballot races like ours. And there's a lot of [posts like] "How do you handle this logistical problem?" But there's also a lot of "How are you handling home life and also running for office?" I found that an incredibly helpful resource. I think female candidates are sometimes more prone to do things like this. And we absolutely want to see more of that in government.
Zahra: I think as women we're just good at that. We know how to draw on each other's strengths. More of that could only be a good thing. [Politics] is not a solitary thing, and we're not doing it for ourselves. If you're doing it for the good of your community, then it's very far from solitary.
---
If you or someone you know should be featured on The Friendship Files, get in touch at friendshipfiles@theatlantic.com and tell us a bit about what makes the friendship unique.