How Night Nannies Fit Into Affluent Urban Family Life
Hiring overnight help allows new parents to get sleep and keep up with the demands of their job. It's also really expensive.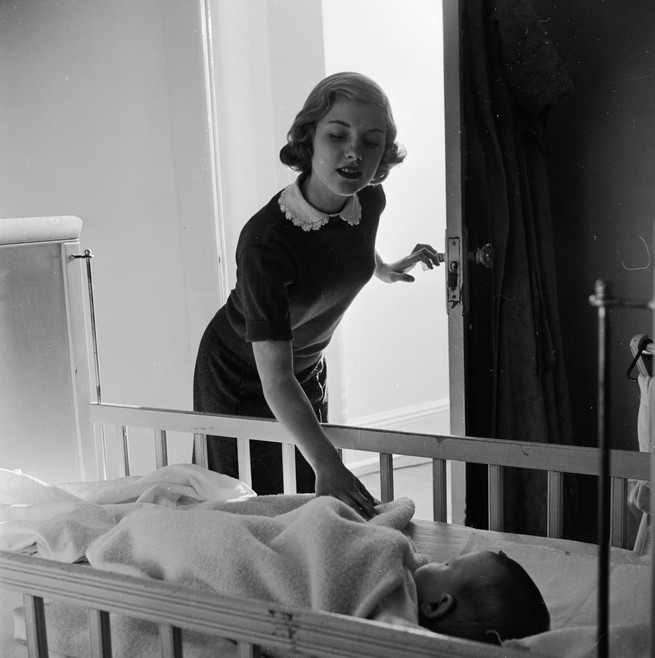 ---
This article was featured in One Story to Read Today, a newsletter in which our editors recommend a single must-read from The Atlantic, Monday through Friday. Sign up for it here.     
When Sandra Barsoum gave birth to her son, almost three years ago, she was worried. "The fear of the unknown as a first-time mom is really scary," she said. "You hear a human you created screaming." She was 39 years old when she became pregnant, having wanted to focus on her career in her 20s and 30s. Once her child was on the way, she quit her job as a city manager of West Hollywood, California, because the 13-hour days became too much.
Even though she had downshifted to a consulting role, after the baby came she was exhausted—she couldn't sleep well, anxious about deciphering the baby's cries. Her husband received no leave from his job as a financial adviser and was working New York hours in California. After she received a diagnosis of postpartum depression, she decided to hire a night nanny, who ended up staying with her family for nine months, sleeping in her son's room. "Because I couldn't think straight," she said, "having another pair of eyes was not just a comfort for me. It was security for my son, as well."
Night nannies, or night nurses, change, swaddle, soothe, and feed babies, caring for them throughout the night so their parents can get some rest. They also teach parents how to take care of infants. It isn't a new profession: "We have been around so long. As long as people are going to have babies, they are going to need us," said Josephine Chrouch, who runs the New York–based night-nurse agency Lullaby Services.
Lately, the agency's services have been in particular demand. As higher proportions of women have entered and stayed in the workforce, high-paying employers have demanded more of their workers' time and paid parental leave remains widely unavailable. Alongside these developments, night-nannying has shifted from a specialty service for the very wealthy to a source of relief for many well-paid urban professionals trying to manage their postpartum lives. (Some well-off families opt for more than just part-time help, of course, hiring live-in nannies who can provide additional care in the early months.)
Chrouch, who employs 150 nannies, told me that when she started her business, in the mid-aughts, parents would book a night nanny for a few days to grant them temporary relief from the sleep deprivation and load of postpartum care, but now it is more common for them to book for longer periods of time, such as six months—durations that reflect the needs of a dual-earner household. By hiring night nannies for longer stretches of time, couples can continue to meet their work obligations just like they did before having children. (Even though those needs don't go away after two or four or even six months, support during those early months can be crucial, especially in establishing a newborn's sleep schedule.)
These services do not come cheap. Rates vary widely, but according to Haleigh Almquist, who runs the D.C. agency Hush Hush Little Baby, they generally range from about $25 to $40 an hour nationally. (I also heard of rates as low as $18 an hour and as high as $60 an hour, and prices may still go up from there at the highest end of the market.) Parents can spend several thousand dollars a month to have a night nanny most nights, and that's on top of whatever they may be paying for child care during the day.
In dual-earner households, having overnight support helps parents during what is usually a sleep-deprived, frazzled time. One mother I spoke with, a 30-year-old third-year medical resident in New York, works 80 to 90 hours a week and spends additional time at home on research. She said her residency program didn't offer her a formal leave or guidance about designing one, and asked not to be named, fearing retribution from the program for pointing this out. She decided on a leave of eight weeks, reimbursed through short-term disability insurance, which she began the day before she was induced into labor, so she wouldn't have to be on her feet and taking part in a surgery that day. Her husband, meanwhile, took only a week off. (He received his normal pay, which he negotiated with his boss.) He had a travel-heavy work schedule for his job in finance, so the couple decided to hire a full-time nanny, whom they still employ.
It costs them more than $8,000 a month. "We were lucky we had the resources," the mother told me. "I think it's hard because the whole problem with residency is it's at a time you are most fertile." She and her husband, like many other couples, were planning care around the fact that neither parent's employer had a formal parental-leave policy.
Joya Misra, a professor of sociology and public policy at the University of Massachusetts at Amherst, told me that having a night nanny reinforces "the notion of the ideal worker as completely unencumbered from care responsibility." She described the 1950s conception of a worker as a man with regular hours and a wife at home. "He worked a full day but was still expected to go home at 5 … Now we have this whole different idea of being on all the time," she said.
"Instead of workplaces or public policy adjusting, women have adjusted by hiring another woman," said Amy Armenia, a sociologist at Rollins College, likening hiring a night nanny to hiring an additional (female) spouse. She said she thinks that families would feel less of a need for this help if there were federal policies in place for long-term paid parental leave as well as more postpartum support for mothers and babies.
Another economic pattern shapes demand for night nannies: The most educated parents are often pulled toward big cities, where many lucrative jobs are—and at the same time pulled away from where their own parents live. Without grandparents nearby, it's harder to raise a child. "A lot of our families are dual-income families that are transplants to the area," said Almquist, the D.C.-agency manager. "They have very little, if any, family in town to assist, and very little maternity and paternity leave."
Others I spoke with thought that, labor-market dynamics aside, affluent families' reliance on night nannies reflected the rise of perfectionist parenting—like Sandra Barsoum, many of the mothers I interviewed expressed anxiety about not knowing how to be a mother. "There's the internet, there's the doctor, the friends, your mother, your grandmother," said Jan Foote, a night nanny on the West Coast who works mainly with clients in the tech and entertainment industries. "They are getting so much conflicting information and there's a lot of social pressure" to raise children in the "right" way.
Today's parenting standards are "fear based," said Caitlyn Collins, a sociologist at Washington University in St. Louis and the author of Making Motherhood Work: How Women Manage Careers and Caregiving. "If the standards for mothering are super high, one way you demonstrate you are meeting them is [by] hiring a professional to help," Collins told me. "It tells us a lot about the cultural moment we are in, with the pressures put on parents but lack of support to allow parents to do that caregiving themselves."
All of the nannies I spoke with said they like their jobs. In general, they love babies and helping families. But it is difficult work. Foote said that when she started doing it, she worked as a live-in nanny during the day and as a night nanny at night, commuting back and forth between the two jobs and stealing bits of sleep when she could. Now in her 60s, she has spent most of her working life without health insurance and doesn't currently have an apartment, preferring instead to live with her children in between long, demanding gigs working for families who bring her along when they travel. "It's a very lonely career," she told me. "If you are a night worker, who do you talk to?"
Night nannies help parents sleep at night, but this means they do not sleep much at night themselves. Many of them keep up these hours for years, often away from their own families or in addition to their own caregiving responsibilities at home. Pat Bey, a night nanny working in Philadelphia, said that sometimes the transition from work to home is hard, and often she can't fall asleep right away during daylight hours. "If the streets are noisy, I'll drink some Sleepytime tea," she told me. (She does periodically close her eyes while on the job, as long as the baby she's watching is asleep.)
It is a very intimate job. Foote said she often takes infants to classes and appointments and gets to know their grandparents and other extended-family members if they are nearby. While she strives to maintain boundaries by eating meals on her own, this is hard to do when she's traveling with a family. She told me she cries along with the mothers when she leaves each job.
This closeness is often the product of a grueling schedule. According to a 2012 study from the nonprofit National Domestic Workers Alliance (NDWA), 25 percent of live-in (and thus round-the-clock) workers had responsibilities that prevented them from getting even five hours of uninterrupted sleep a day.
The NDWA report also found that live-in help is especially vulnerable to physical and emotional abuse. The night nannies I spoke with—some of whom don't live in their employer's home but nonetheless face similar dynamics on the job—said they had never been hurt or touched inappropriately by their employers. Many of them have, however, experienced unpleasantness on the job, including, in the case of one nanny, being fired for using the bathroom and showering halfway through a 24-hour shift.
Families pay steep rates to hire night nannies, but nannies usually give up a chunk of earnings to their agencies, and what they do receive has to cover living costs in what are usually expensive cities. On top of that, their work schedules can be erratic. Nannies may have a client who only needs them for a few nights, or may not have any work for months. While it's rare for jobs to end abruptly, some do.
"The math on care almost never works out" for employers, families, and nannies, said Armenia, the sociologist. Night nannies for working parents, she said, are a surface-level fix for the deeper problems of unaffordable child care and unsupportive employers and government policies. Most people can't afford to pay their way out of those problems.