Confessions of a Jewish Santa
They wanted dinosaurs and fire trucks, American Girl dolls and Uggs, and they wanted their grandma to get healthy.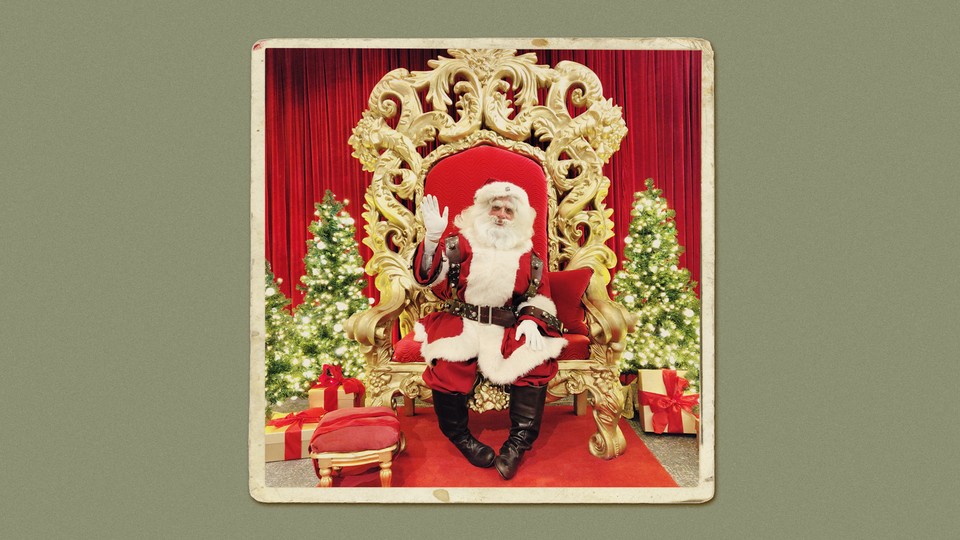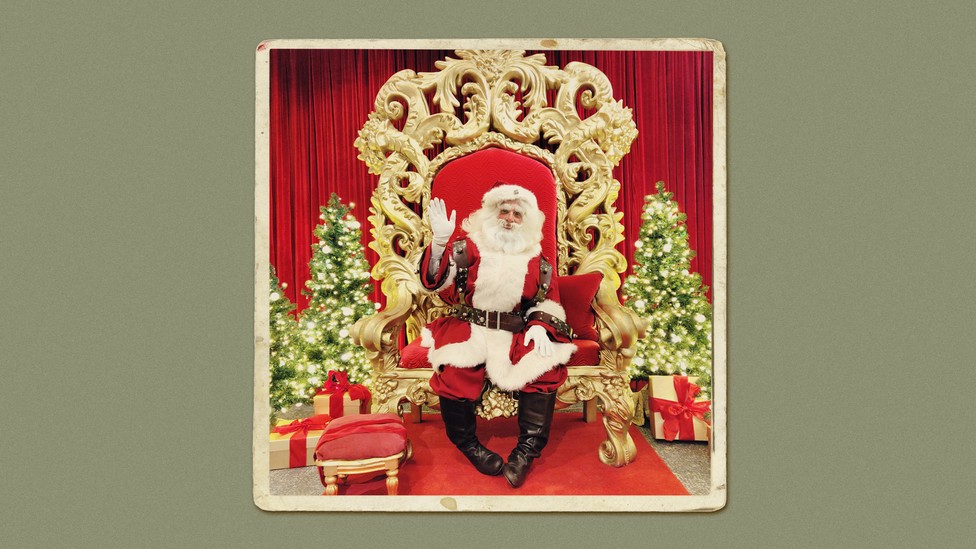 Jewish Santa really wanted to adjust his wig. The stomach padding, shoulder pads, and heavy jacket were tolerable. The baggy red overalls underneath, downright comfortable. But the wig itched. A lot. It barely covered his brown Jew fro, and he couldn't risk scratching and revealing his hair. Well, he could, but he wouldn't. Jewish Santa wanted people to believe. He wanted everyone to have some of Santa's magic.
Jewish Santa was raised lighting candles for eight days at this time of year, and he had little firsthand experience with the opposing team's mascot. His only time on Santa's lap was at age 23 in a Memphis mall; he asked Santa what to look for in a wife, and Santa recommended a churchgoing woman. But now he was putting on the outfit for more than 20 hours a week in a well-known downtown department store on the West Coast, earning $22 an hour. (Santas received $24 an hour if the beard was real.) It was Jewish Santa's first year, and he was sharing the chair with some men who had donned the Santa cap for decades. He received little formal instruction from his manager. Just one important note: no asking if a kid has been naughty or nice. The store no longer felt guilt and punishment belonged in the Santa visit. Jewish Santa, himself a lapsed believer, liked this change. After a few days of trial and error, he settled on opening his visits with "Dear child, what do you want for Christmas?"
They wanted L.O.L Surprise Dolls and stuffed animals. They wanted Legos and Barbies, Big Wheels and Hot Wheels. They wanted dinosaurs and fire trucks, American Girl dolls and Uggs, and they wanted their grandma to get healthy. They wanted planes and cars and promised Jewish Santa they had a license to drive even when they didn't look a day over 6. One young girl wanted a diamond. Jewish Santa asked her if it could be a small diamond or did she need something larger? She was okay with a small diamond, and Jewish Santa praised her flexibility. She warned, "Just don't tell my parents."
They wanted Nintendo Switches and X-Boxes, roller skates and scooters. They wanted PJ Masks and baby dolls, Buzz Lightyears and Elsas. Jewish Santa told them he also loved Toy Story, that some nights after dinner, he and Mrs. Claus retire to the parlor to light a Yule log, drink eggnog, and watch it together.
They wanted iPhones and iPads, computers and Airpods. Jewish Santa told them that gifts like electronics need everyone in the house to be on board, and if everyone is, it might happen. He would see relieved parents in the corner of his eye nodding in agreement with Santa's policy. Jewish Santa always asked what else they wanted if they couldn't have a phone.
One grandfather wanted a Winchester, and another older gentleman wanted an AR-15. But it was a kid who wanted a bazooka. Jewish Santa double-checked, and yes, it was the real thing the boy wanted. Jewish Santa told him not to get his hopes up—it's hard enough to transport weapons across state lines, let alone international borders.
At first, Jewish Santa couldn't quite figure out what kind of accent to use with people. He wanted to sound warm and paternal. He started off sounding like Kramer's imitation of Moviefone on Seinfeld, and ended up choosing Daniel Day Lewis in There Will Be Blood for vocal inspiration. Jewish Santa watched YouTube clips of the film at night to improve his accent.
Jewish Santa enjoyed greeting all types of visitors, the young in age and the young at heart. One parent walked over with her son, who was no longer a child, and she shared with Jewish Santa that this guest was special. The visitor divulged the presents he wanted, and he handed Jewish Santa a bell for his sleigh, a gift that Jewish Santa said would go on Prancer's collar as soon as he went up to the department-store roof to fly home. Afterward, when the man's mother walked over to help her child up, she told Jewish Santa, eyes watering, that he didn't realize how important this was for her son.
Sometimes adults visited Santa without children in tow. Young couples, softball teams, and workplace colleagues. Jewish Santa discovered that adults almost always smile when you call them "Dear child." Given the opportunity, they played along. They wanted vacation time, good health, and world peace. They wanted to have their bills paid, to be able to afford a home, and to get their visa renewed. One person wanted to land a flight-attendant job with Emirates Air, and more than a few wanted their student loans taken care of. Several wanted the president impeached and removed. One woman looked at another and told Jewish Santa, "I want for her family to like me."
There was a Cheesecake Factory one floor up from the Santas' throne, where they could use the bathroom, and where, occasionally, their visitors had just eaten. On weekday afternoons, Jewish Santa usually got at least one gaggle of women, typically in their 40s and 50s, who had dined—and drunk—in the restaurant above. They flirted with Jewish Santa and asked to sit in his lap. He obliged and told them that "sometimes the naughty list is the right one to be on." Some of them wanted a new man, or a ring, and they often kissed Jewish Santa on the cheek. Once, while an elf handled a technical issue with the camera, someone kept her lips on him for more than a minute. The kiss was tolerated (if excessive), and truth be told, Jewish Santa considered it far less of a consent violation than the way he pinned to his lap the bodies of scores of crying children while their laughing parents stood just feet away. Two days into the job, he realized that if you place your arm across kids' bodies for the photo, you can subtly restrain their arms so their hands don't get in their face as they struggle. Jewish Santa found it troubling and strange that so many parents wanted a photo of their child screaming in Santa's arms.
Their parents wanted them all to sit for the photo. Even the older kids. Teenagers wanted clothes and cash, gift cards and cleats. They wanted good grades because now it's high school and it counts, and they wanted a free ride to college. Sometimes, they wanted most of all to get away from Santa.
Some kids excitedly jumped in place once they got to the front of the line. They exploded with anticipation. They would run wide-eyed right up to Jewish Santa and gave him a big hug before whispering in his ear. One young girl told him that she heard him visit her house the year before. He responded that hoped he hadn't scared her, and she assured him that it had been so exciting.
Jewish Santa ended many visits by asking kids to tell him their favorite cookie, and he'd request that they leave that type of cookie for him when he visited. The children wanted him to know that they'd already baked him homemade cookies and gingerbread, that they were soon to make tamales and brownies. Jewish Santa apologized that the reindeer were picky eaters and stuck to carrots. He'd remind kids of the old saying "You can lead a reindeer to cookies, but you can't make him eat."
Still other children relished the opportunity to see Santa so they could confront him with their growing doubts. One girl curtly told Jewish Santa that his eyebrows were fake. Another girl walked right up to Jewish Santa, looked him in the eye, and said, "I have a lot of questions for you." She wanted to know if reindeer are able to fly because of their horns or their bells (neither, Santa explained; it's more of a balance thing in the legs) and how many elves there are (5,782). Yet another girl became suspicious when Jewish Santa asked her name—doesn't Santa know everyone's name?
They gave Jewish Santa their art and their handmade ornaments. They wanted him to have their marker-made rainbows and their felt red reindeer. He'd promise that he would show their art to Mrs. Claus, as she just loved to see what the children made, and that he'd put it up on the fridge to look at it the next day while eating his morning Grape-Nuts.
They approached Jewish Santa with lists. He was handed illiterate scrawl from the hands of 3-year-olds, and four-sided letters adorned with stickers, cut-out photos, and impeccable penmanship from kids in the double digits. One girl handed him an especially long list that ended, "I am greety." Her older brother offered a slightly smaller yet still ambitious list ending with "I am not greede." Jewish Santa always told the children that he wanted to make sure he wouldn't misplace their lists, so he slipped the pages into his boots. At the end of his shift, Jewish Santa would take off his shoes and pour the folded dreams and wishes of the kids onto the tiled floor. He saved them to bring home and put under the Christmas tree he had bought that year, his first ever.