'Satellite Babies' Are Raised Abroad, Then Return to the U.S.—And Their Parents
With child care hard to come by, some immigrant parents send their newborns to East Asia to live with relatives.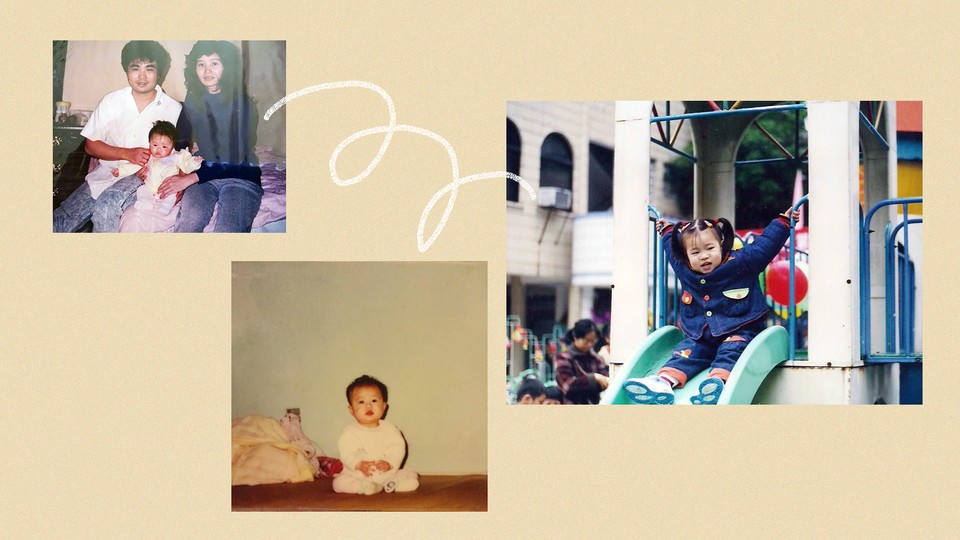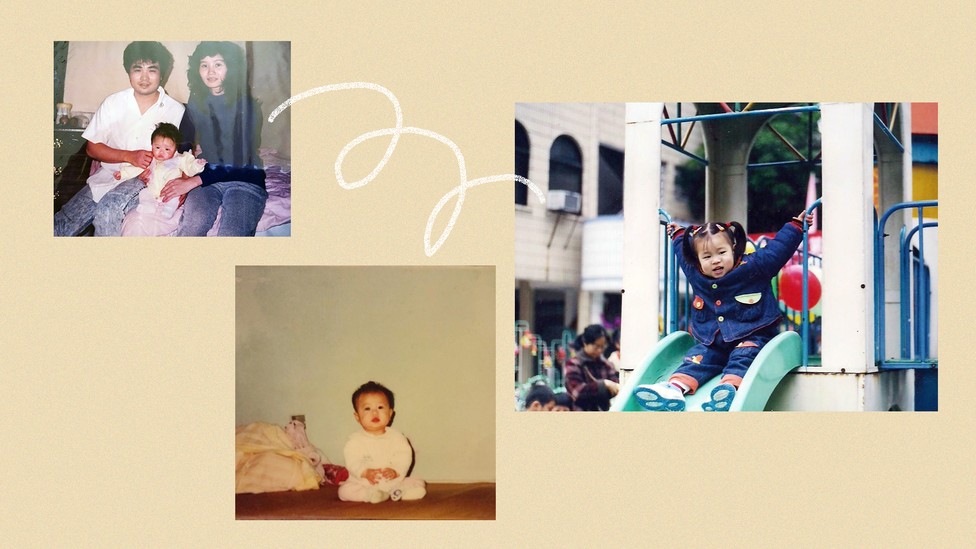 When Misty Ouyang returned to her parents' home in the United States as a toddler, she'd forgotten who her mom was. Ouyang, now a 21-year-old college student in Boston, spent the first four years of her life with extended family in Fuzhou, China. "I remember when my grandma told me I was going back to the United States, I didn't understand why and was very scared," she recalls. "I didn't want to get on the plane. I just kept crying."
Her great aunt, who was her primary caregiver in Fuzhou, moved in with her and her parents—who were then working at a restaurant in New York—for a few months to help with the transition. Ouyang started preschool without any knowledge of the English language and constantly felt like she was behind her peers. "On my first day of school, I went to the bathroom and just stayed inside," she told me. "I remember teachers trying to coax me to come out. Maybe I was afraid of the language barrier, and that I might be separated [from my family] again."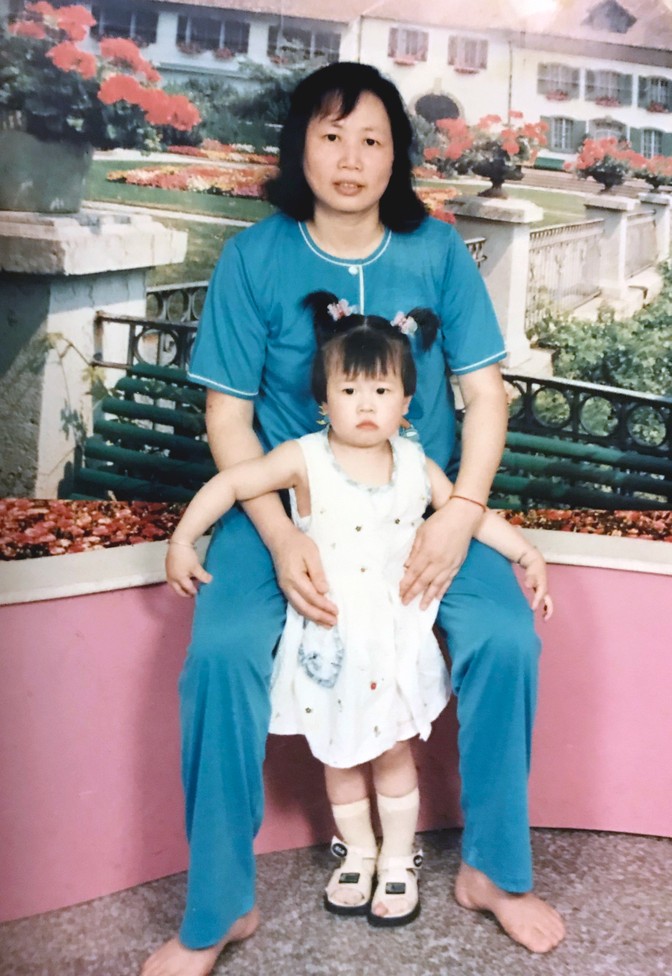 In time, Ouyang developed a good relationship with her parents, which continues today. But her experience of being separated from them for years and then reuniting when school-age is not unusual. For more than two decades, it's been fairly common for some Chinese-immigrant parents to send their American-born infants to China, often because child care is so expensive, as well as hard to arrange when recently immigrated parents are working long hours and without networks of friends and family to lean on. At a certain point, it's easier for relatives to temporarily raise these kids—sometimes called "satellite babies"—while their parents stay in the U.S. to study and/or work.
Tina Yeung, a 30-year-old speech pathologist in Queens, New York, spent her first eight months of life in Philadelphia, before her parents flew her to their hometown in Hong Kong. They decided to do so after an armed robbery occurred at the restaurant where they worked as servers—and where, at the time, Yeung was in a crib in a back room.
"If they had help caring for me in the U.S., they wouldn't have sent me back," Yeung told me. "It was a very difficult decision, and I always understood that." Years later, she recognizes the benefits of her time abroad. "Had I grown up in Philadelphia, stuck in the back of that restaurant, I don't think that developmentally I would have been where I was as a 3-year-old in Hong Kong," she said.
Families of all ethnic groups have long been separated as a result of migration, but these satellite separations in Chinese American families have several distinctive features, according to Leslie Wang, a sociologist at the University of Massachusetts at Boston. Chinese American parents tend to send their children to their home country at a tender age—as early as two months old—thinking that it will minimize ill effects if the children aren't old enough to understand what's going on.
Wang also found that sending young ones back can please older generations. "It's like an unwritten generational responsibility for the children to be taken care of by their grandparents," she told me, noting that when grandparents live nearby, parents often rely on them for help with child care.
A 2009 study of 219 pregnant Chinese women in New York found that 57 percent of them were strongly considering sending their newborns to China; within that group, three-quarters said they intended to bring their children back once they turned 4. And 10 years earlier, The New York Times reported that 10 to 20 percent of the 1,500 babies born at New York's Chinatown Health Center in 1998 were sent to China. (There's no publicly available data on how common this practice is now, in New York or nationwide.)
Sending a child abroad can be hard on both parents and kids. Chih-Ling Cheng, a mental-health counselor who works with children from low-income families in New York, says that some children who spend their early years apart from their parents experience culture shock when they return to the United States. "Being in a completely new environment where people around you speak a completely new language can be quite traumatic," Cheng told me. "Sometimes the child could also have been spoiled and pampered by his grandparents, leading to issues adapting to a different parenting style."
Kenny Kwong, a social-work professor at Touro College in New York who has interviewed many Chinese-immigrant families, says that the parents, understandably, have mixed feelings. "Some regret sending their infants to China," he told me. "Some feel overwhelmed, as they did not expect reunification with their children to be so tough."
Researchers acknowledge that parent-infant separations such as these can take a toll on relationships; some have found that children of immigrants who spend significant time apart from their parents can go on to suffer from behavioral problems and low self-esteem. (These studies looked at separations over a variety of time periods, from less than three months to more than three years.) However, there has yet to be a conclusive study of the long-term well-being of satellite babies. Kwong argued that generalizing about such outcomes is unfair: "While I have seen adjustment problems due to this practice, it may not occur in all these families. And where they occur, there are other factors that play a part," such as how parents maintain communication with their children while apart, how old the kids are at the time, and the children's personalities.
Some parents' goal in sending their children overseas is to acquaint them with the culture of their home country. Most, however, see it as a difficult but necessary logistical choice. Ouyang Dachun, Misty Ouyang's dad, lamented to me in Mandarin: "If I had the means to take care of my kids, I wouldn't have sent them back. Who in their right mind would delight to be separated from their flesh and blood?"
Tina Yeung's father, Yang Zhu Yao, provided a similar rationale when explaining his decision to send her to Hong Kong as an infant. "The neighborhood we lived in wasn't very safe. We were new to the country, couldn't speak English, and didn't know the ropes to applying for child care," he told me in Mandarin.
Yang and his wife were also keen on having Yeung spend her earliest years in their homeland so that she could be immersed in Chinese culture and values. During the three years they were apart, they kept in touch via weekly calls, and Yang and his wife each made a visit to Hong Kong.
Many kids, though, don't understand the reasons they're being separated from their parents. "I don't remember them explaining it to me at that time, and I never thought of it as any different [from how my classmates were raised]," Misty Ouyang said. "I only figured out as I grew older." The same was true for most of the former satellite babies Wang, the sociologist, interviewed; even in adulthood, few spoke openly with their parents about the experience.
Parents across the U.S. struggle to find affordable child care, but the search is especially challenging for immigrant parents who are new to the country, have little in the way of support from friends or family, and might want their child-care provider to be familiar with Chinese language and culture, narrowing the pool of possible candidates.
Yoyo Yau, the programs director at the Boston Chinatown Neighborhood Center, says that the long wait lists for subsidized child care in certain cities have prompted many immigrant parents to opt for the transnational option instead. A 2008 report from the Coalition for Asian American Children and Families, an advocacy group, noted that many immigrant parents were afraid that applying for subsidized child care would label them as "burdens on the government" and jeopardize their immigration status. The report added, "In all cases, the forms to fill out are not translated at all or into enough languages, often stopping the eligibility process before it has a chance to begin."
Some of the researchers I talked with expressed concern that when the satellite-baby phenomenon gets media attention, the coverage sometimes emphasizes the practice's allegedly damaging consequences. These immigrant parents can, perhaps unintentionally, be portrayed as uncaring or, arguably, un-American—the antithesis of the ever present, emotionally responsive guardians that have become the standard in the U.S. But Wang pointed out that plenty of American parents consider shipping their kids off to boarding school perfectly fine, so criticizing satellite parenting represents something of a double standard.
The practice is better thought of as something done out of necessity. "It's easy to assume that [the parents] don't care, and people who are not familiar with Asian cultures may be a bit judgmental of this practice," says Andy Yung, a pre-K teacher in Queens who has a handful of students who were brought up as satellite babies. "But we need to view it from a position of empathy and compassion."
Yeung's and Ouyang's fathers still feel some regret about missing out on their daughters' earliest years, but stand by the choice they made. "When we think back on these times, we can't help but feel like we have let Tina down a little," Yang said. "However, even if we'd kept her by our side, we couldn't have cared well for her, given our circumstances then."