Across-the-Aisle Friendships: Now Up for Debate
Asked whether personal relationships can transcend politics, few Democratic candidates gave insightful answers.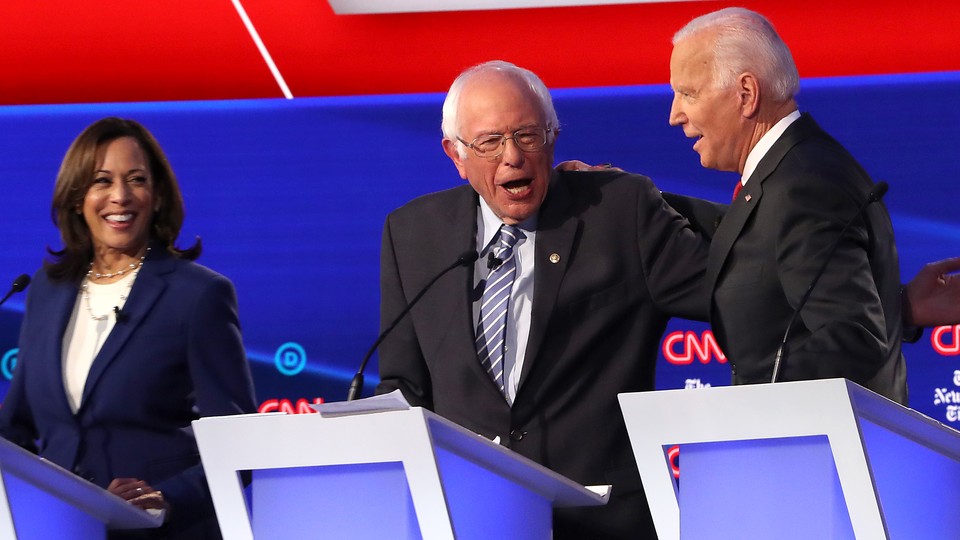 Last year, my colleague Spencer Kornhaber wrote that the then-budding romance between the singer Grimes and the tech billionaire Elon Musk was the exception that proved a weird new rule: Bipartisan romances are a thing of the past now. The public's strong reaction to the pairing between the self-described "anti-imperialist" musician and Musk, who was briefly on two Trump White House advisory committees, showed, Kornhaber wrote, that "the celebrity realm is, as with all shifting norms, a place where the increasingly urgent questions around guilt by association are being tested, crudely."
Last week, the comedian Ellen DeGeneres (who is married to another woman and has been outspoken on LGBTQ issues for decades) fatefully went to a football game with George W. Bush (who pushed for a constitutional ban on same-sex marriage during his presidency). In so doing, she sparked a controversy that raised a similar question about the fate of mixed-ideology friendships in the era of Trump—which have also become less common in recent years.  And last night, 12 presidential candidates grappled with that question on the Democratic debate stage.
"Last week, Ellen DeGeneres was criticized after she and former president George W. Bush were seen laughing together at a football game. Ellen defended their friendship, saying, 'We're all different, and I think that we've forgotten that that's okay,'" the moderator Anderson Cooper told candidates as the debate wound down. Which launched him into the final question: "So in that spirit, we'd like you to tell us about a friendship that you've had that would surprise us and what impact it's had on you and your beliefs."
A televised debate moderator asking presidential candidates to reassure the American viewing public that it's okay to hang out with people of different beliefs is certainly revealing: The country is so divided along political party lines that whether friendship can or should transcend politics is literally up for debate. Unfortunately, the question didn't yield as many insights as viewers or moderators might have hoped: While a few candidates spoke obliquely about friendships with unnamed people they'd met in their past or on the campaign trail (and several took the time as an opportunity to talk about … their websites?), most of the candidates named as their "surprising friends" people who also worked in Congress—in other words, people with whom they share the exact same job.
To be sure, it's handy to be able to trot out fond memories of a political figure whose name is recognizable enough to work as a shorthand for a particular set of beliefs. And indeed, three candidates, a full quarter of the field, named the late Republican senator John McCain as their most surprising friend. Joe Biden recalled a touching exchange from just before McCain's death. Bernie Sanders recounted how he and McCain worked together to get $5 billion in funding for the Veterans Affairs department. Amy Klobuchar remembered how, when they traveled internationally together, McCain would subtly remind foreign leaders who were tuning Klobuchar out that she deserved their attention.
Other politicians entered the mix, too: Cory Booker recalled with a laugh the time that he, a vegan, and Ted Cruz, "a meat-eating Texan," had to rise to the challenge of finding a meal they could both enjoy; Kamala Harris shared a fond memory of working with Rand Paul on a piece of bail-reform legislation; Tulsi Gabbard said that she and Trey Gowdy, who as recently as last week was in talks to join President Donald Trump's legal team, "disagree a lot and very strongly on a lot of political issues," but "we've developed a friendship that's based on respect, and he's been there for me during some personally challenging times." Beto O'Rourke told the story of how he and Will Hurd, a Republican congressman from Texas, ended up driving 1,600 miles to Washington together after their flight was canceled. ("We live-streamed the conversation," he added. "A Republican and Democrat, finding out what we had in common.")
Arguably the most compelling answers to the moderators' question, though, came from the candidates whose answers spoke to the fragile, somewhat fractured state of friendship in the United States in 2019. A confluence of factors—like social media, smartphones, less everyday interaction with strangers, and the abandonment of community institutions like churches—have all contributed to creating an America in which people are more isolated than they were in generations past, and Pete Buttigieg's response addressed the issue directly.
First, Buttigieg noted that the people he'd learned the most from were friends he'd made in the military: "People who were radically different from me—different generation, different race, different politics—and we learned to trust each other with our lives," he said. That experience, Buttigieg added, can create precisely the kind of sense of belonging that he believes is missing from many American communities. "The fact that I want every American to have that experience without going to war to get there is one of the reasons national service is so important," he said. "I think we have a crisis of belonging in this country that is helping to explain so many of our problems from politics being what it is to the fact that people are self-medicating and seeing a rise in the death from despair."
While it may have been frustrating to some viewers to see the last question of the debate address friendship rather than, say, a larger and more substantive issue like climate change or immigration—Julian Castro expressed precisely such a frustration on Twitter post-debate—the question speaks to a new everyday reality in which whether personal relationships can transcend political values is a genuine question. And while several of the Democratic candidates gave answers that surprised only mildly or failed to surprise at all, it was Castro himself who took the opportunity to both address the political polarization that has alienated friends and family members from one another in recent years and insightfully critique the premise upon which the question was predicated—the controversy over the Bush-DeGeneres friendship. According to Castro, friendships can certainly transcend political beliefs, but they shouldn't paper over them entirely.
Over the years, Castro began, people he had gotten to know who were different from him—who had grown up in different socioeconomic circumstances, or different decades or eras—had taught him the most. But while kindness to people with differing beliefs or traditions is important and admirable, "I also believe that we should hold people to account for what they've done, especially public servants who have a record of having done something or not done something," he added.
Castro insisted that Americans could "do both of those things"—be kind to people, but also hold them to a certain standard. "We shouldn't be made to feel shameful," he said, "about holding people accountable for what they've done."