I Used to Clean Houses. Then I Hired a Maid.
I know how grueling the job can be, and I swore I'd never ask someone to do it for me. But then I found myself in need of help.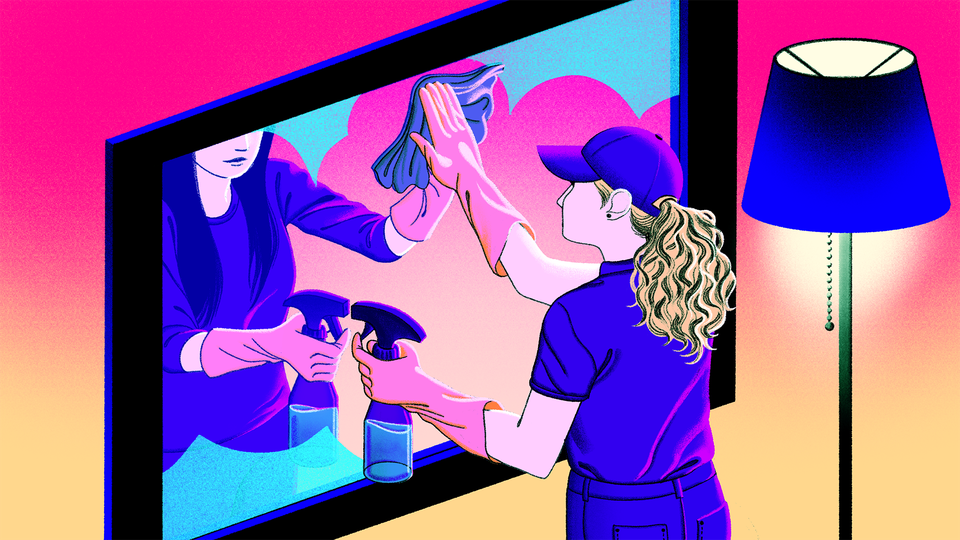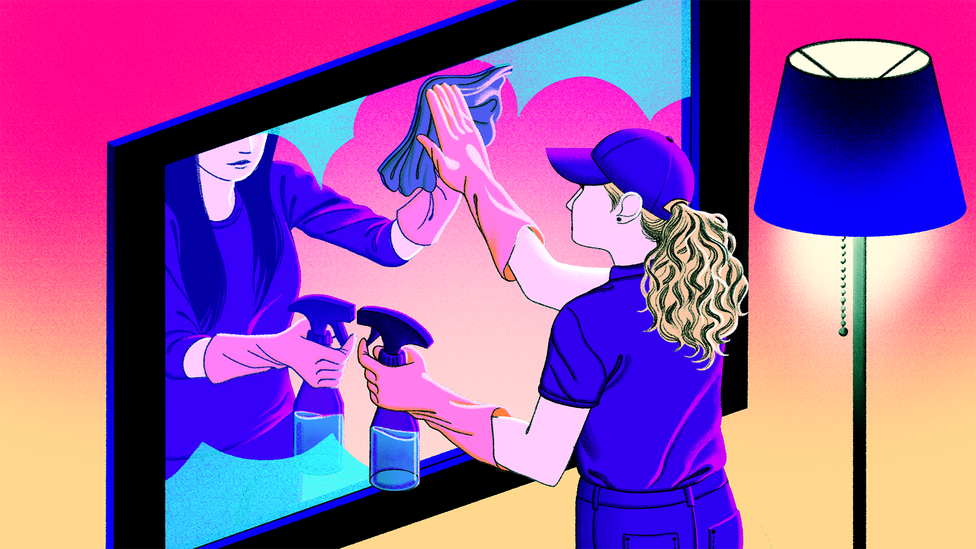 Exactly one month before we got married, my fiancé and I made the final steps in combining our families. We were both full-time single parents—his kids 18 and 14, mine 12 and 5, with some dogs, fish, and a tortoise—moving into a house I described to acquaintances as "too big to clean" and to my close friends as, somewhat fondly, "a shithole."
"It's worse than any house I've ever had to clean," I told one friend. As someone who'd just published a whole memoir about cleaning houses, this description spoke to the level of grime, dust, grease, and dog urine throughout. "I can't walk around in bare feet," I said. "I'm going to have to deep-clean the place from top to bottom."
In interviews leading up to, during, and after the publication of my memoir, Maid: Hard Work, Low Pay, and a Mother's Will to Survive, I was asked repeatedly whether I'd ever hire a housecleaner myself. "No," I said, almost with my nose in the air. "I don't want to live in a house that's too big for me to clean myself." A few times I laughed and said I'd never be able to afford a housecleaner because I'd tip so much, leaving $20 bills scattered about the house: one on the back of the toilet, one in the grimy bathtub, at least two in my kids' bathroom. One reporter joked along with me, and then my eyes dropped down as I remembered the feeling of kneeling in front of a stranger's toilet, and I said, "I could never ask someone to do that job."
After months of searching, though, this huge house was the only one both available and big enough where the landlord actually returned our messages. We would make it ours, right? Our first home together. Besides, love is a rose-colored lens onto the world—including half a decade's worth of grime covering every bare surface.
On moving day, I made trips up the stairs, hauling shelves and boxes of books. Boxes containing jars of rocks. Somewhere inside me, I knew the ridiculousness of moving piles of rocks, so I stubbornly hauled them up the steep stairs myself. By the end of the day, I had the box resting on my left thigh, my leg doing the work to get it up the stairs. I knew this wasn't good for me to do. I knew I wasn't supposed to be doing this. Years of pain, chiropractors, massage practitioners, and physical therapists for my scoliosis had taught me that.
Those with back pain might understand the sordid pop that happens at an unexpected time. Make one tiny movement, and there's a pop and a deep ball of dread in your gut. Mine happened that night, while lifting the 5-year-old into her bed. By the time I lay down again, the numbness had begun. The lightning bolts of spasms. I immediately knew this was going to be bad.
Our first morning in our new house together, we all got to work unpacking and cleaning. I set out to deep-clean the kitchen—something I always do when moving into a new house—and a muscle in my back wouldn't let me. I tried kneeling, sitting, anything to get the layer of sticky black grime off the front of the cabinets and the floor, and no position was comfortable. Grabbing onto a stool to stand, I leaned a hip into the counter and typed "Housecleaner Missoula Montana" into the search bar of my phone's internet browser.
My shoulders drooped; I would have sunk to the floor in complete defeat if it weren't speckled with black grease and dust. At first, a bunch of companies popped up, and I scrolled quickly past them. Cleaning companies often pay their employees less than a living wage and offer no sick days or health insurance. My years of working for them still made me grimace every time I saw a little yellow car with "Merry Maids" written on the side. I tried "Housekeeper" instead and found a few sole proprietors. Reviews were varied, and I sighed again. Then I saw one with five stars, and a good number of reviews. Then, "Michelle's a single mom …"
I called and left a voicemail immediately.
When she called me back that night, she sounded tired, but relieved. I'd told her in my message that I needed help as soon as possible in moving into a house. I said whatever hours she could do were fine, even if she had to split them up.
"I had a client cancel her deep clean tomorrow afternoon, so this works out really good," she said.
I told her I was glad, and said I'd text her the address after we hung up. She said she'd be there after her first house the next morning, sometime around 1, and I said that would be great.
"How much do you usually charge?" I asked, knowing I'd pay her more.
"For this kind of thing, probably 30 an hour," she said.
"Oh wow!" I said. "You get 30 an hour?!" Then I backtracked. "I used to clean houses in Missoula, but I charged like 15 to 20. That was a while ago, I guess."
"Yeah," she said, and nothing else.
I told her I'd see her tomorrow.
When Michelle arrived the next day, I put the dogs in the yard so they wouldn't bother her. I'd already picked up the kitchen as much as I could, putting away all the dishes and clutter. I'd swept the floor. I'd grimaced at the thought of scrubbing it, even though that's exactly what I had asked someone else to do. As Michelle walked into the kitchen, I fumbled through the story of hurting my back, and Michelle nodded, knowingly, and told me about her herniated disks. My hands found each other, and I fiddled with my ring.
"Okay," I said. "I guess I'll leave you to it. I have to check up on some emails today, so I'll just be in the next room."
Michelle nodded and walked toward the front door to get more supplies.
She ended up cleaning for four hours that afternoon, and I chatted with her a bit whenever I grabbed a glass of water, or something from the fridge. I gazed at her yellow gloves; her bucket full of water, soapy from Murphy's Oil; and the scrubby sponge that looked to be on its last leg, but was new when she arrived. She was often on her knees or sitting when we talked, and I tried not to make a face. I remembered what it was like to talk to a client in the position Michelle was in: on her knees, looking up at a person the same age or younger who has hired you to clean a huge house by yourself, and I told her so, asking her if she needed anything.
"No," she said, then asked how long I cleaned houses. We ended up talking for quite some time. I eventually told her about my book.
"Oh, my daughter would love to read that! She wants to be a writer," Michelle said. I ran to get her a copy, pausing to personalize and sign it first.
When she left, I wrote a check for $40 an hour instead of $30, and said I might need more help with cleaning out my old house for my landlord. She smiled, and we agreed to keep in touch.
That night my back went out completely, and I was in bed for three days. The pain was some of the most excruciating I'd ever experienced; my left leg later went numb. By the time I saw Michelle again to do a walk-through at my old house, it was the third day I'd been able to walk more than a few feet, and I told her so.
"Yeah," she said, rubbing her lower spine. "I hurt my back carrying a cooler this weekend when we were camping." She'd already had a long day. "That's why I was late getting here. Moving a little slower, I guess."
"Oh God, don't worry," I said, wanting to hug her, but refraining. "I definitely know how that goes." I shifted my weight from my left leg, almost standing on one foot from the feeling of numbness and residual pain. "So," I began, "you won't have to do much here, I don't think," and I started to walk into the garage.
Michelle did the move-out clean while I was in California for a speaking gig, texting how well it worked out because a couple of other clients had canceled and she really needed some hours to fill. She quoted me a price and ended up charging me close to it, but I paid her a lot more. When she texted about what she thought was a mistake, I told her the extra money was a tip, grateful to be able to afford to do that.
Days after Michelle had cleaned out my old house, when I finally went back to finish clearing out the garage, I slowly walked through each room. Everything looked so perfect, so spotless, I couldn't believe she'd done it in a day. Michelle left lines in the carpet, placed onto the kitchen counter the little toys and bouncy balls she'd found tucked into the girls' closets, and folded the toilet-paper rolls into a triangle. I smiled, looking down at that little detail, wondering whether my clients had ever appreciated my work the way I was now appreciating hers.
Then my mind traveled back to a moment from the previous week when I was showing her around that place. I had been standing in the bathroom when I looked down at the toilet and let out a huge sigh. Asking her to clean my new kitchen was one thing—it wasn't my mess. And for the most part, the move-out clean was pretty basic: vacuuming, mopping, washing the windows, and such. But asking her to clean the toilet—the one thing I'd said, even boasted, I'd never do—pained me. I couldn't remember the last time I'd cleaned my old bathroom, maybe a week before I'd moved out, and I knew from experience there were spots beneath the rim and at the base that would require attention. I knew my back wouldn't let me clean it, so I had to ask her to do it for me. There I was.
"This is hard for me, asking you to do this." I looked down, knowing she would have to get on her knees to get behind the base, basically hugging a stranger's toilet. "I told myself I'd never ask someone to do this." My voice cracked.
She gave me a half smile, and for a second I thought she was going to pat my shoulder. "We all need help sometimes," she said to me. I knew it was true, people need help, but if it weren't for my physical inability, I wouldn't have considered asking for it. I looked down and nodded, feeling the familiar negative thoughts of failure. I breathed in, and instead let the vulnerability pour into me. In that profound moment, I believed her. I needed help. And that was, for once, okay.