If a Child Is Jailed and No One Is There to Hear Him Cry
New Trump-administration rules stand to block the public from knowing anything about the treatment of migrant children in America's detention facilities.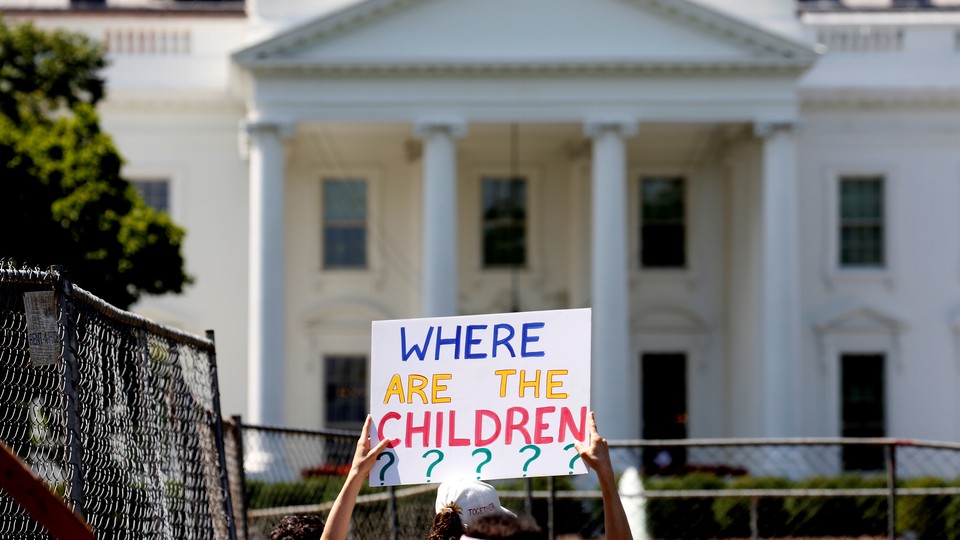 For months at a time, the detention of migrant children seems to fall off the national radar, somehow fading to the background, behind the daily dramas of scandals big and small. And then suddenly, news will erupt: The children don't have soap. They are freezing. The food is rotten.
Where this information comes from is not primarily from journalists but monitors—lawyers and advocates who regularly visit the nation's detention facilities and border-patrol facilities to document the conditions. They do so not because these sites request the monitoring, but because that monitoring is allowed by what's known as the Flores settlement, a 22-year-old consent decree that governs the care of migrant children in custody.
But with new rules that the Trump administration is expected to publish this week, even that single, infrequent geyser of information could go away. As part of a sweeping proposal to scrap the Flores regulations—including a change that would enable the Trump administration to detain migrant children in secure facilities indefinitely—the administration will lose the existing monitoring requirements entirely, according to two lawyers familiar with this area of law. The result will be that the long-term detention of migrant children would carry on out of view from advocates, the American public at large, and the entire world.
For example, the uproar over the Border Patrol facility in Clint, Texas, this past June came after Flores monitors visited the facility and described conditions there to journalists and the public. "We saw a large number of children who were ill and not being cared for," recalls Warren Binford, a law professor at Willamette University College of Law and one of the official monitors. They reported outbreaks of scabies, shingles, and chicken pox. The children were filthy, lacking soap to bathe. With no adults to help, children were changing the diapers of babies. They received no exercise; they ate processed food three meals a day: oatmeal for breakfast, instant soup for lunch, frozen burritos for dinner. If the new rules are approved by a judge, Binford says, "we'll never be able to go back in there and have eyes on these children. We won't be able to sit down and interview these children and find out whether or not they're being well cared for."
Also part of the proposed changes will be the ability to detain children for longer stretches of time. Under the Flores consent decree as it is now, which has been overseen by a federal court since 1997, the government is not allowed to detain children under 18 for more than 20 days. This provision has bothered President Donald Trump. He has called it a "catch and release" loophole that allows migrants to enter the U.S. illegally, and he has been urging the Department of Homeland Security to replace Flores with a new rule for more than a year. "We're being very strong on the border," Mr. Trump told reporters yesterday morning. "You see the numbers are way, way down."
The administration has "no intent" to hold families for a long period of time, Acting Secretary of Homeland Security Kevin McAleenan said yesterday. But, he said, "no child should be a pawn in a scheme to manipulate our immigration system," and that abandoning Flores "plays a vital role in the strategy to restore the integrity to our immigration system and our national security." In other words, in the administration's view, the changes will make it impossible for people to rely on Flores to get their children into the country after a limited amount of time in a facility.
By law, any presidential administration has the power to develop regulations for the care and custody of children who cross the border, Binford says. But what worries Binford is that the task now falls to the Trump administration, which has an unparalleled record of mistreating children. "It leaves these children vulnerable to the abuse of this particular administration, which we know can't be entrusted with children because they've already abused and neglected children on a wide scale, to the point that children literally have been dying in their care."
Yet even without making the changes, the administration has failed to abide by Flores's provisions, and has detained hundreds of children for weeks or months as part of its effort to deter migrants from even attempting to cross the border. In fact, Binford and others say, the administration has disregarded Flores from the start, as epitomized in the zero-tolerance policy that separated children as young as four months old from their parents at the border and held them for months. That policy officially ended in June 2018, after a federal judge issued an injunction and ordered the government to reunite the families,  although the ACLU has found that nearly 1,000 children have been detained apart from their parents since then, some being held long beyond Flores's 20-day limit.
President Trump insisted that the new rule will improve conditions for migrants by attempting to keep families together in facilities. Currently there are three ICE facilities that can accommodate families, although one has been designated for single adults. Lee Gelernt, who heads the national Immigrants' Rights Project at the ACLU, says the administration's proposed regulations are "horrendous." "The medical community has made clear that long-term detention of children, just like separating them from their parents, will cause serious if not irreparable harm."
It's far too early to know the long-term effects of throwing a child into a facility for weeks or months at a time. But psychologists and advocates already hear stories of trauma; I've been told of children who cut themselves, who cry when their parents leave the room or refuse to board the school bus, fearful that their parents will be deported while they're gone, children who won't sleep with the light off, and when they do, dream about being put in a cage called "the icebox."
Abner, whose last name is being withheld to protect his privacy, was 10 years old when he fled Guatemala with his father last year. He told me that his memories of those five months, separated from his family, continue to visit his dreams. In one, he is snatched from his father's side. In another, "I was left in a kind of jail, very alone, I got very sad, and they told me my dad had been deported." In a third, a strange woman wants to adopt him. "I didn't want to be adopted. I didn't want to be with a family that wasn't my own." All three events actually happened.
President Trump says the situation distresses him: "Let me just tell you," he said yesterday, "very much I have the children on my mind. It bothers me very greatly." And yet, the endgame for the president is slowing the flow of migrants, and he says his new rule will achieve that. "When they see you can't get into the United States, or when they see if they do get into the United States, they will be brought back to their country … they won't come."
That's an "absurd" prediction, according to Binford. Detention in a U.S. facility pales compared with what many migrants face back home. Binford recalls one boy telling her that he fled his country after a gang decapitated his best friend in front of him. The boy is willing to wait years if necessary in a U.S. detention facility—"anywhere but back where they're going to decapitate him too." Another man from El Salvador told me that even if he had known his children would be taken from him and detained for several months, he would have made the same decision. "The truth is, I would have still risked coming with them. It would have been much worse to have gangs murder my children than separate them from me."
Under the terms of the Flores consent decree, the federal judge overseeing the decree—Judge Dolly Gee of the U.S. District Court for the Central District of California—must approve the new rule. Immigration lawyers have a week to challenge it in court, and will be drafting a response to what they've already called a cruel effort to imprison, out of the public's view, desperate people seeking refuge from violence and corruption.