An Existential Reading List for Middle-Aged Men
"To be known completely and to be loved is a very profound experience. Adult males do not often have that kind of an experience."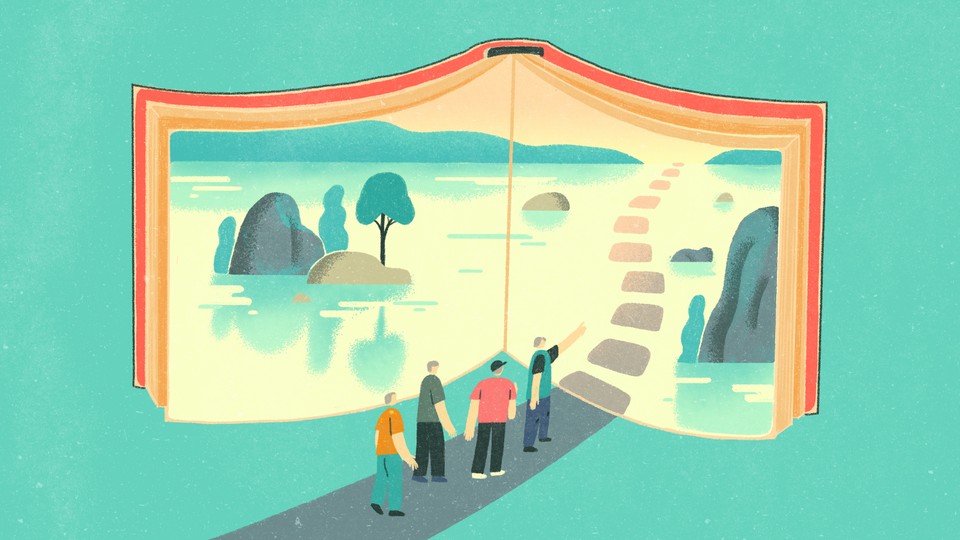 Every week, The Friendship Files features a conversation between The Atlantic's Julie Beck and two or more friends, exploring the history and significance of their relationship.
This week she talks with four men, all active in the evangelical Church of the Nazarene, who assign themselves reading and then have an annual retreat where they discuss faith, death, and how to live well. In this interview, they tell their origin story, share their reading list, and explain the particular importance of friendship for adult men.
The Friends

Randy Beckum, 65, a pastor with the Church of the Nazarene, who lives in Honolulu, Hawaii
Gary Morsch, 68, an emergency-room doctor who lives in Bucyrus, Kansas
Dean Nelson, 65, director of the journalism program at Point Loma Nazarene University, in San Diego, California
Rick Power, 64, a district administrator for the Church of the Nazarene who lives in Kailua, Hawaii
This interview has been edited and condensed for clarity.
---
Julie Beck: How did you all meet?
Dean Nelson: Randy, Rick, and I were all in college together in Kansas City. We connected in a couple of different philosophy classes. We were interested in big ideas and digging into things that went beyond the surface. We just found ourselves gravitating toward each other in discussions. I don't think we socialized as much as we just got together and talked. We found kindred minds and hearts, when it came to what I would say are the things that matter.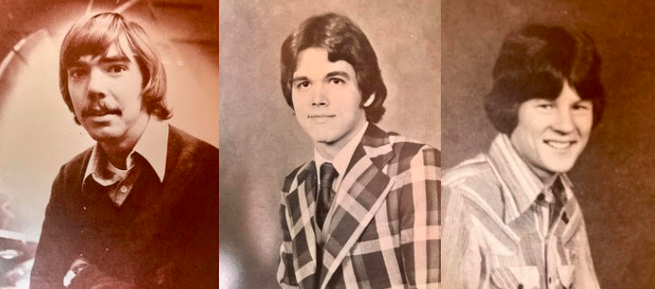 Gary went to a different college. He's a little bit older than us. Randy, Rick, and I kept in touch with one another for the years after college. We stayed up on each other's kids and lives and all that. And Gary's life kept intersecting with ours. There would be all of these gatherings for our denominational events or humanitarian things we were involved in, and Gary was always present at these things.
One day we were all sitting around the dining-room table at Randy's house, saying, "Here we are, adults, well into our careers, and we're still interested in getting into these big ideas. How do we do this on a more intentional level, so that it isn't just something that happens whenever we end up in the same vicinity? How do we make this a part of our calendar?" And that's where what we call "the Jebus conference" began.
Beck: Why is it called the Jebus conference?
Rick Power: Well, the year was 2001. There had been a recent episode of The Simpsons where Homer Simpson made a pledge to public television that he couldn't pay, so he was rescued by a pastor and sent off to the South Pacific to be a missionary. And, on the way there, he was screaming and crying, "I'm not a missionary. I don't even believe in Jebus." But then in the same breath he's praying, "Please help me. Save me, Jebus."
Also, at that time, there was a very serious scholarly group called the Jesus Seminar. We decided that given the makeup of the four of us, there was no way we could call ourselves anything really serious or sanctimonious. So, instead of Jesus, it became Jebus.
Beck: So how did the Jebus conference come together? Was there something that you felt was missing in your lives that this could fill?
Gary Morsch: I really look at life from a very existential point of view—why am I here? I was never interested in success from the standpoint of Western values of assets, money, property, and all of that. Meeting these guys, I felt a kindred spirit.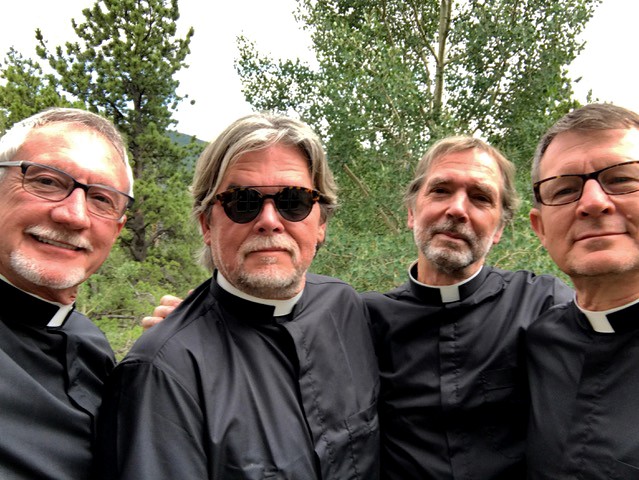 Before our group got started, boy, I was asking myself some big questions about life. One of my sayings is, "What am I going to be when I grow up?" Even though I'm 68 and these guys are 64 and 65, I will still joke with them, "What are you going to be when you grow up?" Because we're still growing.
Randy Beckum: I've been a missionary, I've been a pastor, I've been a college chaplain. My focus has been on spiritual formation. Doing my theology study in seminary, I had an aversion to getting my beliefs neatly packaged, put in a shoebox under my bed, and then going on with my life. This group has been a lifeline for me to continue to stretch and to rethink. It pushes me, makes me more inclusive, more flexible, and more understanding of people.
Beck: What is the format of the group? I understand that there's a reading list, and you always travel somewhere together.
Rick: We decide on a list of books ahead of time, usually three or four. We read those, and it usually works out that we're together long enough to take one book each day. We'll just sit around and whoever recommended that book will talk about why it was important to them. The conversation is wide-ranging and messy and unorganized. The books are a catalyst for the conversation.
The Jebus Group's Reading List

Diana Butler Bass, Grounded: Finding God in the World—A Spiritual Revolution
Rob Bell, Love Wins: A Book About Heaven, Hell and the Fate of Every Person Who Ever Lived
Rob Bell, What We Talk About When We Talk About God
Wendell Berry, That Distant Land: The Collected Stories
Peter Block, Walter Brueggemann, Scott McKnight, An Other Kingdom: Departing the Consumer Culture
Marcus Borg, The Heart of Christianity: Rediscovering a Life of Faith
Gregory Boyd, Benefit of the Doubt: Breaking the Idol of Certainty
John Caputo, What Would Jesus Deconstruct?: The Good News of Postmodernism for the Church
Harvey Cox, The Future of Faith
James Fowler, Stages of Faith: The Psychology of Human Development and the Quest for Meaning
Thomas Friedman, Thank You for Being Late: An Optimist's Guide to Thriving in the Age of Accelerations
Atul Gawande, Being Mortal: Medicine and What Matters In the End
Philip Gulley & James Mulholland, If God is Love: Rediscovering Grace in an Ungracious World
Chris Hedges, American Fascists
Michael Ignatieff, The Needs of Strangers
Elizabeth Johnson, Abounding in Kindness: Writing for the People of God
Paul Knitter, Without Buddha I Could Not be a Christian
Brian McLaren, A Generous Orthodoxy
Sarah Miles, Take this Bread: A Radical Conversion
Greg Mortenson, Three Cups of Tea: One Man's Mission to Promote Peace, One School at a Time
Dean Nelson, God Hides in Plain Sight: How to See the Sacred in a Chaotic World
Dean Nelson, Quantum Leap: How John Polkinghorne Found God in Science and Religion
John Philip Newell, Listening to the Heartbeat of Jesus: A Celtic Spirituality
Richard Powers, The Overstory
Sogyal Rinpoche, The Tibetan Book of Living & Dying
Richard Rohr, Everything Belongs: The Gift of Contemplative Prayer
Peter Rollins, The Divine Magician: The Disappearance of Religion and the Discover of Faith
Peter Rollins, Insurrection: To Believe Is Human To Doubt, Divine
David Skeel, True Paradox: How Christianity Makes Sense of Our Complex World
Huston Smith, Why Religion Matters: The Fate of the Human Spirit In an Age of Disbelief
Barbara Brown Taylor, Holy Envy: Finding God in the Faith of Others
Phyllis Tickle, The Great Emergence: How Christianity is Changing and Why
Krista Tippett, Becoming Wise: An Inquiry Into the Mystery and Art of Living
Melvyn Goldstein, The Struggle for Modern Tibet: The Autobiography of Tashi Tsering
Desmond Tutu & Mpho Tutu, Made for Goodness: And Why This Makes All the Difference
Jim Wallis, God's Politics: Why the Right Gets It Wrong and the Left Doesn't Get It
Simon Wiesenthal, The Sunflower: On the Possibilities and Limits of Forgiveness
Ken Wilbur, A Brief History of Everything
Christian Wiman, My Bright Abyss: Meditation of a Modern Believer
N. T. Wright, How God Became King: The Forgotten Story of the Gospels
N. T. Wright, Surprised by Hope: Rethinking Heaven, the Resurrection and the Mission of the Church
Beck: Do you take turns hosting? Or do you travel to other places together?
Randy: We went to Big Bear [in California]. We've been to a couple of different monasteries. The guys went to Tibet; that's a great story. I wasn't able to go on that one.
Gary: We've done Hawaii four or five times. Some years we bring the wives with us. They usually want to come to Hawaii. They happen to be good friends too. They don't necessarily read the books and join the discussion. Us guys will go off and do our thing by ourselves. And then we'll share meals and outings together.
Dean: We've rented a cabin in the mountains in Colorado. We've gone out to Gary's farm in Bucyrus. When we went to Tibet, Randy was having some health issues, so he couldn't go with us. Rick was living in China at the time, so Gary and I went over there, and we ended up spending a couple of weeks hiking, staying in Tibetian Buddhist monasteries, chanting with the monks, and having some amazing experiences and discussions. Tibet was … my head almost exploded out there. It was just so amazing.
Randy: One afternoon I got a call from the top of a mountain from a satellite phone from these three guys.
Dean: That's true. We wanted Randy with us, in at least some way.
Randy: It was a beautiful thing.
Beck: Are there any particular discussions you've had over the years that stand out to you? Any arguments?
Dean: I'm not sure I remember any arguments. But I will say that during hard life developments, the Jebus group was absolutely key in keeping the other person grounded and loved. Other than my two kids and my wife, nobody knows me as well as Randy, Rick, and Gary. And nobody loves me as much. To be known completely and to be loved is a very profound experience. Adult males do not often have that kind of an experience.
Gary: It's not that we're in touch with each other every week. We don't Facebook and Instagram stuff. We hardly call each other. But we can just dig right in where we left off.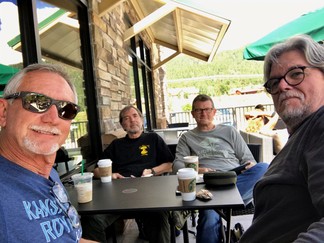 Randy: Speaking of good discussions we've had, one that was very meaningful to me was when we read Atul Gawande's Being Mortal, maybe a couple of years ago. We decided to talk about how to make a good death. That helped us all think through facing the inevitable and to do that honestly and openly with one another. I felt like that was a really rich week.
Dean: I feel similarly about when we dug into some Wendell Berry. He's a farmer in Kentucky. He writes about living a simple and sustainable life that's responsible to creation. The novel we read was called Jayber Crow. It gave us a chance to be far more intentional in our relationship to the natural world. Some of these discussions have actually changed the way we live.
Rick: One of the first books we read, for me, was one of the most important. It's by James Fowler, called Stages of Faith. He talked about the way we move from literalistic, exclusionary ways of seeing the world to opening up and becoming more inclusive. If we're growing, we reach a stage of life where we can not only accept, but appreciate, some of the mysteries, paradoxes, and ambiguity of life, and of faith.
The interesting thing about faith development is that our tendency is to want to settle at one stage and not move on, because it's painful to keep growing. I see these guys, my Jebus brothers, as companions on that journey, people who keep spurring me on, and helping me not to settle at any stage that might prevent me from experiencing something more beautiful and more comprehensive in my understanding of the world.
Randy: Part of that is there's a certain okay-ness with uncertainty. There's a great quote [from the pastor Ralph Washington Sockman] that reminds me of this group: "The larger the island of knowledge, the longer the shoreline of wonder." I think we live between the welcome and the wonder. These guys help me always think about the mystery and wonder more than I try to be certain.
Beck: One of you mentioned this, and I think it is pretty common for men not to have many friends once they reach middle age. Is that something you've observed too? What do you think the effects of that are?
Gary: I think people become emotionally and existentially isolated. I think people settle. They just go, Is that all there is? My dad was never an example [for me]. He didn't have close friends. He had people he'd laugh with, but he didn't have a group of people like this. Frankly, I don't know any of my other friends who do.
People ask me all the time about the Jebus group. They think Wow, you would take a whole week off, you would give up the income you could earn and use your vacation time and go, even without your wives? They just know there has to be something special, and a lot of people want that.
Dean: Going back to your question about guys, middle-aged guys in particular—it isn't just loneliness that a lot of people experience at that age. It's almost a sense of despondency, and that manifests itself in all sorts of destructive ways.
You really need people around you. Otherwise you start believing the voices in your head. We are wired for community, and not that many people, our age in particular and maybe even more our gender in particular, have communities that can right the ship if what they're thinking is a little wacky.
Gary: This group has changed my entire way of leadership. I'm a retired colonel in the military; I've started huge organizations. I was a hard-driving, "do it my way" leader. I didn't really consider other people's feelings. I was on a tear. The way we relate to each other [in the Jebus group], giving each other a chance to speak, to say how they feel, respecting and honoring each other as individuals—I've carried that over.
I just finished a two-day board meeting. I started each day with half an hour for the board members to share what's going on in their lives. This is the best part of our board meetings.
The group really has affected everything I do now, even with my own family. Every Sunday night at nine central time, we get an hour together. I have four kids and their spouses; some of them live in other time zones. Every Sunday night, no matter where we are in the world, we get an hour. It's a gift, this gift of Jebus.
Beck: Once people get to a certain point in their careers or in their family lives, there's more of an expectation that you will defer to everybody's family and work obligations, and not make friendship an obligation too. But clearly it's helped you guys to make it, maybe not an obligation, but certainly a commitment.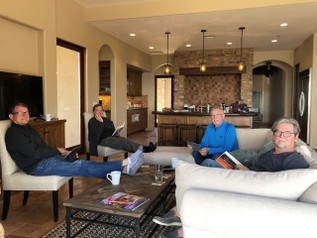 Dean: I think I can speak for all four of our families by saying our wives are actually grateful for the impact the Jebus group has had on them and the kids. I think we're all better people because of it. Even though it created a lot more work for our spouses while we were gone, I think in the long term they saw the value in it and encouraged it.
Beck: That also pushes against a common American view of marriage, which is an expectation that your spouse will fill every need for you.
Dean: I think in very few marriages do the spouses fulfill all those intellectual, existential, or cosmic kinds of quests that some of us find ourselves on. They acknowledge that they aren't the answer to all of our questions.
Gary: Just to make it clear, Dean just said that his wife was not sufficient.
Rick: I'd like to get in here that my wife meets all my cosmic needs.
Dean: I think that's wonderful, Rick. Congratulations.
Beck: You just did this year's Jebus group meet-up in June—do you want to share the books you read for this year? Any insights that you're taking forward into the year ahead?
Randy: We read the novel The Overstory, by Richard Powers. A book by Barbara Brown Taylor, called Holy Envy. And the poet Christian Wiman, we read his memoir of when he thought he was dying, called My Bright Abyss.
Rick: The Overstory was rooted in a lot of research about forests and the environment. It was just another reminder that my touch on this planet needs to be made as light as possible.
Randy: From reading The Overstory, I'll never look at trees the same way. And Barbara Brown Taylor helped me to have a greater appreciation for other faiths and other ways of seeing God.
Gary: Because our wives were going to be traveling with us this year, we invited our wives to read any of the books and discuss them with us. I decided I wanted my wife to read Holy Envy. It opened my eyes to the fact that my wife had actually been dealing with some of the same questions that I have, and I wasn't aware of that.
Dean: Each year adds a little bit of clarity and perspective on where each of us are in our careers. We're all facing the fact that we have fewer years ahead of us than we have behind us. What does that look like? As you look to what's ahead, for somebody in his mid-60s, it's not something to dread. That was my takeaway.
---
If you or someone you know should be featured on The Friendship Files, get in touch at friendshipfiles@theatlantic.com and tell us a bit about what makes the friendship unique.