Toward a Universal Theory of 'Mom Jeans'
Straight-legged, high-waisted jeans were almost casualties of reductive stereotypes about motherhood—but now they're back.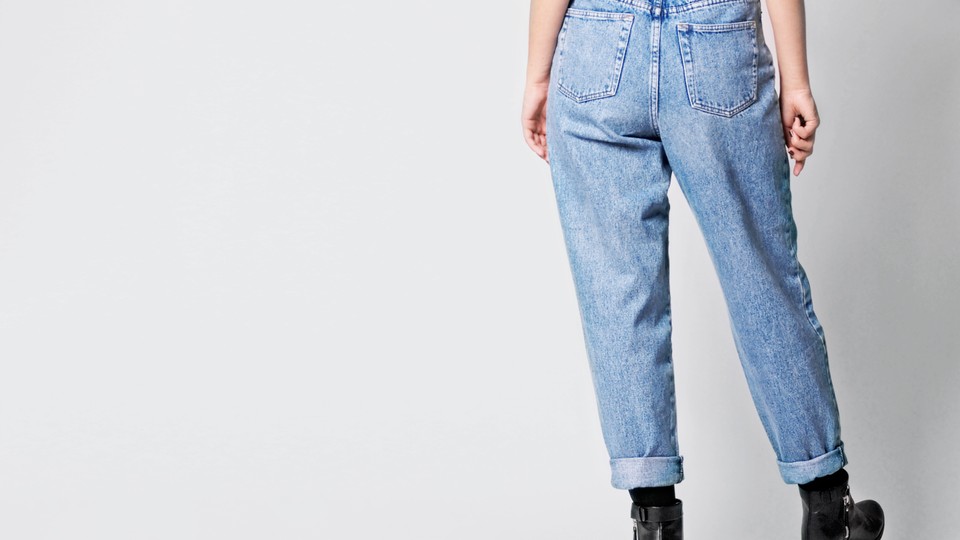 When I was 19 years old, brimming with the kind of giddy, fragile confidence common to those who have just returned to campus to start their sophomore year of college, I marched into the edgiest salon in our particular suburb of Chicago and asked an objectively edgy stylist to shear off all my hair. I wanted a funky, razor-cut pixie, the kind that style gurus often imposed on America's Next Top Model contestants at the time , and when I walked home afterward, I was thrilled with the results—that is, until I sent a grainy selfie I'd taken on my flip phone to a friend of mine from high school. "A little motherly," she texted, "but cute!" I was incensed, and it didn't help that I could picture the devastatingly cheery thing my own mother would say if I told her about this insult: "What's wrong with a mom haircut? Mom haircuts are low-maintenance." Forty-five minutes into having short hair, I was officially growing it back out.
When you inject the idea of motherhood into something, well, to put it bluntly, it loses its sex appeal. To "mom dance," for example, is to dance embarrassingly. Fairly or not, dresses, underwear, and heels that could be described as "matronly" are, at least according to fashion authorities, to be avoided. As are mom haircuts.
Mom jeans, however, are an exception—or at least, they are now. Although the 2003 Saturday Night Live sketch that popularized the phrase mom jeans did so as a pejorative (and the jeans did languish in uncoolness for more than a decade afterward), they've enjoyed a recent renaissance. Today, the silhouette—thick, nonstretchy denim with a high waist, straight legs, and a moderately loose, or "relaxed," fit—can regularly be seen on models, influencers, and "VSCO girl" types on Instagram. Mom jeans, profoundly uncool and then suddenly very cool, got their revenge: The cyclical nature of fashion (and a mid-2010s shift in the national mood) helped rescue and revive a style that was long overshadowed by reductive stereotypes about moms and motherhood.
In the beginning, the mom prefix did to jeans what it does to everything else. Calling a pair of pants "mom jeans" implied that they were frumpy or dowdy—"the absolute antithesis of cool," according to Emma McClendon, the author of Denim: Fashion's Frontier and a curator at the Museum at the Fashion Institute of Technology. In the 2003 SNL sketch, a fake commercial voiceover describes a "nine-inch zipper" and says the pants are "cut generously, to fit a mom's body." The pants, the voiceover adds, are a garment that says, "I'm not a woman anymore. I'm a mom."
As McClendon points out, in 2003, the trendiest jeans sat low on the hips and tight around the thighs, resulting in a body-hugging, skin-baring  look (think Britney Spears's "I'm a Slave 4 U" video). At the time, high-rise, nonstretchy, loose-fitting denim could not have been more out of vogue—and yet, as the SNL sketch writers astutely observed, moms were wearing it anyway.
As it turns out, moms were wearing mom jeans not because they were moms, but because they'd always worn mom jeans. "In the history of jeans as a garment, that high-rise, straight-leg, no-stretch-denim [template] is actually very typical," both for men and women, McClendon told me. "The very first jeans that were really made for women—ladies' Levi's, from the 1930s—you could arguably call them mom jeans. They were basically 501 jeans [the classic Levi's cut] but with a higher rise." Those Levi's were also the first pair of women's jeans to be mentioned in Vogue, McClendon added, in a spread about what to wear on vacation if you were visiting a dude ranch. Jeans retained that silhouette into the '50s and early '60s, and according to McClendon, they remained popular among women, especially moms, as apparel for gardening or outdoor work at home.
In the late '60s, young people popularized flare-leg jeans with lower waists. But by the late '70s, high-end brands had started to push back against the suddenly passé hippie look, bringing back high waistlines and straight legs. "Gloria Vanderbilt, Calvin Klein, they start selling these sophisticated jeans. They're not faded, they're not ripped, they're super high-rise," McClendon said. The '90s then brought a grungier look to the trendiest jeans, but they maintained their high waists and got looser in fit.
For most women who came of age in the latter half of the 20th century, then, straight-legged and high-waisted jeans were pretty much always a cool, or at the very least perfectly normal, thing to wear out into the world. But it makes perfect sense that the term mom jeans would come about as a pejorative at a time when high-waisted, loose-fitting jeans looked particularly conservative compared with what trendy young women were wearing. As Beth Montemurro, a sociology professor at Penn State University at Abington who researches gender and sexuality over the life course, told me, many stereotypes about moms and motherhood serve to desexualize mothers. "There seems to be a separation between the identities of 'woman' and 'mother,'" Montemurro said, and an expectation that "a mother is a particular type of woman whose focus is on her children, or should be … and often she's expected to be an example of modesty, particularly for her daughters." (This is despite the fact that sex and motherhood are, in most cases, necessarily linked, she added.)
The stereotype is so powerful that linking something to motherhood can extinguish its sex appeal pretty quickly. Mom haircuts, mom sneakers—phrases like these call to mind an image of "somebody who's not necessarily with it," Montemurro said, enough so that MILF and cool mom have emerged as descriptors that signify an exception to the norm of unsexy, uncool motherhood.
Fashion, however, is both a cycle and a pendulum, McClendon noted: Trends come, go, and later come around again. Many fashion trends simply boil down to the exact opposite of what was just trendy. The ultra-low-rise, flared jeans popular among women in the 2000s harked back to the jeans of the late '60s, so it was only a matter of time before jeans began to once again look more like the high-waisted, straight-legged jeans of the late '70s and '80s. But this time there was a phrase for that silhouette—and today, brands such as Zara, Madewell, H&M, Levi's, Reformation, and Topshop all sell a high-waisted, straight-legged, rigid-denim product advertised explicitly as a "mom jean."
Many industry analysts and observers attribute the resurgence of the mom jean, and other formerly uncool items such as fanny packs and "dad sneakers," to the semi-ironic "normcore" trend that arose in the mid-2010s. "Clothes that were otherwise considered frumpy 10 years ago are now being picked up and championed," McClendon said, "as a sort of rebuke, but in a tongue-in-cheek way."
But McClendon suggested that there's more driving the shift toward modest, comfortable, practical clothing than playful irony. After the 2016 election and the national reckoning with powerful men's sexual misconduct sparked by the #MeToo movement, she began to notice a clear "shift away from extremely sexy clothes, toward a more unisex style," she told me. She saw women ditch their stilettos for designer sneakers and their dresses for tailored suits. "The tight clothes, the high heels—there was this general sense of Why am I wearing these things?" As the national mood sobered, McClendon noted, the body-punishing, form-fitting extremes to which high-profile women pushed their looks in the 2000s (McClendon pointed to Lady Gaga and her famously tall heels as an example) gave way to androgynous shapes and looks that prioritized comfort. Today, the zeitgeist-iest young pop star of the moment is 17-year-old Billie Eilish, "who wears very large, oversized clothing that's completely body-obscuring and unisex," she added.
Of course, McClendon recognized that the pendulum could once again swing the other way, bringing back skintight denim (and skin itself). But fashion historians, she told me, will likely look back on the latter half of the 2010s as a time when men's and women's clothes looked quite similar—and mom jeans, with their notable similarities to classic styles of men's jeans, "are certainly a part of that."
One sticky afternoon this summer, a decade after my mom-haircut debacle, I ducked into a denim store in midtown Manhattan, in need of a new pair of jean shorts before I escaped to a lake house for the weekend. I tried on the first acceptable-looking pair I found—a light-washed, high-waisted pair with a roomy posterior, with "Mom Short" printed on the tag. I left with three pairs, each in a different color. Unlike the ultra-low-rise bootcuts my friends and I had spent our teen years struggling to bend over in, or the super-stretchy skinny jeans we spent our 20s trying to wriggle into, these were both comfortable and flattering, politely concealing everything I now know I don't have to put on display to feel accepted. Maybe, I thought that weekend, as I zipped up my new jean shorts and headed outside to the pier, our mothers were right all along.