The Ukulele Queens of Deerfield, Illinois
"I think our society wants older women to sit down, shut up, and go knit somewhere in a corner. And that's not what we're doing."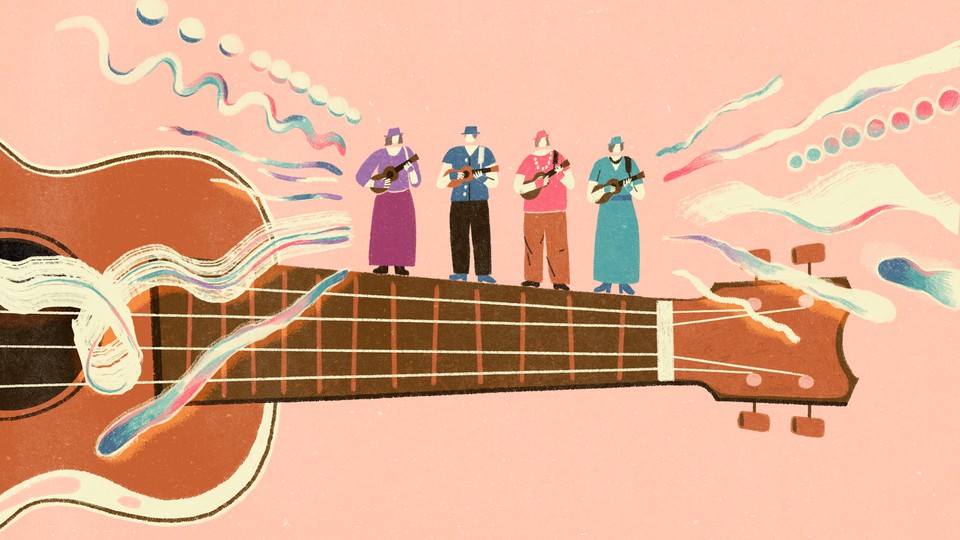 Every week, The Friendship Files features a conversation between The Atlantic's Julie Beck and two or more friends, exploring the history and significance of their relationship.
This week she talks with a group of women who all picked up the ukulele after they retired. They've formed a four-piece band called the Shenanigans, and an unexpected new late-in-life friendship. Just before putting on a show for a group of children at their local library, they tuned their ukuleles and discussed their flashy performance style, how retired women are expected to be "invisible," and the joy they get from being silly together.
The Friends:

Cyndi Buckles, 75, a retired secretary who lives in Des Plaines, Illinois
Dianne Rogal, 72, a retired government administrator who lives in Des Plaines
Linda Trytek, 66, a retired preschool teacher who lives in Deerfield, Illinois
Carol Wiemer, 77, a retired nurse who lives in Northbrook, Illinois
This interview has been edited and condensed for clarity.
---
Julie Beck: How did you all get into playing the ukulele?
Linda Trytek: I was looking for something fun to do in retirement. I was going to miss the nice group of people that I worked with and despaired at finding another group as fun. The Hummers and Strummers, which is a 20-piece ukulele group here in Deerfield, played at my school every year, so I said, "I'm going to come join you," and seven years ago I did. That's where I met Dianne and Carol.
Dianne Rogal: I picked up a ukulele out of the blue one day. I walked into a music store, bought a ukulele and a book on how to teach yourself to play, and I started playing. About a month later, someone said, "Have you ever heard of the Hummers and Strummers in Deerfield?" Of course, I hadn't. They said, "They play at the senior center, but they're old, and you're going to be way too young." I didn't care. I wanted someone to play with. I was in my 60s then. Everybody else besides Linda was pushing 80 and going up into their mid-90s. They were just the most wonderful, warm, and friendly bunch of people ever.
Cyndi Buckles: I sort of fought playing the ukulele. I played the tambourine, and then I started getting halfway good on the ukulele.
Carol Wiemer: I retired six years ago from nursing, and I was afraid my mind would go to mush if I didn't have something challenging in my life. So I went online and looked around at the local senior centers. And when I brought up Deerfield, it said "Hummers and Strummers," and I thought, Wow, that sounds like a fun group. When I walked in, everybody was smiling and happy. They handed me a uke, gave me some lessons, and I practiced and fell in love with the ukulele. And the four of us just kind of glued together. Our friendship blossomed, and the four of us now go out and do a lot of little gigs. We are now the Shenanigans, starting with s-h-e. You get it, right?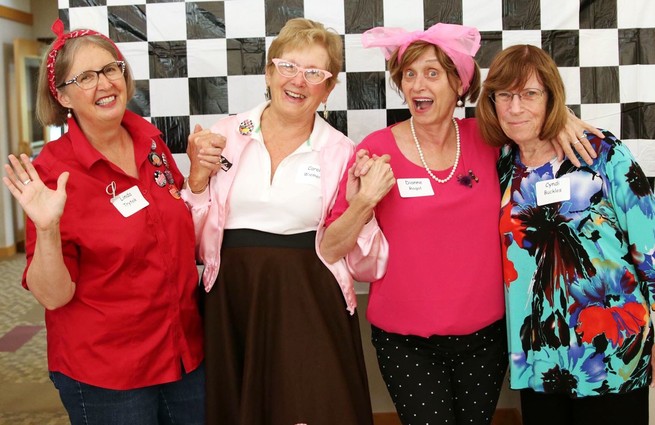 Beck: Yes. How did you end up breaking off from the Hummers and Strummers to form the Shenanigans?
Linda: The Hummers and Strummers are about 20 people. We play at senior residences, farmers' markets, preschools, and camps. A lot of local places. The reason that the Shenanigans got started is that Dianne and Cyndi have a wonderful friend named Ruby, who was going to [a day care for adults with memory problems]. Dianne asked Carol and I, "Would you be interested in forming a quartet with me and Cyndi, so that we can go and play once a month for our friend Ruby"? We said, "We're in; that sounds like fun!"
When people have memory issues, you may not always get a response from an audience. We were warned that we might not, but we had a wonderful experience with the folks at [this center]. They were smiling and happy to see us, and clapping and tapping. So [the] Shenanigans was born, and we were on our way.
Beck: What are the Shenanigans' performances like? What songs do you play?
Dianne: We sing the old standbys. "When You're Smiling," "Ain't She Sweet," "Five Foot Two, Eyes of Blue": lots of 1920s songs, which is when the ukulele was really huge the first time. But when we go to places where people are sharper, we do songs from the '50s and '60s. We do lots of show tunes. We try and get a laugh. We'll do a whole series of cowboy songs, and we'll crack a whip, and wear our cowboy hats. We have a lot of costumes.
Our "Diamonds Are a Girl's Best Friend" is always a hit. We drip in diamonds. When we do the song with the Hummers and Strummers, we have the men all waving diamond bracelets at us. And when we do our '50s-rock-and-roll program, we are dressed to the nines. It really seems to make a difference with the audience. They say, "Oh, I remember wearing a poodle skirt, or pearls, or polka dots."
Carol: I still have my original poodle skirt that my mother made for me in 1956. People say, "Oh my gosh, you still fit into it?" Well, my secret is: I did a little math, and I cut the waistband off, moved the zipper down, found some two-inch elastic, and made a new waistband. My granddaughter had been in Grease, so she gave me her Pink Ladies pink jacket. Another granddaughter had the pink glasses from the '50s. They helped Grandma out. And I have the best tennis shoes, because I have blinkie-light shoelaces.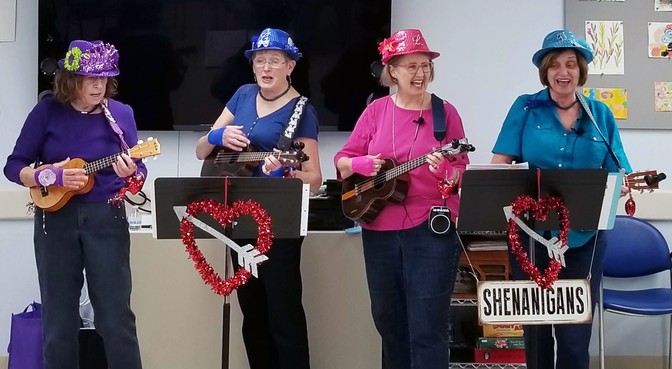 Dianne: When we started, we wanted to be distinctive, so we each picked a color [to wear]. I'm turquoise.
Cyndi: I'm purple.
Linda: I'm hot pink.
Carol: And I'm blue—but I'm not blue at all.
Dianne: And then one day I was in Vegas and I found sequined fedoras. And I brought everyone their own colored fedora.
Cyndi: Our hats also blink. We like blinking lights.
Dianne: Not only that, we have bow ties that blink. Lollipops that blink.
Carol: A lot of our concerts are at like 2 in the afternoon. Which is nap time.
Dianne: You've got to keep them awake. So we do whatever we can, without inducing epileptic seizures. We aren't able to use the blinking lights in some places, but that's okay.
Beck: How long have you been playing as a quartet now? How has your friendship developed alongside your musical ability?
Dianne: We played our very first show, at Advocate Lutheran adult day care, in April of 2016. And we've played there once a month ever since.
Linda: Through playing together, we really can anticipate each other's strumming and singing. It feels like we're singing with one voice. Our voices blend really beautifully. I think it is an actual brain phenomenon, that when you play and sing with other people, your brains synchronize. You feel like you are part of something larger than yourself. It truly is intoxicating.
Beck: Has the friendship extended beyond the confines of band rehearsals and performances?
Dianne: Oh yes. Linda and I went to a ukulele camp one summer.
Linda: It was at Olivet College in East Lansing, Michigan. We were worried it might deep-six the friendship, because we were living in the same room with each other for a weekend.
Beck: Well, how did it go?
Linda: It went fine.
Dianne: It was a wonderful experience. [And yes,] we all get together [outside of the band]. We go to plays and concerts.
Linda: Have lunch.
Dianne: We practice a lot together. But every practice ends up being a gab session as well.
Beck: Do you ever write your own music?
Dianne: We write a lot of parodies. We have "Pizza Pie With a Little Help From My Friends," "When I'm 94." Our worst one, which we don't sing for many people: "Zip Up Your Doo-Dah."
Linda: But our favorite is the "Older Ladies" anthem.
Dianne: We have to sing that one to you. It's one we found online, though. We didn't write it. We just made it our own. Can you stand it if we play it for you?
Beck: Oh, I can stand it!
Dianne: It's a song written by Donnalou Stevens, and it's one of our most current songs.
Linda: Here we go. One, two, three, four ...
[The Shenanigans sing the entirety of "Older Ladies," accompanied by their ukuleles.]
Beck: [Claps.] Thank you so much. That was amazing.
Cyndi: I'll dare say that's the only time you've heard a ukulele solo [on an interview].
Beck: Definitely the first time anybody's played me a live concert on one of these calls.
Carol: We're never without a uke.
Beck: Are you all friends with one another's families now?
Carol: Our husbands have all become friends as well.
Linda: Because we force them to come to a lot of our concerts.
Carol: And because we're lucky enough to be married to really nice guys.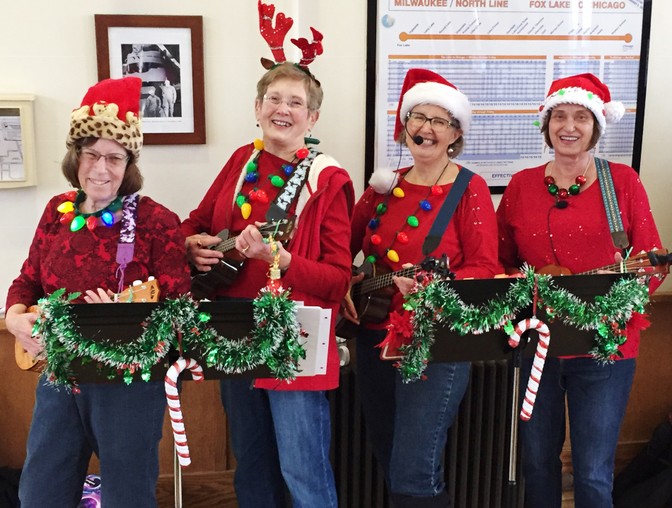 Cyndi: We sing "My Guy," by Mary Wells. We always dedicate it to our wonderful husbands. The senior center has a lot of dinner dances, and we go to those. We come in costume for whatever the party's theme is.
Beck: Linda, you told me in an email that you got sick and had to take a break from the Shenanigans for a while. When was that?
Linda: That was two years ago. The only reason you're allowed not to show up for Shenanigans is if you're in the emergency room or if an immediate family member has died. So two years ago I called up Dianne to say, "I'm in the emergency room, and I can't come to our concert today." I had blood clots in my lungs. Through my recovery, I thought very seriously about all the things I was doing in my life. And I knew that I could give up everything [else], but I could not give up the Shenanigans. They're what keeps me going, and they're what keeps me happy.
Dianne: Linda gets the most standing ovations. We do "Runaway," a song by Del Shannon. It's a '60s song. And in the middle of it there's an instrumental that none of us can play on a ukulele, so Linda does it on a kazoo. And every single time we've ever played it, the audience jumps to their feet at the end. And that's tricky, when you consider most of them can't stand.
Beck: It's cool to hear that you picked up both a new skill and a new group of friends at this stage of life. Is this how you pictured spending your retirement?
Dianne: I was retired for a long time before I found the Hummers. It was such a fluke. But I think that people should check out senior centers. There's lots to do and lots of friends to be made. Our activity just happens to be the best.
Cyndi: Dianne and I spent probably 10 years going through every Broadway show that was around. And going to lunch all the time, and shopping. So we were ready to move on.
Dianne: We still like our theater. You probably can see we're theatrical.
Linda: I have to say, when I first met Dianne and Carol, I wasn't so sure that I wanted to be really good friends with them. Because, at our age, you know how this story is going to end. I didn't want to go through the broken heart of having to say goodbye to very dear friends. And that was very misguided on my part. We're not guaranteed any amount of time in life, and so what time we have, if we can spend it with people we love, wahoo!
Keep your friends. The good ones are worth it. I think you have to find the people who speak to your heart, who speak to your soul, and hold them close. We're at a point where we've had illustrious careers, and we've been reliable, dependable people our whole lives. It's such fun to be silly with each other, wear crazy costumes, and make people laugh. If it's not fun, I'm not going to do it anymore.
Dianne: Our audiences, especially over at the day care, they know us. There's one guy who will direct us, like he's directing an orchestra. There's another guy who used to be a drummer, who's banging on his knees, keeping time with the music. We have a chorus line of women along one wall that are, like, literally dancing in their chairs. This is our form of volunteerism. This has enriched my life personally and mentally, musically, and [through the] friendships that Linda was talking about. And it's giving back to society.
Carol: I have eight grandchildren who are between 18 and 31 years old. And they seem to be very proud that I've taken up a new instrument, and that I'm having so much fun. Two of them have picked up the ukulele themselves. I spent enough years working, taking care of children, grandchildren, cooking, cleaning, and all the other stuff of life. But now my job is to have fun. And I really am.
Linda: When you're a retired woman, you're not a threat, because for the most part you're not going to steal somebody's man, and you're not working anymore, so you're not going to steal somebody's job. But you also are invisible in our society. I think our society wants older women to sit down, shut up, and go knit somewhere in a corner. And that's not what we're doing. We're using our voices. We're not dying with our songs unsung.
---
If you or someone you know should be featured on The Friendship Files, get in touch at friendshipfiles@theatlantic.com and tell us a bit about what makes the friendship unique.