They Met in an Elevator; Now They Travel the World Together
"Our motto is: 'Follow soccer, see the world.'"
Every week, The Friendship Files features a conversation between The Atlantic's Julie Beck and two or more friends, exploring the history and significance of their relationship.
This week she talks with two men who have a tradition of taking an annual international trip to see a soccer game—they've been going for more than 20 years now, sometimes alone, sometimes with their families, and in recent years, with a large extended group of friends. They discuss their college meet-cute and the origins and expansion of the soccer trip.
The Friends

Sean Kennedy, 55, the vice president of an e-commerce company who lives in Etoile, Texas
Brock Kwiatkowski, 53, a planner for civil-engineering projects who lives in Bath, Maine
This interview has been edited and condensed for clarity.
---
Julie Beck: You two met in an elevator—basically like a rom-com. Set that scene for me.
Brock Kwiatkowski: It was in college, at the Circle K International convention in Boston in 1986. Circle K is sponsored by Kiwanis; it's the collegiate-level service organization. I'm walking to the elevator, the doors open up, and there's Sean and his friend holding almost an entire bar's worth of alcohol bottles, of all different kinds, shapes, and sizes, plus a cart. I walked in and said, "These are my people." And they were.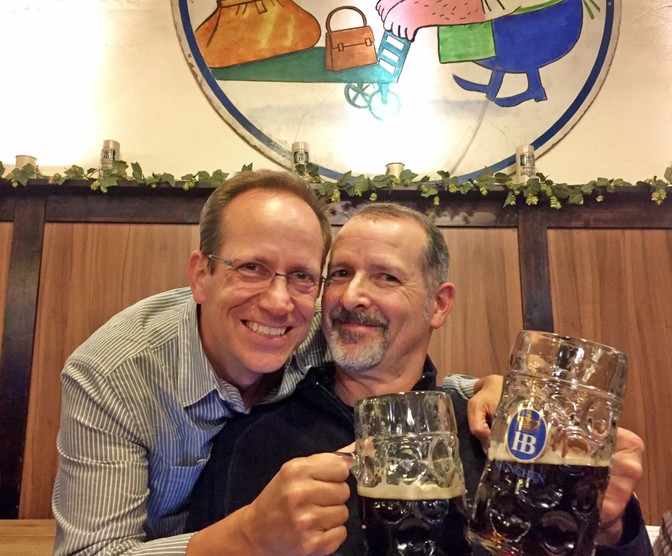 Sean Kennedy: The funny thing about that trip was there were supposed to be all sorts of outdoor activities going on—the Freedom Trail walk-around, sailing around the harbor. But a hurricane came rolling in that week. Pretty much everything got canceled. And boy, you want to put a bunch of college kids from around the world in a hotel for a week and not let them outdoors, you know what's going to happen. So we went liquor shopping. We had a bit of a cat-and-mouse game going with the hotel security, who were extremely kind and patient gentlemen. We'd go to a room, we'd enjoy each other's company, and then there would be a knock on the door and a couple of guys in nice jackets would ask us to move to another room. This went on for a couple of days.
We got tired of hauling all this stuff around, and one of the rooms had a bookcase in it, so we just converted the bookcase into a portable bar. When Brock walked on the elevator, we were being escorted from one room to another, and we had the portable bar with us. He absolutely said, "These are my people." And that is a fact. I'm pretty sure he moved into our room, ended up sleeping on the floor, and we spent the rest of that week together. We became fast friends from that moment on.
Beck: What happened when you left the conference?
Sean: It's a little foggy how we managed to stay in touch, because it couldn't have been easy, and I can't believe we were writing letters or anything. That doesn't really sound like us.
Brock: Yeah, that doesn't sound like us. We got a boost from airline deregulation. This was before the internet, before social media, before cellphones. There's no reason we should have been able to keep in touch, but we did. One of my friends told me she'd gotten a ticket to Houston for like $135 from Bangor, Maine. I'm going like, Wait, what? There's a flight that I can almost afford? So I came down to Houston and spent spring break in 1988 with Sean and his friends.
Sean: We went to Louisiana, we went to Arkansas, we went down to Galveston Island, rented a condo, and hung out on the beach for a couple days. We had a pretty big time for a good solid week, and then I dropped him off at the airport with everybody just about dead and he flew back home.
Brock: I think your graduation would have been the next time we got together.
Sean: I was finally graduating from school in 1991. I worked my way through school, so it took a little longer than the normal plan. My old roommate had fallen in love, decided to get married, and very inconsiderately picked the same day I was finally graduating to be his wedding day. I still tell them "Happy my graduation day" on their anniversary. Hunter and Nikki are their names. Hunter wanted to invite Brock to the wedding and Nikki had never even heard of Brock.
Beck: Hunter invited you to his wedding based on that one spring-break trip and that's it?
Sean: It was a good week.
Beck: It must have been.
Sean: Brock makes friends very quickly. So he gets invited to the wedding, it's also my graduation day, and in rolls Brock again. That was another pretty epic weekend.
Beck: Have you two ever lived close to each other?
Brock: Does 750 miles count?
Beck: Maybe to make up for that, you created this travel tradition of the soccer trip? Tell me the origins of that.
Brock: Sean, how did we get away with it?
Sean: We're both very persuasive, and our wives love us beyond belief.
The United States hosted the World Cup here in 1994, and after that we decided this soccer thing is kind of exciting on the global stage so maybe we should pay a little more attention. The U.S. national team makes appearances around the country, both the men and the women, so we just started popping in for games. I was working for an airline, so I could do that. Sometimes our wives would participate, sometimes not.
Beck: When did it go international?
Brock: In 1998, France is hosting the World Cup, the U.S. qualifies, and we really want to be there. That was the first one. Sean's wife, Lisa, came with us, and so did our friends Hunter and Nikki. My wife didn't attend, since our first child had just been born. We threw it out there as a trial balloon: "You know, we should take a trip every year." Our wives said, "That sounds okay."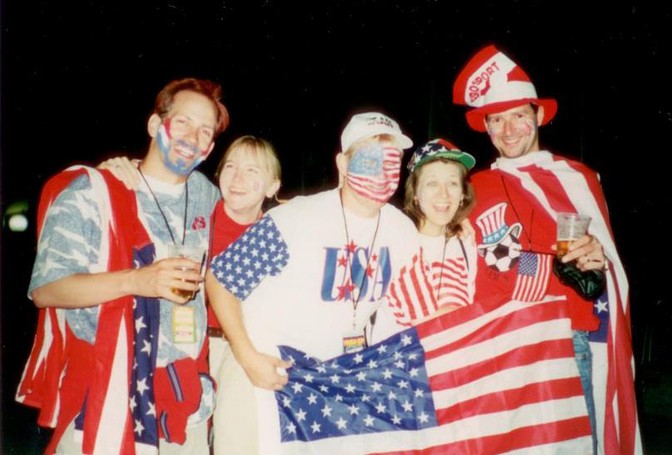 Sean: There were definitely caveats. The World Cup trip in '98 was pretty extensive. It wasn't going to get to be a two-and-a-half-week gallivant around Europe every year. Quick became the operative word. Traditionally we'll fly out on a Wednesday or Thursday night and then be back Monday. We move a lot and we sleep very little. We go to a pub or 10. We do some historical sites also.
Brock: Sean is a huge history buff. I like history a lot as well, so we essentially hit every historical thing in town. For the second soccer trip, we went to England, and in the British Museum we sat down on a bench to rest and we both fell asleep for, like, 15 minutes. The trips are all built on soccer, history, and pubs.
Sean: The missing pillar is sleep.
Beck: Have you been to all the World Cups that have happened since you started doing this trip?
Sean: All the men's World Cups where the U.S. qualified, and then a couple Women's World Cups.
Beck: How do you choose your destination during the off years?
Brock: There are only two ringleaders that are allowed to make the decision: that's Sean and me. We look at what's happening on the soccer schedule and where we want to go. We typically try to go see Americans play in other leagues around the world.
Beck: The trip has expanded beyond just you two and your families, right?
Brock: There's been a growing little soccer community. I'd say it really blew up in Germany, 2006.

Sean: We had 34 people go on that trip. We rented a mill that had been built in the year 777 in this tiny little town called Diebach. The town had less than 2,000 people in it. Out of nowhere, 34 Americans descended on this one little town. We were there for most of a month, and it was absolutely fantastic. They had two little local pubs. We would go up there to watch the games every evening with all the locals and became friends with quite a few of them. We actually played a match with the local soccer team in their stadium.
Brock: Stadium is a generous word there.
Sean: Well, okay. Their home field.
Beck: A month? That's a real departure from your quick trips.
Sean: The World Cup years are big. And our families go on the World Cup years. The three years between, it's mostly the friendship group. It's been amazing. I quite frankly couldn't even tell you exactly how I met some of these people, other than it's definitely soccer. You just meet people, and the next thing you know somebody says, "Yeah, actually, I want to go on the trip next year." Then generally they're pretty hooked.
Beck: Do you have a favorite game that you've seen on one of these trips?
Sean: The one that jumps out to me was in South Africa, the 2010 men's World Cup. The U.S.A. versus Algeria.
Brock: That's the one I was going to say.
Sean: The U.S. women are amazing, and they win all the time. It's wonderful to go to the Women's World Cup because you're cheering for the No. 1 team in the world. But when you're following the United States men's team, it is just waiting for somebody to stab you in the heart and ruin your day. Wow, they can find ways to lose. It is a true labor of love to follow these guys.
Beck: So, the Algeria game?
Sean: Well, we won, for starters. And it's really rare that they win a World Cup game that we're at. The U.S. had to win to advance. It wasn't looking good. The game just went on and on, and the tension went up higher and higher. We had fantastic seats in the front row at the corner flag. Then out of nowhere, the U.S. broke this wonderful attack and Landon Donovan scored a goal.
We all just went wild. The players ran over to the corner by us, and they were all dog piling. We were surrounded by U.S. fans, and it was just that absolute joy you get from sports of, My guys did it. Wow. And it happened right in front of us.
But then a fan tripped over his seat and fell on one of the girls in our group, trapping her very awkwardly between the seat and the concrete. She had a history of neck breaks from rock climbing. In a matter of seconds it went from a galactic all-time high to Oh my gosh, she may be seriously hurt.
We have a doctor friend who travels with us, and he immediately leapt into action. We're covered in red, white, and blue; there's face paint. But we go into take-care-of-our-girl mode and the game situation just ceases to exist. Ultimately, they brought an ambulance onto the field of the stadium right in front of us, and she and our doctor friend are driven away. It happens very quickly. Then they're gone and we're like, "Hey, where did they go?" Finally we get a phone call from our doctor friend, who confirms which hospital they're at.
We walk in, we wait a couple of minutes, and finally, just like out of a TV scene, the emergency-room doors blast open and out comes our doctor friend. He's got a smile on his face, a lab coat on, and a stethoscope around his neck. He looks very doctor-ish, except for one thing. The entire time, he's been running around the hospital treating our friend—who was fine—with a giant blue U.S.A. snake painted on his face.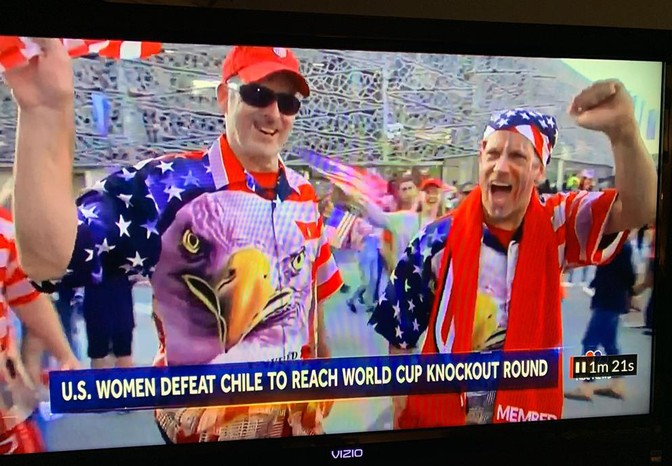 Beck: Sports fandom seems to make a very effective container for friendship. It's something that happens regularly, there are a lot of games, so there's always something new happening. Has soccer shaped your friendship specifically, or provided a structure that might be hard to find otherwise?
Brock: Soccer has this incredible international component that gives us the opportunity to pick a spot in the world to go to while at the same time supporting the U.S. men or women. Our motto is: "Follow soccer, see the world."
Sean: One of my favorite parts of this 22-plus-year journey is the people that I get to see when we go on our trips. There are some truly awesome, delightful, wonderful people that I 100 percent do not see otherwise. This trip is the intersection, and it's the only intersection. We usually end up meeting in a bar, and as soon as they walk up, it's fast friends right on the spot again. You have great laughs, you see some soccer, and then you're back on a plane home to your normal life. It's just been an amazing journey. The soccer is an excuse.
Brock: It's the perfect excuse.
---
If you or someone you know should be featured on The Friendship Files, get in touch at friendshipfiles@theatlantic.com and tell us a bit about what makes the friendship unique.