When ICE Raids Homes
For years, immigration agents targeted people at businesses, but in recent years, knocking on the doors of houses and apartments has become more common.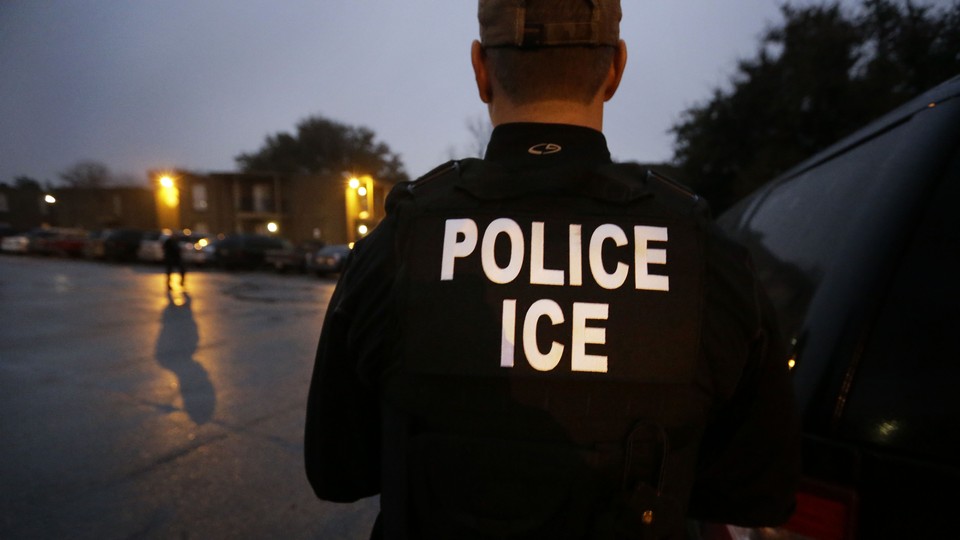 "You should be uncomfortable. You should look over your shoulder," Thomas Homan, the acting director of Immigration and Customs Enforcement (ICE), said during a hearing before Congress in June 2017. "You need to be worried. No population is off the table." The administration was making it clear that its crackdown on undocumented immigrants was coming. A knock on the door could mean deportation. For the past two and a half years, during Trump's presidency, many immigrant families have been living in an atmosphere of fear and tension.
That was the feeling going into last weekend, when the news spread that the Trump administration was once again planning a wave of raids at the homes of immigrants across the country. ICE agents would be storming the homes of undocumented immigrant parents and children over the weekend. The plan, which had originally been slated to begin in late June, had been delayed for two weeks, and families, alongside the activists who were advocating for them, were on high alert.
The raids did not occur at the scale expected, several immigrant-rights advocates told me. Instead, the administration now says it plans to carry out several smaller-scale raids over the next week. But a few attempts did occur, The New York Times reported. One teenager in New Jersey was reportedly awakened at 1 a.m. on Sunday by what appeared to be ICE agents asking her to open the door. She did not let them in. They returned hours later with flashlights and banged on the door. She went upstairs to where her parents were; the agents left once again. The Trump administration had planned its predawn immigration raids for Sunday, when residents would most likely be at home and arrests could be carried out.
Such efforts are part of a significant shift that has taken place over the past several years: ICE agents, once heavily focused on workplaces as the targets of their raids, have been turning to people's homes as a place to find and detain them. According to a report from the Immigrant Defense Project, a nonprofit immigrant-rights advocacy group, over the past two years there has been an increase in arrests "in which ICE agents enter homes by use of coercive means, including physically forcing their way inside, holding up their guns, and threatening to arrest everyone in the home."
Immigrants in the United States have lived under the plausible threat of deportation since President Bill Clinton signed the Illegal Immigration Reform and Immigrant Responsibility Act in 1996. The law imposed significant penalties on immigrants—whether legal or undocumented—who violated the law in some way. It was assumed by government officials that deportation could and should target people who broke the law. After the September 11 attacks, when the Department of Homeland Security and the then–Bureau of Immigration and Customs Enforcement were created, the apparatus to detain and deport immigrants who committed crimes received a monetary boost. During the George W. Bush administration, there was a heavy emphasis on work-site raids. The most frequently recalled raid of this style occurred in Postville, Iowa, in May 2008, when 900 ICE agents arrested more than 398 employees at a slaughterhouse and meatpacking plant. By that time, the increase in funds had translated into a surge of deportations.
After President Barack Obama took office, his administration began a close partnership between ICE and local law-enforcement agencies. But those collaborations led to racial profiling, advocates say, and people who had no criminal convictions were swept up in the raids, Silky Shah, the executive director of Detention Watch Network, told me. And they weren't just targeted businesses, but homes as well. Still, in 2014, Obama reiterated his administration's position. "Felons, not families. Criminals, not children," he said during an evening address on immigration. "Gang members, not a mom who's working hard to provide for her kids. We'll prioritize, just like law enforcement does every day."
But advocates say Obama's administration hardly abided by that rule, and they questioned the constitutionality of a policy in which local law enforcement would hold immigrants without charges for more than 48 hours after a work-site raid while waiting for ICE to come and pick them up, according to Shah. The advocates' challenges to that policy, and the heightened scrutiny of collaborations between ICE and local law-enforcement agencies, meant that ICE more frequently carried out raids on its own. And that often meant raiding homes.
When Donald Trump took office in 2017, he nearly immediately moved to expand ICE's enforcement authority. He wasn't simply targeting people with criminal records; he was targeting undocumented immigrants generally. The number of ICE arrests jumped by 30 percent, according to a study from the Pew Research Center. And the Immigrant Defense Project documented a 1,200 percent increase in ICE arrests and attempted arrests at New York State courthouses in 2017 over the prior year.
In 2017, the Trump administration planned what would have been the largest immigration raid in ICE's history, known as Operation Mega, and the focus was primarily on homes. The Detention Watch Network and Mijente, another advocacy organization, recruited groups to file Freedom of Information Act requests to obtain information about the planned sweep, which was canceled after reports of the raids surfaced. The document trove they unearthed showed that ICE planned to detain 8,400 people across 24 field offices, and had arrest quotas that could have detained "collaterals" in the homes as well.
The law is clear on home raids. Without a warrant, ICE agents cannot enter homes. And advocates advise immigrants to keep their door closed, but reports of ICE agents using coercive measures, such as verbal threats, displays of guns, or force, to enter homes have increased, which makes the practice more legally dubious. But whether the immigration raid is at home, at work, or simply threatened, the consequences can be felt immediately. Madhuri Grewal, the federal-immigration-policy counsel at the American Civil Liberties Union, stressed the impact that immigration raids have on mixed families. "The children may be citizens; the parents may be undocumented," she said. She pointed to a work-site raid in 2018 in Tennessee to highlight the impact the sweeps can have. "There were an incredible number of children—citizens—who did not show up to school the next day," she said. "It's not just raids happening in a silo, but it also has an impact on the larger community."