What a Time (For Girls) to Be Alive
Parents are hoping that this summer is changing girls' beliefs about who can be a leader or a hero in America.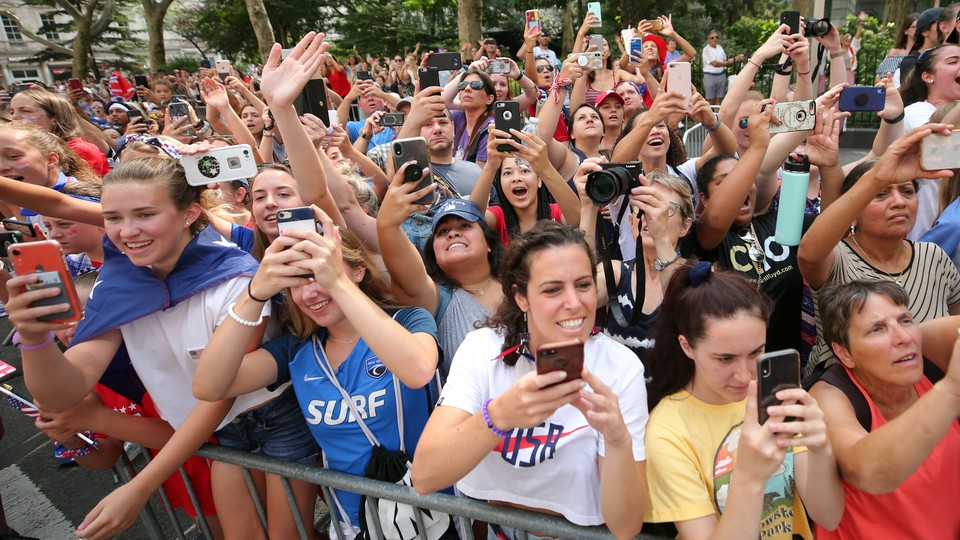 Towner Magill's older daughter, Weller, doesn't usually watch sports with him—not when it's baseball or basketball or the NFL, anyway. In part, that's because she's 6. "She doesn't usually have the attention span to watch a whole game," her dad, 37, says with a laugh.
Several months ago, however, Weller walked in on Towner watching the U.S. Women's National Team play soccer. Weller, who was the only girl to finish the season on her coed soccer team in Charleston, South Carolina, this year (and was initially a little discouraged by the fact that she had only boy teammates), sat with her dad for a few minutes before she noticed something unusual: ponytails on the field. "She was like, These are girls?! She couldn't believe it," Magill recalls. "It was like, I haven't seen this before."
Last month, when the Magills were on vacation with their extended family and the 2019 Women's World Cup was just starting, Weller joined her dad and more than a dozen other relatives and watched the Americans beat France. This time, she was interested—and Weller's little sister, who's only 3, ran around pretending to play soccer during time outs, "wanting to be like her big sister." Magill made a mental note right around then to tune in to and buy tickets to more women's sporting events. "To see this stuff on TV," he says, "has given Weller a little bit of a different perspective."
It's been just under a week since the USWNT prevailed over the Netherlands in the final of the Women's World Cup in France. But already, the team—and the enthusiastic, supportive public reaction to both its victory in the World Cup and its fight for pay parity with the men's national team—has had an impact on young women and girls in the U.S. Many American parents are optimistic that this moment will instill in their daughters the belief that women can, should, and do occupy positions of leadership, heroism, and power. And given that the summer of 2019 has also produced a presidential-candidate field in which multiple women are serious contenders for the Democratic nomination in 2020, these parents' hopes for their daughters' future worldviews are high.
Like Magill, Rebecca Anderson-Furlong, 42, of Connecticut has seen a change in her daughter since the start of this year's World Cup. Delaney, 8, plays soccer and loves the 2018 direct-to-video film Alex & Me, in which a teenage fan's poster of the USWNT co-captain Alex Morgan comes to life and teaches her a lesson about perseverance. Delaney's soccer season was wrapping up as the World Cup began this year, and "after the Thailand game [in which the United States scored 13 times], she wanted to be 'just like Alex Morgan, scoring five goals,'" Anderson-Furlong wrote to me in an email. Delaney ultimately came up short of that in her next game, but still scored two goals.
Anderson-Furlong and Delaney attended the parade held in the USWNT's honor in New York on Wednesday, and Anderson-Furlong added that her husband, a fan of the English men's club Tottenham Hotspur, has plans to put the USWNT co-captain Megan Rapinoe's name on the back of his USWNT jersey. Having borne witness to such widespread enthusiasm for the women's national team, Delaney is convinced "that this women's national team could beat Tottenham," she wrote. Anderson-Furlong credits the USWNT and other female athletes such as Serena Williams, Lindsey Vonn, and Mikaela Shiffrin with Delaney's belief that "girls can do anything."
This whole phenomenon—girls and young women feeling empowered and inspired by women's success and acclaim in a realm usually dominated by men—does not surprise Kelly Dittmar, an assistant political-science professor at Rutgers University at Camden and a scholar at the university's Center for American Women and Politics. "We often talk in politics about symbolic representation, the idea that you 'can't be what you can't see,'" Dittmar said in an interview. "But if you can see the potential for [women being celebrated as American sports heroes], you aren't just seeing the potential that women can be successful soccer stars, but even more broadly, that these very physically strong and also emotionally strong women are being given the credit they deserve."
What that says to a girl or young woman who's watching, Dittmar added, is "that her role doesn't have to be a more traditionally feminine, stereotypical role—that in fact, this is a model of the type of woman [she] could become." She can be valued by the public, in other words, by being assertive, outspoken, and physically strong.
Dittmar believes that seeing women publicly considered viable candidates for the presidency can have the same effect on young girls, and noted that some research has suggested a similar phenomenon at work. She pointed to a study by the University of Notre Dame researchers Christina Wolbrecht and David E. Campbell, which found that in several European countries, when the percentage of female politicians within government increased, women's and girls' political engagement increased as well. "Female politicians in democratic nations do function as true role models, inspiring women and girls to be politically active themselves," they found in 2007.
Women candidates for the presidency, Dittmar added, seem more likely to produce this effect than other women in government. "These women are now on TV a lot more, getting more coverage," than most women in Congress, she said.
"What I see [the number of women running for president] is the potential to 'normalize' women's place in presidential politics. If you're a young person, you saw a woman win the popular vote in 2016. You saw six women running [in 2020]. Still in a pool that's mostly men," she added. "But that's significant representation on the [primary debate] stage. For you, a woman running will not be abnormal." Some scholars have made similar observations about the effects of the candidacy and presidency of Barack Obama on African Americans.
While Dittmar sees parallels between 2019 and 2015—another historical moment when the USWNT had just brought home a World Cup trophy and was greeted with a hero's welcome, and the prospects for a female president in the near future looked promising—she sees some meaningful differences, too.
In 2015 and 2016, the USWNT's victory and Hillary Clinton's historic nomination for the presidency certainly took on a celebratory tone. But in 2017, the national #MeToo reckoning with sexual misconduct against women began; in 2018, a record number of women were elected to the House of Representatives, which many attribute to the election and presidency of Donald Trump, against whom the allegations of sexual misconduct are numerous. In other words, the past few years have lent the present moment "a heightened awareness and saliency of the inequity and the misogyny that women face," according to Dittmar. She said the difference in the rhetorical climate may account for the increased emphasis on the USWNT's fight for equal pay in this Women's World Cup compared to the last. To many women and girls across the country, seeing women athletes demand pay equity and women politicians make serious bids for the presidency "can start to feel like fighting back, or reclaiming power."
Parents of girls in the United States in a certain age group are uniquely aware that their daughters have witnessed not just two consecutive American Women's World Cup wins, but also two consecutive presidential elections in which women were considered serious contenders. They hope their daughters will never imagine that the world should be any other way. When Anderson-Furlong took Delaney with her to cast her vote in 2016, "she asked me why it was such a big deal," Anderson-Furlong remembered. "I had to explain the importance. She truly believes there was no reason why a female could not be president."
It's not just the visibility of women in celebrated positions of stardom and power that matters, she added, but the fact that these particular women are using their influence to demand equal treatment. "Girls are growing up seeing strong female role models who are standing up for equality and speaking out," Anderson-Furlong wrote. She couldn't help but think that the girls in her daughter's generation would not only shatter the glass ceiling, but might never believe it existed in the first place.