The Border Patrol–to–Emergency Room Pipeline
The conditions in facilities at the border are so dire that many migrants are in need of medical care as soon as they are released.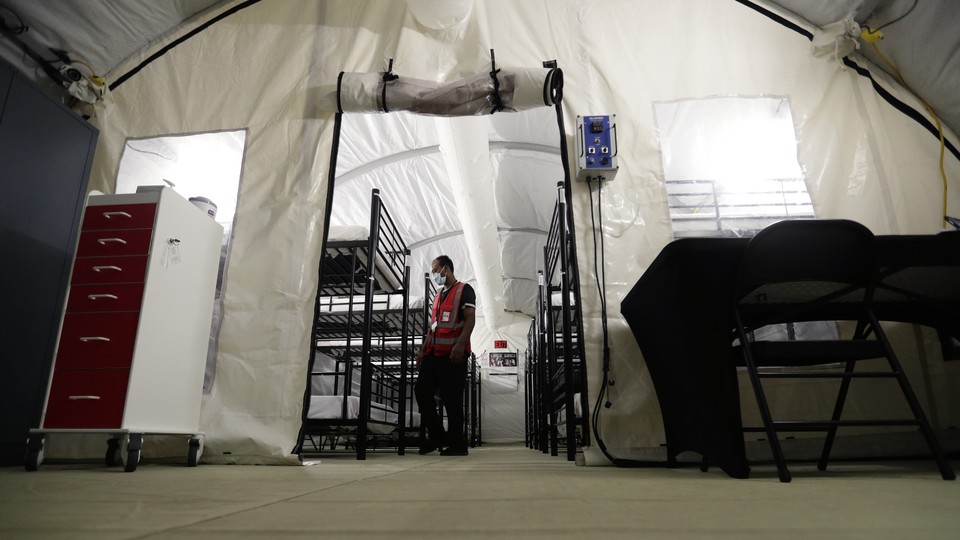 While cradling her baby, who had just finished breastfeeding, Sara reached her other hand out to her older son. With her right thumb and forefinger, she gently pressed on the bridge of her 2-year-old son's nose to hold his oxygen mask in place. A foggy mist of breathing medication enveloped his nose and swirled in front of his mouth. The 2-year-old, who has asthma, would soon be diagnosed with pneumonia. His baby brother, in his mother's arms, was suffering from bronchiolitis. Just one week earlier, Sara said, having traveled hundreds of miles from Honduras, before they entered immigration detention, the boys were healthy.
After crossing the Rio Grande on a small boat in late June, 22-year-old Sara, her two boys, and her 3-year-old daughter turned themselves in to Border Patrol agents to seek asylum in the United States. Their hope was to soon travel to South Carolina, where Sara's husband was waiting for them. Once on U.S. soil, migrants like Sara and her family are usually taken to Border Patrol detention facilities where they are processed, fingerprinted, and examined by a medical provider.
Although Border Patrol policy says migrants are not supposed to be held there for longer than 72 hours, Sara said her family was there for about six days, and some people were detained there for weeks, according to the government's own internal review. Mark Weber, a spokesperson for the Department of Health and Human Services, said that as of Tuesday, July 9, Border Patrol wasn't holding any children longer than 72 hours. Sara, whose last name is being withheld so that she could speak freely on her experiences in detention, said doctors at the facility handed out fever and flu medication, but they didn't offer anything to remedy the gravelly cough her boys had developed—an early symptom of the infections growing in their lungs. "It was like prison," she said in Spanish, sitting on a blue couch in an exam room at Valley Baptist Medical Center's emergency room in Brownsville, Texas.
After Sara and her family were released from the detention facility, they were dropped off at the Brownsville bus station. A city-funded van escorted them to the refugee respite center at Good Neighbor Settlement House. It's one of many borderlands shelters, often run by faith-based nonprofits, where migrants can stop for a shower, clothes, and food before they travel across the country to meet up with sponsors or relatives. Soon after Sara and her family arrived at Good Neighbor, workers there called an ambulance: The baby had a 103-degree fever.
As an increasing number of asylum-seeking families stream across the southern border of the United States, lawyers, doctors, and even government inspectors have criticized the facilities run by Border Patrol for being overcrowded and unsanitary. Reports from those who have been allowed in say that there's no soap, no toothbrushes, and people are getting very little sleep. Earlier this month, a Guatemalan mother tearfully testified before Congress about her 19-month-old daughter, who died from a respiratory infection shortly after she was released from the custody of Immigration and Customs Enforcement in May of 2018. "My beautiful girl is gone, but I hope her story will spur this country's government to act, so that more children do not die because of neglect and mistreatment," she said.
In early July, President Donald Trump signed an aid package aimed at improving conditions for detained migrants like Sara and her kids. Some of the $4.6 billion will fund Customs and Border Protection to provide medical care and food to migrants. But progressive Democrats were hoping for more reforms, such as higher medical standards in detention. The New York congresswoman and Democratic socialist Alexandria Ocasio-Cortez said that voting for the bill was akin to an "abdication of power."
Last month, the number of migrants caught crossing the southern border dropped for the first time this year, as is typical in the hot summer months, but tens of thousands of migrants still cross every month and flood overcrowded detention centers. In May, an average of 4,600 people a day crossed the border illegally or without proper documents, according to a Department of Homeland Security memo. Because CBP's detention capacity along the border is only 4,500, the conditions in the holding facilities are still at "crisis levels," a DHS official told The Washington Post. In a statement on July 9, the DHS acting secretary, Kevin K. McAleenan, said, "We are past the breaking point and in a full-blown emergency."
While some migrants might arrive sick from conditions in their home countries or on the way to the United States, some doctors I spoke with say that border facilities themselves have become a disease vector. Cursory medical screenings and crowded holding rooms leave tired and weak asylum seekers vulnerable to contracting illnesses both minor and severe. Some migrants become so ill that they're rushed to the emergency room for treatment either while they're still in detention or just after they're released.
---
"You never know what time it is," Sara said, recalling her days in detention.
The lights were always on, she said, but she learned to tell the time by the rhythms of the workers flowing in and out. Like many detained migrants, Sara doesn't know where she was held. Based on where Sara crossed into Texas, Marianela Ramirez-Watson, the director of the Refugee Respite Program at Good Neighbor Settlement House, thinks she may have been held in Border Patrol's largest detention center, commonly called "Ursula" for its location on Ursula Avenue in McAllen, Texas.
Emergency-room doctors and nurses in the Rio Grande Valley, the busiest border region for migrant crossings, say they often see detained immigrants escorted into their offices by immigration agents. A physician's assistant I spoke with, whose identity is also being withheld so she could speak freely, said that in her regular 12-hour shifts she usually sees between five and 10 patients escorted by Border Patrol agents for issues such as medication refills, the flu, chicken pox, anxiety, pink eye, and bone fractures from jumping off the border wall. Carlos Ramirez, the medical director of a freestanding emergency room run by Rio Grande Regional Hospital, said he regularly sees patients recently released from Border Patrol with advanced coughs, congestion, lung infections, stomach problems, and skin conditions.
Official statements confirm this detention-to-hospital pipeline. In an early April press call, Border Patrol Chief of Operations Brian Hastings said that the agency then sent an average of 63 people per day to get additional medical treatment—which is the highest number it has seen since it began tracking it. A Border Patrol spokesperson didn't reply to a request for updated information.
Ramirez chalked up migrants' illness mostly to the "luggage" they bring with them, including a lack of preventive care like vaccines, and the arduous trek. "This is not related to being in a detention center," he said. "This is because their immune system is not good, because they don't have the vaccines, because of a bunch of things they don't have to start with." But other physicians said that the conditions in the facilities themselves were also to blame. Detainees can't wash their hands, even after using the bathroom, according to Dolly Lucio Sevier, a local pediatrician who visited Ursula in mid-June. She said this was "tantamount to intentionally causing the spread of disease" in a report she wrote about the visit. Lawyers subsequently used her observations in a lawsuit against the federal government to demand better treatment for these detained children, and a federal judge ordered in late June that an independent mediator should work to quickly improve unsanitary conditions at Texas Border Patrol facilities.
What Sara's family endured in detention certainly didn't help. In addition to pneumonia, Sara's 2-year-old also had an ear infection, and though she asked for antibiotics, she said immigration officials didn't give them to her. About 70 migrants huddled on a freezing tile floor in the room where her family was detained, Sara said. They had floor mats to sleep on, but she said that for a time, not everyone had blankets. Each time a group of migrants was released, others claimed the blankets they left behind. "I wasn't able to talk because of how cold it was," she said.
The milk for babies smelled sour, she said, and her 1-year-old vomited and had diarrhea after drinking it—a complaint that Ramirez-Watson has recently heard from other families who have passed through Good Neighbor. Sometimes sandwich bread was moldy, and some of the children's burritos had rotten beans, Sara said. One of the burritos appeared to have a bite mark. "They would pass around a container to put stuff we didn't eat, and then the next day it seemed like they would give us the food that was thrown away," she said. (When asked for a comment on the conditions Sara faced in detention, Border Patrol didn't respond.)
She said three guards would look at her with disgust and push people, often harassing the children. "One of them would say 'What the fuck' and start saying stuff," she said. "I don't know English, but I know bad words."
---
Dozens of migrants flow through the doors of Good Neighbor every day, and the nearby Catholic Charities respite center aids hundreds more in McAllen, Texas. While local respite-center directors say that most newly released migrants don't require intensive medical care, sometimes they arrive so sick that they have to go straight to an emergency room.
Some respite centers, such as Catholic Charities, have volunteer doctors to treat minor ailments, and they send migrants to the emergency room for more severe problems. Ramirez-Watson of Good Neighbor says the shelter's insurance company won't let it distribute medications like Tylenol without hiring a medical professional, which it can't afford now. So if migrants, especially children, arrive with a 101-degree fever or higher, she'll call an ambulance.
Released migrants are almost always uninsured and usually can't afford the cost of treatment. Hospitals likely pay for their care with federal and state dollars through a program called Emergency Medicaid, according to Anne Dunkelberg, the associate director of the Texas-based think tank Center for Public Policy Priorities, though that may not apply in all cases, and she said other supplemental funding sources, both federal and local, might also chip in.
From January to April, Good Neighbor sent about one to two people to the emergency room every week, though that frequency has dropped in recent weeks, according to Ramirez-Watson. "Mostly it's children, babies that are very fragile and may have high fever," says Sister Norma Pimentel, who runs the Catholic Charities respite center. "They may be dehydrated and unresponsive, so we definitely take them to the hospital right away."
Roberto "Bert" Johansson, a pediatric intensive-care specialist who volunteers at a respite center in El Paso, has treated hundreds of migrant children released from immigration detention facilities, and he's seen kids with lice, scabies, and a range of infections that he says could have been treated and, if necessary, isolated sooner. He guessed that medical examiners in Border Patrol detention facilities are either overloaded with patients or unqualified to effectively treat children.
The government does not generally allow independent doctors inside detention facilities. But with multiple deaths of migrant children who were detained in or recently released from Border Patrol custody this year—compared with zero in-custody child deaths reported in the past decade—some borderlands physicians and immigration attorneys are calling for independent doctors to evaluate the children.
"I would like the chance to see them earlier," Johansson says. "Because I know that if I see them late, there's no chance. But I know that if I see them early, there's a chance of survival." Last December, a 7-year-old Guatemalan girl in Border Patrol custody died of a fast-growing bacterial infection. Johansson reviewed her autopsy report. He says her death was easily preventable.