'As a Father ...'
In the first round of Democratic presidential debates, male candidates were eager to play the dad card, while none of the mothers running mentioned her parenthood.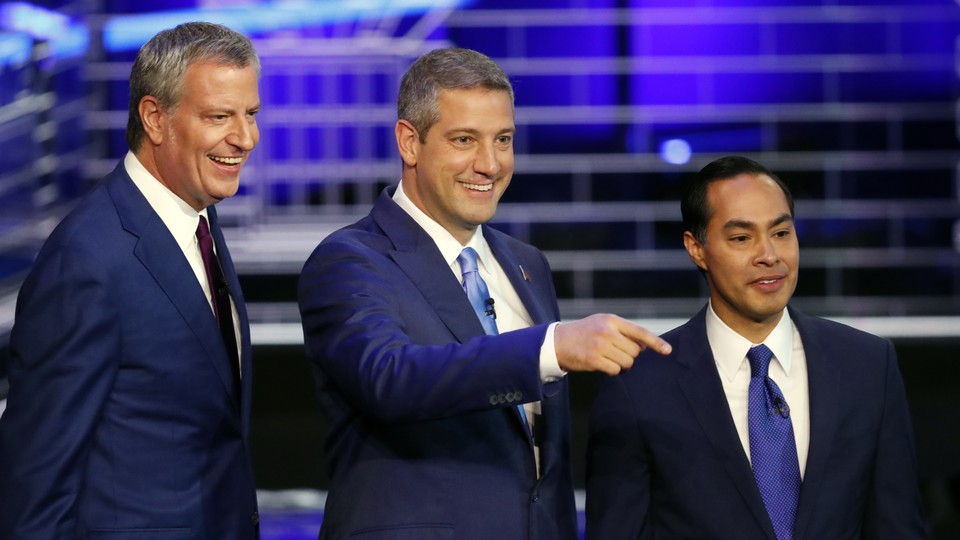 The 2020 Democratic primary—in which six women and 18 men are currently running—has already been buzzed about as the first election in which multiple mothers will seriously compete for the presidency, a pursuit traditionally undertaken only by fathers. On the debate stage Wednesday and Thursday, however, the Democratic primary field seemed like it was made up of something more like dads and female candidates.
Over two nights of debates, the first for the Democrats in the 2020 race, not one of the mothers running for president mentioned her children. But the dad card was played over and over again.
On Wednesday evening, when the first 10 of 20 Democratic candidates running met onstage in the first primary debate, three were women and seven were men; eight of the candidates have children. Five times, candidates mentioned their children or grandchildren. Every time, the mentioner was a man.
Beto O'Rourke and Julián Castro invoked their daughters: Castro when he spoke of keeping his own kids and all American kids safe from gun violence in their schools, O'Rourke when he vowed in closing arguments to make America a better place for the next generation, some of whom are today children around his daughter's age. Bill de Blasio mentioned being a dad twice. First, he noted that "as a father" the family-separation policy at the border had been particularly troubling to him. Later he gestured at the fact that his son is black as a way of differentiating himself from the other candidates ("There's something that sets me apart from all my colleagues running in this race, and that is, for the last 21 years, I have been raising a black son in America"). Jay Inslee, meanwhile, mentioned in his closing arguments that it was the thought of his three grandchildren inheriting an uninhabitable Earth that drove him to fight for better climate-change policy.
Amy Klobuchar and Elizabeth Warren, it is worth noting, are both mothers. Neither one mentioned motherhood or their children during their appearances in the primary debate; not even Warren, whose particularly autobiographical and family-centric closing arguments mentioned her three older brothers.
On night two, the same rule applied: Of the 10 candidates (seven men, six of them fathers; three women, two of them mothers), dads talked about their kids, while moms kept mum. Joe Biden mentioned his late son and daughter in a question about health care. Answering the same question, Michael Bennet mentioned his daughter's appendectomy as a time when he personally had been grateful for the choices the existing American health-care system provided to patients. Eric Swalwell said that as a parent, the issue of preventing gun violence in schools was particularly urgent to him.
Swalwell also joked later in the evening that as a young father, he's often busy changing diapers—but when he's not, he's changing Washington. "Most of the time," he added, "the diapers smell better."
It's hard to imagine a female presidential candidate making a joke about diapers, and easy to imagine there might be backlash if she did. There's a famous double standard that has been shown to apply to parents in the workplace: Being a dad can help men's job and earning prospects, but being a mom can hurt women's job and earning prospects. As one researcher who has studied this phenomenon put it to The New York Times in 2014, "Employers read fathers as more stable and committed to their work; they have a family to provide for, so they're less likely to be flaky," while the assumption about mothers is that "they work less and they're more distractible when on the job."
This week's debates proved that this idea is so ingrained, it appears to play out even in interviews for the job of president of the United States.
Female candidates who have children spoke at length during the debates on parenting-adjacent issues, but never mentioned that they themselves are parents. Marianne Williamson, for instance, said her first priority as president would be to make America the best place in the world to raise children. Kirsten Gillibrand held forth on her unwavering commitment to abortion access and devoted her closing statement to paid family leave. (Gillibrand, it's worth noting, has been vocal about her role as a mom at other times in her campaign. For example, she has vowed to "fight for other people's kids as hard as I fight for my own.")
Perhaps the most stirring invocation of parenthood over both nights, however, came from a female candidate who became a parent relatively late in life and only through marriage. Kamala Harris, who has two adult stepchildren (who reportedly call her "Momala") but no children of her own, nonetheless appealed to the protective sensibilities of parents watching the second debate. Harris painted vivid pictures of motherhood—a sort of hypothetical, universal motherhood—in her responses to questions about health insurance, immigration, and gun violence. She invited the audience to imagine driving a sick child to the emergency room knowing that if they even walk through the hospital doors they'd be out $5,000; to imagine the plight of an immigrant mother trying to get her children out of danger; to imagine being a mother whose child was killed by gun violence.
It's worth considering that perhaps it is precisely the fact that Harris is not a mother but a stepmother of adult kids that liberates her to speak on issues of motherhood—that her stepchildren were in their late teens already by the time she married her husband, and that she has likely never missed a day of work because of a sick child or had to end a workday early to drive to soccer practice. It's possible, in other words, that Harris is the rare female candidate whose invocations of motherhood don't risk reminding voters of the potential that she might be distracted from the work of the presidency by the daily demands of being a mom.
Parenthood makes for powerful political rhetoric. Invoking the plights of families and children is a quick way to personalize a problem; referencing one's own family is an easy way for a candidate to seem relatable and just as invested in the issues as the voters. The Democratic dads employed this strategy repeatedly, and effectively. But the moms shied away from it, perhaps because they are all too aware that the double standard of parenthood at work often means relatability can come at the cost of respect.
As my colleague Annika Neklason noted last year, a striking number of female candidates in the 2018 midterm elections proudly centered their roles as parents in their campaign messaging. As Neklason noted, these politicians were invoking their motherhood in the same way Patty Murray did in 1992: as a way to seem authentic and connect with voters, many of whom were working parents themselves.
But perhaps the mothers seeking the presidency—as yet unattained by any woman—are still wary of how voters would react if they emphasized parenthood as part of their case to be the first female president.