The Modern, Secular Godparent
As Americans become less religious, some families are still looking for a mentor for their kids, albeit not a spiritual one.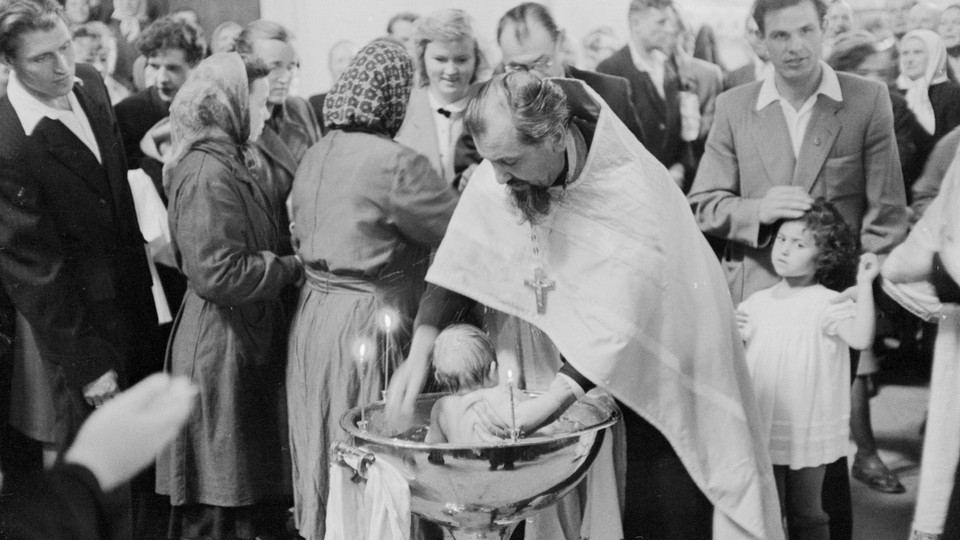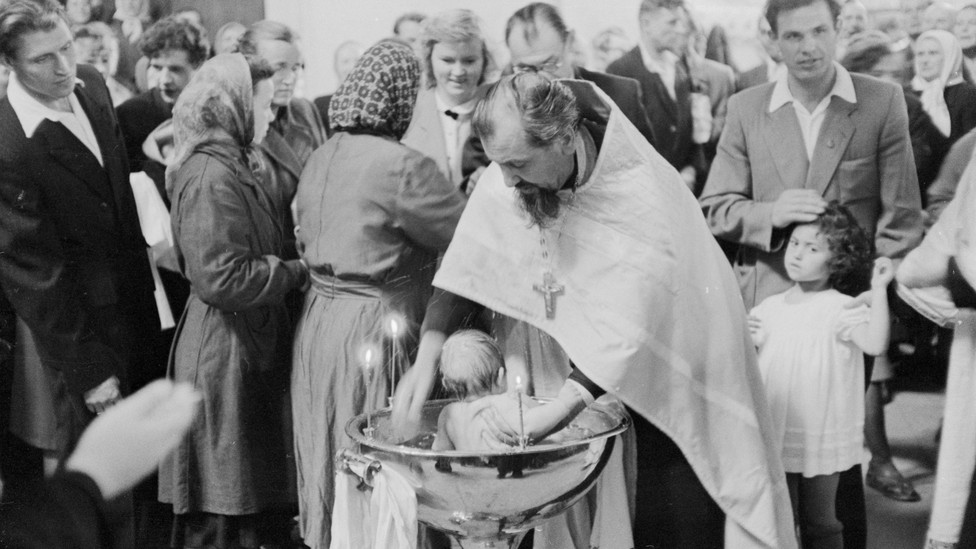 Kaeley Van Zoren recently faced a line of questioning about her religious beliefs over dinner. Her brother, Chris, and his wife, Tara, had just welcomed their first child in May and wanted to name Kaeley godmother. But first, they needed to get a few things straight: "They introed it by asking me about how I felt about religion and my thoughts on Catholicism," Kaeley says. "I told them I'm not super religious; I don't attend church every Sunday."
Kaeley, a registered nurse who lives in Philadelphia, had completed eight years of catechism beginning in first grade and received the sacraments of baptism, communion, and confirmation. Relaying this to their priest, Chris and Tara were given the go-ahead to name Kaeley godmother. "We probably didn't have to confirm with our priest, but it made us more comfortable since the godparent role for us is central to baptism," Tara Van Zoren told me in an email. "Because Kaeley doesn't consider herself to be a practicing member of the same religion as us, we wanted to double check with our priest."
To Kaeley, the term godparent is a formality—she's not entirely sure who her own godparents are, "so they obviously have not mentored me very much," she says. As for her own duties, she will be present at her nephew's baptism, the Christian ritual in which a person is welcomed into the faith, and will promise to usher the baby through a life of spirituality—but after the ceremony, she plans to assume a more secular mentorship role. "It depends on what your religious beliefs are, but in my eyes, I feel my role is to support him and love him, hang out with him, and play with him and as he gets older, be a shoulder to cry on," she says.
In Christian denominations, a godparent is traditionally considered to be an infant's religious sponsor, involved in the child's religious upbringing. But over the past half century, American religious views have changed. The number of American adults who say they are religiously affiliated has dropped, with a declining number of adults identifying as Christian, according to Pew Research Center's 2014 U.S. Religious Landscape Study. And among Millennials, who are now having children, less than a third say they attend religious services on a weekly basis.
The role of the godparent has evolved alongside those trends: What was once an adult tasked with shepherding a child toward a life of faith has transitioned into a secular role model providing emotional, practical, and even financial support.
By the fifth century, godparents were fairly common in western Europe, says Guido Alfani, an economic-history professor at Bocconi University, in Milan, who studies the role of godparents throughout history. The rite is considered a sacrament of initiation and salvation, and for centuries, Christians believed that those not baptized would not go to heaven. Because babies can't speak and affirm their religious upbringing, sponsors would renounce the devil on behalf of their godchildren. Until the 17th century, parents frequently chose godparents who were unrelated to the infant to create a community outside of family. "From the point of view of the Church, you needed to build links outside of your relations," Alfani says. "This is something theologians thought allowed [us] to build a society in which all individuals were more connected, independent of the fact that they belong to this or that group."
The term godparent never appears in the Bible—theologians suggest the term originated around the time that infant baptism came into practice—but it is rooted in cultural tradition. Historically, it held more social weight than spiritual, says Bernadette Sweetman, a postdoctoral researcher in adult religious education and faith development at Dublin City University. The role of godparent carried a certain prestige. It was a sign one was considered a good friend of the parents or a well-connected member of the community.
And the appointment could be strategic. Throughout history, in Central American countries, "it was common to ask your rival or enemy to be godparent in order to put an end to a feud," Sweetman says. "Similarly, in Europe, business partners were asked to be godparents to ensure a good working relationship or [so] they wouldn't embezzle [from] you. Also, it was common that a craftsman or merchant would act as godparent and was expected to teach the boy the trade or offer an apprenticeship."
Following the French Revolution, "civil baptisms" performed by a municipal figure gained popularity in Europe in the 19th century for those looking to give their children godparents without a religious ceremony, Alfani says, spurred by the decline of religious influence in daily life. Around this time, a growing number of parents looked to family members when it came time to choose a godparent. The role served to strengthen interfamily bonds and to welcome the child into an already established social network, Sweetman says. "When a child is born, you want them to be part of something," she says. "The bigger the family, the bigger the network."
While some parents continue to have their children baptized as a way to welcome them into the Church, the motivations for baptism have broadened. Today, some parents are choosing to have their children baptized mostly as a reason to celebrate the birth of the child, Alfani says. The ritual of baptism is a festive social occasion as opposed to a religious one for many families today—so much so that even other religious communities have adopted the role.
Other non-Christian faiths have their own godparent-like traditions, and many families in these faiths are being similarly influenced by broader cultural trends. While planning her son's bris, a Jewish circumcision ceremony that takes place eight days after a baby boy is born, Elana Gartner was told by the professionals performing it to select godparents. "We were very startled and taken aback and confused," she says. "We hadn't heard of any Jewish families who had godparents until that point."
Gartner, who lives in Brooklyn, hopes her kids, now 10 and 8 years old, see their godparents as two other sets of aunts and uncles they can turn to for advice and professional guidance. "There's some spirituality that goes along with family relationships, but in this case, each individual serves a different purpose," she says. "They bring different things to my kids' lives." For example, when her son showed an interest in history, Gartner suggested he talk with his historian godfather on the phone.
Shakarra McGuire, who works in communications for a nonprofit in Washington, D.C., is godmother to three of her friends' children, who range in age from 1 to 8 years old. Although the parents of her godchildren are her longtime friends, McGuire says she brings a fresh perspective to the kids' lives. "I've had a bit of a different experience than their parents," she says. "I went away for college, I've never moved back home, I've traveled a lot, I've done some things professionally different than their parents have."
Though the kids were baptized, McGuire says her relationship with her godchildren skews secular and more auntlike; she's an unbiased voice of reason during disagreements. She especially hopes to be a source of educational and professional guidance as they get older, a relationship she wishes she'd had. "I didn't have godparents," McGuire says. "I always wanted them, and since I've gone off to college, I know people who had godparents and saw them be there for the big moments in life. That's what I wanted to do for my godchildren."
A common misconception of godparenthood is that should the parents pass, the godparents would gain custody of the child. "There is no legal dimension to godparents," Sweetman says. Still, Maya Flinn, who lives in Providence, Rhode Island, says she would raise her two godchildren—her 12-year-old niece and the 4-year-old son of her childhood friend—if anything were to happen to the parents. The parents have updated their wills to reflect this, she says. Flinn does not consider herself a religious person (her niece was baptized at age 2, but her younger godchild was not) and takes godparenthood to mean "surrogate family."
Because she doesn't plan on having children, Flinn, who works in banking, has taken additional measures to support her godkids: She's started college funds for both of them. "That's part of what the godparent relationship means," Flinn says. "You're going to be there not only emotionally, but monetarily."
But the religious aspects of godparenting are still central for some families. Alvin Clay has been a godparent for most of his life. He was first named godfather at 16 when his first godkid—his cousin, now 22—was born. Growing up in a large Catholic family in Bryn Athyn, Pennsylvania, Clay was accustomed to family members serving as godparents for one another and offering support as they received sacraments such as communion and confirmation. He tries to lead by example, he says, to guide the kids toward righteousness. "You're not there to be the catechism police," says Clay, who works for an online radio station. "Your parents are there every day doing that. I try to be a good person, so I show by example: Hey, I'm being a good person; maybe you should be too. I'm living it, I'm treating people right, this is how it works."
Grace McDermott, Clay's goddaughter, knows their relationship was born of a religious tradition, but sees her connection with Clay as more of a big-brother bond. "The advice I received from Alvin always carried a little extra weight because I knew that he had successfully navigated the trials of sports teams, high school, and summer job searches, but he was still young enough to be cool," McDermott told me in an email.
Now the godmother to her godmother's 3-year-old—she calls it the "god-chain,"—McDermott said the modern godparent-godchild relationship isn't necessary, but is not without its benefits, "a special ticket into the moments of a loved one's life that you otherwise might have missed."
The musician Helen Le says she was surrounded by Christian principles in Mississippi, where she grew up. For the first six years of her life, she was raised Buddhist, but she was introduced to Christianity through a family friend whom she describes as "a Southern Baptist devout Christian." The woman who brought her to the religion would later become Le's godmother. "I was an Asian girl raised in the South, where everyone pretty much practiced Christianity," Le says. "Everyone shared the same beliefs, and I felt as if [religion] was my way of understanding my community through God." She was baptized when she was 7, and her godmother served as a spiritual guide throughout her adolescence. Le's parents, who didn't convert, supported her spiritual shift and attended her baptism.
Now a godmother to her best friend's 2-year-old, Le has reevaluated her own position on how religion intersects with mentorship. "It's become more like a stand-in parent versus, 'This is what we believe,'" Le says, despite Christianity's cultural stronghold in parts of the South.
Modern godparents ultimately act in service of their godchildren, whether as a religious mentor like the centuries of godparents before them, or in more secular ways. From offering career advice to providing financial assistance, the role of godparents has evolved to match the needs of families today: In lieu of religious support, kids can lean on them for other vital aspects of life. "[Being] a godparent is a huge responsibility, even though the name doesn't mean as much as it did before," Flinn says. "For me, I don't take that lightly."