The Case Against Grit
David Epstein's new book, Range, argues that starting a specialized path early and doggedly sticking to it may not be as rewarding as trying a variety of things and quitting the unfulfilling ones.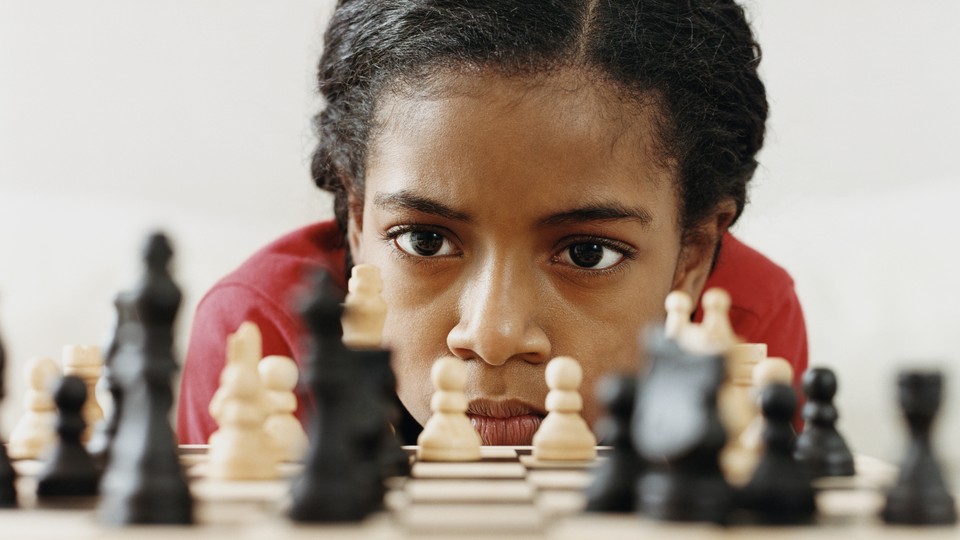 Updated at 12:40 p.m. on May 31, 2019.
David Epstein's new book, Range, isn't about parenting per se, but Epstein thought a lot about parenting while he was writing it. And not just because his first child was born a few months before its publication.
Range, a book about the value of being a generalist rather than a lifelong or career-long specialist, argues that many of the most effective people in elite professional fields (such as sports, art, and scientific research) succeed not despite the fact but because they find their way to that particular field after pursuing other endeavors first. The concept of parenting, particularly the guidance and gatekeeping of children's hobbies and interests, seems to consistently hover just outside the page margins—because it's hard to argue that anyone plays a more vital role in overseeing people's academic, artistic, and athletic pursuits early in life than their parents. As Epstein put it in an interview with me, "Before this was even a book idea, I was interested in [early childhood] specialization, particularly in sports. And you cannot interact with that area without parents being front and center." Range's primary takeaways for parents are both clear and counterintuitive to contemporary parenting wisdom: Let kids find out on their own that they're passionate about something, and let them quit and pursue something else when they find out they aren't.
Epstein opens Range with the story of the strikingly laid-back upbringing of Roger Federer, believed by many to be the greatest male tennis player of all time. Unlike Tiger Woods—another sporting legend, whose early, all-consuming childhood specialization in golf under his father's tutelage has become a template for parents who want to prime their kids for excellence—Federer played several sports as a child and an adolescent. His parents encouraged him only in the direction of good sportsmanship, and when he began to gravitate toward tennis, they cautioned him against taking the sport too seriously. Years later, Epstein notes, Federer would credit the hours he spent dabbling in basketball, handball, skiing, wrestling, swimming, table tennis, and skateboarding with helping him develop his hand-eye coordination and his famously well-rounded athleticism.
The Federers, Epstein notes, did a lot of things that served their son well. For starters, once they learned that Roger loved playing sports, they encouraged him to try a variety of them—or to have a "sampling period," as Epstein calls it in the book. Sampling periods are crucial, he argues, because they allow kids to discover organically what they love doing and most want to succeed in.
They've also grown less popular in recent years. In the first two decades of the 21st century, stories like those of Tiger Woods and the chess-playing Polgar sisters of Hungary*—whose parents homeschooled their three young daughters with the explicit intention of making them international chess celebrities (and succeeded)—seeped into the modern canon of parenting wisdom. Battle Hymn of the Tiger Mother, the 2011 book that encouraged parents to guide their children into rigorous training for specific activities as early as possible and not allow them to quit, became a best seller and helped contribute to the notion that kids need a "head start" if they are ever to achieve excellence. And outside of these famous examples, the increasing competitiveness and time demands of kids' sports leagues and musical ensembles tend to necessitate that kids prioritize one activity over all others.
There's a lot of concern among parents who follow these kinds of ideas, Epstein said, that without early specialization they'll "miss" the next Tiger Woods, or the next Mozart. But that's a somewhat misguided fear, "not only because of course that [kind of professional success is] very rare, but in both those cases a lot of the public consciousness is that they were created by their fathers, or manufactured," Epstein said. "When in fact, in both cases the father started responding to the kid's very unusual display of interest and prowess." Indeed, in a study of 1,200 young musicians, overwhelmingly those who quit did so because they felt there was a mismatch between the instruments they wanted to learn to play and those they eventually took lessons in—and another study Epstein cites found that among musicians ages 8 to 18, the students who went on to become the most successful only started practicing more when they identified the instrument they themselves wanted to focus on. Tiger Mother author Amy Chua, Epstein notes in Range, begins to make sense of this herself at the end of her book, when her daughter Lulu, whom Chua has decided will be a violin prodigy, abruptly quits playing at age 13 despite showing extraordinary potential because, as Lulu puts it, her mother picked it, not her.
The other major principle that Epstein hopes parents will take away from Range is not just the acceptability but the importance of quitting. Quitting sports or music lessons or other activities, it should be noted, has also gotten controversial among parents. Some argue that, in line with the old adage "Quitters never win," hanging in there when an activity becomes unfulfilling or hard builds character, or encourages the development of "grit." But as Epstein points out, while the ability to persevere when something is difficult can certainly be a competitive advantage, in the long run so can knowing when to quit.
Epstein points to research that has shown that quitting something that's unrewarding or unfulfilling and moving on to something that's a better fit makes people happier. For example, when the economist and Freakonomics co-author Steven Levitt conducted a study online in which participants who were considering a career change could flip a digital coin, heads for quit and tails for stay, he found that six months later, those who flipped heads and changed jobs were substantially happier. And perhaps more important, they had freed themselves up to try other things and find out what fulfilled them more than their current career. So quitting once it's clear that the "match quality" between the person and the pursuit is bad, Epstein said, should be seen as more of a success than a failure. Seth Godin, the author of a number of career-advice books, has even endorsed making a list at the start of any endeavor of the conditions under which to quit, and Epstein sees some potential in implementing this as a parenting strategy.
When Epstein thinks about the many parenting styles he encountered in his research for Range, the parents whose tactics stand out to him as especially conducive to raising kids with a broad set of skills and a self-identified passion are those who have encouraged (rather than pushed) their children in all their pursuits, rather than just one. Epstein's reporting on Jack Andraka, the young inventor from Maryland whose award-winning test for pancreatic cancer is now in clinical trials, didn't make it into the final version of Range, but it revealed a parenting approach that Epstein especially appreciated. "Jack would get interested in something to experiment on, and his parents would just facilitate it. Where they pressed a little was for him to be engaged with stuff, whatever it was," Epstein told me. "They would talk about science, they would talk about issues. But they would get materials for him and encourage him to experiment."
Epstein hopes to apply that logic to his own parenting, when his infant son is old enough to begin having interests of his own. "I'm not going to prescribe for [my child] to diversify any more than I would prescribe for him to specialize. If he does do the Mozart thing, I'll certainly make opportunities available," he said. But more likely, he'll just "facilitate a lot of opportunities to try different things. What I see my role as is helping him reflect on those things, so he gets the maximum learning about himself."
---
* This article originally mischaracterized the Polgar sisters as being from Poland.