The 2020 Presidential Candidates' Families Look Like Americans'
As the country's household structures diversify, the image of a first family is broadening.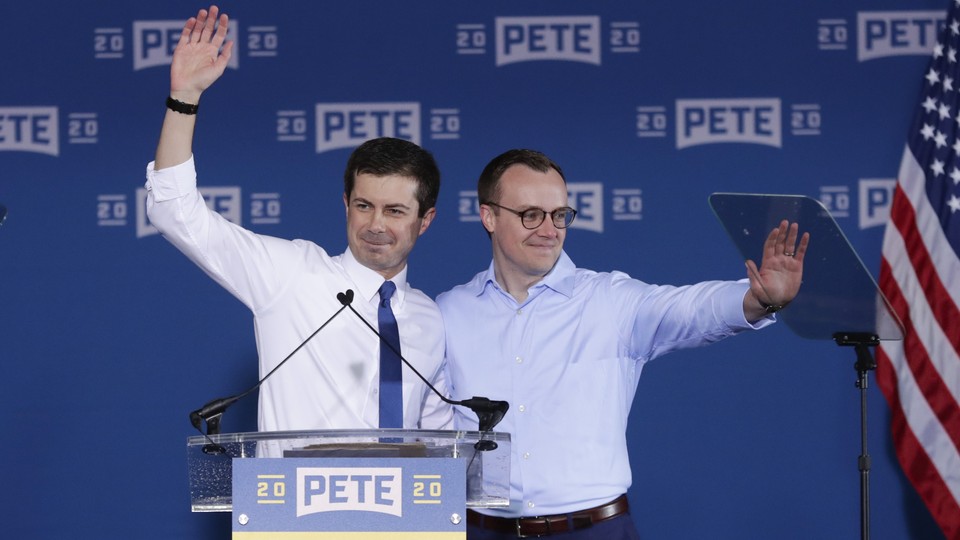 A particular variety of nuclear family has become recognizable as the "presidential" kind of family: a married father and mother, the kids they've begotten together, a handful of household pets. In the 20th century and beyond, such families have dominated the White House, from the Tafts to the (Franklin Delano) Roosevelts to the Kennedys to the Obamas, with only a few exceptions.
But a look back further in history suggests that this wasn't always the norm. A number of 18th- and 19th-century commanders in chief had what we might now call "blended" families—George Washington himself, for example, had no children of his own, and was a stepfather to his wife Martha's four children with her previous husband, who died. And the families on the campaign trail for the 2020 election suggest that the tidy, intact nuclear-family unit may not be the template for a first family much longer.
Today, "we're still caught in this kind of post–World War II mold of what families look like," says Barbara Perry, the director of presidential studies at the University of Virginia's Miller Center for presidential scholarship. "People sometimes jokingly talk about the old-style 'American family' of the sitcoms in the 1960s. But that's been the standard that we applied for our presidents, too, because that's how society viewed the ideal American family—with the mother and the father and the 2.2 children." Perry notes that in recent years, even candidates for local office have positioned themselves as members of relatively traditional families: When she gets mailings from candidates in local races in Virginia, "even those candidates almost always show themselves with their families," she says. "It's always a spouse, and sometimes children, and a dog—always a dog."
But in the 2020 presidential election, a "traditional" presidential family will be just one option among many.
In the second decade of the 21st century in America, fewer than half of children live in a household with a married couple who have never been divorced or remarried, according to the Pew Research Center. (In 1960, by comparison, this figure was 73 percent, and in 1980, it was just over 60 percent.) Some 16 percent of children live in "blended family" households, with a stepparent, stepsiblings, and/or half siblings, according to the same report; one in five children lives with a single mom. Meanwhile, census data from 2017 indicate that more unmarried adults are living in the United States than ever before—and data from Gallup and the Census Bureau show that more than half a million same-sex married couples now live in the United States. In other words, American families and households look markedly different from how they looked just a few generations ago, and the 24 candidates running for president in the 2020 election have families and households that look remarkably like Americans'.
Of the 24 candidates, eight have blended families: Donald Trump has children with multiple partners; the candidates Elizabeth Warren, John Hickenlooper, Bill Weld, and Joe Biden are married and have children from previous marriages, while Bernie Sanders is married and has a son from a previous relationship; Sanders, Tim Ryan, and Kamala Harris all have stepchildren. Seven are remarried divorcés or divorcées (Trump, Warren, Hickenlooper, Weld, Sanders, Eric Swalwell, and Tulsi Gabbard), and four have no children of their own (Harris, Gabbard, Pete Buttigieg, and Cory Booker). One has a spouse of the same sex (Buttigieg), one is a remarried widower (Biden), and two are unmarried (Booker and the self-help and spirituality author Marianne Williamson). Two candidates have at some point lived as single mothers (Warren and Williamson).
Of course, as Perry points out, only some of these more "modern" family structures would be firsts. Buttigieg, for example, would be the first president married to someone of the same sex, and Warren and Williamson would each be the first woman ever to have been a single mother—or, for that matter, the first woman at all—to hold the office. But tellingly, there is less than a 50-50 chance that the president would be someone who is currently in a mixed-gender marriage with their first spouse and has had children only with that spouse. (See: Beto O'Rourke, Jay Inslee, Amy Klobuchar, Wayne Messam, Seth Moulton, Andrew Yang, Kirsten Gillibrand, Julián Castro, John Delaney, Steve Bullock, and Michael Bennet.)
That one-third of the candidate field is remarried after divorce or widowhood—and that six of the eight remarried candidates are over 55—should come as no surprise. Remarriage, especially among those over 55, is more common in recent years than in prior generations: Data from 2013 show that two-thirds of previously married adults ages 55 to 64 had remarried, and half of previously married adults 65 and older had. In 1960, those stats were 55 percent and 34 percent, respectively. That more than a quarter of the candidate field has been divorced also reflects a broader shift in American culture. While divorce rates have fallen among some age groups in recent years and risen dramatically among others, overall, being divorced is much more common, especially among older Americans, than it was a few generations ago.
In some ways, the fact that Americans could soon see one of these family structures in the White House is a return to form. The early years of the United States saw more diverse first families; specifically, Perry says, more presidents had blended families or lacked wives or children, but that usually had more to do with high mortality rates from illness than with divorce. James Madison had no children of his own, but his wife, Dolley, a widow when they married, had one son. Of course, at that time, stepfamilies were so common that they were barely distinguished at all from other families, says Catherine Allgor, the president of the Massachusetts Historical Society. "A man had dominion over all his children, whether they were his or not," she says. (Other presidents are today known to have had children with multiple partners, though it wasn't common knowledge at the time. Warren G. Harding, for example, was found in 2015 to have fathered a child with a woman who was not his wife. Thomas Jefferson, a widower when he took office, is now widely believed to have fathered multiple children with Sally Hemings, his slave.)
Allgor, whose research specializes in the lives of the first ladies, also notes that in early American history, it wasn't so much the structure of a candidate's family that mattered to voters so much as whether a candidate and his wife seemed like an effective governing team. First ladies, she says, often hosted the social gatherings where the unofficial political dealings of Washington took place at the time—so a worldly or charismatic first lady, such as Louisa Adams or Dolley Madison, could be a boon to her husband's campaign.
Despite the long-held tradition of the president being a husband and a father, the American people have elected bachelor presidents—such as James Buchanan in 1857 and Grover Cleveland in 1885. (Cleveland famously got married while in office, becoming the only president to ever marry at the White House. He was also accused of fathering a child before he married, and not with the woman who eventually became his wife.) Still, Allgor notes, Buchanan appointed his niece, Harriet Lane, to the role of first lady during his presidency. "A male politician needed a woman by his side, and it didn't necessarily have to be one he was married to," she says. "In the 19th century, people recognized this—that for politics to happen, you needed these two spheres, the official and the unofficial."
By the late 20th century, when advances in medicine, a prospering postwar economy, and a Baby Boom resulted in a higher rate of intact nuclear families, nontraditional family structures had become controversial enough that having one could nudge a presidential candidate out of contention. Perry, who has written three biographies of members of the Kennedy family, notes that John F. Kennedy's father urged him to marry in his early 30s to preempt any unwanted questions that might arise about the sexual orientation of an unmarried candidate for political office. Adlai Stevenson was divorced, Perry points out, when he ran for president in 1952 and 1956; when his first wife died in 1972, her obituary said their divorce had been "considered a liability" to his campaign. And when Nelson Rockefeller, then the governor of New York, briefly left the presidential-campaign trail to be with his new wife for the birth of their first child in 1964, he drew attention to the fact that he and his wife had both left their previous spouses, and he narrowly lost the California Republican primary to Barry Goldwater. Though that isn't necessarily why he lost, Perry thinks it didn't help. "The people thought that was just so horrible," she says.
Of course, the 1960s and 1970s saw climbing divorce rates in the United States, and in 1980, Americans elected their first divorced president, Ronald Reagan (who divorced his first wife, Jane Wyman, in 1949 and married Nancy Davis in 1952). The presence of Reagan's two adult children from his first marriage on the campaign trail with him made his blended family especially visible, Perry says. Tellingly, though, whatever controversy they generated was never enough to threaten his viability as a presidential candidate in the eyes of the public.
Ultimately, Perry characterizes the "traditional first family" template as a distinctly 20th-century phenomenon, one that was part of a cyclical trajectory: Candidates didn't have to adhere to it to be elected before the 20th century, then they did, and now they don't once again.
"People had this sense, especially in the early and mid–20th century, of what a typical American family would look like," Perry says, "and so our presidents reflected that." But it is a direct result of various cultural reforms of the late 20th century (the sexual revolution, the rise of divorce, the legalization of same-sex marriage) that the country has ended up with such a diverse group of family structures represented in the 2020 candidate field—and such a notably modern family in the White House.
But with respect to presidential-family diversity, the current occupants of the White House represent a new milestone, Perry says, "in terms of how many times you can be married and divorced and be president, and what the [first family] can look like, [and] in terms of [a president having] multiple children from multiple wives." Trump's relative openness about his extramarital affairs, she adds, also represents a break from presidential tradition (well, the openness more so than the affairs themselves). Because of Trump, she says, "one big mold is broken now."
Perry wonders whether the Trump family's time in the White House will further normalize the idea of nontraditional first families. But ultimately, she says, at any given time, the president's family will tend to reflect the "ideal" or the "typical" American family of the day. "Because of where we are in our society, we see those kinds of families [in the race for the presidency]—childless, or married to a divorced person, or two people who are divorced, or a gay couple," she says. "We're always picking people that either we think we look like or we aspire to look like."