The Wedding-Industry Bonanza, on Full Display
Young couples attend wedding expos to plan their big day—and quickly learn the steep price of a perfect wedding.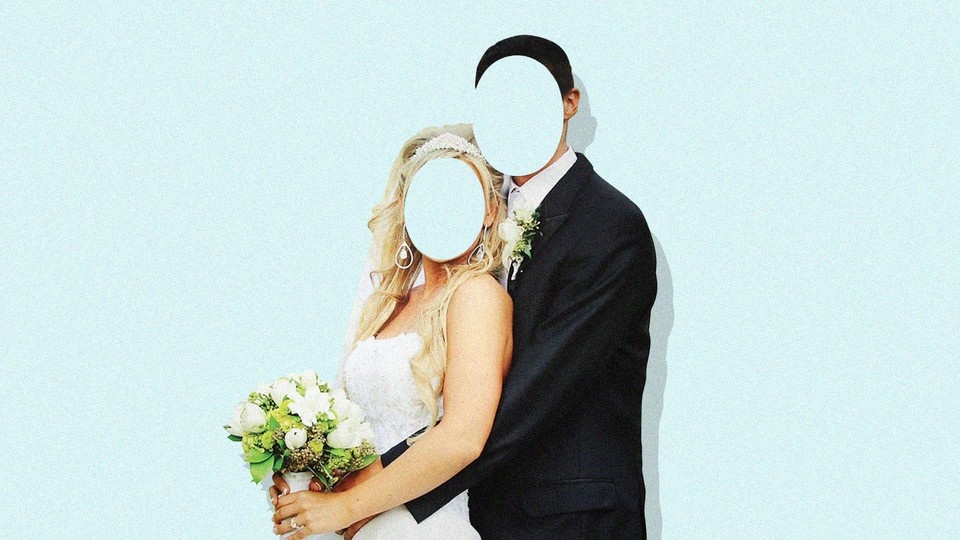 I was expecting to experience a lot of things at the Great Bridal Expo in Washington, D.C.: the sound of hundreds of people milling about the Grand Hyatt Hotel's 8,500-square-foot ballroom, the smell of a thousand wedding-cake samples, the feel of polyester-blend bridesmaids' gowns, the sight of dozens of vendors' booths lined up on patterned carpet. I was not, however, expecting an open bar, or a booth raffling off a free boudoir photo shoot, or a free bottle of barbecue sauce from a catering restaurant.
The vendors I spoke with (when they weren't inundated by bridal parties) told me that companies give away lots of free things at these kinds of events—some, like cake samples, that make sense, and others, like barbecue sauce, whose relevance for wedding planning is less clear. For their $10 entrance fee, couples get bags filled with wedding magazines and coupons at the front door, but also access to free samples, dance lessons, and even stays in hotel rooms from vendors. Geren Gatling, a marketer who was representing a vacation-rental company at the expo, said he goes to bridal expos all over the D.C. area. "They didn't have these when I was getting married," he said. "But I would definitely come to one of these to gather information."
He cut off our conversation to flag down a couple passing by. "Excuse me, miss, when's the big day? I've got something for you!" he shouted, shepherding them to his company's table. "Sorry about that," he said. "I get paid whenever they stop by. I can't let them get away."
Wedding expos around the country bring together soon-to-be-married couples and the companies vying for their business. The companies range in size from large chains such as Bed Bath & Beyond to local wedding planners. Gathering data on the sprawling, amorphous wedding industry is difficult, but the Middlebury College sociologist Laurie Essig used bridal expos as a place to do research, by talking with couples and trying to understand their idealistic visions of their wedding day.
In her book Love, Inc.: Dating Apps, the Big White Wedding, and Chasing the Happily Neverafter, she describes how hard these events work to sell people on a wedding that will be the stuff of dreams. "Love has always been caught up with money," she told me, but the frenzied expos present a uniquely modern vision of romance: perfection that can be bought.
By Essig's estimation, bridal expos have been around for the past three decades, cropping up at the same time that the U.S. wedding industry began to balloon. As people's access to credit expanded in the 1970s, so did their ability to spend—which consequently boosted spending for weddings, Essig said. "You had more stuff to sell people, and so you needed a way to consolidate how to sell it to them." Enter the expo, which Essig calls "capitalism at its most efficient": Gather people and vendors in the same room with symbiotic purposes to buy and sell.
Essig attended four expos in 2013 and 2014 across the U.S. and Canada. The majority of couples she spoke with were heterosexual and working- or middle-class. Most planned to spend $15,000 to $35,000 on their wedding, many of them adding to existing debt such as student loans and mortgages in the process. They said they were willing to take on more debt to have their "perfect day."
"They were already so far in debt that I think taking out debt for a wedding didn't scare them as much as it might have," Essig said. "I talked to a lot of people who said, 'We're always going to be in debt—that's the generation we are."
People's willingness to take on thousands of dollars in debt for a wedding—as opposed to other adult celebrations such as, say, college graduation or the birth of a child—fascinates Essig, who studies gender and sexuality. Part of some couples' rationale was that their parents, especially their mothers, expected  a "good wedding," to reflect the fact that it's supposed to be one of the "most important days of their lives," she said. "They definitely saw the wedding as part of producing a good future that their families could get behind. That's what your family expects of you. And if you don't do it, there's going to be something wrong with your marriage. It's not going to last."
For middle-class people who want to have a "good" wedding, expos can be extraordinarily influential. Many wedding planners cost upwards of $2,500, so having a room full of possible vendors can help couples who want to take on more of the planning themselves. Erica Hanna, a 40-year-old from Washington, D.C., attending the expo, said that she and her fiancé, Carlos, have no idea what they're doing, and need to figure out what actually goes into planning a wedding. "You can't research every vendor to the nth degree," she told me. The expo helps set an understanding of what the industry considers necessary for a good wedding—and consequently, sets expectations for what's normal.
The "normal" parts of American weddings are familiar: rings, wedding dresses and/or tuxedos, cake, and a photographer capturing the whole thing. People have been taught to want these things, Essig said, and the couples she talked with viewed them as nonnegotiable parts of their day. The messaging comes from a variety of places; Essig's book singles out marriage- and romance-infused pop culture, including Disney movies' "happily ever after" endings and proposal videos gone viral.
Wedding-focused shows such as Say Yes to the Dress further feed a cultural fixation with weddings, and expos sometimes take advantage of that, Essig said. She remembered an appearance made by the celebrity wedding-dress designer Randy Fenoli at a Philadelphia expo, where he talked to a crowd about helping women find their perfect dress—and then gave them a sort of "feminist conscious-raising" pep talk, telling everyone to stand up and say "I'm beautiful."
"It was kind of like a pep talk for women to know that they're worth it," Essig said. "He wasn't like, 'Hey, you know what you should do? You should get a used one—you can get it for $50.' He didn't say that. He kept the magic alive." Couples, even lower-to-middle-class ones, aren't usually making purely rational decisions when it comes to their wedding day, she said. After all, if you aren't putting your all into your wedding day, what does that say about your dedication to your partner? It's a kind of magical thinking, Essig said: If you complete the expected rituals of your wedding to the best of your ability, your future will be safe and secure.
The expo I attended in Washington echoed Essig's findings—attendees were far from  1 percenters, and the vendors reflected that. The online bridal store Azazie had set up shop promoting dresses that cost less than $500—a third of what the average dress in 2017 cost, according to The Knot's annual wedding report. Bed Bath & Beyond gave out bags filled with coupons and catalogs of potential registry items—silverware sets, sturdy pots, bed sets—that were more practical than luxurious.
The couples I talked with all wanted nice weddings, but they were also being careful about cutting costs where they could. Andre Revell and Maya Barrow, from Arlington, Virginia, told me they are getting married in an old warehouse in High Point, North Carolina, next March, partially because they can't afford a comparably large space in the D.C. area. Another young couple, Garrett Snow and Becca Gardner, from Maryland, are planning on a vineyard wedding, but the 22-year-olds are also juggling a mortgage for the house they recently moved into, and are trying to keep the guest list small.
Several wedding vendors told me these are the kinds of couples they want to reach. A representative from Williams-Sonoma said that many couples ask "how to step up their game" for kitchen appliances and dinner-party ware. A lot of vendors are targeting young couples who are transitioning to full-fledged adulthood, said Jess Cozewith, an events supervisor with the wedding-registry website Zola. She's seen vendors at other bridal expos hawking everything from GEICO insurance to windows for houses, because they know they might plant a seed in a young couple's mind for what to purchase in the future.
But in reality, people aren't spending money for the sake of spending—they believe in a wedding's promise of a happy future, Essig said. She was struck by how much her conversations at the expos moved her, even though she is cynical about so much of the wedding industry. "I wish it were true that if we just had the right wedding and the best cake, that it would be okay. I'm really easily brought to tears by their stories," she said.
It's possible, though, to believe in two fundamental truths of weddings at the same time. First, there is nothing wrong with being in love, getting married, and wanting to celebrate that. Second, a lot of people make a lot of money by  convincing couples that they can buy the perfect wedding day. "There's part of me that thinks, If it didn't involve money, would I care? What's the harm?" Essig  said. "But it does involve money—it involves a lot of money and a lot of debt." If a wedding is supposed to portend a "happily ever after," then why is there so much pressure on couples to mortgage their future to pay for one?