How Parents of Child Influencers Package Their Kids' Lives for Instagram
The platform's youngest stars owe their fame to their parents' intense work behind the scenes.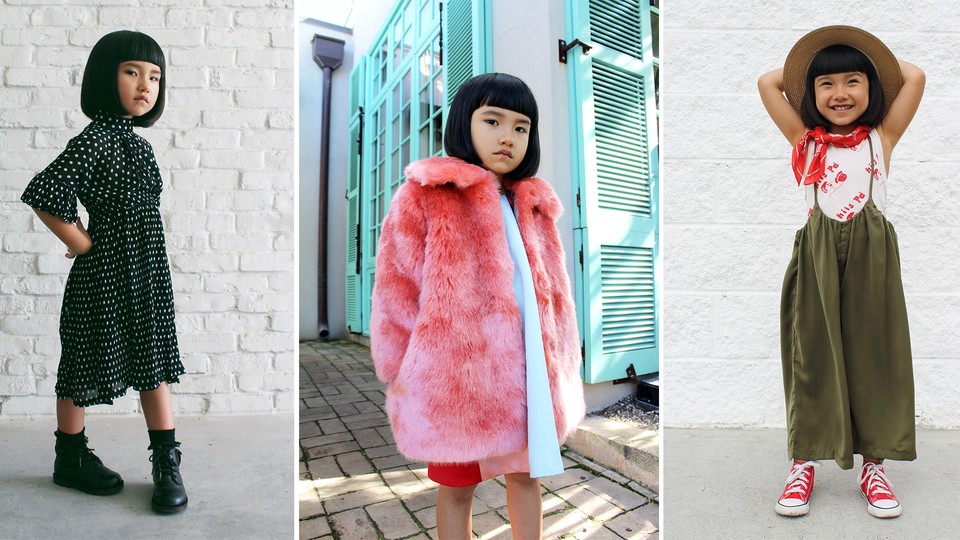 Something peculiar happened when Ryker Wixom Googled his name recently. Instead of finding unrelated links and the Facebook accounts of people with similar names, the 8-year-old was greeted with photos of himself as a toddler atop the first page of results. A little farther down was an entry for him on a website called FamousBirthdays.com. A little more scrolling revealed a Daily Mail video of a 4-year-old Ryker attempting a magic trick.
Ryker's classmate, who also participated in the online self-sleuthing, did not have such a digital trail. "I liked it because we just typed in Ryker, and a bunch of pictures of me came up," Ryker said. (His mom asked him my questions and sent me a voice recording of his answers.) "When we typed in [my friend's] name, there was only an old president's picture. He was like, 'What the heck?' We both laughed really hard."
"He came home and asked me if he's famous," said Ryker's mom, Collette Wixom. Her reply: "'You're not famous, but people know who you are.' And his friend thought it was the coolest thing ever."
Ryker always knew that his mom liked taking pictures of him, but he was never explicitly aware that people actually saw them, Collette explained. However, these photos have led to a small amount of fame for Ryker and his little brothers, 6-year-old Grey and 2-year-old Wyatt: an audience on Instagram. As @ministylehacker, Collette Wixom amassed more than 300,000 followers by posting photos of her sons wearing kid-size versions of men's-wear (what she calls a "mini style hack"). When she started the account in 2014, it only featured photos of Ryker, her oldest. Now the @ministylehacker feed is full of pictures of all three of her sons on the beach; on the computer; in a lush, green field.
Many of these posts are sponsored by retailers, such as the Honest Company, Jessica Alba's natural-baby-product brand, or eBay. Wixom said that these companies accurately represent her Los Angeles–based family's values—which means you won't see @ministylehacker promoting CBD oils, diet pills, or anything Collette thinks her kids would be embarrassed by when they grow up. When Collette started @ministylehacker, she was working in yearbook sales. Now she makes her living by working with an agent, brokering partnership deals (Wixom declined to share her fees for sponsored posts), and packaging her family's life for Instagram and YouTube.
Some of these kids, like the Wixoms, are featured on a parent's account, while others are the stars of their own account. But all these young Instagram celebrities' success comes as a result of their parents calling the shots and running the business behind the scenes.
Parenting and content creation have long coexisted online. Since the early days of mommy blogging, kids' everyday lives—and the merchandise associated with them—have been common internet fodder. As the popular platform for documenting one's life shifted from textual blogs to the more visual medium of Instagram, it became easier to make money through simply sharing a picture of a child and a product rather than presenting a narrative around parenting itself, Crystal Abidin, a digital anthropologist at Australia's Deakin University, told me.
Though a photo might appear simpler to create than a long narrative blog post, complex preparations go into packaging a kid's life for Instagram. "When the money came into play, the visual aesthetic, the vocabulary, and the processes of capturing parenthood on social media greatly changed," Abidin said. "With the rise of the influencer industry en masse, instead of the stories of children going through the process of trying out the products with their moms, they have been reduced to props."
In her studies on family-influencer practices and attitudes, Abidin found the appearance of "everydayness," or documenting and sharing authentic, casual moments, to be one of the most effective strategies in building a child's "brand" on Instagram. Parents often dress up their baby or toddler and stage the child in a way that looks natural, Abidin explains. It's a term she called "calibrated amateurism," a content choice that says We're laid-back and off-the-cuff! compared with the more "luxury-oriented" aesthetic of adult influencers. Calibrated amateurism, Abidin said, makes child and family accounts more relatable and thus encourages engagement with followers.
Another aspect of kid life conducive to Instagram is routine. "Babies and young children are perhaps the most consistent of all creatures of habit," Abidin said. "They've got scheduled nap time, feeding time, daily routines." Parents can organize a posting schedule around this already regimented life.
Mia Foos turns routines, such as errand outings, into impromptu photo shoots with her impeccably dressed 5-year-old daughter, Vada. An aesthetician by day, Foos garnered a dedicated following when an Instagram image of Vada, then 2, wearing a The Future Is Female tee made the rounds online in 2017. Now Vada gets paid to pick out her own dresses, jackets, and accessories from children's boutiques and pose for Instagram photos. Her signature one is a head tilt with a straight face. "We love to do staring contests all the time," Foos told me. "That's what she calls her 'staring-contest face.'"
Foos manages Vada's career without an agent, fields all collaborative deals herself—Vada earns anywhere from $100 to $5,000 a post—and styles and photographs her toddler, who genuinely enjoys being in front of the camera and changing her outfits, Foos said. Because Vada is unaware of her own Instagram presence, Foos said she just tells Vada that the snapshots are a way of having fun with her mom. Foos always asks her daughter's permission before snapping a photo and rarely shoots longer than five minutes.
Child influencers have their own visual aesthetic. Compared with their adult counterparts, kidfluencer feeds tend to be softer, feature a neutral palette ("Babies, household, background, apparel, and even food matches this neutral palette of white, bamboo, oak," Abidin observed) and more dynamic facial expressions. Parents of child influencers tend to post images of their kids both having fun (in extravagant outfits or on exciting outings) and in everyday environments, Abidin noted. For example, Foos has posted photos of Vada striking a pose in a showy jacket and playing house with her little sister in a white-walled room with a hanging plant in the background.
Brittany Berggren, a Los Angeles–based photographer who shoots most of the images on @ministylehacker, has landed on a visual aesthetic of backlit subjects, minimal flash, and fresh palettes with pops of color for the Wixoms' account. "I like to try to find ways to make it soft and flattering and young," Berggren told me.
Over the course of a typical month, Wixom hires Berggren anywhere from one to six times to photograph multiple branded campaigns per session. Wixom works with the brands herself to come up with concepts and shot lists, so Berggren simply shows up and photographs for about 15 minutes while the boys smile, make faces, and get into "full-on wrestling matches," Wixom told me. Ryker said he enjoys spending time with Berggren and wearing the clothes his mother chooses for the shoots. He particularly likes seeing his little brother Wyatt's "cute" and "funny" poses, he said.
While some parents of Insta-famous kids hire photographers, many work the camera themselves. Ardola Dedukaj has been snapping and sharing Instagram images of her 8-year-old daughter, Laerta, since she was 4 as a way of playing dress-up and bonding with her toddler, she told me. Much to Dedukaj's surprise, the process of getting Laerta to sit still for a picture was nothing like wrangling a teary-eyed kid at the Sears photo department. "For Laerta, taking photos is equal to playing with dolls," Dedukaj, who lives in the United Kingdom, said in an email.
More than 1 million followers later, Laerta still has the same passion for posing as she did at the start: She wants to be a model or a doctor when she grows up, and eventually hopes to take over the reins of her Instagram account, "maybe when I turn 15." (Her mother relayed her answers over email). For now, Dedukaj puts the thousands of dollars her daughter earns in sponsored content—Laerta bags a minimum of $1,000 per post—in a separate account.
When parents earn money by posting images of their children, it can be hard to draw a line between what is work and what is play. While a 1939 bill called the Coogan Law protects child actors by ensuring that their parents don't spend their earnings, no such guidelines exist for kids who make money on the internet. The responsibility lies with the parents who manage their little influencers. Wixom is socking away money for her sons; Grey wants to use his funds on a car, she said.
The ease with which fun with kids can easily become work leads many Instagram parents to draw careful boundaries. Foos told me that she took a step back from social media after she woke Vada up one day before school to take a picture. "That just didn't feel right," she said. Foos and Vada took a couple of two-week posting hiatuses at the start of the year to reset. Dedukaj said she once canceled one of Laerta's appearances because she thought she was putting too much pressure on her daughter.
As these kidfluencers age—and age out of their parents' vision of their life—what will become of their platform? Princeton Cannon, a 10-year-old from Atlanta, is aware of the work involved in making his Instagram pop: the photo shoots, the exclusive events, the outfit selection. (Princeton receives thousands of dollars' worth of clothing to model on his feed.) "He says, 'Do you think my fans would like this?'" Keira Cannon, Princeton's mother, told me.
The aspects of managing an online brand were Keira's sole duty from 2014, when she made her son's Instagram account, until recently. Now they have begun to filter down to Princeton, who likes posting Instagram Stories to his feed. Keira is adamant, however, that certain aspects of Princeton's life stay private. She typically keeps the camera away when they're at home, and doesn't post any photos or videos of Princeton performing everyday activities, such as baking or doing his homework.
Although Princeton's future aspirations don't lie with the photo-sharing network—he wants to be a YouTuber when he's old enough—he does appreciate the work his mom has done on his Instagram account. "She does a good job taking the photos, she has a real talent," Princeton told me over email, as relayed by his mom. He'd never want his mother to delete his Instagram for good, though, Princeton explained: "Our Instagram is important for us. It really represents us." The account would live on in some capacity, Keira said, and change as her son's interests evolve.
Like Cannon, all the parents who spoke with me insist that their children are enthusiastic participants in documenting their outfits and their life. They say that the moment their kids' interest wanes, the cameras will turn off and the influencing will end, though no one had a specific plan for what to do with the accounts when that moment does come. "I can't really say anything regarding the future," Dedukaj said. "I just can say [Laerta] is really enjoying this time and that's all that counts for me." Until then, the content calendars are full and the brands continue to seek out the influence of pint-size humans.
"It's not this horrible situation where I'm forcing my kid to do these things that he doesn't want to do so I can look good," Cannon said. "Some parents, their favorite thing to do is baseball, so their kids are sports kids. It's whatever feels good for you and your family—and technology is something that feels good for us."